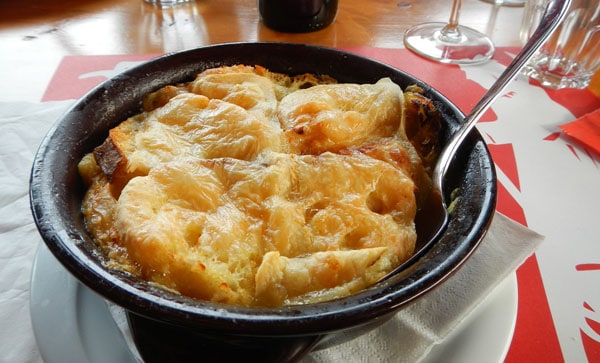 It was the revelation of my week in the Aosta Valley. I'd already heard good things about the skiing there: but I had no idea Aosta Valley restaurants would be such a treat. I skied five different resorts and in each one I ate a delicious meal in an atmosphere that seemed loaded with local flavour. If only every ski region could offer a similar experience.
Why are the restaurants there so good? I think it boils down to three factors.
1. The owner is usually on site and may well be cooking the food. It's the Italian way, isn't it? You don't get restaurant chains and you rarely find soulless self-services squatting by the pistes. Most Aosta Valley restaurants are family businesses, and each one has its own idiosyncracies and charm.
One common factor however is the warmth of the welcome. Yes, that's partly because the atmosphere is pretty chilled in this part of the Alps: but the fact that the boss is on site, keeping an eye on his staff, means there's no place for sulky-teenager syndrome, so common in some ski regions.
2. Prices are reasonable. In the big-name French resorts a bowl of chips costs about the same as zuppa valpellinetze, a soup made from local Fontina cheese, cabbage and bread – which is a proper meal, not a snack – at Maison Carrell in La Thuile.
3. The ingredients are so good. Much of what you eat here comes from the mountains and valleys you're skiing – pork, venison, beef, mushrooms, and (a particular favourite of mine) chestnuts in honey.
There's a lot of local cheese too – especially Fontina. It has a sweet taste and a fragrant aroma which intensifies as it matures. It's produced exclusively from the milk of Aosta Valley cows and is one of the best alpine cheeses I've tasted.


A more unusual option is
lard d'Arnad
, which is exactly what it sounds like – lard. However this particular form of lard, which is served with a selection of thinly-sliced cold meats, is far removed from the stuff we're used to in the UK. As with Fontina cheese it's a local product with a protected designation of origin (PDO), and its obtained from the back of the pig, then seasoned in old chestnut or oak containers for at least three months with a mixture of salt, water, spices and aromatic mountain herbs. When served in thin slices it almost literally melts in your mouth and has a pleasantly sweet taste.
Another very pleasant surprise was the local wine. I prefer reds, and I'm not used to getting anything special from the Alps: but the Aosta Valley's warm and sunny summer climate seems to be ideal for producing crisp, dry reds with a surprisingly full body. These are in turn pretty good at producing spectacular wipeouts of an afternoon in Cervinia when one too many glasses has been downed…
One of my favourites was the Vallee d'Aoste Torrette, which by definition must include in excess of 70% of Petit Rouge grapes, which can be blended with Pinot Noir, Gamay, Fumin, Vien de Nus, Dolcetto, Majolet or Premetta. I'd advise going for the Superieur version, which is produced from the sunniest vineyards and tends to have more body due to its greater concentration of grapes and longer ageing.
You can find out more about the food and wine of the Aosta Valley through a local organization called "Saveurs du Val d'Aoste", which is committed to guaranteeing a high standard of food and wine presentation and quality among its 90-plus members.
Here are the restaurants I visited on my own whistle-stop tour:
COURMAYEUR
Chateau Branlant: set close to the top station of the cable-car in Courmayeur, with lovely mountain views and a traditional rustic feel. My favourite dish was Chateau Quiche – puff pastry with mocetta (air-cured goat's meat), potatoes and Fontina cheese.
+39 0165 846 584; chateaubranlant.com
LA THUILE
Masion Carrel: the affable proprietor Giorgio Carrel is an ancestor of the first man to climb the Matterhorn from the Italian side, and Mama Carrel is responsible for their excellent zuppa valpellinetze – soup made from cabbage, Fontina cheese and bread using a family recipe. Find their restaurant on the lower slopes of La Thuile's Gran Testa (2379m).
+39 334 3660162; maisoncarrel.com
PILA
La Chatelaine: a splendidly-located mid-mountain restaurant in the small ski resort of Pila, with a friendly, bustling ambience. In my 'umble opinion, its top offering is actually a wine – La Source Torette Superieur.
+39 328 1279040; pilaturismo.it
CERVINIA
Restaurant Bontadini: set at the bottom of of the Bontadini chair-lift in Cervinia and packed to the rafters on most days. One of its top dishes is Corn Cake Valdostana featuring Fontina cheese (of course), butter and sage.
+39 0166 948410; cervinia.it
CHAMPOLUC
Rifugio L'Aroula: as rustic as they come. It's set to one side of the pistes on the edge of a centuries-old mountain village above Champoluc, and served up a splendid selection of cold cuts also featuring a delicious vegetable quiche and lard d'Arnad.
+39 347 0188095; www.rifugioaroula.it