In a Nutshell
It's plain. But that's only if you keep an eye on the architecture. Look up, and there's the mighty southern face of the Matterhorn, towering overhead. The skiing can be impressive too, so long as the weather holds.
The Stats
Altitude: 2050m
Lifts: 59
Top lift: 3883m
Ski area: 350km of piste
Adult lift pass: 230-250€ for six days


Official Site |

Ski Map |

Webcam
Essential Advice for the Perfect Trip
Benito Mussolini changed the resort's name from Breuil to Cervinia to reflect the Italianate glory of the mountain above it, and the nucleus of pre-WW2 buildings reflect the austere imperial style of the time. Concrete monstrosities of the 60s did nothing to redeem this image. But, like Tignes, you don't come here to admire urban planning. Instead look up, not down, at the extraordinarily spectacular mountain scenery.
When the sun's out, and the snow's fresh and soft, intermediates will have a ball – charging about on some of the finest red-rated pistes in the Alps. However, low cloud often comes hand-in-hand with high winds, which blow all the soft snow away, and leave some pretty intimidating hard-pack on the pistes. In such a high, treeless bowl, visibility drops to zero, and pretty soon you'll be back in the hotel, wondering what on earth you're going to do in such an underwhelming little town.
It's a risky option for a week-long holiday…
We suggest you only book several weeks or months in advance if you bag a good deal – or you're checking into the sumptuous Hotel Hermitage or cutting-edge Saint Hubertus Resort with your loved one. Otherwise, we strongly counsel coming here at the last minute, when you're fairly sure conditions will be good, or in the late season, when other resorts are getting slushy, and you're prepared to put up with the odd low-visibility day in return for snow-sure skiing.
….but it's great for beginners
Oh yes – one group which might enjoy a trip here whatever the time of year are beginners. The weather won't matter so much when you're on the sheltered beginner's terrain, and both the ski school and the slopes are well set-up to deal with first-timers. They've upgraded several lifts serving the easiest pistes here, too.
The accommodation is going upmarket but not the apres-ski
Cervinia, until now, couldn't complete with the likes of Cortina d'Ampezzo, Madonna di Campiglio and most of the Dolomites – but all that is changing. The mountain eating is fabulous, as is the town's, so all that's needed now is an update to the nightlife.

---
---
Guide to the Mountain
Here's a promotional video that shows just how beautiful the scenery is:

The trouble with Cervinia is that it's essentially intermediate. None of the small handful of black runs is worthy of the description. But as a base for mixed ability groups it works well. Advanced skiers can pop over the Klein Matterhorn and find plenty of challenge on the Zermatt side of the mountain
World class thigh-burners
However, what Cervinia lacks in steepness it makes up for in length. The pistes are wide and well-groomed. Unquestionably, the star of these is the Ventina – red No 7 on the map. Join it at Plateau Rosa after cruising down from the Klein Matterhorn and follow it through a mighty 1833 vertical metres and 8km of rolling terrain all the way to the resort.
Alternatively you can fork off onto No 35 and 36 and then, given good snow conditions, you descend through more than 2200m all the way down to the village of Valtournenche, taking one lift link on the way. It's one of the longest lift-served and groomed verticals in the world. Skiing either of these classics in one without a breather is enough to turn even the toughest legs to spaghetti.
However, there the Cervinia challenge ends. Some of the blues are so flat that even wobbly second-weekers will find them dull. But overall, this is place with a lot going for it – thanks to the combination of wide pistes, reliable snow cover, and high standards of grooming.
No fear here, anywhere
In many ways it's the perfect place for an intermediate to boost confidence and polish technique. Whatever their feelings about the town itself, Brits in particular love the skiing here.
The nursery slopes, adjacent to the main conglomeration of hotels, are sheltered and gentle, and there are plenty of wide, confidence-boosting pistes to progress to.The majority of the skiing is contained in one enormous shallow bowl beneath the Matterhorn (called Monte Cervino in Italy) and the Klein Matterhorn. Most of the slopes are high and treeless – superb for cruising on a windless day, but hard work if the cloud drops or the wind picks up.
Zermatt and back, but watch the clock
Then there's the added interest of cross-border skiing. The first slope on the Zermatt side is a long gentle glacier, but this is followed by a variety of much more demanding terrain.
If you explore further afield the distance is big and you need to allow yourself plenty of time to return across the pass before the lifts close for the day. If you get caught out the prohibitively expensive taxi ride home takes six hours and you'd do much better to find a B&B for the night. We also recommend you buy a daily supplement if you're skiing over to Zermatt for the day – the weekly join lift pass is expensive.
Choppers and kickers
Superb heli-sking is possible from here on high-altitude slopes of both the Matterhorn and Monte Rosa peaks. It can be arranged through Heliski Cervinia at not unreasonable prices. For freestylers, Cervinia is the real deal: home to a half-pipe, boardercross course, three different kicker lines with different-sized jumps, boxes, rails and walls. Further interest is added by Zermatt's terrain park, It's on the glacier, so it's relatively quick to get to from Cervinia, and is highly rated.

---
---
Where to Learn
Cervinia is an excellent place to learn to ski, with a high altitude giving it a good chance of reliable snow conditions, the wide variety of easy runs once you're off the nursery slopes, and the compact resort centre which means that you won't have to walk far when carrying skis.
There are three schools here: the Breuil, the Cervino, and Scuola di Sci Cervinia. All have decent reputations and prices. The cost of a private clinic is about half here what it is in France. Nothing works quite like a one-on-one lesson, so we'd recommend booking at least one private session during the trip, as well as group lessons.
A British ski school would be the icing on the cake
Given the number of Brits and Irish who come here, it's crazy that no-one's thought of starting a British ski school here, particularly as local Aosta Valley regulations make it pretty easy to do so. Warren Smith Ski Academy holds courses on the glacier here each November, but there isn't a British ski school here during the winter months. All the same, the Italian schools are all used to dealing with English-speaking clients.
Cervinia is home to a Club Med resort, which is just about all-inclusive once you've paid for your holiday, including free childcare for 4-17 year olds (you pay for younger children). Local childcare facilities include the Mini Club Biancaneve (+39 0166 940201), which is a non-ski kindergarten taking children from newborn to eight years old. The Breuil school accepts children from five years for ski, snowboard and freeride lessons.
The Cervino and Scuola di Sci Cervinia also accept children from five years.Guided off-piste descents and heli-skiing are cheaper than over the border. There are a couple of high-altitude guiding outfits here, with UIAGM-qualified mountain guides: Guide del Cervino and Heliski Cervinia. The going rate for one heli-drop and 1500m off-piste descent is cheaper than in Zermatt.

---
---
Where to Stay
In recent years, Cervinia has seen quite a lot of change in the choice of where to rest your head. For decades, its only accommodation was tired hotels of the 1950s that had seen better days (some are still like that).
The Hermitage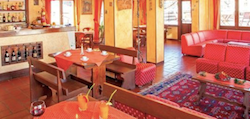 The Hermitage is squirrelled away in a stand of pine trees on a hill/ It's a true class act that stands comparison with anything on the Alpine A-list. The bedrooms are the best bit – and if you're going to shell out on a luxury hotel like this, can we suggest you go the whole hog, and upgrade to a deluxe or even a suite? The decor is clubby, almost old school-American in style, but with an Alpine twist. The food and service are good and there's an excellent spa with an attractive quarry-tiled swimming-pool.
Saint Hubertus Resort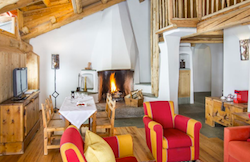 Saint Hubertus Resort is hidden in a secluded position among the trees next door. This gorgeous property calls itself an apart-hotel, but it's much more than that. It's owned by the same family as The Hermitage and is as cutting-edge contemporary as its neighbour is traditional. The spacious apartments are all eco-friendly with rough wooden beams, stone fireplaces, some unusual designer furniture, wood and stone floors, and some gorgeous views from the windows. The larger units have hi-tech stainless steel kitchens with dishwashers and fridges. There's a breakfast room and lovely spa.
Hotel Principe delle Nevi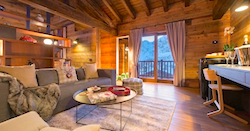 If you want to stay in style up the mountain, Hotel Principe delle Nevi is another brilliant choice. It is set high on the piste, so it's ski-in ski-out and up a steep hill from the town centre – there's a free hotel minibus to take you there. The bedrooms are minimalist and simple, and the loft suites fabulous – with vast windows, good-sized kitchens, light and airy sitting rooms, bedrooms and wet rooms. There's also a 3D cinema, a Balinese-themed spa, and an attractive wood-decked terrace with swimming-pool that has become a stop-off point for lunch and apres-ski drinks. It is located on quite a steep uphill road as well as on a red run, so it best suits fit intermediates and upwards.
Hotel Bucaneve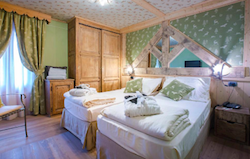 Hotel Bucaneve is a four-star in a central location, with an attractive entrance hall of stone floors and an atrium with reclaimed wooden beams, ancient skis and other mountain paraphernalia on display. Its rooms are classical Alpine with a quaint feel to them, and there's a spa, cafe and piano bar. The hotel restaurant serves a mixture of Mediterranean cuisine and typical mountain fare.
Sporthotel Sertorelli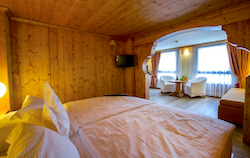 Sporthotel Sertorelli is 100m from the pedestrian zone and close to the lifts – the Breuil cable-car is just over 300 metres away. The comfortable hotel has good food and is less expensive than the others mentioned above, with a sauna, hot tub and steam room. Rooms are spacious and gorgeously wooden. Ski equipment hire is available at the hotel, as well as billiards.
Hotel de la Campagnoni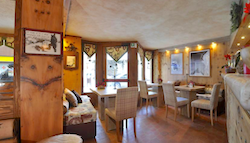 The smaller establishments are beginning to upgrade – such as the three-star Hotel da Campagnoni was built in the 1950s but given a makeover a few years ago, and they did a great job. The rooms are a good size too – fresh, neat, and well-designed, and the hotel's in an excellent location, near the foot of the slopes and the best bars.
Samovar Guesthouse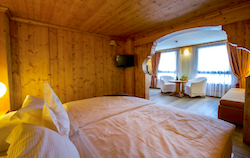 Samovar Guesthouse is in a 1950s building on the high street and, as well as housing the eponymous tea room, it is also a B&B with six spacious rooms that are more like suites than bedrooms – complete with sofas and balconies. The atmosphere is fantastic; you'll feel right at home. And there's an impressive selection of teas!
Hosquet Lodge
Hosquet Lodge is another little B&B that stands out from the crowd. It is 100m from the slopes and was built using the latest energy-saving materials. The six bedrooms are simple but attractive, with wooden floors and natural fabrics. It's cool, spacious and modern, with block colours and wooden interior.

Now all that's needed is for the resort to update its nightlife – and then it will be able to fully compete with the likes of Madonna di Campiglio and Cortina d'Ampezzo as a top Italian ski resort.
---
---
Where to Eat
Together with its neighbour Zermatt, on the other side of the Matterhorn, Cervinia is one of the world's great lunch destinations – not just for its food but also for the gorgeous views. In Cervinia, the pick of the mountain restaurants is Chalet Etoile, which is family run and first opened in the 1970s. The interior is warmly wood-panelled with hunting trophies and animal skins food, and the food is gorgeous so make sure you book ahead.
Other highly-rated venues include Bontadini (+39 335 250312) on the main slopes, which serves delicious Valdostana specialities such as thin strips of pork fat and chestnuts marinated in honey as a starter, and pasta with swordfish and artichokes for a main course. We consider this to be one of our top restaurants in the Aosta Valley, but just don't expect to do much skiing after lunch. Rifugio Guide del Cervino has panoramic views of the glacier and serves tasty local dishes.
It's cheaper and less crowded in the Valtournenche area
Prices here are generally lower than in the Cervinia area and considerably lower than you'll find in Zermatt. Stop for a drink and some basic but good-value local cooking on the terrace of La Motta (+39 339 62 22 16) on Piste 7.
The British-run Igloo, at the top of the Bardoney lift, serves large portions. Lo Baracon dou Tene (+39 0166 93023) has excellent service and food, and has a good sun terrace. Hotel Principe delle Nevi has a popular terrace restaurant, which is also open to non-residents.
Plenty of la Dolce Vita when it comes to dining
La Chandelle in Hotel Hermitage is an elegant award-winning restaurant with outstanding international cuisine and an impressive wine list. Try the three types of artichoke with anchovy sauce bagna caoda as a starter; venison rump, red wine civet sauce and yellow pumpkin cream as a main course; and warm soufflé cappuccino with home made biscuits as a pud. Le Bistrot de l'Abbe (+39 0166 949060) is smaller and more rustic, but a worthy runner-up.
Grivola is in an atmospheric chalet and offers delicious – and huge – pizzas from a wood-fired oven. La Tana (+39 0166 949098) is singled out for its game and mushroom dishes. The Copa Pan (+39 0166 949140) has since the 1970s been one of the most popular eateries in the resort. It has rustic decor and the food includes steaks and homemade pasta. Upstairs is a busy bar with live music.
La Nicchia is in the small Hotel Meynet serves beautifully prepared international cuisine as well as hearty Aosta Valley fare. Try the grilled Tomino cheese with fresh parsley. La Maison de Saussure (+39 0166 948259) is the former home of the person responsible for originally measuring Monte Cervino. It serves typical Valdostana specialities among wood-panelled surroundings. Eat tasty pizzas at Al Solito Posto (+39 0166 949126), and at the Matterhorn (+39 0166 948518). Maison Jean Bich di Pers da Mario, near the golf club, is warmly recommended.

---
---
Where to Party
Considering the number of people who come here, Cervinia doesn't have a great number of bars and clubs. The best way to start the evening is to ski down to the Apres Ski Bar at Hotel Principe delle Nevi, with its cool pool-side atmosphere, an array of cocktails, live gigs and DJ sets.
This can be followed by a visit to the very English-looking Thistles Pub, in Inghams' Chalet-hotel Dragon at the bottom of the nursery slopes. Upstairs is nice and buzzy, and downstairs often has live music and hardcore apres-skiers making their own party on the terrace – at 5.30pm.
The Irish Pub is in Grivola and has a wide selection of beers on tap and a happy hour every afternoon after the lifts close. The Copa Pan (+39 0166 949140) has a happy hour and music. Later – at weekends and on peak weeks – the swanky Bianconiglio (+39 0166 62220) – the White Rabbit – can be busy, hosting DJs, live bands and smart Italian regulars. Etoile nightclub (+39 0166 948053) doesn't open until 11pm on Saturday nights with dancing until the early hours, but the choice of music is distinctly Eurotrash – cheesy pop tunes and sing-along anthems.
Options for a quiet evening are more numerousFor something a little bit retro you can watch the daily passegiata outside the window from the Samovar Tea Room, which is in a 1950s building and has an entire menu of teas from around the world. For a quiet drink, sit by the open fireplace in the bar in Hotel Bucaneve.
Later on head for the Hostellerie des Guides and Ymeletrob, which is the cocktail bar of Hotel Punta Maquignaz. When it comes to other apres activities, there is also an ice-skating rink and a bowling alley.
Could do better
Now it's time for Cervinia to start upgrading its nightlife a little more to match its improving accommodation and ever-excellent resort and mountain restaurants. The Apres Ski Bar at Hotel Principe delle Nevi is a much-needed beginning.