In a Nutshell
The opening of two lifts linking St Anton with Lech-Zurs has created one of the most exciting ski areas in the Alps. But it hasn't fundamentally changed St Anton's appeal. This is where you go for wild nights, steep slopes and off-piste adventures (in the company of a guide).
The Stats
Altitude: 1340m-2811m
Lifts: 88
Top lift: 2811m
Ski area: 305km of piste
Adult lift pass: €219-313 for six days


Official Site |

Ski Map |

Webcam
Covid-19 Safety Protocols
Click on the link for details of St Anton's latest safety measures.
Click on the link for information about travel to the Austrian Tirol.
Resort Overview
In 2016, after generations of talk, the Arlberg ski area was finally fused together by the Flexenbahn lifts. The result is a ski area that ranks amongst the world's best.
Ski from the Rendl sector of St Anton, all the way over to Warth at the northern end of the lift system, and it feels like you've explored half the Alps. An ever-changing panorama of peaks unwinds in front of you, while under your skis you'll find every kind of piste, from easy blues to knee-mashing moguls. You won't believe it when you look at the map and discover that, end-to-end, the Arlberg is only 22km long.
But the new lifts haven't changed St Anton's fundamental nature. This is still primarily a resort for athletic skiers and party animals. Yes, it's now much easier to ski over to Lech-Zurs, and discover a world of gentler terrain and posher hotels: but if that's your taste, then Lech-Zurs is also where you should stay. St Anton is the steeper, tougher, more spirited end of town. It's a place for young hearts, strong legs, and – once you head into the backcountry – level heads. The resort is packed with qualified ski guides of the highest calibre. Make use of them if you're heading off-piste (and always check the daily avalanche risk assessments).
St Anton is also a place for big appetites. One thing that's changed lately is the quality of the food. At the top end, it's not quite on a par with the best of the Italian Dolomites or the French Alps – but there are some great chefs working here now. What's more, the cheaper eats tend to be much better value than in St Anton's A-list rivals in France.
---
---
A Short Guide to the Skiing in St Anton
It's not so much the extent of the skiing that distinguishes the Arlberg. With 305km of waymarked pistes it's still no match for the Three Valleys in France. It's the almost infinite variety of terrain. Easy pistes, vertiginous blacks, entry-level off-piste, white-knuckle couloirs – with an Arlberg lift pass in your pocket they're all on the menu, served up with an ever-changing backdrop of stupendous scenery.
But that doesn't mean St Anton's nature has fundamentally changed. This is still primarily a resort for athletic skiers, who like their pistes steep and aspire to blasting through powder too (if they're not skiing it already). Yes, the new Flexenbahn link has speeded up access to Lech's easier slopes. And yes, the cruisy pistes in St Anton's own Rendl sector are more accessible too, thanks to the repositioning of the lift station. But if you want lots of broad, confidence-boosting pistes on the doorstep you need to target somewhere like Obergurgl or Tignes or Val Thorens instead: or stay on the other side of the Arlberg, in Lech-Zurs. Save St Anton for the moment when you start loving bumps, or longing for powder.
Here's a promotional video recently filmed in the resort. It gives a good sense of the place – with the exception of the apres-ski, which is a lot more turbo-charged than this footage suggests…
We don't recommend it for beginners
If you're looking for quiet, unstressful nursery slopes, or miles and miles of intermediate cruising then – of course – there are slopes for you here too. But you'll be happier elsewhere. In fact, the only reason beginners should target St Anton is if they're part of a mixed-ability group, or if Mum & Dad are paying.
Lech, on the other side of the Valluga and with its ski area now linked into the village of Warth-Schröcken, would be a better option. Or one of the smaller/cuter/cheaper resorts elsewhere in the Tirol. But if you are going to St Anton, then there's one simple rule: book a ski school that teaches you on the slopes at Nasserein, and stay there. For a neophyte, the pitch of most of St Anton's terrain is confidence-shattering. If you do want to see some of the rest of the resort, go to the easy blues at Rendl at the end of the week.
Plenty of resorts will suit the intermediate better
There is some fine on-piste skiing here, although you'd do best to save St Anton for the moment when you're ready to leave the groomed snow for powder. But if you are fixed on St A, then follow these simple rules:
1. At the start of the week, avoid the slopes from Gampen down to the bottom of the Galzig/Gampen lifts unless absolutely necessary. They're almost always crowded, and often bumpy at the end of the day. The only time you want to ski them (slowly, watching out for the occasional nutter) is on the way down to the Mooserwirt for some apres-ski. Warm up first on the uncrowded slopes around, and en route, to the village of Stuben, or over in the separate Rendl sector. Always stick to the blues. A red in St Anton could well be a black in the last resort you visited.
2. Once you've got the measure of those, you can ski over to neighbouring Lech and Zurs where you'll a greater proportion of confidence-boosting pistes. When you're really on form, set yourself against the reds off the Schindler Spitze, which offer over 1000m of vertical descent.
Advanced skiers and snowboarders will love this place
This is when St Anton gets really interesting. First of all, if you've come to experiment with off-piste skiing, then you'll have a ball: especially if you sign up with New Generation or Piste to Powder: both schools are dab hands at guiding skiers through their first powder turns.
And if all you want to do is ski fast and hard on bumps and piste, then you'll find some scorchers here too: notably the reds off the Schindler Spitze, the World Cup Fang race course from Kappall into St Anton, and the run off the top of the Kappall chair down into the Mattun valley – it is almost always home to monstrous bumps.
Don't write off neighbouring Lech and Zurs. Yes, they have an intermediate-friendly reputation, but they almost always get more snow than St Anton, and connect with Warth am Arlberg – the snowiest resort in the Alps. What's more, on that side of the Flexen Pass, far fewer people are skiing powder. If conditions are right, a day with the off-piste guides from the Alpin Center could well be a highlight of the trip.
The north face of the Valluga is a must-ski mountain for experts
If you're a proper off-pister you need to ski this at least once in a lifetime. It's one of the classic notches but – don't tell anyone – it's not technically very difficult, compared with Verbier's bad bits off Mont Fort or Chamonix's Couloir Rectiligne. First you have to take the final cable-car to the top of the 2811m Valluga. What gets the butterflies hatching is that you're only allowed to board the cabin carrying skis if you are with a qualified guide. Sightseeers look at you with wonder. This changes to awe when you kick off from the viewing platform.
However, assuming you make the first turn – it's pretty important to make the first left-hander unless you are a base jumper – the rest is technically easy. You need the guide largely because of the considerable avalanche risk. If this run is on your wish list, there are plenty of guides available and we strongly recommend Piste to Powder. Or try the Arlberg Guides. In fact, hiring a guide whenever you venture off-piste is essential for all but the most experienced, capable and level-headed skiers. It's not just that many slopes here are avalanche-prone. It's the fact that St Anton's terrain can seem inscrutable to the uninitiated. You need a qualified local to lead you to its riches.
---
---
Where to Stay in St Anton
St Anton comes in three main chunks, the town centre (Dorf), Nasserein, and Oberdorf.
The town centre is where you want to be for quick access to the main lifts, as well as the legendary nightlife, and the resort's indoor pool and climbing wall/bowling centre. Nasserein – 10-15 minutes' walk from centre of town – is for those who still want good access to St Anton's skiing (courtesy of the Nassereinbahn gondola), but aren't so interested in the nightlife. It's also the best place for beginners and children, because the best nursery slopes in St Anton are right next to the Nassereinbahn.
Meanwhile, Oberdorf, up on a hill above the Dorf, is St Anton's most tranquil spot. Each morning, there's a walk downhill to the main hub of lifts and pistes, which can be slippy if there's compacted snow on the road. So it's best to leave your ski boots in overnight storage (for example, at Alber Sport) and go down in something with more grip.
Central St Anton: for lifts, bars and cool hotels
Central St Anton is unsually pretty and well-proportioned – a triumph of careful planning regulations and pedestrianisation. But it can be noisy at night. If you don't like the sound of someone else's après-ski, check there isn't a bar beneath your room. Those who are staying on the Dorfstrasse should bring earplugs, too.
This is the district where most of St Anton's hotels are concentrated, and there are some stunners amongst them. Come here for comfort and the convenience of being only a couple of minutes from the key lifts, ski hire shops, bars and restaurants. But give yourself a healthy budget. This is some of the most sought-after accommodation in Austria.
M3hotel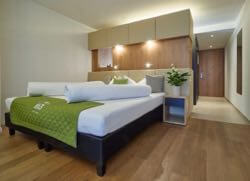 Welcome to Planet Zen
Opened in 2009 by three brothers (Mansuet, Michael and Markus), m3hotel offers four-star minimalism in a tight, town-centre setting. Don't come here if you're looking for old-school Tirolean atmosphere or a big spa. But for large bedrooms, clean lines and the sense of having St Anton on your doorstep it's hard to beat: especially when you're sitting in rooftop Sky Lounge having breakfast. The en-suite bathrooms are all equipped with infrared cabins and rainforest showers.
Hotel Anton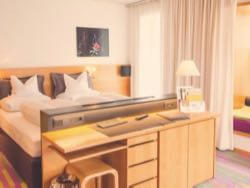 Arty, friendly and utterly convenient.
Sharp-edged, low-rise and faced with weathered wooden shingles, the Hotel Anton ruffled a few feathers when it opened in 2002. But now it's surrounded by copies. No wonder. It manages to look both utterly modern and as old as the hills – and unlike some of its imitators, the atmosphere is as friendly and comfortable as a favourite pair of slippers. Big windows, generous room sizes, and interesting art add to the appeal, as does the groovy rooftop spa – and best of all it's only a minute's walk from the lifts up to Galzig and Gampen.
Hotel Himmlhof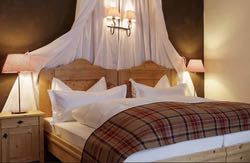 Quiet, unassuming, and rather beautiful
The Himmlhof is our favourite four-star in St Anton. Run with charm and efficiency by Margarita and Sebastian Penz, it's tucked away down a quiet side-street, and combines crackling fires, flickering candles and rough wood panelling to soothing effect. Yes, the style is quite traditional, but there's something about the use of texture and bold blocks of colour that's also modern and self-assured. And they serve a magnificent breakfast too.
Raffl's St. Antoner Hof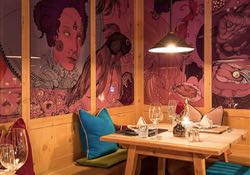 If Julie Andrews had red hair and a hipster tatoo…
By a considerable margin, this is the Arlberg's funkiest five-star – a determined attempt to make Tirolean ski hotels contemporary. Think sushi bar, industrial lighting, retro furniture and comic-book murals in the Stubn restaurant. Some will find the decor a bit too busy – but at the very least you should come in for a drink and a bite to eat. Despite the irreverent decor, the Stubn takes its food seriously, and now has 16/20 points and two toques from the Gault Millau guides.
Chalet Hotel Rosanna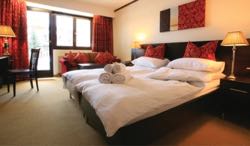 Home-from-home for skiing Brits
Not everyone wants the fuss and formality of a hotel: and if it's the chatty, feet-up atmosphere of a British-run chalet you're after, this is the place. It's one of Mark Warner's adults-only chalet hotels, and it's long been a favourite for those who want to be first on the lifts in the morning, and don't mind the odd drink at the end of the day to celebrate. Don't expect artful interior design or the pin-sharp attention to detail you'll get in a Tirolean hotel. But it's hard to argue with the central location and the bright-eyed, up-for-it atmosphere.
Hotel Alte Post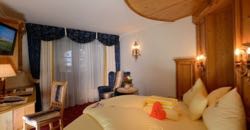 Well-mannered stalwart of the St Anton scene
Back in the 17th century, this was St Anton's coaching inn, and it still has the prime spot in the heart of town. It's a place for those who like their hotels traditional and convenient – along with good food, spacious rooms and painstaking service. Get a room at the back of the hotel if you can, away from the Dorfstrasse. You don't want a 2am serenade from the après-ski brigade to puncture the hotel's deep sense of calm.
Oberdorf: cute and quiet
Oberdorf is up the hill, to one side of the main hub of lifts and pistes. It's a canny choice if you want a quiet location, but only a short walk into town and the choice of skiing in the Rendl sector as well as on Galzig and Gampen.
Chalet Cirrus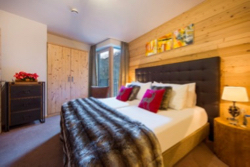 Chic catered chalet with its own pool
Skiworld's catered Chalet Cirrus is in a great location for accessing the ski lifts and town centre, and runs a minibus shuttle to the slopes. This is a stylish, three-bedroom hideaway: modern from the outside and cosy within, it has its own sauna, open fireplace and outdoor heated pool.


Nasserein: the stronghold of British chalet operators
Prices are a little lower at this end of town – as they should be. Yes, you've got the Nassereinbahn gondola on the doorstep, and St Anton's best nursery slope, but it's less convenient if you want quick access to the intermediate-friendly pistes of the Rendl sector, or you're planning to ski over to Zurs and Lech on several days. That said, if you've got kids or beginners in the family, or you're in the market for mid-priced chalets, this is your hunting ground. There is a sprinkling of bars around the villagey streets here, so if you've travelling in a group you can create your own apres-ski buzz. Otherwise, it's a 10-15 minute walk into Dorf.
Chalet Pepi Gabl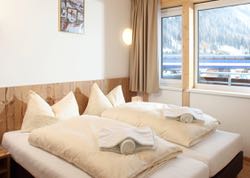 Ultra-convenient base with its own nusery and kids' clubs
This is the perfect location for a family-friendly chalet-hotel in St Anton – at the bottom of the nursery slopes, next door to the gondola, with the ski-rental centre on the ground floor. As with most British-run chalets, you shouldn't expect cutting-edge design or brand-new fittings. But if Mum and Dad are both keen and athletic skiers, and their kids are new to slopes, that won't matter. What's important is Esprit's enthusiastic childcare, and the chance to click into your skis and explore one of the world's best ski areas for more advanced skiers, while the littl'uns are perfecting their snowplough turns. The only drawback is the 10-15 minute walk to the public pool in centre of town.
Haus Hochkar and Haus Gamskar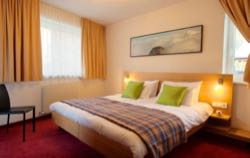 "Ruthessly-engineered for the skier"
On a quiet road to nowhere in particular, these two chalet-apartments offer sturdy, spacious accommodation and a simple, unfussy style. They're run by upmarket chalet specialist VIP (so you get champagne on arrival and tea/coffee in bed in the mornings), and you can ski from the back door to the Nassereinbahn gondola. Local bar Tom Dooley's is a couple of minutes up the road, if you want to pop out for a quick drink, rather than a night that lasts till 2am.
---
---
Ski Schools in St Anton
When it comes to ski schools, there's plenty of choice, starting with the Skischule Arlberg, founded by ski-pioneer Hannes Schneider in 1921. Today, it employs almost 350 instructors and is the largest ski school in Austria. Smaller are Skischule St Anton am Arlberg, Skischule Alpine Faszination, and Ski Akademie St Christoph. There are also over a dozen one-man ski schools, the names of which can be found on the resort website.
A new addition to the Arlberg scene is British-owned ski school New Generation – well known in French resorts such as Courchevel and Meribel for its fun-loving style and flexible approach to tuition. St Anton was its first Austrian outpost in 2016 – and it has grown rapidly.
A place of pilgrimage for off-pisters
St Anton is a place of pilgrimage for skiers who want to start skiing off-piste, or fine-tune their powder turns. Teaching them is one of Piste to Powder's specialities – although these days it tends to focus on more experienced skiers. You need one week of off-piste skiing with a guide or instructor under your belt before you can join. Its five-day courses run throughout January and February.
The highly-rated British ski school Snoworks also runs popular backcountry courses here in January, and offers classes for off-piste beginners as well as experts – and everyone in between. Local guides provide vital insider knowledge of conditions and terrain, while Snoworks' own coaches work on technique and tactics.
If you don't want tuition, but still want to tackle St Anton's famous backcountry terrain, then you should hire a guide. Many of the best runs are not obvious – and those that are will be skied into moguls in an instant. Others – such as the top of the north face of the Valluga – are extremely avalanche-prone. You need to play it safe.
There are several options in town. Meanwhile, if you fancy trying the powder over in Lech and Zurs, you'll need to contact the Alpin Center there.
In spite of the hard-core image, there are good facilities for children
Parents whose children have been to St Anton and have tried the Arlberg children's ski school are ecstatic about it. It's a lot better than many of its equivalents in either France or Switzerland. The Kiki Club, operated by the St Anton ski school, runs ski classes for older children.
For the little ones, Kinderwelt is the Arlberg school's kindergarten, with even the tiniest of skiers accepted here – once they are out of nappies. Several British tour operators also offer childcare in the resort, including Esprit, and VIP.
---
---
The Best Restaurants in St Anton
You'd think lunch for most people in St Anton would be stuffed into a rucksack alongside a collapsible shovel and avalanche probe: but actually there's a burgeoning mountain-restaurant scene here. One of the best is the highly-rated Verwall Stube, which is at the top of the Galzigbahn lift from town. To find it, you need to go through the self-service Kandahar. The atmosphere doesn't match the best mountain restaurants of Italy, Switzerland and France (one of our editors found himself listening to "I Love Rock and Roll" by Joan Jett & the Blackhearts on the restaurant's music system recently). But there's no doubting the quality of the food. Dishes such as a Tirolean trout and char with pickled cucumber and beetroot are both inventive and delicious.
Serious lunchers will also want to ski down to the Arlberg Hospiz-Alm at St Christoph – which has a rustic interior with staff kitted out in Dirndls and leather Lederhosen and serving mountain food like Gulaschsuppe and frankfurters at lunchtime. In the evening the place is transformed into a gourmet restaurant. 
Ulmer Hutte, just below the top of the Schindlergrat, is a lovely little place for lunch, offering the best of traditional Tirolean dishes in cosy surroundings. The Rodelalm on the way down to the Nasserein gondola is good value and has a large sun terrace.
Anybody exploring the quieter pistes over towards Stuben should book a table at the low key but gastronomic Fuxbau Restaurant as their reward. Finally, party animals will be delighted to know that the Mooserwirt, on pistes 22 and 23, down from Gampen into town, does good food at lunchtime. You can stop here at 1.30pm, spin out lunch for a couple of hours and – hey presto – you're in the perfect spot when the DJ gets to work. Underground on the Piste, at the base of the ski area and close to the Galzigbahn, also does snacks.
The town is a great place to eat and getting better all the time
The eateries at the m3hotel include the excellent m3cafe and the m3hazienda restaurant. Another new venue is the Tannenhof, serving local and regional fare. By night the Werner family's Arlberg Hospiz-Alm, in St Christoph, puts on the tablecloths and becomes a serious gourmet restaurant with an astonishing wine cellar containing some 20,000 bottles – and what is reputed to be the world's finest private collection of Bordeaux. In St Anton, warehouse-style Benvenuto is quite pricey and serves mainly Oriental dishes. Family-run Floriani is recommended for its pizzas and pasta, and is popular with families. The Museum is like eating in front of the fire in someone's home (it was the main setting for the 2011 movie Chalet Girl), and there are interesting displays to look at as well.
Meanwhile, just off the main pedestrianised street, in the middle of town Der Grieswirt does traditional Tirolean grub really well – and at affordable prices. Make sure you start you meal with Stanzertaler Suppen: a clear beef consommé with cheese and bacon dumplings. Nearby, Bodega is a popular tapas bar that gets busy later on in the evening, but stays open until the early hours.
Nasserein's San Antonio is a popular pizzeria. For a drink and a snack, head to Anton.
---
---
Let's Get This Party Started: Après-Ski in St Anton
At 3.30pm report for action at the Krazy Kanguruh, reached by the Gampen chair and piste numbers 22 or 23. Yes, we agree, it's very early to be taking the skis off – but if you're any later than this, you won't get a table. And if you don't have a table, what are you going to dance on? The famous bar, by the way, is owned by Olympic slalom gold medallist Mario Matt.
From 5pm these days, the KK is only the warm-up for the main attraction: the MooserWirt a couple of hundred metres downhill. This has come a long way since it was a cowshed: it is now a boutique hotel as well as a bar with 30km of plastic tubing delivering 5,000 litres of beer a day (and frightening amounts of Gluhwein and Jaegermeister) from the cellars to the bars – fuelling a couple of hours of mayhem, every evening. Before you enter, gather everybody in your group and agree on a place to put your skis that's well away from the piste and can be easily found when you're blind drunk. Then get stuck in.
If neither Steins of beer nor mainlining Vodka Red Bull are your scene, takes a few more turns down the hill and filter into Underground on the Piste. This atmospheric bar, still run by the ageless Joan, has live music and loads of atmosphere. It shifted over here a few years ago when the lease ran out on the former premises. That's unlikely to happen again – the bar is now in Joan's house and is, in our opinion, the finest apres-ski bar in the resort.
The nightlife starts after dinner and goes on until late
From 8pm the decks at the MooserWirt are turned off and everyone goes home – downhill, on skis, and in the dark. You might want to leave a little early, or stay on to eat in the restaurant, thereby avoiding the carnage.
At 9.30pm phase two of a typical St Anton evening kicks off in the Piccadilly/Postkeller complex in the middle of town. The building is divided into two – at the front is the Piccadilly, which is where you go to drink and talk. Then, when you feel like dancing head to the Postkeller. Murrmel is the newest hot spot for apres-ski partying, with a DJ playing until the early hours.
---
---