In a Nutshell
Lech and Zurs are about as posh as they come. They're about as snowy as they come, too – much snowier, in fact than their neighbour St Anton, and hidden away above the five-star hotels and easy pistes is some stunning off-piste terrain.
The Stats
Altitude: 1450m-1720m
Lifts: 88 in area
Top lift: 2450m
Ski area: 305km of piste
Adult lift pass: 202-289€ for six days


Official Site |

Ski Map |

Webcam
Essential Advice for the Perfect Trip
They don't come much smarter than Lech and Zurs. Set beneath the Flexen pass in eastern Austria, they're about as cute and traditional-looking as modern ski resorts get, and have over the years been colonised by a stellar clientele. Now the new Flexenbahn link with St Anton has given them a central role in the revitalised Arlberg ski area – one of the most exciting mega-resorts in the Alps.

Snowy. Sophisticated
Both enjoy what is, for the Alps, a super-snowy climate: Lech averages a little over seven metres a winter, while Zurs, which is higher, and lies closer to the 2810m Valluga, gets over 10 metres. That's roughly double what they get in Val d'Isere, although not as much as the snowiest resorts of North America.
So it's perhaps no surprise that were one of the birthplaces of modern skiing. Victor Sohm, a founding father of the original technique, gave the first lessons in Zurs on the open slopes of the Trittkopf and Hexenboden over 100 years ago. His international clients were mainly wealthy British, Swiss and Germans wanting to learn the new sport and relax in beautiful surroundings. In this respect, not much has changed.

Lech and Zurs have a large number of five-star hotels
Today, the two villages are the most exclusive resorts in Austria with six five-star hotels between them. Both attract a higher age group than nearby St Anton. "A lot of the skiers appear to be slightly older than in other resorts and consequently the slopes are very civilized," commented a reporter. "Loads of posing and I've never seen so many children wearing super-expensive ski gear," said another. "Quality, exclusivity and service are what counts," added a third.
Tiny little Warth-Schröcken in the Vorarlberg region is now linked with Lech on piste, creating a total 305km of marked runs and about 200km of off-piste. The terrain on the whole is markedly easier than in St Anton, with plenty of benign cruising runs best suited to intermediates. As a result, large numbers of skiers and riders based in St Anton come here for the day. However, overcrowding is not an issue.
Zurs is no more than a huddle of smart hotels and precious little else. In Lech, hotels, restaurants, and the slopes are set on either side of the little river that meanders through the centre, past a magnificent onion-domed church.

A traffic-free resort and a tiny hamlet
Oberlech on the higher summer pastures, provides a traffic-free environment. "The resort was good, but not quite top of the pile," says a reporter, "the plus points included convenience – not much walking/bussing around required". Winter access is only by cable-car and luggage is cunningly transported to your hotel through a network of tunnels beneath the piste.
Zug, a tiny hamlet reached along a narrow lane through the woods from Lech, offers an alternative tranquil base that is linked into the lift system.
---
---
Guide to the Mountain
The ski area shared by Zurs and Lech has expanded into Little Warth-Schröcken, creating 190km of piste in the local area – and a total of 340km of marked runs when shared with St Anton. Lech itself used to be known as a pleasant, undemanding, and posh area – home to lots of easy-going pistes and some old-fashioned ski schools.
Recently, however, attitudes have begun to change, as skiers and boarders have woken up to the fact that this is the snowiest A-list resort in the Alps. Zurs gets 10 metres, on average every season – double the average in Val d'Isere, and Lech manages a still-impressive seven metres. Of course, a high snowfall average doesn't guarantee top-notch powder. Just make sure you hire a guide if you plan to venture off-piste (we've had some great days with AlpinCenter Lech). Bear in mind also that the even though some off-piste routes may be marked on the map (with orange or black broken lines), and waymarked on the slopes, they're not patrolled or avalanche-protected.
One final point for powder hounds: off-piste skiing through the woods is forbidden for environmental reasons and anyone caught doing so is liable to forfeit their lift pass.
Another change to the reputation of the area came with the establishment of one of Austria's best terrain parks on the slopes above Lech – rated 4.5/5 by Snow-parks.com. It's a bit of an anomaly in such a high-falutin' resort, and we can't imagine it gets much use – but it's great to see it there.

Flattering pistes, deep powder
Meanwhile, the pistes haven't changed over the years – easy-going as ever and blessed with frequent top-ups of snow. The more challenging runs are at the Zurs end of the area, and on the Kriegerhorn and Zuger Hochlicht. The easiest runs are to be found on the sunny meadows surrounding Oberlech. Most intermediates will be much happier here than in neighbouring St Anton, where the pistes are much more crowded and the snow quality rarely as good.
The 2km-long Auenfeldjet cable-car starts at the top of the Weibermahd chair in Lech, crosses the Auenfeld pass to the Geissbühel Alpe, and creates a link between Lech, Zurs and the resorts of Warth-Schröcken – adding another 64km of piste to the Lech-Zurs ski area.
One of the best-known features of the resort is the Der Weisser Ring, a circuit of pistes (and one off-piste run) which has been skied for well over 50 years by legions of visitors. Beware: one of the runs is an unpatrolled 'ski route' down to Zug. You should check the small print of your insurance policy to ensure that you are covered before you ski it.
Beginners have good nursery slopes up the mountain at Oberlech, as well as a dedicated area behind the church in Lech.
Lech and Zurs are a bit posh for the average snowboarder, but…
In a good season for snow, snowboarders will have a ball here. Hire a guide from AlpinCenter Lech and go for it. Bizarrely, there's also an excellent terrain park here, and a regular stop on the pro tour. So really – who cares if the nightlife is a bit stiff?
---
---
Where to Learn
The Lech and Zurs ski schools have long been considered rather old-fashioned. If you come away with the impression that jobs are passed from father to son in the ski schools at Lech, Oberlech, and Zurs you may not be far wrong. Fortunately, there are two relatively new schools which have shaken up the status quo – AlpinCenter Lech and Exklusiv.

The wealthy visitors opt for private lessons
It's a reflection of their financial status that some 80% of visitors to Zurs and 50% to Lech choose to take private rather than group lessons. What they get for their money is year-to-year continuity, but this is by no means the home of the kind of cutting-edge technique that wins medals for Austria. Guiding can also be arranged through the ski schools or the Alpin Center, and heli-skiing with Wucher Heli-skiing.
Kinderclub Lech, Zurs and Oberlech provides a programme of play and skiing for children from three years of age. Many of the smart hotels have in-house childcare, including Hotel Sonnenburg at Oberlech, which has a miniclub with a children's cinema, activities organised for ages two years and upwards, and special children's suppers. The hotel also has an indoor swimming-pool and is conveniently set on the piste. Sporthotel Lorunser, in Zurs, has a children's playroom with an indoor climbing wall among the many facilities. the Rote Wand, in Zug, has useful family apartments, a swimming-pool, and kids club.
---
---
Where to Stay
Lech and Zurs are home to some of the best hostelleries in the Alps, and precious little in the way of catered chalets or cheap apartments. The good news for those on a tighter budget is that the smaller pensions here are often immaculately-kept. But you wouldn't want to book them with a group of mates for a wigged-out ski stag: the atmosphere is usually quite formal.
Lech's hotels and chalets
Gasthof Post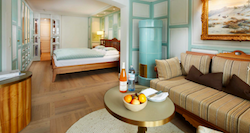 The renowned five-star in Lech is Hotel Gasthof Post, which is a small but sumptuous Relais & Chateau property. It attracts an older clientele and, as the barman says, "We're trained to remember guests' names from one visit to the next. It is just part of the Post service and it means a lot to both our present and former guests." The bedrooms and suites are large and wood-panelled, with and enormous bathrooms; there are also separate chalets in the grounds.
Almhof Schneider

Almhof Schneider This is one of our favourite places to stay in the Alps: a really classy mix of painstaking hotel-keeping and intelligent interior design. Rooms have solid oak floors, limestone bathrooms, hand-made beds and open fireplaces. Four generations of the Schneider family have been hosting guests here since 1929. It's very cool and very contemporary.




Hotel Arlberg

Hotel Arlberg, on the edge of the piste, has comfortable bedrooms and suites, a Senses spa, and a gourmet restaurant. "We were extremely well looked after," said reporters who stayed here. The décor is Alpine-adorable, with gorgeous reindeer antler lights and natural animal fur covers.
Sporthotel Kristiania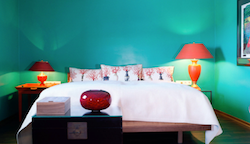 Four-star Sporthotel Kristiania is a boutique four star hotel founded by 1952 Olympic champion Othmar Schneider. It is located a short walk away from the village centre and is an oasis of calm and luxury. The Kristiania is very proud of its art collection and has some cutting-edge interior design: bedrooms include Chinese or Turkish style, or an Art Nouveau decor. Special services include a 'bath butler' who will prepare a bubble bath for you after skiing – complete with scented candles.
Severin*s Alpine Retreat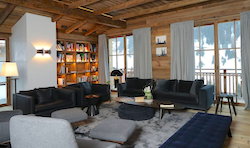 Set into the hillside at Stubenbach, Severin*s Alpine Retreat is a five-star hotel with nine suites and a residence. It's 
not ski-in ski-out, but provides a shuttle service on demand. The whole place is decorated in traditional Austrian style with a twist: ancient local wood combined with modern furnishings, contemporary art and the latest technology. The Beauty Salon and Spa have an extensive menu, there's a fitness room and an indoor pool with counter-current, waterfall and whirlpools.
Hotel Haldenhof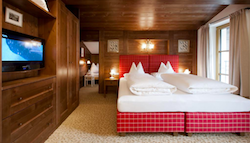 Hotel Haldenhof is a friendly and family-run four-star that's close to the Rüfikopf and Schlegelkopf ski lifts. The rooms are all individually furnished and decorated with attractive fabrics, paintings and hunting trophies, and there's a spa with small swimming-pool.
Romantik-Hotel Krone

Romantik-Hotel Krone is on the river bank opposite the church. The rooms have a regal feel to them– spacious with fairly elaborate decoration. The spa is exotic and beautiful, with flowers and a Middle Eastern feel to it.
Hotel Tannbergerhof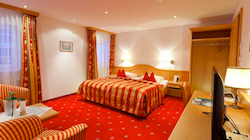 Hotel Tannbergerhof is one of the main resort rendezvous, with rooms, suites and apartments. It's four star but perhaps slightly on the plain side. But the location is unbeatable in terms of convenience – it's right in the hustle and bustle of the town. But beware, the apres-ski bar can be noisy at times. Overall it's comfortable and quaintly Austrian.
Chalet N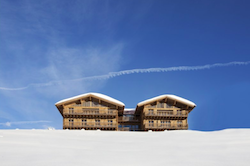 Not exactly in Lech or Oberlech, Chalet N is set on the piste, and is ski-in ski-out. Possibly one of the most sumptuous ski properties you'll find anywhere in the world, the chalet sleeps 18-22 people in sumptuous bedrooms with walk-in wardrobes, private balconies, and a stylish bathrooms. The wine cellar is notable not only for its selection of fine wines but also for its interior design. The spa features a cosmetic area, treatment rooms, a hair stylist, ice fountain, hay sauna, Finnish sauna, salt-cave steam bath, large swimming pool, fitness room, and two outdoor hot tubs.
Hotel Aurelio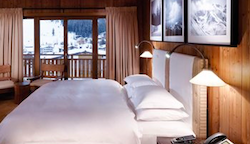 Hotel Aurelio is another five-star hotel, with a spa that includes a 23-metre indoor swimming-pool, saunas, aroma salt steam rooms, herbal baths, vital sensory showers, a snow atrium, and a vitality bar. The property has a separate clubhouse-chalet for 16 people. Bedrooms are extremely elegant, with a lovely fresh and comfortable feel.
Hotel Theodul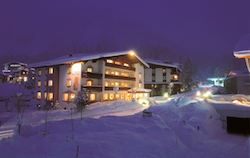 Hotel Theodul is in a great location on the high street, a short stroll from the main lifts and resort centre. There are 29 spacious bedrooms over three floors, all with en suite bathrooms, flat screen TVs, and most with a balcony. As well as twin rooms, there are family rooms and interconnecting room options. An indoor swimming-pool opens for this winter.
Chalet Alpenland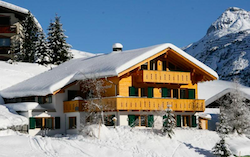 Skiworld's catered Chalet Alpenland enjoys a ski-in ski-out location on the outskirts of Lech. The chalet is next to the Zugerbahn chair-lift, giving direct access to the Lech ski area. There is a ski bus which runs until 3am (free during the day, with a small charge in the evenings) so you can enjoy the atmosphere of the town. This is a spacious, modern Tirolean chalet with a sauna and great views.
Arula Chalets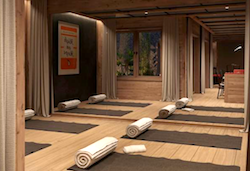 Arula Chalets comprise two interconnecting chalets available to rent either as two separate properties – each of considerable size – or as a combined large house sleeping up to 30 people in 13 en-suite bedrooms. Both chalets have wine cellars, cinema rooms, hot tubs and spacious suites. The larger of the chalets has a games room complete with DJ space, bar area, separate rooms for red and white wines, gambling tables and retractable doors that lead out on to a spacious terrace featuring a hot tub.
Chalet Mimi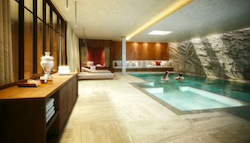 Chalet Mimi is spread across four floors, right on the slopes with panoramic views. Built in traditional Austrian style, the heart of the chalet is the open-plan living, dining and bar area. There is a 24/7 butler service and a private chef is on hand. For those who want to relax after a on the slopes, there are one-on-one yoga classes, an outdoor hot tub, indoor heated 14-metre swimming- pool, bio sauna, and steam bath.
Hotel Stulzis

Slightly lower down the price-scale is Hotel Stulzis, a three-star place that's a bit more affordable and less exclusive than many of the others here. It has simple, woody bedrooms, and a nice restaurant and Stuberl ("Large, clean and comfortable rooms, a wellness suite, and excellent half-board food and wine").
Pension Fortuna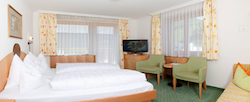 Pension Fortuna
 was rated: "clean, family-run, and – in short, just perfect". It's pleasant, and the sauna and infra-red deep heat cabin are ideal for kicking back after a day on the slopes.
Garni Stäfeli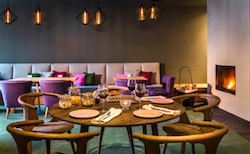 Garni Stäfeli is known for its food and wine. It has a good wine cellar, and houses Das Allerlei delicatessen/cafe and vinotheque wine store.
Stay up the mountain in Oberlech – or in Warth-Schrocken or Zug
Hotel Sonnenburg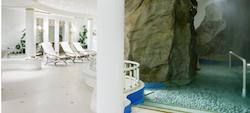 Hotel Sonnenburg is the best place to stay in the hamlet of Oberlech. Facilities include an indoor swimming-pool, a children's miniclub, in-house equipment hire, two saunas with 'fog grottos' and a chapel for snowy weddings. The spa is particularly impressive and luxurious, with something of a magical atmosphere.
Rote Wand Gourmet Hotel

the Rote Wand was once a modest pub a sleigh ride away through the forest in Zug, but then was transformed into a four-star with rooms and apartments. Inside it is modern and minimalist, as well as being is renowned for its food. Facilities include a swimming-pool, indoor golf, wellness centre, and kids club.
Boutique Hotel Lechtalerhof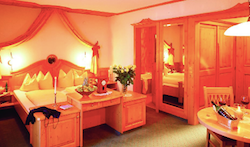 Little Warth-Schrocken in the Vorarlberg joined up with Lech a few years ago to create 190km of pistes, and you can stay here at the four-star boutique hotel Lechtalerhof which is a located on the piste. The ambience here is warm and friendly, and what you'd expect from a typical cosy mountain chalet experience.
Uber-luxury living in Zurs
Thurnher's Alpenhof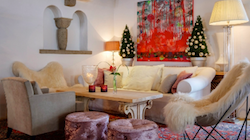 The five-star Thurnher's Alpenhof has sumptuous rooms and suites, and is a member of Leading Hotels of the World. Picture cosy Winter grotto vibe with a twist of contemporary cosmopolitan style. It's exclusive and you can guarantee you'll be pampered here.
Sporthotel Lorunser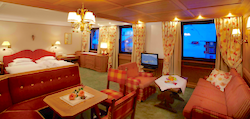 Sporthotel Lorunser is worthy of its five-star rating, with beautifully decorated rooms and a sumptuous spa. The children's playroom has an indoor climbing wall among the many facilities.
Hotel Zurserhof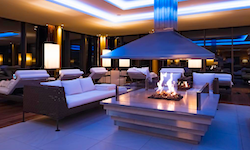 The traditional Hotel Zurserhof continues to have a popular following. The five-star hotel has a gourmet restaurant, and spacious rooms individually furnished in an elegant Alpine style. A new spa features a relaxation room with a library and an open fireplace, a bistro with a bar, and a spa shop. For families, the existing spa is being adapted and will also offer treatments for children and teenagers.
Hotel Arlberghaus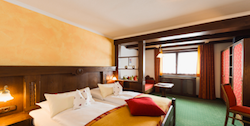 Hotel Arlberghaus is a four star hotel with a roof-top curling rink…with facilities like that, need we say more? Families are suited to this spot, due to the family rooms and kiddies' cinema every evening allowing adults that much needed chill out time
Hotel Edelweiss

Slightly more modest is Hotel Edelweiss. It is a four-star with a kids club, and is convenient for the nightlife. It's certainly more humble than much of the extravagant accommodation in this area, but it's rustic and lovely and oozes a kind of elegant cosiness.
---
---
Where to Eat
Some reporters complain that there is a real lack of restaurants on mountain in Lech and Zurs, "which meant it was necessary to carry a rucksack with snacks and drinks". Another begs to differ: "Restaurants at the top are excellent."
The pick of the lunch spots are attached to hotels in the higher villages, Oberlech and Zurs. Alter Goldener Berg at Oberlech is recommended, along with the nearby Bergkristall and the Hotel Sonnenburg where head chef Wilfried Andermann has been managing the kitchen for over 30 years. Also up here is Zur Kanne in Hotel Montana, with its kitchen presided over by Gault-Millau-awarded chef Markus Winkler. You can eat outside even on cooler days, since the terrace has heated seats and infrared lamps.
Above Zurs, Bergrestaurant Seekopf (+43 5583 2283-230) and the Trittalm (+43 5583 2831) are also rated. The Rude-Alp above Lech, is the largest eatery here and is said to be "a charming place". You can also eat here in the evenings.
For something a little cheaper there's Balmalp (+43 5583 3312) at the top of the Zugerberg chair-lift. It is a modern eatery with a sun terrace and lots of atmosphere. There's table service and a self-service restaurant offering typical mountain food and snacks; salads are a speciality.

The gastronomic capital of the eastern Alps
If you've got the cash for a blow-out meal, then book at table at the Griggeler Stuba in the Burg Vital Hotel in Oberlech. Its chef, Thorsten Probost, was Chef of the Year 2008 in the Austrian edition of the gastronomic Gault Millau guide, which awarded the restaurant a dazzling 18/20 points. The cuisine is "purist" with fresh organic ingredients and much use of wild herbs – both local and from around the world.
There are several other excellent hotel restaurants in the area – at Hotel Gasthof Post and the Arlberg. Award-winning Brunnenhof in Lech is one of the best restaurants in the region, with 16 Gault Millau points and a Michelin star. Lechtaler Stube is in the Burg Hotel and is another award-winner. Here you can eat Mediterranean cuisine and there's a good salad bar, too.
Other fine eateries include the Stube in The Rote Wand in Zug, and the Albona Nova in Zurs. The small 30-seater Chesa in the Hotel Edelweiss in Zurs is especially known for its Wiener Schnitzel.
Restaurants in Lech include tiny Hus Nr. 8, opposite Gasthof Post, serving grilled meat and light regional cooking with a superb wine list ("wonderful for lunch or apres-ski drinks"). The cool, contemporary Fux offers Asian fusion dishes upstairs and a steakhouse downstairs with items such as bison steak and Wagyu beef. For something a little simpler, Don Enzo Due (+43 5583 2225) has great pizzas.
Alpin Vital (formerly Rudi's Stamperl) is warmly recommended for typically Austrian home cooking, and puddings such as Palatschinken (rolled pancakes filled with sweet cheese) and Kaiserschmarren (sweet, chopped-up pancakes with stewed plumbs). In Oberlech, Ilga has "great fondues and raclette".
---
---
Where to Party
With just nine bars in Lech and seven in Zurs, the apres-ski opportunities are limited here. However, it gets fairly lively after skiing until people return to their hotels for dinner.
"Nightlife is virtually non-existent," complained one reporter. It's certainly nothing to compare with the likes of St Anton on the other side of the mountain. This is more a place for cocktails and conversation than dancing on the tables. Immediately after skiing, people head for the bars on the piste in Oberlech – at the Burg Hotel and Hotel Goldener Berg. In Zurs, the apres-ski is in the Mathies-Stueble in Hotel Mathies.
Very grown-up. You'll either love it, or hate it
Then the evening gets underway with drinking at the Eis Bar outside Hotel Tannbergerhof and 5pm tea-dancing inside the hotel. The Schneggarei bar by the Schlegelkopf lift catches the crowd as they come off the slopes.
Later on in Lech, the action moves to Hotel Tannbergerhof disco, to the intimate Klausur in the Almhof Schneider, and Fux lounge bar. In the latter you can try one of the 60 different malt whiskys whilst snuggling on a sofa in front of the open fire.
Pfefferkorndl is popular with the locals but has received criticism for its unimaginative choice of music. Archiv stays open until 2am. You can dance at the Hotel Tannbergerhof or Romantik-Hotel Krone. Archiv is a cool bar that attracts a younger crowd for its cocktails and dancing. A collective taxi service called "James" runs from 7.30pm until 3am daily and takes you back to your hotel for a flat fee.
In Zurs, Vernissage club/disco and the bar in Hotel Hirlanda are popular. Disco Zursserl in Hotel Edelweiss is the late-night venue.
When it comes to other non-ski activities, Lech has the only air-conditioned hotel ice rink in Europe – at Hotel Jagdhaus Monzabon. Zurs has a natural ice rink (+43 5583 2245). The Alpincenter Lech organises ice tours of the frozen waterfalls in the Arlberg region. You can also go paragliding, indoor climbing, or toboggan down from Oberlech to Lech.