In a Nutshell
Many of Courchevel's high rollers wouldn't be seen dead in Les Menuires. More fool them. Much of the best on-piste skiing in the 3 Valleys is to be found here, and the eyesore architecture has kept prices far, far lower than they are in its neighbours.
The Stats
Altitude: 2300m
Lifts: 180
Top Lift: 3230m
Ski area: 600km of piste
Adult lift pass: 283€ for six days


Official Site |

Ski Map |

Webcam
Essential Advice for the Perfect Trip
Les Menuires is no beauty. It may have come a long way since its early incarnation as a no-nonsense concrete dormitory, which seemed to have been airlifted from a Paris suburb into the heart of the Alps. But it's never going to be an Alpbach or an Aspen. It's too big, too bitty, and too dominated by big apartment residences for that.
And that's a good thing. Because its plentiful supply of self-catering accommodation and resolutely unfashionable image gives skiers the chance to get stuck into the vast Three Valleys area for a fraction of the normal cost. In mid-January, for example, basic piste-side apartments can be had here for less than £100pp a week (based on four sharing a studio). Meanwhile the price of a double room in Les Menuires' best hotel, the four-star Kaya, is about a third less than you'll pay for similar accommodation in Meribel, in the next valley. The cost of ski school, ski hire and lunch in a mountain restaurant is more reasonable than in its A-list neighbours, too.
What's more, even though prices are low, you don't have to make do with the dog ends of the ski area. The pistes immediately east of town, beneath the Roc des Trois Marches, are among the best in the Three Valleys – fast, broad, swooping blues and reds that should get any keen skier's tail wagging. There are more to the west, on the Pointe de la Masse, too – along with oodles of off-piste (although a lot of it is south-facing so it's quickly affected by the sun, and avalanche-prone too). Meanwhile, a little further up the valley you'll find Val Thorens, one of the most snow-sure of all Alpine resorts. So even during a sharp spring thaw, you should find plenty of cold, soft and grippy snow.
The are other attractions: les Menuires now has two good public pools, one in La Croisette, in the middle of town, and the other in the suburb of Les Bruyeres, providing a welcome pressure-valve for families once the lifts have closed, or if the weather's bad. In fact, much of the recent investment in the resort has added to its child-friendly allure. Speed Mountain is a rail-mounted sledge ride through the middle of town, whilst on the slopes you'll find several features which will lift a day's skiing with kids, including a timed dual-slalom course, and a beginner-level skicross course (see our Guide to the Skiing, below).
Attractions for twentysomethings are more limited. The apres-ski scene here is no match for Val Thorens up the road, and the freestyle scene has migrated over the Roc des Trois Marches into Meribel. But for Mums and Dads there is a new wellbeing centre in the Aquafun centre in Les Bruyeres, as well as the allure of one of the most highly-rated restaurants in the Alps, which is not far from the resort: La Bouitte in St Marcel de Belleville (3 Michelin stars) . That's not to say Les Menuires is about to follow Val Thorens in its headlong rush upmarket. Far from it. But it is becoming an increasingly canny choice for families, as well as bargain-hunters.
Reberty is a place apart – and has become a haven for Brits
Les Menuires is a resort of many suburbs, fanning out both uphill and downhill from the hub of lifts and pistes at La Croisette, and one is very different from the rest.
It's called Reberty and it's the highest part of the resort, at 2000m. Built after La Croisette, it has a more self-consciously traditional style, and is home not only to the boutiquey Hotel Kaya, but a tightly-packed huddle of Brit-friendly chalets.
Several British companies, including Ski Famille and Powder n Shine have properties here – with breakfast, tea and dinner taken care of, and a decent restaurant on the doorstep for lunch. There's a ski kindergarten for kids, three minutes walk away, across the nearest piste, and Ski Famille runs its own English-speaking childcare. In fact, it's one of the most comfortable family cocoons we know – and the only reason to leave it is to click into your skis each morning, or to ride the free resort buses down to one of the pools.
---
---
The skiing takes place on both sides of the valley: with the 2804m peak of the Pointe de la Masse the most eye-catching sector, to the west of town. The pistes tend to run down the north and east faces, through a muscle-melting 1000 vertical metres, and hold their snow well. You'll find more steep stuff here than in most Three Valleys sectors, but intermediates are well provided-for, too. In fact, the resort has recently created a blue piste called Le Bouquetin at the top of the mountain, so less confident intermediates can get a top-to-bottom skiing experience alongside everyone else.
There's also a huge and tempting area of off-piste on the south face of the Pointe, facing Val Thorens, which is heavily skied by locals and seasonaires after a storm. Unless it's really cold, you need to get to the powder quickly, as the the sun can quickly make the snow heavy. You need to be cautious, too. It's an avalanche-prone slope, and unless you're an experienced and well-equipped off-pister you should hire a guide to help you tackle it. He/she can also show you some of the itineraries on the north side, down to St Martin de Belleville.
By the way, the Pointe de la Masse is often a 'top tip' for skiers based in Meribel who are looking for uncrowded slopes. So it's nice to know that it's right on your doorstep if you're staying in Les Menuires.
On the other side of Les Menuires, an assortment of gondolas and chairs take you up to Roc des Trois Marches and Mont de la Chambre above the Meribel Valley. This enormous area of open slopes leading back down to Les Menuires provide the sunniest and some of the most enjoyable skiing in the Trois Vallees.
"We managed to ski for the whole week on blue runs, without having to ski the same piste twice," said a reporter, and "Although busy on some days, the lifts rarely had large queues," added another.
Of course, beyond the immediate area stretches the rest of the 3 Valleys area, which offer a mind-boggling 600km of pistes, spread across not three, but four valleys. Admittedly, this figure was recently questioned by German travel writer and consultant Christopher Schrahe. But even if you accept his figure of 495km, that's still a lot of skiing. What's more, a lot of the sectors close to Les Menuires are high, too. There's Val Thorens, obviously, but also the Mont Vallon and Cote Brune sectors in Meribel. So even in spring you'll have access to lots of good-quality snow.
Lots of on-slope extras
Back in the Noughties, Les Menuires was a freestylers' hub, but these days the acrobatic action, in the half-pipe and on big expert-rated kickers, is to be found in Meribel. Now, the emphasis is more on fun and families. There's a big airbag just above La Croisette, where anyone can get a sense of what it's like to jump, without having to worry about the landing; a mini race course on the Pointe de la Masse where intermediates can race side by side on a blue slope and have their runs timed; and Le BK Fun Park, which offers beginner and intermediate-level kickers, rails and boxes, as a well as two ski-cross courses.
By the way, if you want to see how skiing in the Three Valleys compares with it's great rival, the Espace Killy (home to Val d'Isere and Tignes), check out our Clash of the Titans feature.
---
---
Where to Stay
Les Menuires is mainly apartment territory, with many apartments bookable through the resort's own reservations office – or through one of the self-catering specialists based in the UK, such as Ski Collection, Erna Low and PowderBeds. British tour operator Ski Amis also features self-catering apartments in the resort.
Before you book, make sure you know exactly where your accommodation is in the resort. Les Menuires spreads across the eastern slope of the Belleville valley in a series of suburbs. They're well linked by the piste system, but to get between many of them after hours, you'll need to drive, or jump on board the resort's free bus service. Aside from La Croisette – which is the hub of lifts, pistes, restaurants and shops – Reberty and Les Bruyeres are self-contained hubs in their own right (both are rather easier on the eye than La Croisette, too). Les Bruyeres even has its own child-friendly pool and spa at Aquafun.
One other thing: slow wifi connections are a frequent complaint amongst guests staying in self-catering apartments – so don't assume you'll get modern levels of service.
Here's a resort map to help with orientation.
Reberty is where most of the chalets are – and it's perfect for families
Despite the self-catering flavour of Les Menuires, the suburb of Reberty 2000 is turning into a stronghold for family-friendly British tour operators, looking for a snowsure destination for their clients. It's home to a little enclave of low-rise, traditional chalets, set next to an easy piste, and there's a good restaurant next door (La Ferme de Reberty) where everyone goes for lunch (and dinner on the chalet staff's night off).
The ESF's ski kindergarten is a three-minute walk. Given that two companies operating here offer English-speaking childcare, and have an excellent working relationship with the local ski school, it's near-perfect for families with pre-teen kids,
Chalet Genevieve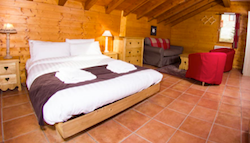 We rank Chalet Genevieve as one of the best ski chalets for families in the Alps as a result. It sleeps 20 in six en suite twin-bedded rooms and two en suite family rooms located over three floors. It's piste-side with a lovely hot tub from which you can check out the magnificent mountain views. Some of the rooms are a little on the cramped side, but staff are wonderfully friendly and the shared living area is as cosy as you can imagine.
One caveat. As its name suggests, Reberty 2000 is set at 2000m, and the Family Ski Company warns that "children under the age of two may experience some discomfort at this altitude". A free bus service connects the suburb with La Croisette, which is home to a pool and one of the best soft-play areas in the Alps.
Flocon des Neiges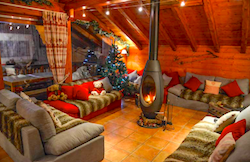 Also in Reberty you'll find the Flocon des Neiges – another traditionally-styled chalet run with great care and attention to detail by the small independent chalet specialist Powder 'n' Shine. In other words, this is an area that will work for adult-only groups too – although we wouldn't advise staying here if nightlife is a priority (most people tend to make their own nightlife in their chalet). It's warm and homely inside, with a central log fire and a hot tub for post-slopes soaking.
There are more chalets and hotels in Les Bruyeres
Just below Reberty lies Les Bruyeres, which has quick gondola access up towards Val Thorens and over into the Cote Brune sector of Meribel: so it's a good base for anyone who wants to get stuck into the most snow-sure skiing in the Three Valleys. Here you will find a wide range of shops, a night club, cinema and the Aquafun pool and wellbeing centre.
Chalet Estelle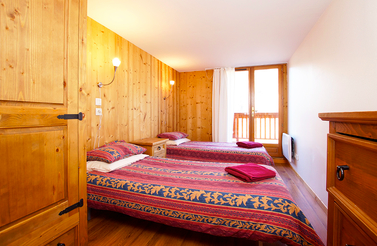 Here you'll find several Brit-friendly chalets run by Ski Amis, close to the gondola lift station. They include Chalet Estelle (Flora and Gabrielle are identical, Delfina and Hayley similar but with a different layout), which hosts up to 12 adults and 4 children, situated right by the gondola. It's in the centre of the village so great for kids and teenagers who want to explore. Rooms are perfectly pleasant and there's an indoor hot tub.
You'll find apartments all over the place – and at a wide range of prices
CGH Residences & Spas Les Clarines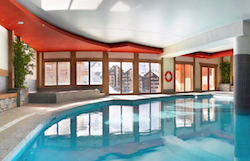 Typical of the more upmarket apartment blocks which have arrived in Les Menuires recently, Les Clarines is low-rise, traditionally-styled, with an indoor pool, and offering a good standard of interior design. Accommodation is in six buildings, with a separate reception chalet. It's 100m from the lifts and pistes, and set in the Preyerand suburb, linked by bus and shuttle-lift to the shops of La Croisette. It's particularly handy for those who want quick access to the slopes on the Pointe de la Masse: but much less convenient for those who want to get up to neighbouring Val Thorens.
Le Chalet du Mont Vallon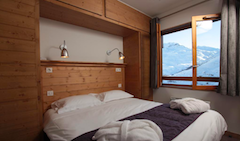 Le Chalet du Mont Vallon is a self-contained complex of apartments, suites, spa, pool and restaurant which is set, piste-side, beneath the suburb of Les Bruyeres. Apartments make more sense than suites here – so you can chop and change between cooking for yourself and eating in the highly-rated restaurant. The nearest food shopping is a five-minute walk away.
Les Alpages de Reberty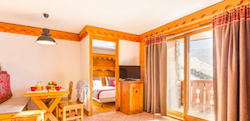 Les Alpages is a smart-ish Pierre & Vacances complex in the suburb of Reberty, with an indoor swimming-pool, sauna and Turkish baths. There's also a small Sherpa supermarket in the complex. Interiors are in woody, Savoyard style and the complex is ski-in ski-out.
Les Valmonts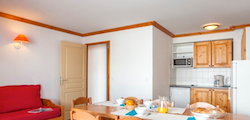 Les Valmonts residence marches down the hillside below Reberty, towards the bottom station of the Bruyeres gondola and is handy for anyone who wants to jump on the lift first thing and get over to the upper end of the Meribel valley or Val Thorens. So it's a good choice for late-season skiing. It hasn't been refurbished recently, and is no-frills place: but it's close to the new Aquafun pool, as well as the ski school meeting point, and there's even a little nursery slope outside, so it works for families on a budget too. The main downside is that it's a bit of hike to the nearest food shopping.
These days, there's a better choice of hotels, too
Les Menuires is not a resort for sybarites. If you want luxurious hotels, along with the Belleville valley's high-altitude snow and excellent pistes, target Val Thorens just up the road. It now has four – four – five-star hotels.
Chalet-hotel Kaya

Chalet-hotel Kaya is a four-star hotel at the top of the surburb of Reberty. It's a comfortable spot, and attractively priced compared to its rivals elsewhere in the Three Valleys. It has an unfussy, pared-back style, spacious rooms, and a good spa.
Hotel l'Ours Blanc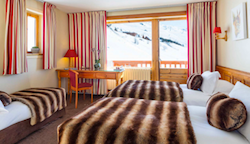 Hotel l'Ours Blanc is situated in Reberty 600m from Les Bruyeres. The hotel has a lounge with an open fireplace, a spa and fitness room, and a good gastronomic kitchen. It's four-star and totally family friendly, with brilliant access to the slopes.
Hillary Hotel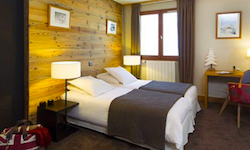 The old Chalet 2000 in Reberty has recently had a change of management and a refurb, and has re-emerged as the Hillary Hotel. It has double and triple rooms, as well as quadruples which come with bunk beds and are a good bet for families. It's cosier than you'd expect from a three star.
---
---
Where to Eat
Les Menuires and its suburbs are so ski-in, ski-out, there's no real distinction between mountain and resort restaurants. So perhaps it's no wonder that the best restaurants are in town. L'Ours Blanc, at the hotel of the same name in Reberty, is one of the best – presided over by chef Pascal Casali and his son Steve. They offer slippers if you want to take your ski boots off, and although dinner is the more gastronomic event, the lunch menu (steaks, lobster risotto, lamb chops, chocolate mousse) is excellent too.
Meanwhile, a little higher up in Reberty, you'll find La Ferme de Reberty, which acts as lunch canteen for the many Brits staying in the chalets next door. It's the obvious place to take the kids after their morning lessons at ski school and the terrace is buzzing whenever the sun's out. The long menu of mountain-restaurant standards – steaks, burgers, savoyarde salads, lamb shanks – are reasonably-priced and served in generous portions. Which helps to explain why the atmosphere is always so cheerful.
Lower down the resort, in the suburb of Preyerand, La-Haut is a bistrot paysan, and one of the most exciting restaurants to open in Les Menuires in recent years. We haven't been yet, but the feedback is very positive. Warm, friendly, and ever-so-hip, its Savoyard-inflected menu (pork cheek, tartiflette, cote de boeuf) is clearly cooked with uncommon flair. Desserts change daily, but are a highlight.
Meanwhile, near the mid-station of Les Bruyeres gondola, piste-side l'Antigel is a good place to bring kids, thanks to its kooky stuffed-animal-and-sunglasses decor and an accessible menu – which includes burgers and spag bol. There's a ski museum on site too, with skis on display from through the ages.
Finally, if it's a good fondue you're after, then head to La Fromagerie des Belleville – a dinner-only place that opens at 6pm in the Galerie de l'Adret above the bus station at La Croisette. It's not a promising location: but if you're feeling cheesy, this warm and welcoming wood-panelled room should be your target.
Gourmet lunches in the neighbouring resorts
Gastronomes will of course have their eyes on the neighbouring resorts and villages. Top of their hit-list will be La Bouitte, where the father-and-son team of René and Maxime Meilleur were recently awarded a third Michelin star for their endlessly-inventive cuisine, which leans heavily on Savoyard ingredients and traditions. It's in the hamlet of St Marcel, and can be reached off-piste if the snow's good (or by free shuttle bus from St Martin de Belleville if it isn't, or if your group prefers to ski pistes).
Another must-eat destination is the Restaurant Jean Sulpice in Val Thorens. It's set in a less charming room – but there's no doubting the quality of the food. Chef Jean Sulpice has two Michelin stars, and creates magnificent, inventive dishes – pairing flavours such as jerusalem artichoke, frogs legs and nut sorbet.
---
---
Where to Learn
The ESF is the biggest ski school in Les Menuires, with branches at La Croisette, Les Bruyeres and (for youngsters) Reberty 2000. Prices are noticeably lower than in Meribel and Courchevel.
Where it has forged a close working relationship with British tour operators – as in Reberty 2000 – the ESF runs a Brit-friendly service. Here, the Family Ski Company even sends out a ski school helper with the four and five year-olds each day to keep them happy and active.
In fact, even if you're not planning to book one of the British-run chalets in Reberty 2000 you'd be well-advised to target a self-catering apartment or hotel in the suburb and target the same ESF branch, as it provides such a friendly, English-speaking environment.
There are three other ski schools in the resort with a more international flavour than the ESF. The highly-rated Ecole de Ski Prosneige is based in La Croisette. The ESI works out of Reberty Village (beneath Reberty 2000). Meanwhile the small, dynamic Ski School Les Menuires specialises in private ski lessons in English. They needn't be expensive. In 2014-15 a one-hour afternoon lesson cost €50 for 1-3 people.
---
---
If you're looking for a busy apres-ski scene, this is not the place to find it. Head up the valley to neighbouring resort of Val Thorens instead.
That's not to say you can't get a drink as the lifts close, of course. But this is too fractured a resort to create an exceptional atmosphere. Expect cheerful nights rather than epic ones – and bring a big team of accomplices if you really want to go wild.
But you'll still be better off in Val Thorens…
La Croisette is the main focus for apres-ski, with most the bars arranged around the edge of the pistes. La Mousse and the Challenge pub are the most popular: La Mousse is small but hosts DJs during the season, and the Challenge has live music. Le New Pop is the local night-club. For cocktails, try Le Kube.
Meanwhile, in Les Bruyeres, Plan B is the best bar-restaurant, and hosts DJ sets on some nights. Le Leeberty nightclub is the nightclub here.
Family-oriented activities are better than the bars
I've already mentioned the two pools. They're both good, though the one at La Croisette is bigger, and is part of an indoor sports complex which includes a vast soft-play area: the best I've seen in the Alps. Families with pre-teen children will be well-pleased to have them as an after-hours resource.
They'll also enjoy Speed Mountain, the longest track-mounted sled run in the French Alps, which is open every day except Saturday from 2.30pm to 7.30pm. The Roc'n Bob is fun too – a 4km taking in 22 bends and with a vertical drop of 450m; open daily from 2pm-6.45pm, except Saturdays. Night-time tubing also takes place on two 200m-long pistes equipped with a moving carpet.