There's a bit of a shindig taking place in Meribel this weekend as the world's top women skiers descend on the resort (literally) for the World Cup Downhill and Super Combined Events. It's the first time in a decade that a World Cup event has been held here, and what with that and half-term you can expect it to be busy on and off the slopes. So it's worth knowing your way around the Meribel piste map if you want to make the most of the skiing. Here are a few tips that might help:
Avoiding the log jam
You can avoid the worst of the crowds by staying well away from the runs that lead down into Mottaret – these are invariably busy at any time, especially day's end. The slopes below Tougnete offer a good alternative with a fine range of blue and red runs and a variety of lifts half-way down the mountain, which mean you don't have to descend all the way to Mottaret (don't worry, your legs will still be burning by the time you reach the mid-stations). The slopes below Tougnete are shaded from the ever-warmer sunshine of late February, so they generally stay in good condition (especially in an epic season like this).
Also from the top of Tougnete you can access one of my favourite reds, the long, undulating Jerusalem which takes you away from Meribel down to St Martin de Belleville. Note however that you'll need a full Three Valleys ski pass to get back.


Centre of the universe
And here we come to an important point; Meribel is the middle valley of the Three Valleys and as such it makes complete sense to buy a lift pass for the entire area. As Max Hardy pointed out in his recent feature on the Three Valleys, being at the centre of things is both a blessing and a curse for Meribel since it means there's a lot of through-traffic and consequent crowds. On the other hand it means you're ideally placed to explore further afield.
So why not begin your explorations by taking the Loze chair up to Col de la Loze for the consistently steep and rarely too busy Dou des Lanches black down towards La Tania, from where you can easily connect to Courchevel; or if easy, cruisy blues are your thing here are plenty of fun options from Mont de la Chambre, 3 Marches, Mont de la Challe, Tougnete and Cherferie down to Les Menuires and Saint Martin – try Grand Lac from 3 Marches which connects with Gros Tougne down to Les Menuires or Pelozet down to Saint Martin – both are easy-peasy but go on forever and offer lovely mountain panoramas.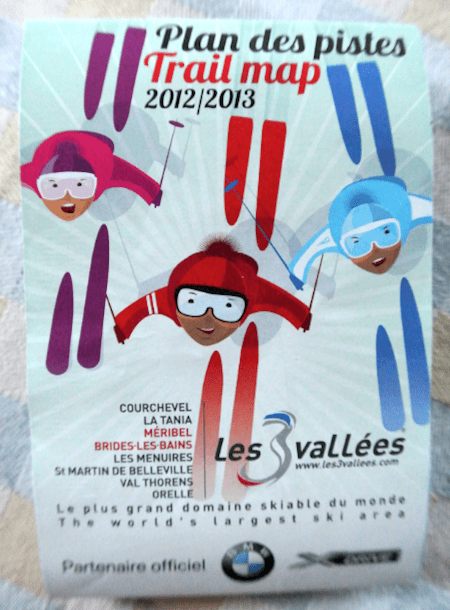 Can't see the trees…
But back to Meribel. It's not a resort that's noted for its tree skiing, but if the weather clags in there's plenty of fun to be had in the glades above Altiport, and it's an area that doesn't see too much traffic. This is also a good spot for mixed ability groups, since there are some fine nursery slopes in the Altiport and adjacent Rhodos and Rond Point areas, plus a decent choice of mountain restaurants. The steeper terrain and trees higher up will provide plenty of interest for more accomplished skiers.
Another good option if you're in a group of intermediate and advanced skiers is to head up either Mont du Vallon or Mont de la Chambre; a selection of long, fun, fast reds run off the top of both, such as Lac de la Chambre and Combe Vallon – fair enough, they can get busy but for more accomplished skiers there's always the option of more challenging ungroomed terrain beneath the Mont Vallon bubble or the Côte Brune chair.
And further afield you can get a more 'backcountry' feel by descending the valley to skier's left at the top of Mont Vallon; likewise head skier's left just below the top of the red Venturon run off the Côte Brune chair and you'll find a fun powder bowl which pops you back out onto Venturon lower down the mountain.
World Cup here we come
Finally, of course, you can hardly visit the home of a World Cup race and not take on the course yourself – well, some of it at least. Take the Roc de Fer and Olympic chairs up to 2290-metre Roc de Fer and head off down the blue Grand Duc and onto Gelinotte to see what the top half of a World Cup downhill is like (the bottom section on the Stade de Slalom run isn't open to the public).
You may scoff at the fact that it's only a blue, but bear in mind that unlike you the competitors are heading down here at maximum pace without any thought for slowing down for awkward corners, aching quads or to admire the view.
Which brings me to one last point; another fine feature of Meribel that often slips under the radar is the marvellous mountain scenery. On Grand Duc, for instance, you can see all the way to the Mont Blanc massif, which almost seems within touching distance on a clear day.