In a Nutshell
There are some cracking fall-line pistes to be skied in this sunny Tirolean resort. But it's the focus on family holidays that keeps its regulars coming back. The child-friendly facilities are amongst the best in the Alps.
The Stats
Altitude: 1200m-2828m
Lifts: 68
Top lift: 2828m
Ski area: 214km of piste
Adult lift pass: €263 with guest card


Official Site |

Ski Map |

Webcam
Covid-19 Safety Protocols
Click on the links for details of the latest latest safety measures in Serfaus-Fiss-Ladis, as well as information about travel to the Austrian Tirol, and Tirolean travel FAQs.
Resort Overview
Set on a sunny plateau above the Inn river, just over an hour from Innsbruck airport, Serfaus-Fiss-Ladis offers a rich mix of skiing, with family-friendly slopes a particular strength. Its child-friendly facilities are even better. Several hotels here have turned themselves into giant playgrounds for kids ("our son wants to live here" was one recent comment) and in Serfaus they're backed up by a stand-alone indoor play centre, zip-wire and Alpine coaster. Add in two big hubs of nursery slopes, and specially-designed, child-friendly chairlifts, and you've got a relaxed, well-run and well-equipped launchpad for young skiing careers: with the thrilling Dirretissima black on standby once Mum and Dad have warmed up their skiing legs.
Admittedly, the south-eastern aspect of many of the home runs here means that Serfaus-Fiss-Ladis is best skied over Christmas and New Year, or during the mid-February holidays – rather than Easter. But all the same, it's odd that the resort is so little known in the British ski market. If you're skiing with kids – and want them to have a busy, active holiday both on and off the ski slopes – then it should be on your short list.
Skiing in Serfaus-Fiss-Ladis
Here's a rather lovely eagle's-eye view of the ski area, courtesy of a resort video shot in 2019. Note the wide pistes, and the fact that most are above the treeline.
https://www.youtube.com/watch?v=NwXKKQAfnNY
The mountain ridge behind the villages runs broadly south-west to north east, and in places you can ski both sides of it. The pistes rise to 2828m (as high as Ischgl's), and bottom out at 1200m, and in between you'll find an unusually broad range of slopes. 80% of the pistes are covered by snow cannons.
In two sectors, on the Zwölferkopf (above Fiss) and Pezid (west of Serfaus), there are some long and sustained steeps, with Dirretissima the pin-up run.
But generally the theme is more ego-boosting than nerve-shredding. Think superwide reds and blues, with some really sweet straight-down-the-mountain pistes, such as the Plansegg Direkt above Serfaus. Never mind families: with 214km of pistes on the skiing menu anyone who's recently nailed the basics and needs to build their confidence will enjoy the skiing here too. (But if they don't have kids of their own they need to avoid the school holidays and come in January, early February or mid-March.)
Ski Schools in Serfaus-Fiss-Ladis
Two self-contained beginners' areas are the focus for first-time families: Berta's Kinderland at Fiss, and the Kinderschneealm, mid-mountain above Serfaus. By the standards of most ski resorts, they're huge. Both come equipped with several easy magic-carpet ski lifts and dedicated teams of instructors. Bear in mind that the Kinderschneealm – set at 2,000m – is considerably higher than Berta's Kinderland. This makes it a better late-season place to learn, thanks to its more consistent snow.
The two ski schools that run these beginner hubs also dominate the tuition market for older kids and adults: the Ski School Serfaus and the Ski School Fiss Ladis. Both offer 4hr group lessons, with a lunch break in the middle.
Off-piste in Serfaus-Fiss-Ladis
Both the Pezid and Zwölferkopf are known locally as good freeriding areas. What's more, in other sectors above the treeline, there's plenty of moderately-pitched, treeless terrain on which to make your first off-piste turns. Don't try it on your own. Local ski schools will provide you with the guiding and tuition you'll need, as well as the essential avalanche safety equipment: transceiver, shovel and probe.
The generally gentle terrain is good for first-time ski-tourers too. Both ski schools will teach you the basics, and run guided tours for more experienced tourers: into the Urgtal, behind Fiss, for example, as well as a "Smugglers' Tour" across the border to Samnaun in Switzerland.
One thing to bear in mind, however: the Oberinntal isn't one of the Tirol's snowiest areas. Storms tend to unload most of their snow on the mountains further north, or south, depending on their direction of travel. That's a double-edged sword, of course. You won't find conditions to match famous schneelochs (snowholes) such as St Anton or Hochfügen. Then again, when the snow does fall there's much less competition for powder. So all the terrain isn't tracked out by 11am on the first morning after a dump.
Where to stay in Serfaus-Fiss-Ladis
The first thing to remember about accommodation is that anyone who stays more than one night in Serfaus, Fiss or Ladis gets one of the resort's guest cards. This knocks more than 10% off the price of a six-day adult ski pass. Don't buy your lift ticket until you've got one sorted.
The second thing to remember is that the villages are all quite separate, and each has its own character. So make sure you know what you're getting before you book.
SERFAUS
A quiet, pedestrianised centre, combined with family-friendly hotels and quick access to the Kinderschneealm nursery slopes make Serfaus the obvious target if you've got kids. The village is also home to several attractions that will keep your kids buzzing once ski school is over. These include PlayIN – where climbing walls and towers combine with soft play areas and a laser obstacle course – and the outdoor Schneisenfeger mountain coaster. There's also a mountain zip wire.
One other extraordinary feature of the village is its 1.2km underground railway, which connects the central parking area for guests with three stations in the village. It's also used by guests to get to the lifts at the start of the skiing day.
Hotel Bär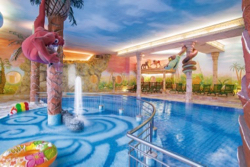 One of the best-equipped family hotels in the Alps, Hotel Bär offers indoor pools, a 96-metre water slide, a sports hall, a climbing wall, an indoor theatre/cinema, and a five-storey soft play tower, along with six days of kids' clubs each week and swimming lessons for those who want them. There's also an area of nursery slopes right outside the hotel: a reassuring place to start for younger children. Spacious family rooms and suites complete the picture. Sister property, Hotel Löwe, is a short walk away.


Familienhotel Fürgler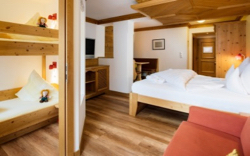 The Familienhotel Fürgler is another highly-rated family hotel in the village, with indoor pools, soft play areas and a mini bowling alley, as well as kids' clubs for children aged six months and up. The friendly, well-organised staff and excellent food also come in for regular praise, as is the fact that the hotel is next to the Zentrum U-Bahn station.


Posthotel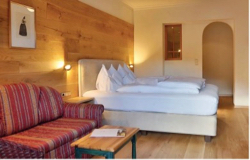 Not quite in the same league as the Bär in terms of facilities – but with lower prices – the central Posthotel has a new pool area with a room full of sprays and water jets to get your children giggling, as well as a cinema room, soft-play area, and kids' clubs. The Post's wine bar is one of the buzziest spots in Serfaus after dark.


FISS
Fancy a crack at Direttissima? Then consider Fiss, which lies directly below the Zwölferkopf. When you make your first turns at the top of its precipitous slopes it feels like you're going to plunge straight back down onto its snowy streets.
The proximity of such a demanding slope gives Fiss a more grown-up atmosphere than Serfaus, although it's still home to family-friendly hotels, as well as the Berta's Kinderland bastion of nursery slopes, just above the village. Meanwhile, off-duty thrills await at the Fisser Flieger – a giant four-person zip wire that thinks it's a kite.
Gebhard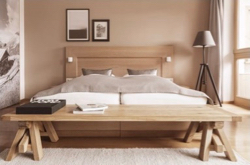 Child-free couples will love the low-key and lovely Gebhard: decorated with hand-made furniture, luxe-y wool throws, and plenty of Swiss stone pine – whose soothing aroma is thought to lower the heart rate. There are just 19 rooms and suites, as well as a gastronomic restaurant. If you're looking for the complete opposite of one of the area's bustling family-friendly hotels, this is it.


Hotel Laurentius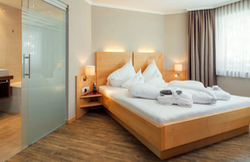 Fiss is not without its child-friendly bastions: and the Baby & Kinderhotel Laurentius is one of the best equipped. The three-lane slide in its family pool is the star attraction. But on top of this there are swimming lessons, kids' clubs, magician school and giant, well-equipped playroom. The hotel has a good range of family rooms and suites, too.


Bauernhof Wachter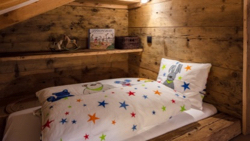 Looking for a sense of Alpine history on your next ski holiday? The Bauernhof Wachter is the place. The farmhouse around which it has been built is 350 years old, and in its three Bauernhaus self-catering apartments you'll find plenty of original features, as well as beautiful antique panelling. Three more modern apartments are in a newly-built annexe next door.


LADIS
Ladis is a lovely place: home to both a castle and an elegant church. But it's more of an outlier to the ski area than Serfaus or Fiss – with a single gondola connecting it to the slopes. You'll find prices a little lower as a result, and a wider range of accommodation on offer.
Aparthotel Refugio Laudegg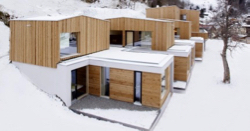 Need a change from traditional ski hotels? Try the minimalist, low-rise Aparthotel Refugio Laudegg, set beneath Ladis' 13th-century castle. It's a ten-minute walk or a short drive from the lift station, so this isn't the spot for if you want instant access to the lifts each morning. But if you want a sense of style with your skiing, put it on your short list.


Chalet's Ladizium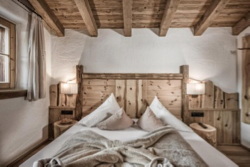 Another unusual offering is Chalet's Ladizium – a hamlet of freestanding self-catering chalets on the edge of the village. Each has its own open fire, sauna and hot tub. The on-site Fire and Flame restaurant serves fondue and raclette, deepening the Savoyard atmosphere.


Kinderhotel Laderhof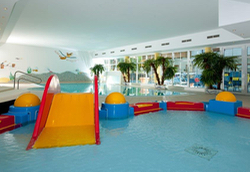 The Kinderhotel Laderhof has its own small area of nursery slope for first-time skiers: the perfect place to get little ones used to the notion of sliding about on skis. Then, when they're reading for more challenging slopes, the hotel's own shuttle bus will whisk them to the gondola at Fiss. Meanwhile, back at base indoor pools, kids' clubs and a big indoor play area will keep them busy once ski school's over. Mum & Dad may even find a moment of slip away for a sauna or a massage.


Mountain restaurants in Serfaus-Fiss-Ladis
You're not short of lunchtime options. There are 32 mountain restaurants to choose from in the ski area.
Most are friendly, bustling and well-run – and built in traditional style. But they are quite large too. If you're looking for the patina of age and a cosy ski-hut atmosphere, then head to the Schöngampalm above Fiss, for ancient timbers, old-school interiors and comfort food with a strong Austrian flavour.
More representative of the ski area's style is the Seealm Hög, not far above Serfaus. It looks traditional, but is a big, modern restaurant, with a sprawling sundeck and platoons of busy waiters working the tables. None of that is a bad thing of course: especially here, where the food is good, prices are reasonable, and the menu is light and varied. Local ski instructors love it for the sense of variety, and its fish dishes.
Another favourite is the Leithe Wirt restaurant close to the meeting point between the Serfaus and Fiss sectors: a giant 390-seater restaurant with great service, its own smokehouse and a bit of flair when it comes to local standards such Tiroler gröstl. They serve good Austrian standards at the Schalber Alm above Serfaus too, with the added attraction of grandstand views onto the plunging black pistes of the Pezid sector.
Après-Ski Activities in Serfaus-Fiss-Ladis
We wouldn't suggest coming to the Tirol's number-one family-skiing resort for a week of partying – even in an era when everyone is vaccinated against Covid-19 and infection levels had dropped through the floor. Sure, there are places to stop on the way down the mountain, and umbrella bars at the bottom of the lifts. Several of the hotels have lovely bars, too – notably the Posthotel in Serfaus (which has an inviting wine list) as well as the Stub'n at supercool Gebhard in Fiss (for G&Ts and pinot noirs). But essentially, après-ski in Serfaus-Fiss-Ladis is all about family fun once the lifts have shut.
A lot of that will be going on in hotel swimming pools, games rooms and at the PlayIN climbing/soft-play centre. But on Tuesday nights there's night-skiing on the Möseralmabfahrt piste above Fiss, and on Wednesdays Serfaus offers night-skiing and tobogganing from Komperdell back to the resort. Meanwhile, floodlit skating and Bavarian curling are on offer on the lake at Ladis.