Fancy skiing in New Zealand? We don't blame you. This far-flung country, moored on the edge of the Southern Ocean, offers the kind of under-developed mountain environment we can only dream of in western Europe – and spectacular scenery comes as standard. When conditions are right the terrain's world-class, too; especially if you venture off-piste, and have the budget for some helicopter drops.
Here's a little video taster of what's out there, courtesy of a GoPro and fresh powder in Mount Hutt a few seasons ago…
But – and this is a big "but" – you will need to adjust your mindset before you go. Because anyone raised on the huge lift systems of the Alps will find New Zealand's ski fields (as the resorts are known) small. The biggest – Whakapapa on the North Island and Treble Cone on the South – both claim about 550 hectares of terrain. The Three Valleys in France (home to Val Thorens, Les Menuires, Meribel et al) has 40,000 hectares.
If you're used to the cold, dry, consistent snow of Rocky-Mountain resorts such as Breckenridge you'll find the maritime climate a bit of a shock too. Icy blasts from the Antarctic can be followed by warm burps of sub-tropical air from the north. As a result, whichever month of the season you visit, you could find yourself creaming through pristine powder, or clattering over crud. Occasionally – as in 2014 and the early weeks of the 2016 season – some ski fields struggle to open altogether. However, ski writer Arnie Wilson says: "The snow conditions have always been superb when I've been there – and I've been about 10 times!"
You should prepare yourself for some pretty basic infrastructure. On the South Island, for example, there's only one ski field with an approach road that's asphalted along its entire length. (Coronet Peak, 20 minutes from Queenstown). The Remarkables has also sealed the first 5.6km of its access road, too: but all the others are dirt tracks, and when the weather's bad even the locals are nervous. Ski-in, ski-out accommodation is hard to come by, too. Almost everyone stays in towns and villages nearby and drives up to the lifts each day.
But in many ways, all this just adds to the allure. This is a place for explorers, and the young at heart – and almost everywhere except Queenstown itself you'll find a rejuvenating lack of big-resort commercialism. So hire a 4×4, avoid the school holidays if you can, and prepare for a trip that will be an adventure as much as a ski holiday.

By the way: we know we said the weather can be iffy in New Zealand. But that doesn't mean it never snows. In June 2013, for example, the South Island was hit by a huge storm which dumped 2.8m of snow on the slopes of Mount Hutt.
Then there's this now-famous bit of youtube footage from Arthur's Pass.
And we shouldn't forget the exceptionally cold and consistent El Nino season of 2015…
In Mount Hutt winter 2019 got off to a promising with 50-100cm of settled cover on the slopes even before opening day.
Tempted? Here, to help you plan a trip, is our guide to the best places to ski in New Zealand.
Queenstown
In winter the lakeside town of Queenstown quietens down considerably. But it still offers the best base in New Zealand for anyone in search of resort-town buzz. It's also flanked by two popular ski fields – Coronet Peak and The Remarkables, and is within easy day-tripping distance of several more, near Lake Wanaka.

Coronet Peak
is the closer of the two local fields – and its sealed access road is a boon whenever there's a blizzard blowing. It also has NZ's most extensive snow-making, and no wonder – because its relatively low elevation and relatively dry climate (it averages 2.1m of snow a season) means the cover can be variable. "Concrete Park" is the local nickname, although in truth the grassy slopes on which its set don't need much of a base to be skiable. The resort's strongest suit is its steady,
fall-line
, intermediate-level pistes. But if you ski it when the snow's cold and soft, you'll also enjoy some great entry-level off-piste too.
For seasoned skiers, The Remarkables is more interesting – thanks to its three terrain parks and some steep and exciting hike-to terrain beyond the resort boundaries. It's also a well-worn departure point for ski-touring. Average snowfall is higher here than Coronet Peak at 3.7m, although that's not a lot compared to the snowiest resorts of the Alps and North America.
In common with most of the bigger NZ ski areas, The Remarkables has also boosted its snowmaking facilities in recent years, in response to some slow starts to recent winters.
Best for: infrastructure, nightlife, intermediate pistes, night-skiing.
Worst for: the locals complain of school-holiday crowds – though anyone who's skied in France over February half-term won't be alarmed.
Where to stay: on the doorstep of Coronet Peak ski field and a short drive from Queenstown is the Nugget Point Queenstown, a five-star hotel with gorgeous views. Other options include the Matakauri Lodge in town, which has just 12 suites all with private terraces overlooking the water, and the upmarket Aro Ha wellness retreat.
Wanaka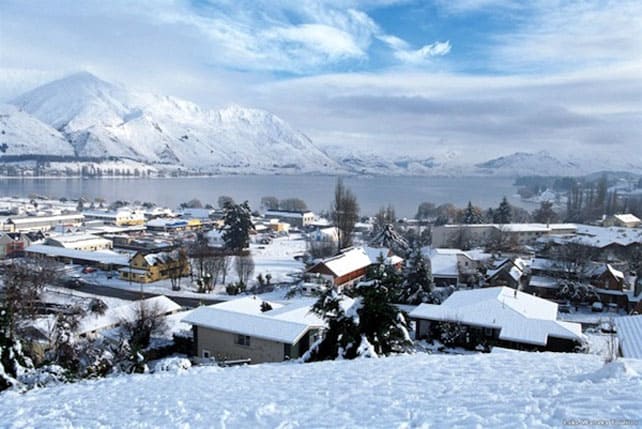 Wanaka is a quieter, less touristy version of Queenstown, and is close to what is arguably NZ's best ski field – Treble Cone. Blessed with a snowfall average of 5.5m (which is respectable even by the standards of the European Alps) it's also home to one of the country's longest lift-serviced vertical (700m).
Roaming ski guide Pete Ilinsky is a big fan. "I like the long, uncrowded groomed slopes," he says. "But for me the jewel in the crown is the awesome off piste terrain accessed from the Matatopu Chutes and the Saddle Basin area." He likes the scenery too. "Combine the terrain with the amazing natural beauty of the Southern Alps, and you've got my favourite place in NZ to ski."
Here's a video taster…
"The only drawback," says Ilinsky, "is the lack of tree-skiing for when the weather turns funky and the light goes flat. But that's the same with all the New Zealand ski areas. Its just something that you have to be prepared for when skiing here."
Meanwhile, recent investment in a top-to-bottom snow-making system means there's more consistent cover on the pistes.
Treble Cone doesn't have much in the way of a terrain park. But that's not really a problem because freestylers can head instead to Cardrona. The latter is widely regarded as the best ski field in the Southern Alps for families, thanks to its wide groomers and on-site accommodation (a rarity in New Zealand). But it's also home to four terrain parks, a monstrous big-air kicker and two half-pipes – one of which conforms to Olympic standards and has 22ft walls.
By the way, the Lake Wanaka area claims to be the largest heli-skiing area outside Canada. The Russians will surely take issue with that: but there's no denying the quality when there's fresh snow. Check out Southern Lakes HeliSki and Harris Mountain Heli Ski for packages.
Best for: freestylers, families and off-pisters.
Worst for: first tracks after a dump. Treble Cone is the locals choice after heavy snow, and many of them get a day off on a powder day. The only way to beat them to the best runs is to hire a guide for the day. Meanwhile, at Cardrona, lift queues can be a pain in the school holidays.
Where to stay: The Oakridge Resort features 10 heated rock pools, a spa and restaurant. Alternatively base yourself at the Wanaka Luxury apartments, a short stroll from the lake, shops and restaurants.
Canterbury
There's a strange and lovely mix of skiing experiences on offer in Canterbury. On the one hand, you've got Mount Hutt – one of NZ's larger, more commercial ski fields (365 hectares of terrain, 4m of snowfall on average each season). On the other, you've got the New Zealand Clubfields – basic club-run areas which many regard as the heart and soul of New Zealand skiing. Expect a challenging access road, a hike to the base huts and tricky rope tows. Oh yes, and blissfully uncrowded skiing.
"The relaxed, fun-loving vibe and raw, unpisted terrain makes the clubfields my favourite place to ski in NZ," says ace British ski photographer Camilla Rutherford, who's now settled in New Zealand. She recommends Broken River for families, and Temple Basin "for the steepest and most challenging lift-accessed terrain in NZ".
Of course you don't need to plump for just one clubfield. The Chill Pass offers access to most of the clubfields on a single ticket.
Best for: skiing variety – plus some great off-piste terrain. The Canterbury resorts can also see heavy snowfall when it's dry in the Queenstown/Wanaka area. Winter 2017 was a striking example of that.
Worst for: bad-weather closure at Mount Hutt. Thanks to the vulnerability of its eight-mile access road to avalanche closure the resort is known as "Mount Shut" by some.
Where to stay: The High Peak Heliski offers lodge-based heliskiing in Canterbury, as well as day-trips to the local clubfields on no-fly days.
Mackenzie District
Roughly half-way between Christchurch and Queenstown, you'll find Tekapo – a small town that's the jumping-off point for several of rootsy, under-used ski fields. Snowfall is pretty low here – but so few people ski here you can still find powder days after a dump.
Roundhill and Ohau are the two fields to aim for. The former has recently been transformed from a small beginners/family area to something more challenging by the addition of the world's longest rope tow, which is nearly a mile (1.47km) long. For rope-tow first-timers it's a gruelling experience: but it has opened up a vast open slope, that's proving a big hit with the locals.
Meanwhile, Ohau is set in single bowl above Lake Ohau and is loved for its friendly atmosphere and under-skied off-piste terrain. Make sure there's plenty of snow here before you try it, though: if the cover's thin the underlying scree will tear holes in your skis.
Best for: empty slopes and friendly locals.
Worst for: deep powder. The snowfall averages are pretty low here.
Don't miss: Roundhill ski area offers some of the best snow-kiting and speed-flying terrain in New Zealand.
Where to stay: relaxed and highly-rated Ohau Lodge is close to the ski field, and offers several different grades of accommodation – from upmarket private rooms to bunks. In Tekapo, Peppers Bluewater Resort offers chic lakeview rooms and apartments.
Mount Cook and the Glaciers
Aoraki/Mount Cook National Park is home to NZ's highest mountain and biggest glaciers; and some of its highest snowfall, too. There are no lifts up here – you get to the top of the slopes by helicopter or fixed-wing plane – and because a lot of the terrain is glaciated a guide is essential. There's one heli-skiing operator operating here – Mt Cook Heliski – although the number of drop-offs within the National Park boundaries is limited. To really explore the terrain you need to skin up, and go ski touring (in the company of a fully-qualified Alpine Guide of course). If you do, the 14-bunk Tasman Saddle Hut – perched above a cliff face in the middle of the Tasman Glacier – is the place to stay.
Not all the terrain is expert-only. Ski the Tasman is a guiding/scenic flights package offered by Mt Cook Heliski and aimed at intermediates. You ski two wide open glacier slopes through a vertical drop of up to 1000m (depending on conditions of course).
Best for: the scenery. It'll blow your ski boots off.
Worst for: anyone on a tight budget.
Where to stay: you couldn't hope for a posher base camp than the Hermitage Hotel. Just be sure to bag a room with views of Aoraki/Mount Cook. For something less pricey, check out the Aoraki/Mountain Cook Alpine Lodge.
The North Island Resorts
The vast majority of New Zealand's ski areas are in South Island: North Island, without a major alpine range of its own, has two commercial fields, on either side of a huge, sprawling and active volcano – Mount Ruapehu. In good visibility, the Ruapehu ski areas (Whakapapa and Turoa) provide some of the best skiing in the country, and Turoa has the biggest vertical drop (722m/2,369ft). But the volcano, which erupts on average every 50 years or so (most recently in 1995 and 1996), is a magnet for unsettled weather.
Best for: the excitement of skiing on a volcano.
Worst for: the unpredictable weather.
Where to stay: Most of the accommodation is in Whakapapa Village in the Tongariro National Park, which is a UNESCO Dual Heritage Area. Skotel Alpine Resort is built in lodge style, with lots of timber. Chateau Tongariro Hotel is the smartest option, containing a spa and fitness room, a cinema, and a restaurant serving classic New Zealand cuisine.