The time has come. You love to ski, and long to make your relationship with the mountains permanent. So you've decided to buy property in a ski resort.
But what kind of property should you buy, and where? Now you've begun to think seriously about it, an avalanche of questions comes tumbling in. Chalet, or apartment? New-build or resale property? France or Austria? Or Switzerland? Maybe Italy?
And how are you going to finance the purchase?
There's a lot to consider. But there are also a lot of distracting possibilities that can quickly be dispensed with. In fact, with a little bit of thought, deciding what to buy, and where, can be a pretty straightforward process.
The trick is to be honest with yourself: about what you're trying to achieve, and how much time and money you've got to spend - not just on the purchasing process, but on the use of the property afterwards. In other words, you've got to put away the rose-tinted spectacles, and ask yourself some pointed questions.
Here are three to get you started.
Do I really need a chalet?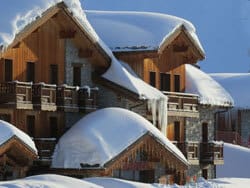 Think "second home in the Alps" and you'll probably picture a cute and/or luxurious chalet. It's a potent dream. Your friends will be dazzled, your family will thrive in it, and it'll be the setting for high-spirited house parties for years to come.
But remember, chalets aren't cheap: and they don't take care of themselves, either. So prepare yourself for the hassles of ownership in a foreign country, and in a tough climate. A leaking roof or a burst pipe can turn the dream into a nightmare if there's no-one there to deal with it. It's no wonder many owners sub-contract the care of their property out to someone else.
Would an apartment be a more sensible option instead? Yes, ski apartments are less glamorous. But generally they're cheaper, have lower running costs, and are easier to rent out (provided they're in the right place).
In fact, in France and parts of Austria, local regulations often require buyers to put their new apartments into a rental pool, as part of a "leaseback" scheme. These are usually managed by specialist lettings companies, and the number of weeks you can use the property is restricted. But in return you'll get a full 20% refund of VAT, provided you commit it to the rental pool for 20 years. Crucially, the rental company will also take care of the upkeep, marketing and management of your property. Provided the rental company is experienced and reliable, it should be a low-stress form of ownership.
Where should my ski property be?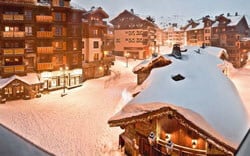 That depends. If rental income is important, then you need to target a resort everyone's heard of - irrespective of your own tastes. After all, famous resorts sell themselves. There's no need to spend time persuading other skiers to holiday in them.
If that's beyond your budget, aim for somewhere less celebrated in a ski area with an international profile. Les Menuires in the Three Valleys is a good example of this: it's no beauty, but the chance to ski in neighbouring resorts such as Meribel, Courchevel and Val Thorens will reel the clients in.
The higher, and more snowsure a resort is, the better. It'll make your Christmas, New Year and Easter income more secure. And it'll mean you can pop out for early and late-season trips yourself – thereby stretching the season from November or early December, all the way to late April or even May.
Don't need a rental income? Then the mountains are your oyster. You can pick a resort that suits your temperament and skiing ambitions perfectly – and if you start looking beyond the big names, you'll find prices drop sharply too. Those who yearn for a chalet rather than an apartment will suddenly find their dream more affordable.
Bear in mind, however, that if you do plump for a village with two lifts, one restaurant, and the world's most underrated ski touring, you may struggle to find a buyer if you ever have to move on: even if your property is the most beautiful barn restoration in the Alps. Selling a ski-in, ski-out apartment somewhere like Tignes will almost always be more straightforward.
How much time am I really going to spend there?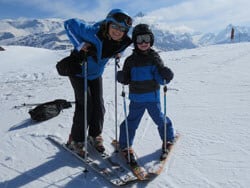 Perhaps you've just retired, or you've won the lottery, and you've got all the time in the world to deepen your love affair with the mountains.
In that case, you're going to need a property in which you can spread out, in a resort with a life beyond tourism. You'll also need skiing terrain you can grow into, otherwise you'll quickly get bored. It could, potentially, be anywhere. But the truth is you'll probably be desperate for friends and family to visit you regularly. So aim for a resort that's not far from an airport. Suddenly, Chamonix will seem like the obvious choice.
Then again, you may live a hectic life – with young kids, both parents working, and grandparents to visit during the holidays. Realistically, you're not going to get out to the mountains more than three times a year. And you certainly don't want the hassle of caring for a property that's buried in snow each winter.
In which case, you could do a lot worse than a newly-built leaseback apartment, in a big-name resort such as Les Arcs. The rental company will take care of the maintenance, and if you're lucky, you'll get a guaranteed rental return of 3-4% of the purchase cost. That will be more than enough to cover one of the ultra-low fixed-rate euro-mortgages currently available.
But more of that, later...
To get all our upcoming ski property articles mailed to your inbox, sign up for free updates in the box at the top of the page.
 
Welove2ski Classic Collection: Our Best Ski Property Advice
If you're new here, or even if you're not, make sure you start your research with our best articles on buying ski property.