NEWSFLASH: You won't need your passport to ski in Scotland this winter (if you're British)!
Scotland's five ski centres offer a very different experience to mainstream Europe, but one which – given the right conditions – can be thoroughly enjoyable. Whatever the pros and cons, it's important to stress that skiing in Scotland is uniquely British. The atmosphere on the hill, regardless of the sometimes extreme conditions, is invariably cheerful, polite and mutually supportive – essentially, everyone is just happy to be there.
The ski areas stretch across the Highlands from Glencoe and Nevis Range on the west coast, through to Cairngorm Mountain above Aviemore, Glenshee and The Lecht in the east. All operate on tight budgets with dedicated staff working hard to cope with challenges of operating ski resorts in a country that's blessed with British weather.
There's a whole lot of information below, ranging from travel advice to specific recommendations for each of Scotland's five main resorts. To find your way around a little more easily, click the Table of Contents below to expand it, and then click on any subheading to jump right in.
1 What to Expect: The Weather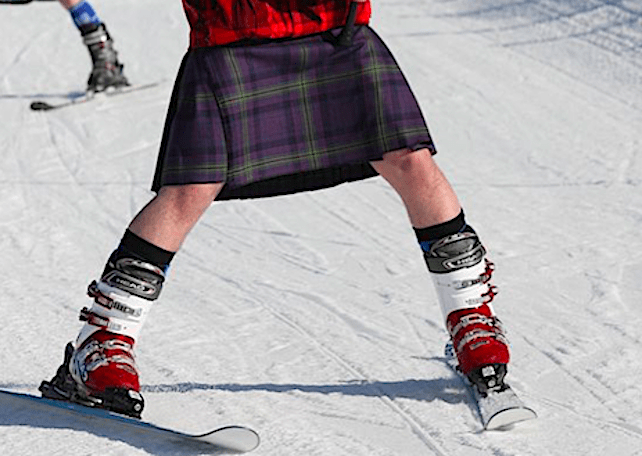 The skiing is usually located on wide, open moorland with no tree cover. When snow conditions are good, sizable skiable verticals of up to 1130m (top to bottom at Nevis Range) are possible. But this is terrain more akin to Scandinavian or eastern Canadian: generally moderate pitches but with steep sections available.
However, it is quite common for a ribbon of snow to be required to make a complete run to the base of the ski slopes and it is equally common for that cover to have heather and rocks poking through, sometimes marked, sometimes not.
In addition, the mountainsides are covered in chestnut paling fencing designed to hold the snow on the slopes and help it build up rather than blow away. These can be a hazard for newcomers, especially when they become partly buried.
The weather is the biggest factor that will make your Scottish ski holiday heaven or hell. Scotland can be blessed with light fluffy powder if we have an Arctic blast, or more commonly wetter, heavier stuff if brought in off the Atlantic. Ironically, heavy snowfall can overwhelm the limited staff numbers and snow-clearing facilities, and close the ski areas until the snow has been cleared from roads and lifts – as does too little snowfall.
It's the complete unpredictability of snow-cover that's the key issue holding back Scottish ski areas from developing their facilities. Advance booking a ski holiday to Scotland, as you would the Alps, is a game of Russian roulette with two live rounds in the chamber.
2 Planning Your Trip: What You Need to Know and Do in Advance
The unpredictability of good conditions can mean that when everything comes together Scottish ski slopes are swamped with skiers and boarders. This is particularly the case at weekends and during school and public holidays. The advice, if you must visit at a busy time, is to arrive early and book your rentals and lift ticket in advance. Otherwise you can face a succession of delays on top of the long queue to get on the lift – a combined wait of several hours potentially and very crowded slopes at the top.
Parking can also be an issue at Glenshee (which limits numbers) and Cairngorm, where the slopeside car park can fill up, meaning a shuttle-bus ride from the overflow car park. Avoiding the peak lunch hours in the mountain restaurants is also advisable.
Most of the Scottish ski areas report conditions by 7am on ski area websites or collectively via the Ski Scotland website or mobile app.
2.1 These Are Serious Mountains: Think Carefully
The advice, particularly if you are ski-touring or ski mountaineering outside ski area boundaries, is to make sure you know what you're doing and to take expert advice. The Winter Highland site, established for 20 years, is an excellent information resource.
Glenmore Lodge, the national training centre based near Cairngorm, is one of several to offer winter skills and survival training courses.
2.2 Lift Passes: How Much Do They Cost?
Lift passes tend to be sold by the day, although multi-day passes are available and an all-area pass is sold in the autumn. Prices are not a lot less than for larger ski resorts in the Alps, perhaps because of the fact that the centres need to get the money in to help get through the lean periods. In-resort costs are closer to the norm throughout Britain and not hiked up as they can be in Alpine resorts.
2.3 Rental Shops: Don't Expect a Continental Standard
Although the ski centres do buy new stock when they have the budget, renting on the mountain and in some of the ski shops nearby can be problematic. At busy times there can be long queues, and equipment of the correct size and type can be scarce. In short, you'd do best to bring your own or make arrangements at least the day before rather than trying to rent on the day.
If bringing your own equipment be wary of the natural obstacles on the piste, because of typically thin snow cover – at best heather, at worst rocks and fence posts.
2.4 What to Do About Ski School
Friendly, competent, BASI-qualified teaching is the norm and the country's ski slopes come highly recommended for first-timers. On the slopes all five centres have good nursery facilities and highly regarded ski schools with the big advantage of British BASI-trained instructors.
2.5 How to Get to Your Scottish Ski Resort
The five centres are located over an area less than 100 miles apart from east to west as the crow flies, but about double that distance travelling by road. Inverness is a relatively central base from which Cairngorm and Nevis range are about a 45- and 60-minute drive respectively, The Lecht is nearer 75 minutes and Glencoe and Glenshee each two hours away. Staying in Aviemore, 30 miles/minutes south of Inverness means Cairngorm ski area is a 15-minute drive each morning and you are rather closer to The Lecht and Glenshee but a little more distant from Nevis Range and Glencoe, at least in driving time.
After healthy snowfalls one problem all of the areas (especially Glenshee, The Lecht and Cairngorm) face are clearing the access roads. Once open, chains are not normally needed.
Rail services to Cairngorm include a noon East Coast service to Inverness from London Kings Cross taking 7.5 hours. An overnight sleeper operates from Euston, departing around 9am and arriving in Aviemore before 8am. Part of the same train separates near Glasgow and continues to Fort William for Nevis Range.
Flight times are similar to going to the Alps from London, BA, easyJet and Virgin's Little Red are among the airlines flying to one or more of the three closest airports, which are Glasgow (for Glencoe, 75 miles), Inverness (for Cairngorm, 51 miles, The Lecht 51 miles or Nevis Range, 60 miles) or Aberdeen (for Glenshee 75 miles or The Lecht 76 miles).
Bus services to the slopes from Aviemore and Fort William are organised by Cairngorm and Nevis Range ski centres respectively, regular service buses serve the other three areas.
Visit Scotland and Visit Highlands are both good sources for accommodation and general information.
3 For the Best Trip, Try More Than Just the Skiing
List the year-round tourist assets for the Scottish Highlands and you'll soon realise they're world-beating. So if you do plan a visit in advance, keeping an open mind about how much actual skiing you'll be able to do, you certainly won't be bored.
Attractions include Loch Ness, Balmoral, the Moray Firth dolphins, and the many whisky distilleries. Then there's a vast choice of activities including hiking, climbing and mountain biking. All these attractions make a Scottish ski holiday a good choice for families or groups with non-skiers in the party.
4 The Ski Resorts
4.1 Cairngorm
Cairngorm Mountain is the ski area of Aviemore and the two are located a 10-mile and 15-minute drive apart through spectacular mountain scenery, forest and past crystal clear lochs.
For many people the image of Aviemore is unfortunately based on the former Aviemore Centre, a concrete creation that was the height of cool in the late 60s and early 70s but decayed into a classic example of urban blight during the final decades of the 20th century.
In recent years Aviemore itself has grown into a vibrant year-round resort community. The construction of the funicular to the top of the ski slopes in 2001 and its inclusion in the Cairngorm National Park proved to be a major boost to what remains Scotland's best-known ski resort. There's a large car park at the base of the ski slopes, where the funicular railway station building is located as well as the day lodge with bar, ticket office and other facilities.
4.1.1 What's the Skiing Like in Cairngorm?
Most people opt to take the funicular to the top of the slopes. This is normally a fast and efficient means of uplift and it can queue-gobble quickly. It is also possible to ski down and take a succession of drag-lifts uphill instead – usually quicker on busy days.
At the top of the train the large Ptarmigan building has a cafeteria. On busy days it gets very busy and it's best to eat lunch early or late – or bring your own. On a clear day there are marvellous views over the surrounding mountains.
Beginners have one of the most snowsure areas in Scotland located to the left as you leave the funicular building – a gently sloping plateau served by a drag, which is often crowded with beginners learning their stuff.
Recreational skiers can go right or left from the building and choose from multiple green, blue or red options back down to the base. Popular runs include the fast and wide White Lady run to skier's right of the rail track, or further over the long blue M2 piste which curves its way down the mountainside providing magnificent vista across the Spey Valley as you descend. Advanced skiers have multiple options too, particularly around the steep east and west walls and the Ciste Gully. All told there is around 30km of piste served by a dozen lifts, all drags except for the funicular, and a terrain park.
4.1.2 Cairngorm's Suitability for Families
Families are extremely well catered for, with the Spey Valley area around Aviemore full of family-friendly activities indoors and out. Animal lovers should visit the Highland Wildlife Park about six miles south of Aviemore, where a family of Amur tigers, a large troop of Japanese snow monkeys (better known in the ski world for bathing in hot springs near Nozawa Onsen ski resort) and two polar bears are all to be seen, each in large enclosures of several acres. Teens can enjoy the biking, white water and other adventure activities available.
4.1.3 Where You Should Stay in Cairngorm
There is a wide range of accommodation of all kinds available in the vicinity of the ski area, particularly in Aviemore and neighbouring Carrbridge. These range from traditional B&Bs to large resort developments such as Hilton Coylumbridge on the road up to Cairngorm or the Macdonald Aviemore Resort on the site of the old Aviemore Centre.
4.1.4 Where to Party: Nightlife In and Around Cairngorm
Down in the valley, Aviemore has the largest and most vibrant apres-ski scene in Scotland and has the feel of a ski resort, especially when there's snow in the valley. Classic venues include the Winking Owl pub and the Ski-ing Doo (shockingly, no website) on the main street through the village.
Along with Speyside whiskies, the local Cairngorm Brewery has gone from strength to strength since established in the late 1990s. Initially grabbing attention with the name of its Sheepshaggers Gold, its ales are award winning because they taste good.
4.2 Nevis Range
Scotland's newest ski area, originally known by the local mountain name, Aonach Mor, on which the lifts and runs are located, first opened in 1989 – which still makes it one of the newest 1% of ski areas in Europe.
Located next to Britain's highest mountain, Ben Nevis (Aonach more itself is the eighth highest at 1221m), and the town of Fort William, the ski slopes are accessed by a modern Doppelmayr gondola from a large base car park, which is also home to a cafe and ski shop.
Despite being regarded as the new kid on the block, the locals have been skiing here since the 1930s, hiking up to an area known as the Snowgoose – which is the white shape left by snow on the mountainside as cover melts away by mid spring. The ski lifts were first proposed in the 1970s nearly 20 years before Nevis Range became a reality.
4.2.1 What's the Skiing Like in Nevis Range?
The gondola lifts you to the base of the ski slopes where more lifts, including the UK's only quad-chair, access the ski area proper, and there's also the Snowgoose restaurant here. From the top of the gondola you can also begin to take in the remarkable views out over the west coast of Scotland, which only get better as you move up higher.
From the top of the gondola the well-designed ski area offers an easily accessible beginner's area to the left. They include an artificial surface slope, normally under the snow, which allows lessons to take place even when snow cover is poor. Just above, the Alpha button-lift provides more difficult terrain.
Most skiers turn right out of the gondola's top station rather than left and head for the quad-chair which accesses wide and easy cruising slopes on the main mountain face. This becomes progressively steeper, and with longer descents, if you continue on to the Goose T Bar which serves classic reds like Sidewinder.
For more proficient skiers and boarders, some of Scotland's best off-piste terrain can be found on itinerary runs in the Back Corries, served by the rustic Braveheart chair when open. Following the increasingly common model in the Alps, this off-piste bowl is open when conditions allow, with access from the Lemming Ridge usually the steepest and most often corniced if you are looking for an additional challenge (a kind of mini Corbet's Couloir affect). This can usually be avoided by entering from the Switch run where there's no vertical drop-off down to the top of the slope. Even here, the initial pitch of the slope is 45-50 degrees for the first 100m or so before easing to around a 35 degree angle. Unsurprisingly it's most enjoyable with fresh powder, less so without.
4.2.2 Where You Should Stay in Nevis Range
There is a wide range of accommodation at Fort William, ranging from simple hotels through to the luxurious Inverlochy Castle Hotel next to Nevis Range, where the celebrity guests have included Sean Connery, Elton John and Mel Gibson.
4.2.3 Where to Party: Nightlife In and Around Nevis Range
There's no real apres-ski at Nevis Range and most visitors are based in Fort William, which is a year-round holiday resort with a wide selection of accommodation options and a moderate choice of bars and restaurants – as well as the standard shopping options of a small British town. The Nevisport café in the centre of Fort William is where many climbers, skiers and hill walkers start out and finish up each day.
4.3 Glenshee
Glenshee is located in the eastern Highlands, near to Balmoral Castle and Royal Deeside, the closest ski area to four of Scotland's six cities – the granite oil city of Aberdeen as well as to Dundee, Edinburgh and Perth.
With a skiing history dating back 80 years, Glenshee claims to offer the biggest ski area of the country's five centres, spread over four mountains and stretching across three valleys with 40km of runs served by more than 20 lifts. In the 1950s, ski clubs from Perth, Dundee and Aberdeen each operated their own tows at the area, with the first permanent lift installed in 1957.
Extensive car parks next to the main A93 road make it one of the easiest Scottish ski areas to reach, although at busy periods when conditions are good an early start is important to ensure you secure a space.
4.3.1 What's the Skiing Like in Glenshee?
The nursery slopes are conveniently located next to the ski area base, which is also home to the centre's ticket office, café and rental shop, where you can hire skiwear and helmets as well as skis, boards and boots.
Most of the rest of the terrain is intermediate cruising, although there are two black runs and a popular terrain park as well as a natural half-pipe in Meall Odhar. For good skiers one of the most infamous runs is Tiger, the country's most famous mogul run, and back in the 1980s Glenshee played host to speed skiing competitions.
4.3.2 Where You Should Stay in Glenshee
The Invercauld Arms Hotel has a history dating back to 1645 and is located in the Cairngorms National Park nine miles from Glenshee.
4.3.3 Where to Party: Nightlife In and Around Glenshee
There's no real apres-ski scene at Glenshee and the nearest communities are small villages such as Braemar (home of the Highland Games), Blairgowrie and Ballater.
4.4 Glencoe
Glencoe is one of Scotland's smaller areas, and is the country's oldest, with skiing taking place here since the late 1950s. Located in an area of spectacular scenery on the west coast of Scotland, it is a little over an hour's drive north past Loch Lomond from Glasgow and is the closest ski area to Scotland's largest city.
4.4.1 What's the Skiing Like in Glencoe?
The slopes are reached by an access chair-lift which lifts you 350 vertical metres to a plateau area which is home to the nursery slopes, served by a Poma lift and considered amongst the best in Scotland. Further drags and the Cliffhanger chair take you successively higher to the top of the runs at 1100m above sea level, 800m above the base. From here the centre's most famous run, Flypaper, reputed to be the steepest pisted run in Scotland, drops for 500m.
There are several cafes at the area located at the base of the slopes and on the mountain. Glencoe is remote from major settlements, the nearest, Fort William is 25 miles north.
4.4.2 Where You Should Stay in Glencoe
There are no real base accommodation at any of the Scottish areas, except at Glencoe where micro lodges, affectionately known as 'hobbit homes' are available to rent by the base. Nearby lie the Clachaig Inn, known for its real ale and good food, or the equally highly regarded Kings House Hotel, originally a 17th-century coaching inn.
4.5 The Lecht
The Lecht is the smallest of the five Scottish ski areas with its runs located on either side of a high valley road. There are some 20 runs, all less than a kilometre long and most easy or intermediate standard. These are served by a dozen parallel drag-lifts and an elderly second-hand chair.
The centre opened in the late 1970s and is popular with families, having the lowest prices of the five centres and a large modern one-stop base facility built at a cost of £1 million. There's also a terrain park and various snow play facilities, as well as easy slope-side parking. As with all Scottish centres, the service is helpful and friendly and the atmosphere relaxed.
The Lecht has a particularly strong reputation for first-timers, with easy access to all facilities and lower lift ticket prices.
The centre is about a 75-minute drive from Inverness or Aberdeen and a shorter easy day-trip from Cairngorm or Glenshee.
Final Thoughts
Of course, summarising skiing in Scotland is no simple task. There are dozens of other tricks and well-kept secrets to be found or discovered. If there's a particularly great spot to eat that you want to share with us, or you have an insider tip you don't mind divulging, we'd love to know about it – and even to add it to this guide. Just let us know in the comments below or tweet @welove2ski.