Some 100,000 skiers and 8,000 elk can't be wrong. Both spend each winter – or at least part of it – in Jackson Hole, hailed for the past 50 years as the greatest winter sports destination on the planet.
As the Wyoming resort celebrates its milestone birthday, here are 25 reasons (not in any particular order) why you should make the pilgrimage.
The Panoramic Perfection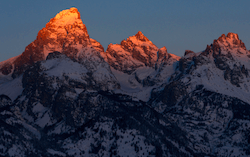 Local rancher, Struthers Burt, famously wrote: "You must search for the loveliness of America. It is not obvious, it is scattered. But when you find it, it touches you and binds you to it like a great secret oath taken in silence".
Presumably he was looking out of his window at the time. The snow-capped Tetons rise like jagged shark's teeth from the valley floor with no foothills to reduce their visual impact.
Grand Teton, the greatest of these, soars towards heavens – the equivalent of seven Eiffel Towers stacked one on top of the other.
It has its Own Airport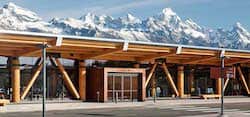 An optical feast assails you even before you leave the aircraft at Jackson Hole Airport.
What appears to be a toytown landing strip, fringed by thousands of grazing elk and the odd moose, is in fact served by direct flights from 13 US cities including New York, Washington DC, Chicago, Los Angeles, Denver, Salt Lake City, Chicago, and Dallas. Transfer time is 30 minutes to Teton Village or 15 minutes to the town of Jackson.
There's a Choice of Three Bases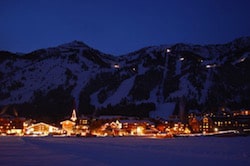 Before you familiarise yourself with the geography, Jackson Hole is not a place but the name given to the valley floor between the Snake River and the Teton mountains.
First there's the cowboy town of Jackson, which has its own steep, but limited, ski area of Snow King directly above it. Secondly there's purpose-built Teton Village at the base of Jackson Hole Mountain resort – the primary reason why you are here.
These two are 20+ minutes apart by shuttle bus or rental car. If skiing is your absolute priority over food, culture, history, entertainment and shopping, then the dice are inevitably weighted towards Teton Village. Just don't even contemplate even one drink and drive, the local 'bill' these days is wilder than Hickok ever was.
Third option is somewhere between the two. There are a number of motels along the route, mainly catering for the summer crowds. But two five-star establishments, the Amangani and Spring Creek Ranch (see below) are exceptionally comfortable, albeit isolated bases, for exploring town and ski area.
Walk Under the Elk Arch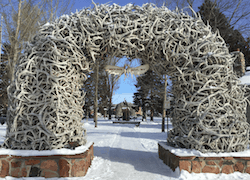 The triumphal arch in Jackson's town square is formed entirely of elk antlers. Don't worry, none were slaughtered to provide building material – the visiting elk shed their antlers each year in the reserve.
These are collected by Boy Scouts and sold each May at the annual Elk Antler Auction.
See the Fabulous Fauna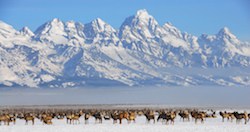 Winter or summer, as you wander around Jackson Hole, you can be forgiven for thinking that you have stumbled across the loading list for Noah's Ark. Some 8,000 elk shelter during the winter in the National Elk Refuge just outside town and you can take a ride with a guide on a horse-drawn wagon through the reserve.


"Danger: moose on the loose!" Is a sign posted on roads and even ski runs – and it means what it says. Woe betide the skier or walker who comes between a mother and baby. Bald eagles soar in the thermals, bears stumble sleepily from their dens in the springtime. Wolves roam the plain. Horses, cattle, mule deer, big horn sheep and bison abound – and you see all that without even visiting neighbouring
Yellowstone National Park
.
To visit the park take a guided snowmobile tour and view Old Faithful. It's long day out with up to eight hours of ride time, but worth it for the wildlife along the way.
Shoot Pool in the Million Dollar Cowboy Bar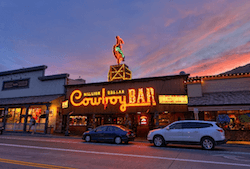 Inside the barn-sized Million Dollar Cowboy Bar saloon on Jackson's central square, cowboys who may not be cowboys at all, but renegade market traders from Manhattan or dentists on sabbatical from Omaha sit at the bar in full Western saddles and gulp shots of Wild Turkey while others shoot pool. It's wise for the low season visitor to avoid eye contact unless he or she means it. A stuffed grizzly views the scene from his glass cage.
Departing late-night revellers equipped with a skinful of bourbon should not be surprised to happen upon the occasional former four-legged owner of this town roaming the streets. That's ok if it's an elk. If it's a moose, run like hell. If you can't tell the difference, you may just have a serious problem.
View the Amazing Art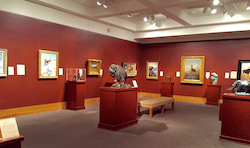 Galleries abound in Jackson, but the real artistic treasure is to be found five miles out of town on the edge of the Elk Reserve. This is the rural setting for the National Museum of Wildlife Art, with a total of 5,0000 international works and 300 of them on display at any one time. All of the work is wildlife themed and he collection includes artwork by more than 550 artists including Picasso, Andy Warhol, Henry Moore, Durer, Stubbs, Rembrandt, Rodin and Rousseau.
Drink at The Silver Dollar Bar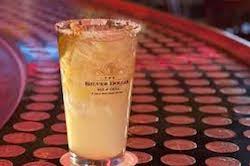 The iconic saloon in the 75-year-old Wort Hotel in Jackson is so-called because 2,032 Morgan silver dollars are embedded in the bar top.
It's a popular town meeting and dining place for everyone from cowboys to the two million summer visitors, who pass through Jackson in their camper vans en route to Yellowstone.


Here's what the snow is looking like so far this season…
Ride The Tram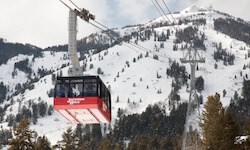 This is Jackson Hole's signature ski lift, a cable-car that take skiers from the clocktower base area all the way to the top of Rendezvous Mountain in 15 minutes. The choice at the top is between steep and very steep and is for accomplished skiers and snowboarders only.
"If you don't like what you see, feel free to ride back down again," the lift operator states on each uphill journey. When the original tram ran out of hours in 2006, after 40 years, it looked for a while as if this iconic lift would not be replaced. But after a national outcry, the money was found for the current cable-car which opened in 2008.
Fearless powderhounds compete to see how many tram laps they can complete – beating the cable-car down and riding it again. The most direct route includes Corbet's Couloir.
Jump into Corbet's Couloir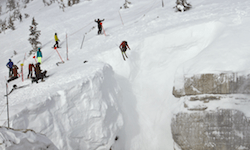 The scariest run in America and one of the world's classics is named after mountain guide and ski instructor Barry Corbet.
"Someday someone will ski that," he said when he and Paul McCollister, the original owner of Jackson Hole, were surveying the resort in 1963. Local ski patroller Lonnie Ball was the first guy down in 1967.
You have to jump in off a cornice. How far depends on the snow conditions, but somewhere between eight and 30ft. Then you have to turn immediately to avoid hitting a rock. This only applies if you take the shorter jump.
Try the Fishing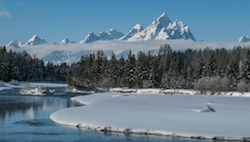 The Snake River – between Jackson and Teton Village – offers outstanding fly fishing in spring, summer and autumn. But even winter has its moments, although you may need snowshoes to get to the banks.
Main fish is the steelhead, a native type of rainbow trout best fished from boat or bank.
Spend a Day at Grand Targhee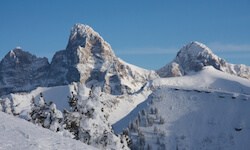 This little five-lift resort above the Teton Valley in Idaho lies 42 miles over a mountain pass from Jackson Hole and is its nearest recreational neighbour.
It has an excellent snow record and is well worth the 90-minute drive, not least for its extensive cat skiing.
Ski Rendezvous and Apres Vous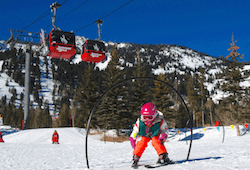 These are the names of Jackson Hole's two mountains. Rendezvous has the tram and access to some of the most challenging terrain. Apres Vous is tamer with the new Teton quad chair serving a large chunk of the intermediate terrain. Apres Vous is also where the Kids Ranch is based and where beginners learn to ski and snowboard. The two mountains total 2500 acres of skiable terrain inbounds with a vertical drop of 1262m, one of the longest in North America.
Tackle The Hobacks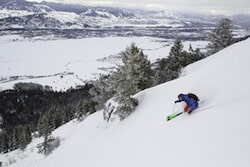 This is an open powder field that takes you from three-quarters of the way up the mountain all the way back down, guaranteed to turn even the toughest legs into spaghetti. The pitch isn't steep but the amount of vertical is quite enormous. In light, dry powder it can provide the best fun in the whole resort. However, late in the season, when the snow quality on the lower half starts to deteriorate, a single run here can become a feat of endurance.
Wallow in Slopeside Comfort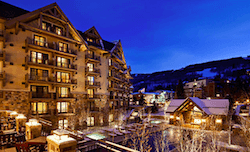 Four Seasons Resort has the sunniest slopeside location and a fine lunchtime outdoor dining area.
When the high-end international chain opened here back in 2003, purist locals claimed it was the beginning of the end for the resort as they knew it.
A new breed of visitor was born, one that didn't necessarily hit the first tram – and the last – of each day or sport a beard, a leather rucksack, or both. Instead, he or she could be found drifting around Teton Village at lunchtime in designer clothes and carrying shopping bags containing more of the same.
Stay at the Cool New Hotel Jackson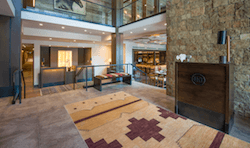 Hotel Jackson is the latest and smartest boutique hotel in town, owned by a Lebanese businessman. The fashionable interior has 58 rooms and is decorated with pale coloured reclaimed wood, lots of leather and a subtle colour scheme. There's a popular bar and the hotel couldn't be more central for all the restaurants and Jackson Hole's increasingly good artisan shops.
Take a Lesson or Go Heli-Skiing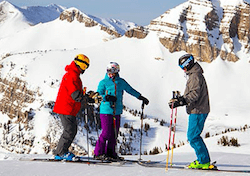 You've come to the home of steep and deep, and the Jackson Hole Mountain Sports School offers four-day courses on how to conquer this kind of terrain. Highlight of the last day is the jump into Corbet's.
Then there are Women's Camps, Fall Line camps for Teens, Explorer and Rough Rider lessons for smaller people. There's also ski guiding out of bounds, which is very rare in the USA but it is something Jackson is very proud of being able to offer.
You can also go further afield with High Mountain Heli-Skiing is the local company that does away with the queue for the tram, replacing it with two new A-Star helicopters. On a typical day you can expect around half a dozen drops accompanied by expert guides amid the raw beauty of the Tetons.
Ski in Town at Snow King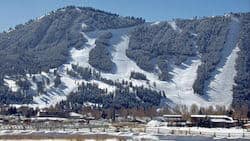 Anyone arriving in Jackson for the first time might assume that the slopes above the town are part of Jackson Hole. Wrong. Snow King is a separate resort that's been here since 1939.
The skiing is extremely limited but steep, making it a useful training ground for alpine racers at the start of the season. There's also night skiing for anyone returning to town with any remaining energy after a full day out at Jackson Hole. The Alpine Slide is a an all-weather rollercoaster with sleds controlled by the rider. It's guaranteed to scare the pants off each and every one of them.
Get Married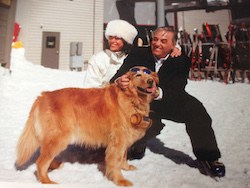 The top of the Bridge Gondola is a popular wedding venue. I've been Best Man at one. I can report that the happy couple from England and Sweden fared better than Narcissa and Marcus who, in 1835, were the first white Americans to wed in this startlingly beautiful and remote corner of Wyoming.
Before their service could get underway, medicine-man Marcus had to remove the Blackfoot arrow that his best friend, frontiersman Jim Bridger (the gondola bears his name), had been carrying in his back for three years.
"Why hasn't your wound gone gangrenous?" Bridger was asked.
"In the mountains, the meat never spoils," was his poker-faced reply.
Then, the fire-and-brimstone sermon was rudely interrupted by a stampeding herd of buffalo, causing the mountain men to run for their horses and their lives. As one guest commented: "The congregation incontinently broke up without staying for a benediction."
Sip Grand Teton Vodka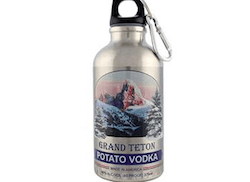 The Grand Teton Distillery is out in Driggs, Idaho (near Grand Targhee) and the award-winning spirit is made from Idaho potatoes. But the sales room is in Jackson.
Enjoy a tasting in front the open fireplace, fuelled by left-over alcohol. You can buy it in a 375ml metal 'water' bottle with a screw top and a carabiner attached to it – no risk of breakage on the plane journey home.
Eat at Osteria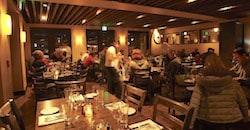 There are too many restaurants to mention here (see our Jackson Hole Resort Report for more), but Il Villagio Osteria, to give it is full name, is much the finest eatery in Teton Village and indeed in this whole corner of Wyoming.
Paul McCollister, the late founder of the ski resort, would be astonished to discover that his hill had managed to acquire a place of this high culinary calibre. Tuna tartare, venison carpaccio, frutti di Mare, buffalo short rib are all outstanding but the real stalwarts are the genuine homemade pizza and pasta. The restaurant is owned by Hotel La Terra.
Drink at the Mangy Moose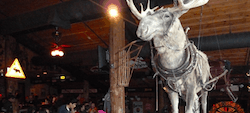 Teton Village's iconic Mangy Moose bar and restaurant opened in 1967. It is listed by Forbes magazine as one of the world's top ten apres-ski venues. We wouldn't go quite that far, but it's a great place for a teatime drink at the foot of the slopes and there's often live music.
Dance at the Stagecoach Bar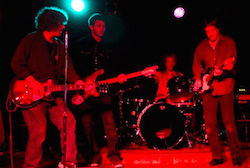 The Stagecoach is the definitive Wild West Bar located in Wilson at the base of Teton Pass. For over 70 years it has coped nightly with a colourful clientele that ranges from cowboys to tourists.
Weekends are the big event, in particular Sunday Church dancing from 6-10pm with Western music provided by the Stagecoach Band. Over the past 44 years they've given over 2,500 performances.
In the early days a group of ranch hands once walked their horses into the bar and played pool from the saddle.
Stay in a Mountain Retreat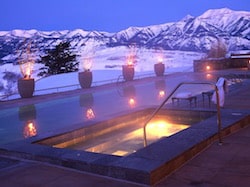 The Aman Group's emphasis is on serenity and calm, which is pretty standard stuff in the luxury summer-holiday market. However, it's both exceptional and refreshing in the world of skiing.
Of course, the Amangani with its local Native American influences isn't really ski hotel at all, but a private year-round retreat up a winding road on a bluff in the middle of nowhere. The views of the Tetons from the bedrooms and the giant black slate pool are astounding, but the ski area is a 20-minute ride away by complimentary call-us-any-time shuttle.
Rooms are exquisitely designed. You come back from the slopes, sink into a world of seclusion and understated luxury, and switch off completely.
Next door is Spring Creek Ranch, which is less designer and more traditional rustic in style. Accommodation is in comfortable chalet-style houses scattered around the reception, restaurant and spa.
Follow in the Footsteps of Harrison Ford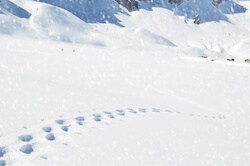 Ok, so you are more likely to see Jackson's most famous resident on a movie screen in Star Wars: The Force Awakens for which his role earned him a reputed $25 million. But the reclusive Hollywood actor is mostly here, on his 800-acre ranch near Teton Village.
He once said: "The first time I saw Jackson Hole, I said, 'This is the place that's been in my mind all the time'."
He's signed up as a sheriff's deputy and as a qualified helicopter pilot with his own machine, sometimes does a shift with the mountain emergency service. A woman who broke her leg on the Hobacks was stunned when she recognised her rescuer.


Tour operators to Jackson Hole include Ski Safari, Ski Independence and Fresh Tracks. Photos above provided by: Jackson Hole Mountain Resort, Capricorn Studio/Shutterstock, Grand Teton National Park, Grand Targhee Resort, Welove2ski and C.Figenshaw.