When it comes to skiing, we can't get enough of the French Alps. They're the most popular destination on the British skiing map.
But in summer even keen skiers can be blind to their charms.
That's not the case with the Martin family. We headed out there a couple of summers ago, and packed a two-week camping trip full of adventures. It helped, of course, that the weather was immaculate for most of the trip. But it turned into one of the best family holidays we've had so far.
Here are five of the highlights.
1. Spending the day at Aquamotion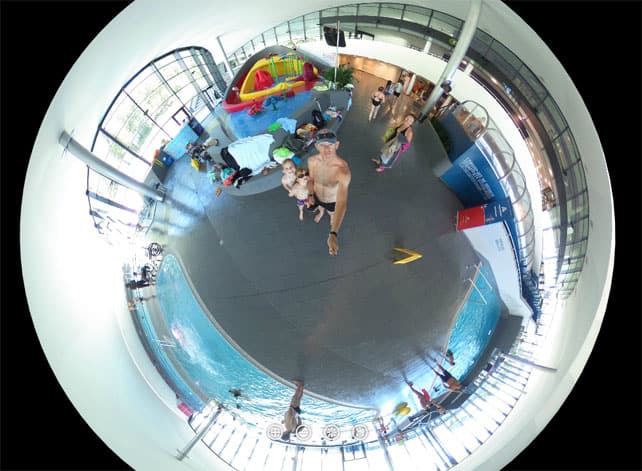 The Aquamotion centre in Courchevel opened in December 2015, and attracted a 75,000 visitors in its first winter. It's easy to see why. This is one of the grands projets of the Alps. Built on a budget of €63m, it covers a whopping 15,000 square metres, and is home to eight swimming pools, a sleek spa, and (in summer) several outdoor areas. It's worth a day of anyone's time.
We started off with a few runs of the 'Canyon', a deep and fast-flowing water slide that gets the pulse racing. My 9-year-old twins did lap after lap and would probably still be there if we hadn't have had to go back to our campsite.
As well as a 'proper' pool, with marked swimming lanes, there are two super-warm children's pools plus an outdoor pool with spa jets to ease your aches and pains. Meanwhile, upstairs is an adults-only wellness area, with indoor and outdoor pools, saunas and a steam room. It's a chance to enjoy some quiet time and some pampering if your kids will let you: maybe a Lomi Lomi massage, inspired by Hawaii, or a hydromassage on a bed of hot water.
Aquamotion in summer has one huge advantage over winter and that is the large outdoors area. You could just enjoy the sun-loungers and soak up the sun, but if you and your children still have energy to burn there is table tennis, beach volleyball and a mini-football pitch which are all free of charge to use.
And did we mention there's a surfing school and climbing wall as well? You'll never want to leave.
2. Rafting on the Isère
It was when we were staying in Val d'Isère that my eye was drawn to a poster about rafting – and it wasn't long before we were heading down the valley to Aime, for the kids' first-ever taste of white water, courtesy of H2O Rafting.
The water in the Isère is meltwater from the glaciers and mountains of the Tarentaise valley. So even on a hot summer's day (it was 30C on our rafting day), the river is fraiche! We were equipped with wetsuits and neoprene boots as well as helmets, lifejackets and a paddle. A safety briefing is essential too. Seb, our guide, warned us that if he shouted 'Securité!' at any point, we should quickly sit on our 'fesses' (bottoms) in the centre of the boat. Then we were off.
'Can you see that large rock ahead?' shouted Seb with a smile. 'What should we do?' he asked. I mumbled something about avoiding it, but it was clear he was navigating us straight towards it. 'Securite!' rung in my ears as we careered into and over it!
And that was the first thrill. Over the next hour and a half, we took on grade 3 rapids (whiter water is available for teens and over), jumped off 5m cliffs into the water and drifted silently through a stunning gorge.
By the time we pulled in to the shore near Moutiers, the kids were already asking if we could do it again. We will definitely be back for more. Next time, they'll be old enough for the Grade 4 rapids.
3. Cycling the Col de l'Iseran: the highest road in the Alps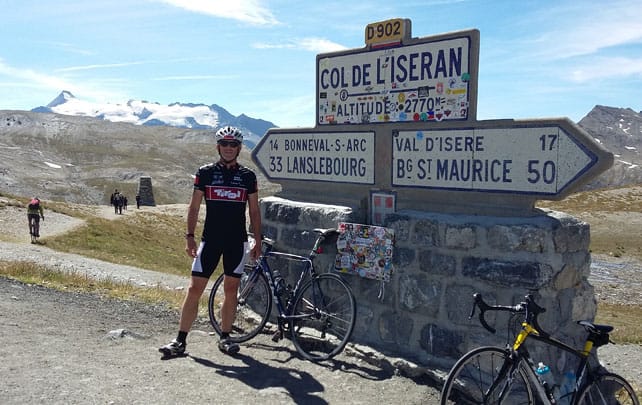 At 2770m the Col de l'Iseran is the highest paved road in the Alps – so high in fact that last summer it didn't open until June 11, after a great winter of snow in Val d'Isère.
It's no surprise then that the Iseran is one of the cols on every 'serious' cyclist's list. Even starting from Val d'Isère at 1800m, this is a significant climb where the challenge isn't limited to the vertical ascent. Getting enough oxygen out of the high-altitude air is a struggle, too.
That said, a col such as this is no longer the preserve of the super-fit. The development of electric bikes has opened up climbs like these to anyone who can ride a bike.
Think of an E-bike as like having a turbo-boost of electric EPO: if you find yourself flagging at any point you simply flick a switch and turn up the dial until you're eating up the road faster than Bradley Wiggins. E-bikes are available for hire from outside the Val d'Isere tourist office. If you've been wondering why everyone's getting so hooked on cycling stages of the Tour de France, but don't have the legs or the lungs to complete one yourself, this is the perfect way to get a taste of a really big ride.
4. Hurtling down the luge in the Chamonix Fun Park

Chamonix may be the extreme sports capital of the Alps, but that doesn't mean it's off limits for families. In fact, they can have fun without even leaving town.
The Parc d'Attractions in the Planards area of town is a great way to let your kids burn off some steam. They'll do lap after lap on the 40m long carpet toboggan, and test their nerves on the Komet (a terrifying giant swing) or plunge into water on the jet splash.
Best of all is the Alpine luge – a giant roller coaster with a 1300m track. You can rocket down in tandem with younger children or take a luge each if they are older. The big decision is how much braking to do. Theoretically, you don't have to use them at all, as the luge is fixed on rails on a closed track, but it's a test of nerves as the speed and G-forces build up.
The video above shows you one of our runs in a 360-degree panorama format. Simply drag or swipe to change your point of view and either watch the reactions on our faces or see how the track winds out in front of us.
5. Multisporting in Tignes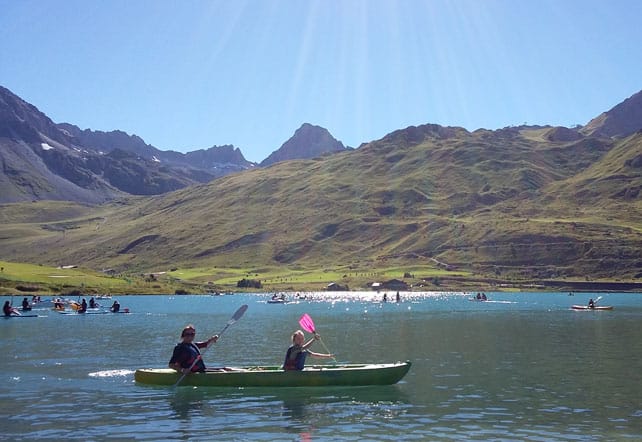 High-altitude Tignes has fought hard for a slice of the the summer market in recent years and nowhere is this more evident than with its My Tignes Open card.
The card is issued free of charge to anyone staying overnight in resort and entitles the holder to sample a wide range of activities free of charge (the number of sessions you get depends on how long you're staying).
Before we took advantage of any of the sports on offer, we took the Palafour chairlift – also free to use – and enjoyed a wonderful walk in the high mountains, over rocky scree and through meadows back down to resort. Our kids weren't too keen on the concept of a 'walk' at first, but they soon got into the spirit once it turned into a game of 'Spot the Marmotte'. We counted 42 of them.
Then it was time for cycling round the lake, air-rifle shooting, archery and mini-golf, before a spot of kayaking on the water. If we'd had more time, then stand-up paddleboarding would have been next (although we'd have had to pay for that, as the Sportignes card limits you to one watersport per day.
We finished off with a trip to the Lagon swimming pool, for more waterslides and the chance for Mum and Dad to lie down outside in the sun and soak up the amazing view up the valley, towards the glacier on the Grande Motte.