The best Alpine adventure parks use the outdoors as a natural gym for adults to hone their fitness and children to use their imagination, making the whole experience a lot better than commercial theme parks. They're usually located in wild forested areas with trails of differing levels winding through the trees.

Like a giant game of snakes and ladders, there are suspended ladders to climb, rope and log bridges to cross, as well as zip-wires, trapezes and other aerial equipment to swing across. Protective equipment is provided, such as harnesses and lanyards, safety ropes with pulleys, gloves and helmets where necessary.
The larger adventure parks sometime have added attractions such as airbags, bungee jumps and climbing walls. And some of the park destinations have summer skiing close by as well. So if you are thinking of heading to the mountains this summer – either with or without kids – why not have a go? The alpine adventures are adrenalin-charging, dizzy-making, muscle-toning, calorie-burning, a test for your balance, and above all loads of fun.
Most of these are open until the end of September or October, so there's still time to go this year. We have picked just a few of those available, but every Alpine resort has something to offer.
The Alpine Coaster: Imst, Tirol, Austria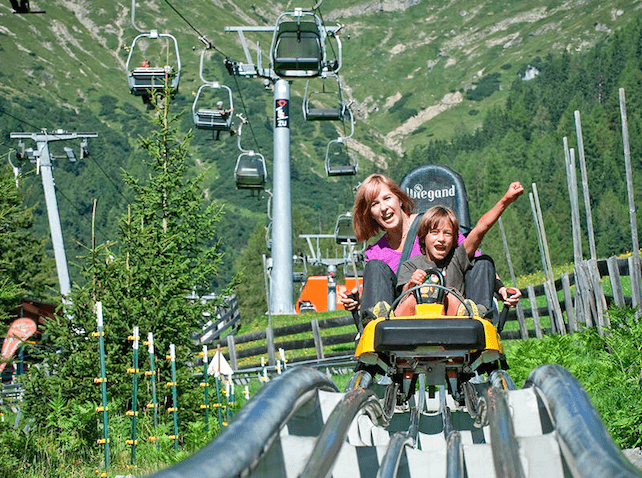 Imst is a small ski village 45 minutes down the road from Solden in the Austrian Tirol, and this is where to try the world's longest Alpine Coaster: a fast and furious affair reached via a double chair-lift from Hoch-Imst. 
The ride begins at the Untermarkter Alm at 1500m and once on track the journey takes 12 minutes – with 3.5km of curves, jumps and waves. The top speed reached is 40kph but the sleds are equipped with easy-to-use brakes. Children from three years old can ride the coaster accompanied by an adult, while those aged eight and over can ride alone.
Information: The Alpine Coaster is open from May to the end of October. Stay at Alpenhotel Linserhof in Imst, which has a big sun terrace, a beautiful natural swimming lake with sunbathing area and bar, tennis courts, an indoor pool and a large children's playground.
Adventure Park: Saas-Fee, Valais, Switzerland
What better way to enjoy a summer/early autumn in Saas-Fee than summer skiing on the glacier in the morning and taking part in a completely different activity in the afternoon?
Adventure Forest is the perfect way to discover nature on an aerial trek. You slide along cables using pulleys and move from tree to tree on suspension bridges or by jumping into nets. There are three levels: the Discovery Tour consists of 15 obstacles and allows younger explorers and their parents to complete this route without a problem.
The Grand Tour provides more of a challenge with three different levels of difficulty for adults and children (minimum height 1.45m), with 12 easy obstacles, 12 demanding obstacles and 11 difficult obstacles to conquer.
Then there are two of the longest tyroliennes (zip-wires) in Europe, which bridge the gaping Fee Gorge. The longer of the two measures 280m and the shorter one is 210m.
Information: Adventure Park, Saas Fee open mid-June to mid-October. Stay in Saas-Fee at Hotel Allalin, set in a quiet and sunny position. Most rooms have a balcony and are a mixture of traditional Alpine style and modern design.
Forest Fun Park: Zermatt, Valais, Switzerland
Zermatt's Forest Fun Park offers adventure and fun for all ages. Secured with safety cables, thrill-seekers can walk, swing and climb from tree to tree. There are 31 zip wires, 95 suspension footbridges and other challenges of various levels of difficulty – including a 350m circuit for children from four years old – all of which take place in the treetops close to the valley station, with gorgeous views of the Matterhorn.
Information: Forest Fun Park is open from June to October. Stay at the lovely Chalet Ulysse, bookable through Matterhorn Chalets.
Tubing in the Zillertal, Tirol, Austria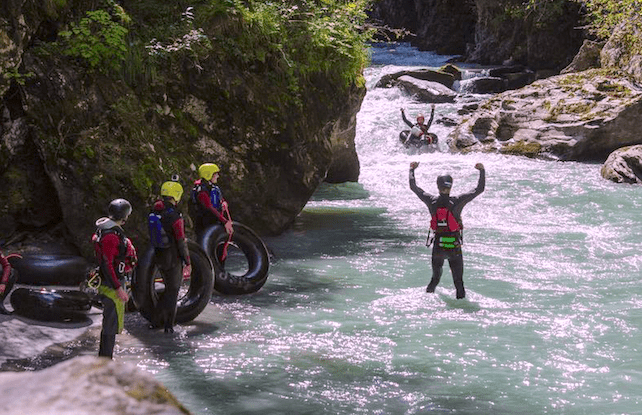 Forget those traditional wildwater experiences, tubing is the new action-packed sport where you'll be in gorgeous surroundings. An experienced guide, wildwater equipment, a tube (a bit like a car tyre inner) and a fast-flowing alpine stream turn this into a real adventure.
Information: Each session lasts for two hours and is open to strong swimmers aged 12 and over. Bring swimming things and a towel with you – a wetsuit, helmet, life jacket, rafting shoes and tube will be provided. Tubing takes place in the Zemm canyon Valley during the summer months. Book with Mountain Sports Mayrhofen and stay at the stylish Hotel Elisabeth in the centre of Mayrhofen.
Adventure Park Haute Maurienne: Termignon-la-Vanoise, Rhone-Alps, France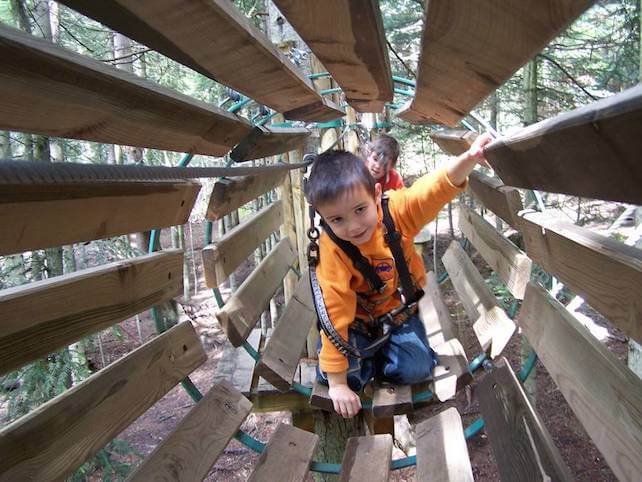 If you're planning on visiting the Maurienne Valley, take a trip to Termignon's adventure park near Val Cenis. Located in over five hectares of forest, it is guaranteed to provide hours of fun.
The seven different sites of the Grand Parc offer two and a half hours of adventures for 12 year olds and above. New in 2014 was a 55m-long zip-wire. Parcours Kid is for the younger ones, with 22 different objects to play on, jump from, climb through or hurdle over.
Information: Adventure Park (+33 675 09 86 51) open from May to beginning of November (weather dependent). Stay at Auberge La Turra in Termignon, which receives good reviews: "Very clean comfortable room. Nice location in village centre. Very friendly and helpful owners".
Adventure Park: Colfosco, Alta Badia, Italy
Colfosco is one of the resorts that in winter is part of the Superski Dolomiti, with its stupendous scenery. It's easy to get from village to village if you hire a car, and San Cassiano has some lovely places to stay.
The Adventure Park features six different routes with different levels of difficulty – all in a larch forest with 600m of rope, 71 platforms up to 19 metres high. The series of routes with increasing difficulty range for those for children (from three years old) up to the most acrobatic for teenagers and adults.
Information: Adventure Park, Colfosco open June to late September. Stay at Nature Hotel Delta in Colfosco. "The hotel is not in the centre of town but we had easy access to restaurants…The hotel has amazing views across the valley," said a reporter.
Area 47: Solden, Tirol, Austria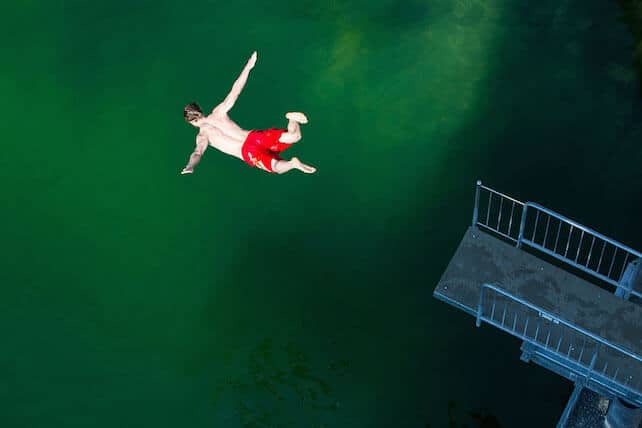 As well as being one of the best resorts for summer skiing, the resort of Solden is even livelier in summer than in winter, with a vast range of activities for all ages at Area 47.
This is the biggest and best outdoor adventure park in the Austrian Alps (all 20,000 m² of it) – featuring the world's tallest high-ropes course (27m above the River Ache), an 18-metre high water ramp where you can ski or toboggan down (ski hire available at venue), 350m-long flying fox (zip-wire), a tunnel system to rappel through, canyoning, mountain biking, slack-lining…a climbing wall under a bridge, another from which you can jump in a lake…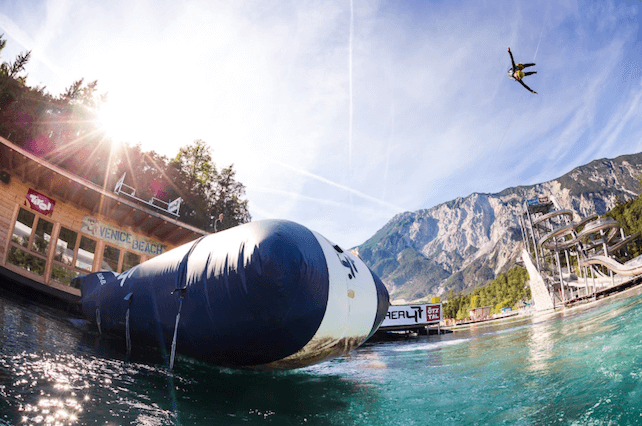 …and blobbing.
Blobbing? What on earth is that? It is an activity for two or more people. The 'blob' is a giant airbag that floats on the lake and a 'blobber' jumps down onto one end of it…and waits. The 'jumper' then leaps off a diving board onto the other end of the blob and catapults the bobber into the air. For a really action-packed game, two or three 'jumpers' can set off together. You have to be aged 12 or over to take part.
Information: Area 47 is open from the end of April to the beginning of October. Stay in one of the teepees on site sleeping four to seven people or, for the luxurious option, Das Central in Solden. Also see our feature on Adrenaline Sports in Tirol.
Aventure Parc: Venosc, Rhone-Alpes, France
At Les Deux Alpes you can go summer skiing on the glacier – when it's open. In the afternoon head down to the pretty farming village of Venosc (connected by gondola) and Aventure Parc – one of ten in France (others include Serre Chevalier and Les Gets).
It has different circuits of differing levels such as P'tits Loups for children under 1m 55 (with their arms raised), which has a ball pond and a sliding tube among the obstacles. The Grande Tyrolienne course is for adults and children over 1m 80 (with arms raised). In this there's a yellow course with rope bridges for moving from tree to tree, log bridges, swinging ropes, and a choice of green, red or black trails. The Sensation course is a web of ropes.
Information: Aventure Parc, Venosc open July to September. In Les Deux Alpes stay at Chalet Mounier, near the golf course. The property has three on-site restaurants and a spa with indoor and outdoor pools.

For other summer/early autumn activities, see our features on summer skiing, high altitude golf, the top Alpine spots for easy cycling, where to go mountain biking, hiking with a dog in the Alps and cycling to get fit for skiing.
Before you set off, check that your insurance policy covers you for the above activities.