Ceri Tinley is the Managing Director and co-founder of Consensio – a luxury ski chalet operator renowned for its attention to detail, fabulous service and gorgeous properties in the French resorts of Val d'Isere, Courchevel, Meribel and Les Gets. She knows a great deal about the top end of the ski market, and shows us how do recreate an authentic Alpine style at home.

The top end of the chalet market offers the opulence of a five-star hotel and the intimacy of a stylish Tuscan villa. Every season a new crop of luxury alpine homes springs up in the big name resorts, broadening the choice of where to stay in the greatest comfort. Ideally, you'll be staying somewhere completely different from your home, so that you come away feeing inspired by the gorgeous chalet interior. More and more apartments are now built and decorated in opulent Alpine style, and these are ideal for people who want to self-cater or try the resort's restaurants. When recreating the style at home, don't forget the fresh flowers!
Etoile Filante is a modern luxury duplex apartment in Val d'Isere, built in 2016. Located in the new La Canadienne development from Jean-Charles Covarel and designed by well-known Alpine interior designer Nicky Dobree, the apartment sleeps nine in three double bedrooms and a children's room for three, and is convenient for the town centre and the slopes. The master bedroom is decorated in a cosy style and powdery colours, with the bedcover a cashmere cable knit from Nicky Dobree's own collection. The cashmere throw on the armchair can also be ordered from her studio. The cushions are made bespoke in a Mark Alexander natural linen.
Get the look
These are not the actual pieces, but we have found some similar items to capture the style.


Volcano Powder Cushion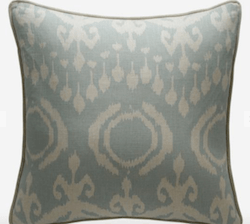 …Similar to the one pictured above, Volcano Powder is a bold yet elegant ikat design in cool blue with contrast piping in smart, textured velvet. Handmade in the UK and filled with sustainably sourced duck feather and down, there's a cushion pad included. It measures 55cm x 55cm and costs £49 from Andrew Martin.


Admiral Table Lamp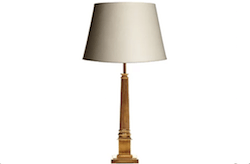 …The bedside lamp at Etoile Filante is in bronze and sourced locally, but you can buy something similar: the Admiral Table Lamp from Pooky, which is a classical fluted column in solid brass, with an antiqued brass finish. It is 44cm high and the straight Empire shade comes in Jersey handmade parchment; the base costs £160 and shade £75, both available from Pooky.


Alibaba Laundry Basket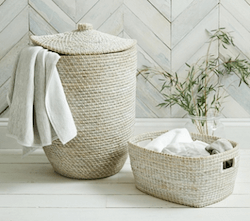 …This Alibaba style basket is both elegant and robust and will fit neatly into almost any bedroom or bathroom. It's exotic yet relaxed in style, with a handy white cotton liner that can be easily removed to carry your clothing to the washing machine (and it can also be cleaned). Hand-woven in Vietnam from natural seagrass, bound with cotton rope, detailed with a white-wash finish and a lift-off lid, it costs £165 from The White Company.


Leather Butler's Tray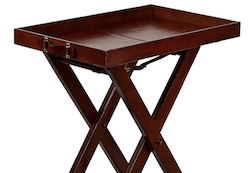 …Reminiscent of a bygone era, this useful side table is made from hazlenut brown leather and consists of a lift-off tray on collapsible legs. Use it in the dining room as an extra serving table or in a conservatory, living room or bedroom. The tray has handles, making it easy to carry from room to room, and the legs fold together so they can be stored away when not needed. The size is 75cm high x 44cm wide x 69cm long. It costs £425 from Not On The High Street.


Soft Knitted Lambswool Cushion Covers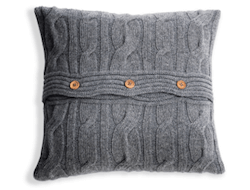 …Similar in style to the throw in the main picture, a coupe of these will certainly add the finishing cosy touch to a bedroom. The covers are available in oatmeal, medium brown and grey – all with three-button details. Measuring 42cm x 42cm, they cost £40.50 from Chalet Shop.
Chalet Elephant Blanc is also in Val d'Isere, and was renovated in 2017. The chalet sleeps ten people in five en-suite bedrooms and is very light. The drawing room has a high beamed ceiling and a log fire is at the heart of the chalet. But what stands out is the elephant theme. There are elephant pictures on the walls, elephant candle holders, wooden elephants on skis hanging on the inside and outside walls. A minstrel's gallery looks down on a dining room dominated by a twinkling chandelier. The 10-drop acid glass light has a twisted cable suspension and brass fittings and was bought at Curiousa & Curiousa and customised by Neat to suit the requirements of the chalet (glass colour, flex colour, length and lamp power). The pale ash dining table is perfect for entertaining and is adjustable, with two central removable leaves. It seats eight to 14 people and is made by William Garvey.
Get the look
These are not the actual pieces, but you can find something similar by doing a thorough search.
 


Stylish Leather Easy Chair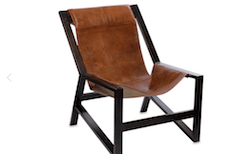 …This chair blends distressed black iron with soft subtle leather. Its bold angular iron frame offers timeless style whilst the leather seat provides luxurious comfort. £495 from Chalet Shop.


Gustavian Sofa Side Table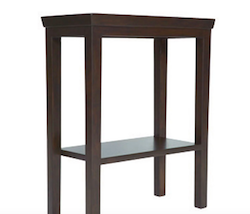 …This little table is understatedly elegant. Hand-painted in Ebony/Brown, it works beautifully either side of a sofa, or beside a bed. Made from 100% wood, it measures 59cm height x 25cm depth x 48cm width. It costs £195 from OKA.


Ellie Elephant Bookends
…To help you achieve the elephant theme, why not display your favourite books with these heavy cast iron bookends? Each features a delightful ellie with a silver-grey hand-painted finish. They cost £28.95 from Graham and Green.
Grand Corniche is a short drive away from the lifts and resort centre of Les Gets – in a chauffeur-driven 4×4. This traditional chalet building sleeps up to 12 adults and three children in seven beautiful bedrooms. But the building is the only thing that's traditional about the set-up: there's an outdoor heated infinity pool, inside is a two-tier home cinema, and a novel slide connects the bar area on the fourth floor with the chalet's wine cellar (which comes complete with a full-sized snooker table that can be converted into a large dining table).
Get the look
As before, these are not the actual pieces, but you can find something similar if you search for it.


Plisee White Linen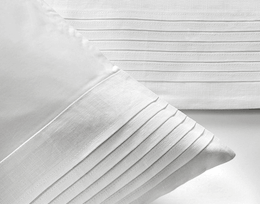 …This high quality percale bed linen from Nicky Dobree has a lovely fresh touch to it, with crisp pleats. The set of duvet, matching pillow cases and sheets is beautifully finished in 100% percale cotton with a 500 thread count. Prices on application.


Brown Snow Fox Faux Fur Throw/Blanket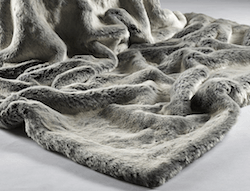 …The cuddly throw will add warmth and style to any room, helping to create a chalet ambience. The throws are backed with matching faux suede. The price is £250 for the large 140cm x 180cm size, and it's available to order from The Luxe Company.


Killarney Oval Wall Mirror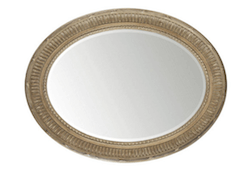 …The pretty oval mirror has with an ornately carved taupe coloured frame that has been expertly distressed to give the appearance of an antique. Simple and elegant and big enough to sit above a fireplace either horizontally or vertically. The small size (40cm x 50cm) costs £82, large is £165 (86cm x 66cm), both are from OKA.


Henley Round Tray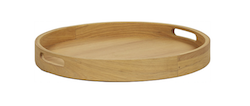 …A tray makes breakfast in bed possible, it's a lovely way to serve tea – turning an upholstered stool into a coffee table, and in the evening it's perfect as a drinks tray. The circular tray shown here is made from solid oak. £95 from Neptune.


Paolo Table Lamp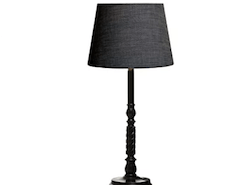 …The lamp base comes in a rich dark mahogany, is 45cm tall, and has a 30cm Straight Empire shade in a Charcoal Chambray colour. The base and shade cost £100, to order from Pooky.
The big deep baths in the master en-suite bathrooms of both Lhotse and Marco Polo in Val d'Isere, are more like ponds – and they create two of the best bathrooms in the Alps. They are made from granite by Magasin Sable d'or à Cogolin in the South of France, and weigh around two tonnes each. They were lifted into place by crane and the chalets were then built around them. An additional concrete slab was needed under each floor to support the enormous weight. The chalets sleep 14 each and both have indoor swimming-pools.
Get the look
The items pictured below are not the actual pieces, but you we've found something similar.


Home Candle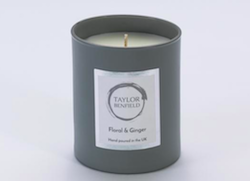 …The Floral & Ginger candles are inspired by the hills of Kefalonia, the countryside of Provence, the rugged coastlines of Croatia and the Cinque Terre, along with the botanical gardens in Hong Kong. They remind us of the delicate flowers balanced by the scent of ginger. This luxury scented home candle is packaged in grey matte glass. £30 from Taylor Benfield.
.


Rustic Dark Brown Pillar Candle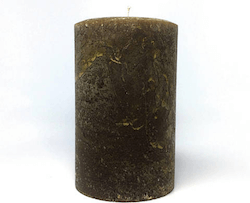 …The rustic candle has been hand-poured at cool temperatures to achieve its unique rustic surface. It is unscented, made with nearly a kilo of paraffin wax, and is 10cm wide. Also available in 15cm and or 23cm sizes. From StillWaterCandles for £21.53 plus shipping, to order from Etsy.
One of the owners' two favourite pieces in Jejalp in Morzine is on the right of the picture – it was sourced whilst they were on a skiing holiday in Whistler and is by Canadian artist, Arnt Arntzen. It's supposed to be a dressing table, was initially used as a music station in the chalet, but is now a piece of free-standing furniture in the bar/games area. It is made from beech wood, which has been planed and varnished, together with the rotor blades and propeller of a helicopter. Jejalp itself is built around a central atrium, which includes a double-height glass wine cellar. It sleeps up to ten adults and four children in six bedrooms.
Get the look
The items shown below are not actual pieces from the chalet, but you can find something similar if you search for it.


Shoreditch Bar Stools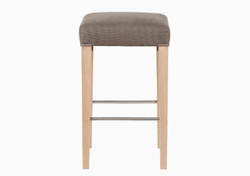 …Like those in the chalet, the stools here are backless and have pale oak legs. Available for £280 each, shown here in Hugo Spelt linen. Leather upholstery is available at extra cost. From Neptune.


Tartan Throw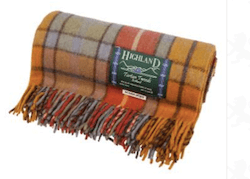 …Made from a classic tweed of thick blended and recycled wool, the throw is perfect for when you need to warm yourself up on a chilly evening – or if you want to decorate your sofa. The timeless tartan pattern is finished with a fringe. It measures 180cm x 152cm and costs £20 from Heritage of Scotland


Beat Tall Pendant Light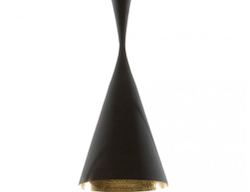 …The pendant light is by British designer, Tom Dixon, who was inspired by the water-carrying pots that are still carried on heads all over India today. The light is made from hand-beaten brass and created using the traditional skills used by Indian master craftsmen. Over time, the beaten brass artfully ages and a wonderful sheen will appear on the painted matt black external surface, which contrasts beautifully with the pendant light's luxe gold interior. £276 each from The Conran Shop.


Rustic Animal Skin Rug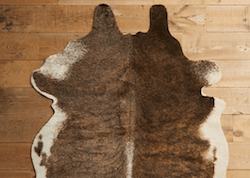 …Believe it or not, the 'cow skin rug' shown here is actually made from faux fur and tufted felt. By using a tufting tool, yarn is passed through a frame-stretched fabric backing on which a pattern has been drawn. From US$198 depending on the size, available from Anthropologie.
Shemshak Lodge is right on the piste in Courchevel 1850. It sleeps eight adults in four en suite bedrooms, and up to two more adults and three children in a family bedroom. An entire floor is dedicated to wellness and relaxation, with a large heated swimming-pool and a fitness centre.
Get the look
As above, we've searched out similar items for you to create your very own chalet style.


Antiqued Striped Leather Storage Trunk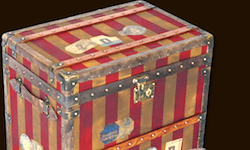 …This is an old-style travelling trunk designed in leather and finished with copper detailing. It's a classic and timeless piece. £345 from Marsh & Beck.


Vintage Ski Poster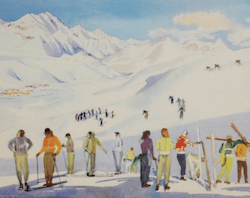 …You can sometimes find these in ski resorts, but you can be sure to find one at one of the many vintage poster shops online – such as Zazzle where prices start at £7. For rare ski posters visit the annual Christie's Ski Sale in January – at last's year's sale, antique posters went from £625.


Karaikal Quilt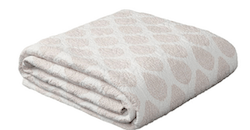 …The easiest way to create a sophisticated, luxurious look is by layering your bedding with a throw or quilt. The reversible Karaikal Quilt is not only beautifully soft and warm, but it will also add any extra dose of style and texture to your bed. It's designed with a paisley-inspired print on one side and is striped on the other, with stitching all around. Made from 100% cotton, the quilt measures 270cm x 260cm and comes in three colour choices. Pictured here in blue grey, and the price is £195 from OKA.
Finally we've included Chopine, which is located in the private Dou du Pont area a couple of minutes' drive from the Chaudanne lifts at Meribel les Allues. The chalet has an alpine-style interior featuring some gorgeous fabrics and bespoke furniture. The property sleeps ten people in three double bedrooms and two twin/doubles, and there's an open-plan living and dining area.
Get the look
These are not the actual pieces in the chalet – we've found some similar items.


Tibor Three-Seater Sofa
…The clean lines of this light and contemporary sofa, designed by Sylvain Willenz from Belgium, means that it will fit in with most interiors. It's pictured here in appropriately-named Mountain Grey. £449 from Made.


Victorian Tole Tea Canister Table Lamps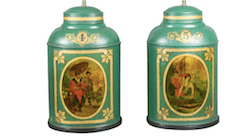 …You can get something similar by foraging in antique shops and markets, on Etsy and eBay, and canisters like these can cost anything up to £2,000. Traditional tea canisters are hand-wrought from tin and intricately decorated by hand, using a craft that has been passed down from generation to generation. These green Victorian Tole tea canisters come complete with light fittings and feature a hand-painted Chinoiserie pattern, £1,957.58 the pair from 1stdibs.


Chinon Antique Oak Desk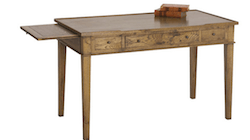 …Neat and flat-fronted with tapering legs, the clean lines of this desk provide an excellent work surface without dominating a room. It's perfect for smaller spaces, too, with additional shelves that slide out from both ends to provide a larger surface when needed. The desk is made from solid oak and has three front drawers. It is 125cm wide x 79cm high x 64cm deep and costs £1,225 from OKA.


1900s Louis Vuitton Antique Steamer Trunk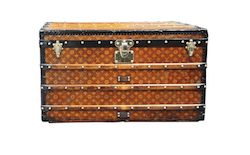 …LV's luggage is much sought after, especially the antique pieces. This one comes in woven canvas, is metal bound with brass studs, reinforced with wooden lathes, with wheels on the base and metal handles to either end, its interior lined with the original cream canvas and two removable trays, with initials on the side. A heady £12,352.77 from 1stdibs. This trunk is currently located in France so shipping to the UK, for example, will cost £457.51 on top.