Spas in ski resorts used to be for people who didn't want to ski, preferring to be indulged with massages and facials while the more athletic members of the group took to the pistes.
Now it's more usual to combine the two, with spas often a key component of many people's ski holiday. In fact, aside from the benefits of relaxation, it is now recognised that spa treatments can help with the fatigue and lactic acid that regular skiing can produce.
There are two types of ski spa. There's the five-star hotel with high spec swimming-pools and a team of therapists to pummel and smooth you, then there are the natural thermal spas. Often dating back to Roman times, natural spas are the, ahem, polar, opposite of five-star alpine hotel spas in that they are open to the public and you can go to them for a fraction of the price.
Following a long day on the slopes, what could be nicer than a dip in the soothing waters of the natural hot springs under the stars? Here are some of my favourite places to ski and spa. Also see the websites of Ski Independence, Erna Low, SNO, Mountain Beds, Ski Collection, Ski Amis, and Peak Retreats for self-catering accommodation in some of the spa resorts.
SKI AND SPA: NATURAL
Bad Gastein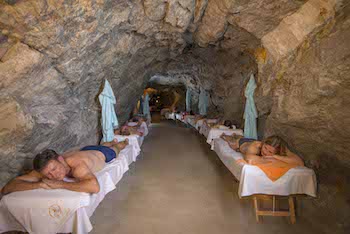 Bad Gastein is a ski resort as well as a natural spa town in the Gastein Valley, an hour from Salzburg. The resort was established as a spa resort in the early 20th century after Marie Curie helped discover radon in its spring water, and its naturally heated Healing Tunnels continue to attract visitors. The Felsentherme is naturally a hit with the post-ski crowd, offering a complex of 18 radon-rich springs, an indoor pool embedded into the rock, salt caves and saunas, plus an outdoor pool looking across to the Hohe Tauern mountains. Stay: Villa Solitude.
Banff Upper Hot Springs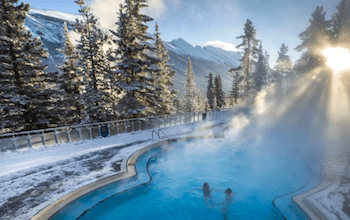 The hot springs just outside Banff in Alberta allows guests views of the snow-topped peaks of the UNESCO World Heritage Rocky Mountains, while they soak in the steamy hot mineral waters used by indigenous people before the creation of the national park in the 1880s. At 1585m (5,200ft), these are the highest hot springs in Canada. Stay: Rimrock Resort Hotel.
Bad Ragaz
The Swiss resort lies half an hour down valley from Laax and spa seekers have been making pilgrimages to its 36.5°c of naturally heated vaulted thermal baths since the 19th century. Alternate bathing in the warm and cold water grottos stimulates the circulation and boosts your immune system. Note this being Switzerland the cost is higher than some others.
Stay: Grand Resort Bad Ragaz.
Bagni di Bormio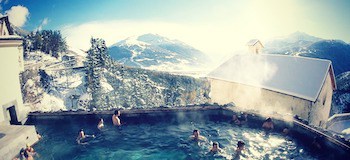 The spa sits at an altitude of 1225m at the base of the Stelvio Pass in the heart of the Alta Valtellina. This medieval town of Bormio has natural hot springs dating back to Roman times, ranging from 36° to 43°C in temperature depending on the season; the water is hotter in winter as the rain cannot penetrate the frozen ground.
Stay: Hotel La Genzianella.
Bains du Rocher, Cauterets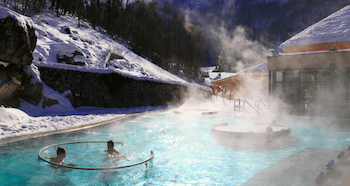 Bains du Rocher in the Hautes-Pyrenees resort of Cauterets has inside/outside pools with healing thermal water at 38°c, and there's a relaxation program, aqua fitness classes, Jacuzzis, sauna, steam room and a salt stone relaxation room. As well as this there are great views from here across the rooftops to the church and surrounding mountains. Stay: Le Domaine des 100 Lacs Residence.
SKI AND SPA: IN-HOUSE
Severin*s – The Alpine Retreat, Lech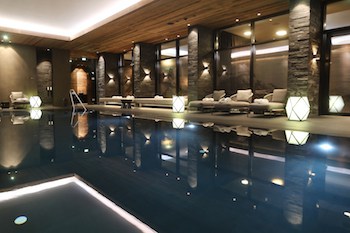 Severin*s has nine suites swathed in Tirolean wood, stone and copper, joined by an apres-ski bar and Michelin-starred chef. This is for skiers who can afford to be indulged; heated cabins store your ski equipment so your ski boots are cosy in the morning and the ski butlers whisk you the short ski-lift ride to access the world-class pistes of Lech and St Anton. The spa focuses on wellness, as opposed to facials etc, with a swimming-pool, saunas, steam rooms, infrared cabin and spa suite. Stay: Severin*s.
Waldhaus Flims Alpine Grand Hotel & Spa, Flims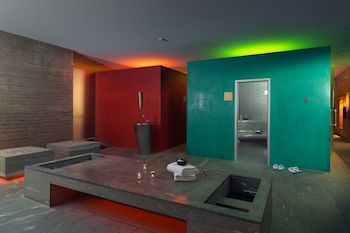 The Waldhaus sits at the heart of Flims ski resort, offers ski-in ski-out, and connects to both Laax and Falera. The five-star Grand Hotel has two guest houses: Villa Silvana and Chalet Belmont, and an apres-ski bar called The Summit.
The 3,000m2 Waldhaus spa was spruced up as part of the resort's £33 million face lift, with a private day spa suite joining indoor and outdoor swimming-pools, sauna, and steam room. But the spa's crowning glory is the natural outdoor swimming lake, fed directly from the mountains spring water. In winter, the frozen lake is the place to plunge into the icy waters before entering the outdoor sauna in order to stimulate circulation and improve the skin. Stay: Waldhaus Flims Alpine Grand Hotel & Spa.
Little Nell, Aspen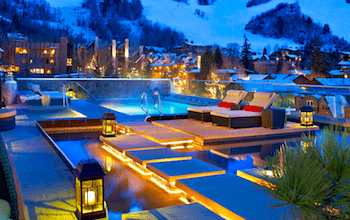 The Little Nell is big on luxury. This glamorous, celebrity-loved ski-in ski-out resort, strategically placed at the base of Aspen Mountain, indulges guests in 92 just-renovated spacious guest rooms decked out in walnut, leather, stone and fur. And where else can you have your skis waxed by a personal ski concierge? The Health Center offers multiple post-piste treatments including a sports massage to speed up recovery of tired, strained or sore muscles. Afterwards, soak up the views from the rooftop pool and what must be Aspen's most sought-after hot tubs. Stay:: Little Nell.
Hotel Barriere Les Neiges, Courchevel 1850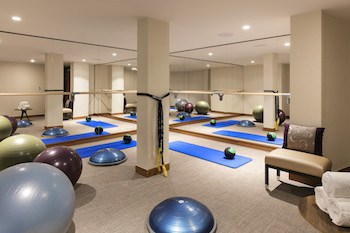 Hotel Barriere Les Neiges has a prime position slope-side at the foot of the Bellecote run. This being Courchevel 1850, 42 rooms are swathed in cashmere, velvet, fur and wood – while the hotel's Le Fouquet restaurant, sister to the Parisian brasserie of the same name, dishes out black truffle fondue and lobster.
The Spa Diane Barrière Les Neiges is the largest private hotel spa in the resort and offers the all-singing Diane Barrière signature body treatment involving stretching, gentle massage and neuromuscular techniques. There's the option of booking the Suite Les Neiges, which features a private spa where guests can enjoy a Jacuzzi or book a massage. For the less romantically-minded there's a water fitness circuit, 20 metre-long swimming pool – the largest in the resort – steam room, sauna, plunge pool, and outdoor hot tub. Stay: Hotel Barriere Les Neiges.
SPA TREATMENTS FOR SKIERS
These days, the world's top spa hotels in ski resorts have full-service spas and sophisticated treatment menus to rival anything found in an urban five-star retreat.
The Preidlhof, South Tyrol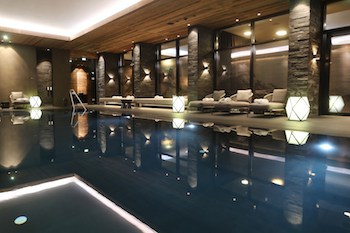 This is a newly renovated five-star spa hotel 10km from the historical spa town of Merano with the Schnalstal glacier 30 minutes away, offering year-round skiing. A recent refurbishment created an impressive six-storey spa tower complete with seven saunas, some with views of the Vinschgau Valley.
According to Spa Director Claudia Kollemann: "A lot of guests come to relax and recuperate after skiing while some want to build their strength, flexibility and resilience before hitting the slopes". She adds: "An intensive sport massage or/and an intensive back massage with a foot reflexology massage is the best thing pre-skiing. The Preidlhof Lift Up is great after a long day on the slopes; tailored to the individual to help relieve muscular tensions, strains and spinal blockages. If someone is feeling stiff the day after skiing, a Shiatsu or a lymphatic massage can also be beneficial." Stay: Preidlhof.
Fermes de Marie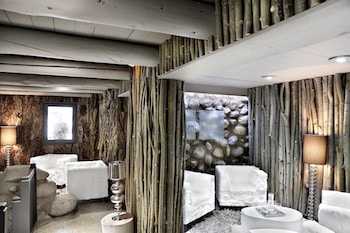 Just visiting the Fermes de Marie in Megeve is beneficial. The five-star hotel made up of nine chalets arranged in a hamlet in the medieval village blends luxury with a kind of earthy feel you only get in expensive resorts. The equally dreamy Pure Altitude Spa uses mountain plants drawing heavily on edelweiss and design references to the nearby natural elements with rustic stone walls and gently flowing water. An Aesthetic Drainage Facial will soothe puffy eyes from early rising and too much apres-ski with gentle massage using regular pressure to stimulate lymphatic circulation and drain toxins. Stay: Fermes de Marie.
The Tschuggen Grand, Arosa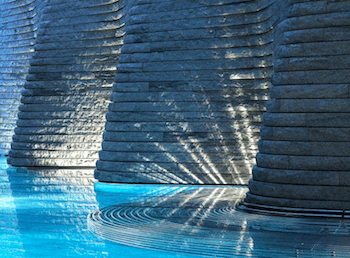 The Tschuggen is as striking in its design as its mountainside setting. Pampered guests are taken to the Arosa ski area on the hotel's own Tschuggen-Express. Star architect Mario Botta created the hotel's 5,000m2 Tschuggen Bergoase wellness complex where the skier/climber-massage soothes tired legs with a refreshing pine bath, followed by a relaxing foot and leg massage to regenerate muscles. Or soak in a sea salt bath indulging the body with minerals and trace elements, while draining excess fluids.
Stay: Tschuggen Grand Hotel.
Hotel Stanglwirt, Going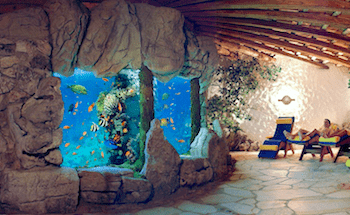 The Stanglwirt is a rustic eco-resort in the tiny village of Going in the Austrian Tirol overlooking the dramatic Wilder Kaiser mountains. The hotel's wellness offering includes a 1200m2 rock sauna area, organic pine sauna, salt grotto, natural stone sauna and whirlpool area…and Austria's largest salt-water aquarium stocked with black tip reef sharks. Naturally, there's an 'event' sauna complete with a daily infusion timetable.
Stay: Hotel Stanglwirt.
DON'T FORGET THE SAUNA
A treatment not often regarded as such by us Brits is the sauna. But for skiers it is incredible: the high temperature helps the body release endorphins, easing muscle pain as well as helping increase circulation, reduce tension, as well as promoting muscle relaxation and help eliminate lactic acid.
A word about sauna etiquette is merited here. In most northern European countries such as Germany, Austria and Scandinavia, saunas are second nature, as is nudity. It is viewed as unhygienic to wear clothing, which is where many Brits and North Americans shy away, particularly as sessions are often mixed sex. But you must sit on a towel. However, most hotels will allow less earthy guests a towel to cover-up.
Markus, sauna maestro at The Preidlhof, performs a sauna infusion show where he drops sweet-smelling lemon, mint and eucalyptus oils onto the hot coals, before swirling a towel around the cabin to help the fragrant infusion reach guests. He dons a towelling kilt, also available for the less European of us, with a dress version for women, who don't want to 'Free Willy,' as he puts it. Enough said.