If you're looking for the best ski chalets for families, then you're in luck: because we've got six of them lined up right here. But if one of them takes your fancy for a ski holiday over New Year or February half term, then – please – make sure you book it early. These are the kind of properties that sell out months in advance for the peak weeks.
Les Deux Domaines, La Plagne: quick access to the pistes…
Big bedrooms…
A sunny nursery…
And its own pool.
It's no surprise chalet-hotel Les Deux Domaines sells out months in advance of the school holidays. Built in collaboration with family ski specialists Esprit, it's blessed with some of the biggest and best chalet-hotel bedrooms in the Alps, as well as a sunny, well-designed nursery and – best of all – its own pool. Oh yes, and the location is near-perfect for intermediate skiers. Les Deux Domaines is set on the edge of the hamlet of Belle Plagne, from which all parts of La Plagne's easy-skiing piste system are accessible.
Are there any drawbacks? Well, the bar/sitting room could be bigger; and it's a bit of a hike for three- or four-year-old beginners to get to the kindergarten slope in the middle of Belle Plagne (they're taken there by a team of Esprit staff). But neither has dented the property's popularity: and for a family with pre-skiing kids, or anyone whose children have already mastered their snowplough, it's high-comfort, low-stress base for a holiday.
Childcare? Yes. There's a lot of support here for parents, if they need it. Esprit offers nursery care and kids' clubs, on-site, from 4 months to 12 years, as well as supervised meal-times, evening clubs, and a baby-listening service while parents are at dinner. On the slopes there are exclusive ski-school classes for the children of Esprit guests, with instructor-to-pupil ratios of 1:6 or 1:8 depending on age, and all classes above beginner level are met at the boot room door of Les Deux Domaines by their instructors. An Esprit staff member also joins the beginners to provide extra care.
Chalets Neve and Sapin, Reberty: comfy sitting rooms…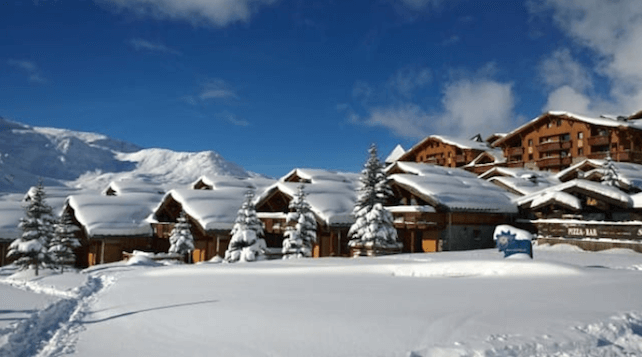 Ski school nearby…
And a short bus ride to Les Menuires' sports centre.
These two mid-sized chalets from Powder n Shine are set in Reberty – the low-rise suburb of Les Menuires which is both higher, and prettier, than the main resort. From the ski room door, you can plug into some of the best pistes in the Three Valleys. It's easy to ski over into high-altitude Val Thorens, too, making it a canny choice for Easter.
What really matters, however, is the way the chalets and the location combine to create a cocoon for families with pre-teen kids – especially those who are just beginning to ski. This is because the local ski school's beginner area for children is just across the piste from the chalets: it's a three-minute toddle with the young'uns in the morning. There's a decent restaurant next door to the chalets too, which is a great place for lunch (and dinner on the staff's night off). In fact, the only reason to leave this little Brit-friendly enclave is to ride the (free) bus down to Les Menuires' sports centre and pool – home to one of the best soft-play areas in the Alps.
The chalets each sleep 15-18 and are mirror images of each other. They both have a sauna and outdoor hot tub, a playroom/TV room, and a nice big balcony overlooking the slopes.
Childcare? Powder n Shine doesn't offer it, so we'd recommend this for ski school aged kids rather than babies or toddlers.
Bogart and Bacall, Les Gets: a central location…
Handy for ski school…
And Father Christmas…
With new interiors…
Their own playrooms…
And looooads of space downstairs.
They're called Bogart and Bacall because they occupy the site of Les Gets' old cinema. And as well as the cool names, that means these two chalets also enjoy a fantastic location, slap-bang in the middle of the resort. On one side, just 100m away, the Mont Chéry telecabine will whisk you up to the quiet slopes to the north of town. On the other, about five minutes' walk for children in ski boots, lies the main hub of lifts and pistes – as well as the ski school meeting point. What's more, the chalets are set back from the main road so traffic noise isn't a problem.
Admittedly, Les Gets isn't the highest ski resort in the Alps. Set at 1200m, the local lifts rise to 1800m, and to 2300m in Avoriaz, the highest point of the Portes du Soleil ski area. So Bogart and Bacall aren't the best ski chalets for families planning an Easter holiday. But over Christmas, New Year, or February they're a treat – especially at Christmas, when Father Christmas sets up camp in a chalet above town, and pops down regularly to meet the locals. The celebrations climax on December 24, when he rides a horse-drawn carriage into town with an escort of torch-bearing elves and a fanfare of fireworks.
Childcare? Yes. The chalets are run by Ski Famille, which offers in-house child care for children aged four months to 12 years, six days a week. For 4-12 year olds, ski school is sold separately from supervised lunches and afternoon kids' clubs so you can pick and choose the elements you want, and for three year olds there's an optional taster programme of one-hour taster sessions on skis. The company also offers a private-tutoring service for those studying for Eleven Plus or Common Entrance exams.
Chalet-Hotel Aiguille Percée, Tignes: close to the slopes…
And the ski school meeting point…
With newly refurbished rooms…
A well-equipped nursery…
And Le Lagon nearby.
Mark Warner's chalet-hotel Aiguille Percée in Tignes had a top-to-bottom refit for the 2013-4 season – and as well as new décor. It now boasts bigger communal areas, more family and interconnecting bedrooms, and a swimming pool (Tignes' own extensive watersports centre, Le Lagon, is a short walk away, and it's where you'll actually spend most of your pool time). The best bedrooms are south-facing on the two top floors – the views up the valley are spectacular.
What's more, the hotel is only a few steps from the main hub of lifts and pistes in Tignes-le-Lac – offering quick access to the resort's superb offering of intermediate-friendly pistes and entry-level powder. This is where you'll also find the ski school meeting points and nursery slopes. All things considered, it's an mouthwatering proposition – especially at Easter, when Tignes' lofty elevation can make all the difference between good skiing and a slush-fest.
Childcare? Yes. Mark Warner offers in-house child-care from children aged 12 months to 5 years, six days' a week, and for five and a half days for 6-12 year-olds. There's also an evening drop-off crèche service for when parents are at dinner. Ski school is sold separately: the maximum class size for 5-12 year olds is eight.
Chalet Marmau, La Tania: family rooms…
Lots of outdoor activities…
British ski school New Generation on the doorstep…
And a pretty, car-free village centre.
Set at an altitude of 1400m, La Tania is fairly low by modern standards, and its snow can get slushy late in the season. But if you're planning a mid-winter trip – in December, January or February – don't be put off. By way of compensation you get a pretty, pine-tree setting, a compact car-free village centre, and a low-key, friendly atmosphere. It's quite a change from all the pomp and circumstance higher up the mountain in Courchevel 1850.
Three minutes' walk from the hub of lifts and pistes, you'll find the Marmau – a family-friendly property run by chalet specialist Le Ski, and home to the company's La Tania crèche. In total, the chalet sleeps 23 – and mixes regular twin/double bedrooms with triples and one family room that sleeps four. It's a flexible space, and is often booked by big groups months in advance of the school holidays. In fact, as I write this on April 2 2014, it's already full for February half term 2015.
Childcare? Yes. Le Ski offers childcare for children aged six months to 12 years, from 9am to 5pm, six days a week – although, of course, most kids aged four and up spend at least some of their time on the slopes. One of the best things about La Tania is its Brit-friendly ski schools, and Le Ski works with both New Generation and Magic in Motion. With New Generation, the maximum class size for four to five year olds is six. Above that age, it's eight.
Chalet Le Manoir, Alpe d'Huez
Upmarket interiors…
Fantastic, slope-side location…
Lots of pistes for beginners and improvers…
And snow angels…
And a nanny service for families.
Le Village, VIP's development of piste-side chalets in Alpe d'Huez has been popular ever since it opened – and it's not hard to see why. The location is amazing. They're not so much next to the pistes as in them. What's more, the fact that the pistes in question include some of the best nursery slopes in the French Alps means that just about everyone can ski to and from the front door – not just the experts.
The interiors are nice too. One of our reporters is famously sniffy about ski chalets, but even he was won over by VIP's trademark mix of unvarnished wood, stone and roaring log fires when he stayed there recently. Afterwards, he wrote, "Wild horses wouldn't have to tug very hard to get me back inside".
Chalet Le Manoir is part of this development. Unlike its neighbours, it's dedicated to family ski groups throughout the season and can be booked room by room. The bedrooms are all doubles or twins and are of modest proportions, so even though three of them will take cots, it works best for slightly older children who will be comfortable in their own room – rather than sleeping with Mum and Dad. They'll have plenty to talk about at the end of the day. Aside from skiing, activities on offer in the resort include ice skating, climbing (on an indoor climbing wall), dog-sledding and swimming.
Childcare? Yes. There are no kids' clubs, but VIP runs its own private nanny service. Nannies are booked by the week, and can look after two infants aged 6 months to 2 years, three children aged 2-4, and four children aged 5 and over.
Not sure if a chalet or chalet-hotel is right for you? Then check out our feature "What kind of accommodation is right for us?"
And don't forget to read our family skiing section for more tips and recommendations.