Even if we can't enjoy pancakes in the Alps this coming Shrove Tuesday, we can still rustle up some alpine flavour at home.
Phil Howard – co-owner and chef of UNION in La Plagne, has shared his recipe for the perfect crêpe. Set in the heart of Plagne Montalbert, UNION opened in 2017 and has been a great success story. Using local produce, Phil creates well-known dishes and inspiring cuisine. However, with all restaurants in La Plagne – and further afield – unable to open, Phil has decided to share his recipe for crêpes, so that you can create a little bit of UNION's cuisine at home.
Crêpes with caramelised hazelnuts and honey
Ingredients for about 12 crêpes
200g flour
25g sugar
4 eggs
3 yolks
500ml milk
100g butter
Zest of 2 oranges
100g peeled hazelnuts
150g castor sugar
100ml runny honey
250ml creme fraiche
Method
Heat the butter over a medium heat until it is golden brown, foaming and smells of nuts. Tip into a small bowl leaving behind the brown bits at the bottom of the pan. Set aside. Whisk together the flour, sugar, eggs, yolks and orange zest with half the milk until smooth. Add the remaining milk and the beurre noisette and whisk to vigorously to combine. Set aside for 30 minutes.
Roast the hazelnuts for 10 minutes at 160 degrees C. Leave to cool. Place the sugar in a pan with 50ml water, bring to the boil and cook until you have a caramel. Add the hazelnuts, stir to coat them with the caramel and transfer onto parchment paper. Leave to cool and chop with a knife.
Cook the crêpes in a non-stick pan. Wipe the pan with a piece of kitchen paper dipped in oil between each crêpe.
Place the crêpes onto a plate, drizzle with honey and sprinkle with the caramelised nuts. Fold over and serve with some creme fraiche.
Tirolean pancakes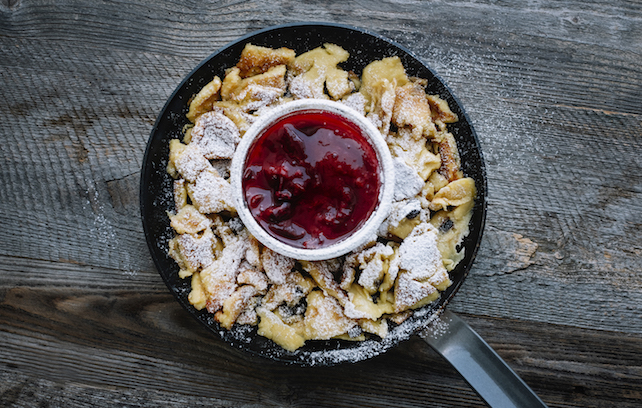 Can't resist Kaiserschmarrn? We love those fluffy chopped pancakes sprinkled with icing sugar and served with stewed plums! An icon of Austrian cuisine, the dish was named by Austrian Emperor, Kaiser Franz Joseph I. Ingredients like rum and raisins don't have to be included, but they certainly help.
Kaiserschmarrn
Ingredients (for 1 serving)
3 tablespoons of flour
3 eggs
1 pinch of salt
1 tsp – 1 tbsp of sugar (depending on the desired level of sweetness)
1 tsp vanilla sugar
Some milk
1 shot of rum (optional)
A handful of raisins (optional)
Butter or ghee (clarified butter)
Icing sugar
Method
Add the flour, salt, vanilla sugar and milk into a bowl and whisk until the dough becomes semi-solid. Carefully fold in the eggs and add the rum.
Heat a pan and lightly melt some butter or ghee. Once the pan is hot enough, pour the batter into the pan and sprinkle the raisins (remember, this part is optional). Back the pancakes on the lowest heat with the lid on top until one side turns golden brown. Turn the pancake, pop the lid back on and continue to bake.
Divide the pancake into pieces, sprinkle over some sugar and a knob of butter (or ghee). Put the lid back onto the pan and allow the sugar and butter to caramelise.
Once the pancakes are ready, serve them with cranberry, apple sauce or stewed plums.
But where can you find the best Kaiserschmarrn in the Austrian Tirol? One place is Böglalm, a mountain hut next to the Galtenberg lift in Alpbach, but we've had good ones in the Skiwelt and in Kitzbuhel as well.
A sweet wafer from Verbier
The favourite Swiss food associated with Fasnacht (carnival) in February are Chruchtele, which are paper-thin fried pastries served with Schnapps and wine. These are consumed from the Monday (to Thursday) after Ash Wednesday, when confetti-strewn musical parades line the resort. The practice of creating fried foods during Fasnacht started when people wanted to empty their cupboards of Christmas leftovers in order to prepare for 40 days of fasting. For Verbier's recipe, mix together flour, butter, white wine, pear brandy, eggs, salt, coconut oil and icing sugar (not in that order).
Sweet and savoury crêpes in Megeve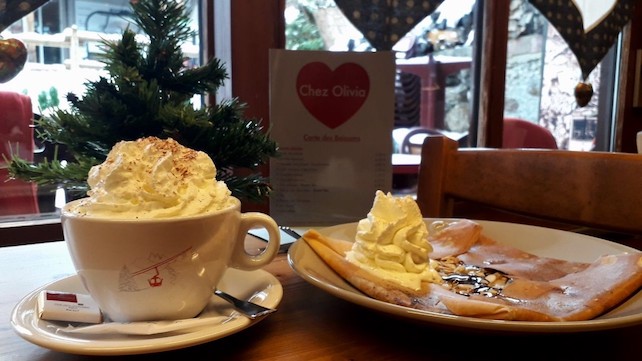 The village of Megeve has long been associated with gastronomy, with a food scene unrivalled anywhere in the region. It is known for its four Michelin-starred restaurants which have seven stars between them. Located in the village centre, Chez Olivia is the perfect spot to find a sugary treat or takeaway lunch, with an extensive choice of sweet and savoury crêpes on offer.
Olivia, who is originally from Paris, moved to Megeve nearly 20 years ago, first running a small hotel, then a pizzeria, before opening her much-loved Crêperie. Olivia's latest creation is her Galette saucisse, which is a savoury crêpe made from locally-sourced sausage meat wrapped in a buckwheat cake and decorated with mustard, cheese or onion compote.
We're looking forward to next winter, when we can enjoy these delicious concoctions in the Alps!