When buying snow boots remember that their soles are more important than anything else, as you'll want to have a good grip on ice to avoid injuring yourself.
Far too often the underside is hard and inflexible, but it's difficult to tell until you actually walk around a ski resort in icy conditions.
Start by choosing a boot that has corrugated soles – but even so, in extremely icy conditions it's a good idea to buy some clip-on boot chains, preferably with studs attached.
Warmth and waterproofness are the other important aspects of a boot, and it goes without saying that the more you spend the more substantial the boot will be. Although some people prefer to wear a shorter mountaineering-style boot or trainers, a longer length boot helps prevent snow creeping inside, especially if you find yourself having to walk through a small snowdrift.
The popular women's apres-ski boots at the moment are the tall and lace-up variety, often with faux fur around the cuffs.
Keen Hoodoo III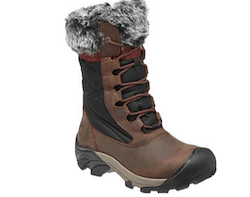 The Hoodoo III is a lace-up boot constructed with a calf-length textile and nubuck leather upper, with seam-sealed waterproofing and 200g of insulation to keep your feet warm and dry even in the harshest of weather conditions.
There's a thermal footbed and the boots have high-traction, ice-grip soles. Whilst it looks like you might have to struggle with annoying laces, there is actually a small zip opening on the inside of the calf. I tested them last week in Verbier and found them to be incredibly warm and comfortable, and they held well on the snowy/icy pavements. Shown here in cascade brown/zinfandel. £135, Keen.
North Face Women's Abby III Snow Boots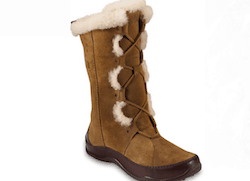 The North Face boots offer warmth and style, whilst the sole is said to keep you steady on icy paths.
They boots have velvet suede and leather uppers, a waterproof construction, and use PrimaLoft Eco 200g that is thermally efficient and 50% recycled. There's also a soft shearling lining, a double thick compression-moulded insole and TNF Winter Grip rubber outer sole. The thick and temperature-sensitive soles harden in the cold for increased traction. Seen here in rope brown/barrel brown. £129.99, Ellis Brigham.
Salomon Sokuyi WP Winter Boots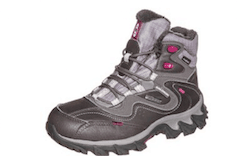 These waterproof boots from Salomon have a pull-tab on their reinforced heels, as well as toe caps and removable padded insoles. The outer sole is resistant to abrasion, and the upper material is a mix of imitation leather and textile.
Shown in Detroit/Autobahn/mystic purple. £88, Zalando.
Timberland Women's Earthkeepers
The soft yet tough boot has a teddy fleece-lining with a tough, shock-absorbing sole and waterproof membrane to keep your feet comfortable and dry. The boots can either be worn fully laced or with their tops rolled down for a softer look.
There's a waterproof leather and suede upper and a footbed for cushioning and shock absorption. The 15% recycled rubber lug outer sole gives good traction. Seen here in dark brown nubuck. £87, Timberland.
Helly Hansen Garibaldi Snowboot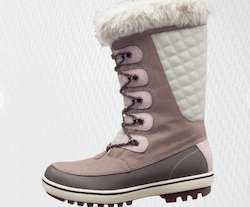 The Helly Hansen Garibaldi Snowboot offers a blend of style and function with its protective toe-to-heel rand (that's the rubber part that comes up around the toe and sides of the shoe) combined with waterproof nubuck leather and a faux fur lining.
The waterproof leather upper has a warm felt lining, faux fur and cordura mesh. There's a protective rubber midsole and a Helly Grip rubber outer sole. Seen here in moon rock/string/bung. £130, Helly Hansen.
Siberian Chic Women's Whistler Boot
The Whistler White D Triangle Boot from Siberian Chic is made from soft, warm and naturally water-repellent sheepskin. They are thicker and denser than many other sheepskin boots on the market, adding plenty of warmth.
The genuine sheepskin inner sole keeps your feet warm, dry and comfortable in the winter and cool in the autumn. An additional shape-holding thermo material helps to keep the boots looking their best.
The outer boot is made from leather covered with natural animal hair and combined with sheepskin to provide protection against dirt, moisture and damage. £280, Snow & Rock.
Sorel Women's Caribou Boot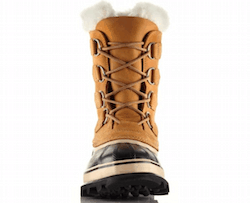 Much imitated, the original Sorel boot features waterproof construction, seam-sealing and a removable ThermoPlus™ felt inner boot for warmth, comfort and protection in cold and wet winter weather.
A reviewer says: "They were initially very tight, but as I've worn them they've become looser and more and more comfortable. I can even keep my socks on when I take my boots off now!" Seen here in buff colourway. £130, Sorel Footwear.
Siberia Women's Snow Boot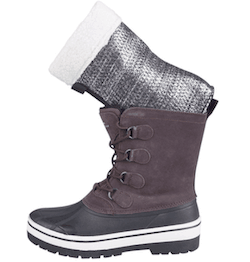 Here's a budget snow boot that's both insulated and stylish, perfect for wearing in a ski resort or even at home. The boots have a waterproof membrane, and a removable Isotherm aluminium-bonded liner which you can take out for drying.
I tested these at Christmas in Val d'Isere and found them comfortable as well as being some of the most stylish boots in this price range. I used boot chains with them, since the streets were spectacularly icy at the time. No laces to deal with here, as the boots are pull-on/pull-off. £39.99, Mountain Warehouse.
Yaktrax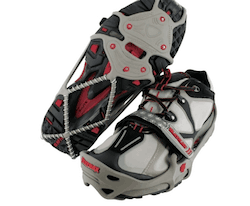 Yaktrax Run ice-traction from Cotswold Outdoor, pictured here, are for use on trainers, but you can buy similar ones to fit different styles and sizes of shoes and boots in most good ski shops at home and in your resort.
It's important to try them on with your boots to make sure they fit snugly and don't fall off when you're walking. Remember these are not for indoor use – not only will they scratch wooden chalet floors but you should also avoid walking on marble or tiled floors, or non-snowy surfaces when wearing them.
Also see our features on ski gloves and ski socks.