The idea of a five-star chalet-hotel appears at first sight to be an oxymoron. The pretty sensible price clearly indicates that it is neither an uberchalet nor the kind of platinum-level hostelry frequented at peak holiday times by elegant wealthy Parisians.
So it came as something of a shock to the travel industry last summer when Hotelplan announced that it had taken over the five-star Hotel Savoie in Val d'Isere, an established ritzy establishment bang in the centre of the resort. It would be open exclusively for guests of Inghams, Ski Total, and Esprit.
Andy Perrin, the boss of all three and formerly a key member of the team that founded Crystal, once told me: "If you don't move forward in this business, you very swiftly go backwards. You have to innovate." Had he bitten off more than he could chew?
The danger, of course, is that by marrying hotel and chalet at this high level you alienate both types of customer. They both feel it will fall short of their exacting requirements.
The chalet lover fears that the volume of rooms and guests meant that it will lack the intimate atmosphere and cheerful, personal service that is the hallmark of this uniquely British type of holiday.
Meanwhile the hotel fan worries that seasonal tour operator workers simply lack the training and dedication of professional hotel staff and won't be up to the job.
True, a handful of tour operators – notably VIP Ski as a forerunner – have upped their game, raising the standard of their chalet-hotels to three or perhaps even four-star levels. But no one's previously jumped to platinum.
Does it work? We went to find out.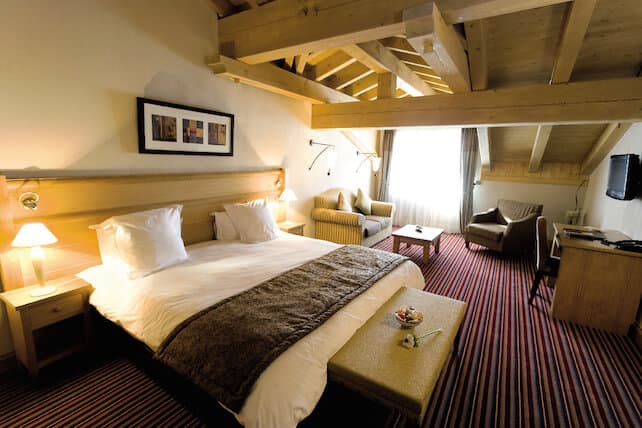 The start was not auspicious. We arrived by train and taxi at 1am after an exhausting self-inflicted 28-hour journey that originated in Jackson Hole…to find ourselves locked out.
At this late hour all the package holidays guests from the three companies had arrived much earlier and no doubt knew the door code. We didn't.
Fortunately, a passing member of staff helped us out. Once inside, we were delighted. Our rooms were truly up to five-star standard. The hotel had originally been built as a series of suites that could be expanded or individualised by opening or closing connecting doors.
This meant for that for our family of five we had a master suite with a fine bedroom overlooking the main street, with a balcony and views of La Face in the ski area beyond.
We had a bathroom finished to the highest standard, a large and comfortable sitting room, and a second loo. Our three children were in two adjoining bedrooms, both with en suite bathrooms. In effect, we had our own private five-star chalet within the chalet-hotel. Only a kitchen was missing (there was a small fridge), but that wasn't necessary.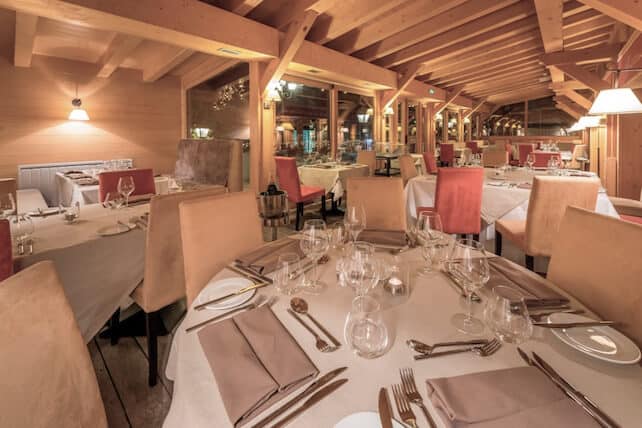 One of the great strengths of Le Savoie is its restaurant, located on a covered, sunny terrace with similar views to our balcony's. The chef excelled himself with a nightly choice of well-prepared and presented dishes. Two of our children are vegans and he took their dietary requirements in his stride.
Frankly, we couldn't fault it. There's a swimming-pool, spa and in-house ski shop here too. So if you want a central location, good food and extremely comfortable surroundings without the stratospheric prices to go with it, Le Savoie is the place to be.
Resort Rant
Last weekend a couple of tabloids claimed that Val d'Isere was awash with cheap booze and had gone to the chiens, attracting the kind of loud-mouthed drunken behaviour that had turned it into 'a Magaluf on ice'.
Come on! Like any ski resort in the Alps there's more that a single vodka martini in Val. Any ski destination where you can buy a breakfast sharpener at 8am and a nightcap 20 hours later is going to have its stumbling casualties. At 4am when club bouncers herd their diehard clientele towards the doors at dawn the last stragglers are unlikely to be sober.
But no means all of them are British and Val doesn't begin to feature in our top ten resorts for apres-ski over-exuberance. Certainly our chalet-hotel, located on the high street bang in the centre of the resort, was blissfully quiet.
Anyway, Val's simply too expensive to join this club. No, you can't buy a beer up the mountain at £3.80 (5€) a pint. It's more like £5.40 (7.10€) for half a pint or £6.20 (8.14€) a bottle. Wine in the supermarkets is not £2 (2.60€). The cheapest I could find – and that with difficulty – was £6 (7.88€), much the same as in the UK.
If you just want to booze, you can find a lot of cheaper resorts – those in Bulgaria or Andorra for example. Sure, young Brit skiers who go to Val like to party, but first they want to ski theirs socks off. Skiing is meant to be fun.
In as long as you are not endangering yourself or others, I don't see the problem?
Fact Box
Chalet Hotel Le Savoie is operated by sister companies, Ski Total and Inghams and also welcomes family guests from Esprit Ski during the school holidays. Prices start from £1,019pp (1,443€) including return flights from Gatwick to Geneva, resort transfers, free wifi, and seven nights chalet catered accommodation. To book visit Ski Total or Inghams.