Alex Dyer is the Managing Director of Tutor House, a private tutoring company based in London, which provides Common Entrance, GCSE and A-Level tuition. Tutor House has teamed up with Bernie Liban and his company Revise & Ski, offering revision courses in Val d'Isere in the Easter Holidays.
The classroom comes to the slopes, with revision in small groups first thing in the morning from 8am to 10.30am and after skiing from 5pm to 7pm, with a mock exam at the end of the week. Subjects include maths, English, French, geography, psychology, chemistry, physics and biology.

For many families, the subject of ski holidays is fraught and fantastic in equal measure. For the most part, everyone loves hitting the slopes, of course. But Mum and Dad don't love paying the peak-season holiday prices charged during the school holidays, and as the kids grow into teenagers, there are issues about how much freedom to give them too.
They may want to go off skiing on their own; so how do you ensure they don't spend the afternoon jumping off cliffs? And what about the apres-ski? They'll be drawn to it like moths to a flame. Do you let them get just a little bit singed? And is that legal?
Don't let the anxieties and frustrations put you off. After all, skiing is one of the few family holidays that your kids will still want to come on, right through their teenage years and into their twenties. Play it right, and you could be on the mountains together for years to come.
Here's how…

Safety on the Slopes
So how do you keep them safe? Start by making sure they are well informed and properly kitted out. Terrain parks (sometimes called snowparks or funparks) are especially popular with teenagers, so it's important they know how to use them. The National Ski Areas Association and Burton Snowboards have developed the Smart Style Freestyle Terrain Safety initiative to encourage the safe use of freestyle terrain, while also delivering a clear message.
For this type of terrain will contain some – or all – of the following: jumps, hits, ramps, banks, fun boxes, jibs, rails, half-pipes, quarter-pipes, ski/snowboarder cross courses, bump terrain and other man-made or natural features. Park users need to follow all instructions, warnings and signs, keeping in control both on the ground and in the air.
Insist your child always wears a helmet, and a back protector is an excellent piece of safety equipment. Specifically for parks are knee and elbow protectors similar to those used for mountain biking, and snowboarders would be wise to wear wrist guards too. All of these can be bought in ski shops both at home and in the resort.
Make sure your teenager can always get in touch with you – you could hand out walkie talkies, although mobile phones will do the trick and are usually more efficient in the mountains. Check that your child's battery is fully charged before leaving your accommodation in the morning, and that they have enough minutes available so they can call in the case of an emergency. Make sure they (and you) know the resort's piste and mountain rescue number.
Hopefully they wouldn't dream of setting off piste alone, but make sure they are aware of the dangers and have at least a rudimentary knowledge about the different snow conditions. Kitting out your teenager with an avalanche bleeper, switched on and complete with fresh batteries every season, might help put your mind at rest a little.
The Right Amount of Apres-Ski
First the practicalities: some countries, including Austria, allow 16 year olds to buy beer and soft drinks. The legal drinking age in Switzerland is 16 for beer and wine and 18 for spirits. In both France and Italy, 'fermented drinks' like beer or wine are permitted above 16, but any form of distilled alcohol is limited to those over the age of 18. In Andorra the lower age limit for drinking in a bar or nightclub is 18.
The understanding and execution of these rules varies enormously from resort to resort, and much is dependent on the views of the bar owner and the local police.
The same can't be said for the USA, where rules are strictly adhered to and in some states (such as Utah and Wyoming) they won't even let you on the premises unless you can show ID proving you are over 21. In Colorado, consumption of alcohol by under 21s is only permitted on private premises when accompanied by a parent. In Canada, BC's lower age limit for drinking alcohol is 19, whilst Alberta and Quebec are both 18.
But that doesn't answer the more fundamental question: should you let them go in the first place?
Keeping Up the School Work
As they grow older, the ugly question of exam revision rears its head, too. Common Entrance, GCSEs, A-levels; they all cast a shadow over the holidays, especially if you're skiing at Easter. How do you keep up the academic momentum, without spoiling the trip?
With the more academically focused teenager, the task is fairly straightforward and your child may willingly pack some school books in their luggage and sit down to work for set hours each day.
For them, and especially for those who are harder to motivate, sell the holiday as a brilliant opportunity to escape the desk in their bedroom and combine revision with stunning scenery and high-speed thrills. Get them to study before they ski, and when they come back you may even find the fresh air and upbeat atmosphere improves their powers of concentration.
There is an increasing number of residential revision centres at home, which provide a good change of environment and routine. It's hard to revise alone, so this sort of school holidays activity has become popular.
But a revision course in a ski resort? It could well offer the best of both worlds – doing something your kids enjoy and at the same time fitting in some academic work. Revising in a small, informal group also solves the problem for teenagers who grudgingly admit they would like to meet others of their own age when they are skiing.
Where To Go
I have picked out five resorts your teenager (and you) might consider cool for skiing: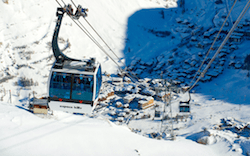 The linked Val d'Isere-Tignes area provides snow-sure skiing from late November until May and easy access to one of the best playgrounds in the Alps. The village of Val d'Isere is situated at 1850m and the skiing goes up 3400m above Val and 3456m at the top of the Grande Motte in Tignes.
The apres-ski is not bad by French standards, and there are certainly a lot of bars – but not on the same level as St Anton, Ischgl, Verbier or Zermatt. Most of the early partying happens in the Folie Douce at the top of La Daille gondola. Skiing level: Beginner to expert.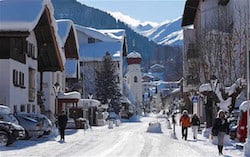 The quality of the mountains in St Anton is awesome, and the pedestrian zone is lined with shops, cafés, and traditional hotels.
The apres scene focuses on the lively Mooserwirt on the final descent to the resort. The Australian-inspired Krazy Kanguruh, just above, is equally popular.
Skiing level: Strong intermediate to expert.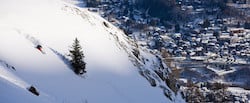 The heart of the old village of Courmayeur is a maze of cobbled alleys with a laid-back typically Italian atmosphere. The resort has myriad cafés, bars and restaurants.
Skiing level: Intermediate to advanced.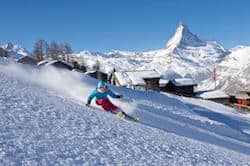 Zermatt is a delightful town that attracts an eclectic mix of wealthy guests and backpackers. The skiing suits competent intermediates, but more challenging slopes can be found all around. You can also ski over to Cervinia in Italy for delicious lunches of home-made pasta.
The nightlife doesn't come cheap here, but the younger crowd head for The Post Hotel complex, which houses five venues including Brown Cow (pub with snacks), Pink (live jazz, soul and funk bands), and Broken Bar (traditional disco with dancing on huge beer barrels). The Papperla Pub is one of the coolest apres spots in town. Skiing level: Intermediate to expert.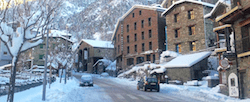 Arinsal, like the rest of Andorra, is a great place to learn to ski. But unlike the excesses of duty free Pas de la Casa in the Grandvalira area, Arinsal is quieter and more family orientated.
The resort will certainly be busy during high season, but the lift system is efficient so there won't be too much queuing.
Skiing level: Beginner to lower intermediate.
Having Fun When the Lifts Stop
Of course, teenagers normally want more than just skiing, and all the resorts mentioned above have indoor pools, ice-skating, dog-sledding, snowshoeing, paragliding and tobogganing.
Val d'Isere has the Centre Aquasportif containing Beach World featuring a pool with river currents and water cannons. It also houses Sports World with its seven grades of indoor climbing wall, and indoor sports such as squash, volleyball, football, badminton, and basketball. In the resort your teenager (or you) can also join yoga, art and cookery classes.
Zermatt has indoor climbing and ice-climbing, and the Matterhorn Museum charts the resort's development from a farming village to a world-famous holiday destination. On display are some of the original houses and interiors, with the life of the inhabitants and former alpine explorers recreated, bringing the subject vividly to life.
St Anton has a 4km toboggan track from Gampen to the suburb of Nasserein, and the arl.roc sports centre offers indoor tennis, squash, football and volleyball. The Arlberg-well has three indoor pools and a sauna world.
Courmayeur was originally a spa town and it is a real treat is to visit QC Therme thermal baths at Pre Saint Didier, 5km away. Here you can enjoy steam baths, massages, and relax in one of the outdoor pools.
Escaldes-Engordany, on the outskirts of Andorra La Vella, is home to Caldea, a futuristic spa inspired by Gaudi and made entirely from glass and metal. It's well worth a visit after skiing. Inside are Turkish, Roman, Aztec, and Icelandic baths, as well as a thermal lagoon.
Your View
Have you ever combined skiing with studying during your child's exam revision time? If so, we'd love to know about your experiences and hear any advice you have to offer.