A growing number of skiers are choosing to ski in Verbier but to base themselves away from the leading Swiss resort – and the reason is not just high prices.
Over the last 10 years, many local businesses have moved down to the valley to Le Châble (15 minutes by bus or a direct gondola ride from Verbier). Alternatively you can choose to stay up the mountain at Bruson on the far side of the valley, which is linked by gondola as well as by road to both Le Chable and Verbier. It's perfectly possible to book a decent hotel or apartment at a sensible price in both of them.
These days, some even smaller outposts are seeing new residents, such as Cries (10 minutes by road from Le Chable) and Levron (15 minutes from Le Châble). Here you will find a more subdued ambiance and yet you can jump straight back into Verbier's amazing ski area without too much of a problem.
The biggest advantage of staying in Le Châble itself is that you can catch the gondola from the town, and it connects directly into the vast Verbier/Four Vallées ski area. You just upload at the bottom and bypass any queues at the busy Medran hub in Verbier. This is especially useful in high season.


You can just as easily take an alternative gondola up the other side of the valley to Bruson for some peaceful skiing, excellent off-piste terrain, good value mountain eateries – and not a lot of people. Again, it's a canny choice during high season when Verbier's pistes are busy.
The year-round communities of the valley town and surrounding villages make these much more relaxing holiday bases. You can reach Geneva airport by train from Le Châble via Martigny in 2hrs 20mins.
Staying 'down below' also gives you the easy option of skiing in several smaller resorts along the valley.
Vichères in the Entremont valley (26 minutes drive away), has pleasant slopes offering good family skiing. Champex-Lac, also 26 minutes drive, has some excellent tree skiing, uncrowded slopes and some quirky ancient chalets.
Contrary to popular belief, average mountain restaurant prices in Verbier are comparable to those in its French rivals such as The 3 Valleys and Val d'Isere-Tignes…and sometimes even lower. For example, in Le Dahu (+41 27 778 20 00) at La Chaux a beer or coffee is 4chf (£2.70), a soft drink 3.50chf (£2.40), a salad 9chf (£6.15) and spag bol 26chf (£17.70).
Contrast this with the simpler Restaurant de Moay (+41 27 771 67 74) on the mountain at Bruson and you'll get a soup from 8chf (£5.45), salad from 5chf (£3.40), and a pizza from 14chf (9.55).
In the evening, try Al Capone in Verbier itself. It serves simple pizzas from 18chf (£12.25) to giant ones with interesting toppings for around 27chf (£18.40). Pasta such as lasagna is 25chf (£17).
Down in Le Chable is one of the area's lovely new culinary additions, which uses seasonal local ingredients. Brasserie 1 is an atmospheric little place, which is a new venture from chefs Jamie Clark and Jonathan Raeburn. My delicious Jerusalem Artichoke Soup with Tête de Moine (a Swiss cheese) and pickled shimeji mushrooms was 16chf (£10.90) as a large starter.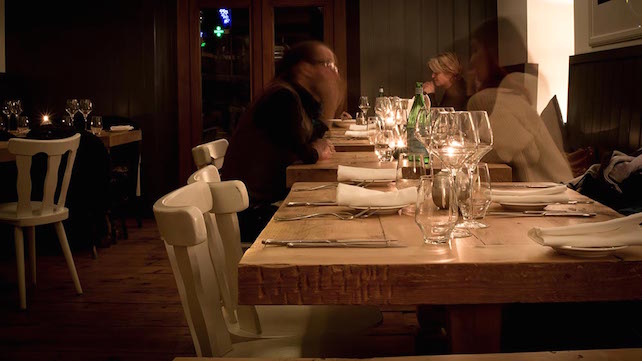 Main courses are from 36chf (£24.50), including the unusual Almond crusted lentil and potato cakes, with butternut squash, braised leeks, kale and goat's cheese mousse – or a Juniper spiced duck breast, garnish Paysanne, braised endive gratin and pickled prunes.
The restaurant also has a popular bar in which I spotted lots of Verbier locals, some of whom have been slowly moving down the mountain, both to live and for the quieter and more grownup apres-ski – possible with the local bus running to Le Chable from Verbier until 12.30am. During the season, the last bus up is at 9.49pm, plus a night bus which leaves Le Châble at midnight. There's also a large car park next to the cable-car station. Sadly, the gondola stops at 7.30pm.
In Verbier itself, accommodation prices range from Hotel Les Touristes in Verbier village as a cheaper option at 1,050chf (£715) per room for seven nights to the eye-watering starting price of £578 per room per night in the glamorous piste-side W Verbier.
Just opened in Le Chable is the charming Hotel A Lârze, which costs from 120chf (£83pp) per night. It's set slightly above the town, so it's a five-minute walk down to the cable-car and village centre. It has charming and helpful owners, clean and bright en suite bedrooms with large balconies.
A ski rental shop in the lift station building means that it's possible to leave skis and boots overnight instead of hauling them up the hill.
At the moment you're never far from hammers and drills in Le Chable, but there are still plenty of old blackened barns ripe for conversion. For now a few bars and a sole row of shops, including a Migros supermarket, serve the station side of the river.
Across the bridge is the older and prettier part of town with its church, town hall, and a few local shops – but not a lot of bars or restaurants. Yet.
Fact Box


For more information visit Verbier Tourism. Return flights from Heathrow to Geneva are available with SWISS from £65pp. Return train transfers from the airport or border railway station directly to destination are available with the Swiss Transfer Ticket and priced at 141chf (£98pp).