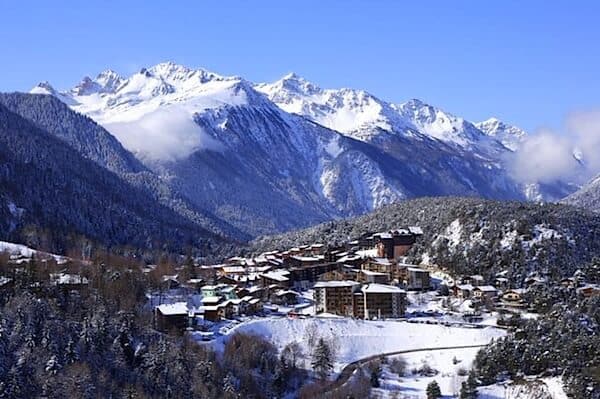 If you're tired of the over-inflated prices charged in the big-name ski resorts, then it is time to look further afield to get value for money. You can still enjoy the major ski resorts in the Trois Vallees at lower cost by staying either in one of the less fashionable villages – or a short drive away along the valley. Alternatively you can opt out of the well-known ski resorts altogether, and choose an area that has yet to be discovered by the masses.
1. Sauze d'Oulx, Italy – mellow atmosphere, ego-boosting pistes
Sauze d'Oulx once had a reputation as one of the party capitals of skiing – a sort of Benidorm on snow, where pub culture took precedence over skiing. But Sauze has long since cleaned up its act and somehow morphed back into the charming Italian mountain village that it once was.
Sauze's slopes – even in high season – are never impossibly over-crowded. You'll queue for a maximum of ten minutes at the hub access points, but will then find yourself on blissfully empty slopes once you are the out of the main ski resort and headed towards the smaller and lesser-known villages. Everything is good value for money here, too. If you're after lots of intermediate skiing, good food and a laid-back unsophisticated atmosphere, this could be the place for you.
2. La Norma, France – small in size but packs a mighty punch
This is a ski resort where the plat du jour in a mountain restaurant will set you back around 9€ instead of twice (or three, even four times) that. Where an adult lift pass can be as little as 25€ per day. You can even buy a 25m2 studio apartment here for around 72,000€ or a bigger 41m2 for 122,000€. The best thing about reasonable prices? They're even more reasonable in the second week of January, so this really is value for money.
At 65km, the ski area may not be the biggest in the Maurienne Valley. But what it lacks in size, it makes up for in pound-for-pound punching power. There are simply dozens of great descents here – far more than anyone would typically expect for a ski resort of this size.


3. Alpbach, Austria – where cute and cuddly doesn't cost extra
For the last fifteen-odd years, the fashion at the top end of the chalet market has been for a rough-hewn and reconditioned look. People want their mega-properties to seem ancient, and many an Alpine (and Balkan) barn has bitten the dust to provide the timbers.
But you don't have to be a gazillionaire to enjoy this kind of environment. Just check into Alpbach for a week and it comes as standard. Clustered around its church, the whole village is a delicious muddle of pitched roofs and creaking wooden balconies, and has in the past been voted the prettiest in Austria. On Sundays, the locals still go to church in their Lederhosen. After a week here, you'll probably feel like joining them.
Luxury accommodation here is cheap by the A-list standards of France. For example, a 40sq metre junior suite in the gracious and gorgeous Hotel Böglerhof is cheaper than a regular double room in some three-star hotels in Meribel in France. And once you've had enough time to soak up the sense of calm, you'll find some cracking pistes on tap, too. The recent link to neighbourging Auffach has created a 145km network of pistes known, as the Ski Juwel. It's home to some very sweet fall-line descents.
4. Le Grand Bornand, France – a slice of old-school Alpine atmosphere
If you like flattering intermediate skiing against a beautiful backdrop and a genuine Savoyard ambience, then Le Grand Bornand near Lake Annecy could be the place for you. This is the classic chocolate-box village you always dreamed of finding. However, the majority of visitors choose to base themselves in convenient Chinaillon, which has a lot more accommodation while still managing to maintain a traditional appearance. Together with La Clusaz – just down the valley – it's a living, working, year-round community which was here long before skiing arrived.
5. Madesimo, Italy – top-quality piste skiing and great value restaurants
Few Brits have heard of Madesimo. But as we've become a nation of bargain-hunters, that is about to change. During the week the slopes are blissfully uncrowded and there is a distinct lack of lift queues, although it gets busier at weekends when visitors arrive from Milan. The local skiing is mostly intermediate, with long trails leading into the neighbouring Valle di Lei with its mainly red runs and some challenging blacks, including the famous Canalone itinerary. The compact village means that you can be up the mountain quickly from wherever you are staying.
The village has a good range of restaurants, cafes, pizzerias, bars and shopping opportunities. So if you're after a smooth, sybaritic experience, which won't break bank – put it high on your hit list.
6. Les Menuires, France – it's no beauty, but the skiing is a treat
Do you know where Meribel chalet owners send their guests when they ask for the best, quiet, on-piste skiing in the Three Valleys? They send them to Les Menuires. It may be famous for its eyesore architecture, but beyond the multi-storey apartment blocks lies one of the most neglected corners of the entire ski area – the 2804m Pointe de la Masse. It's home to some cracking runs – and oodles of off-piste too – and if you stay in Les Menuires you'll have trashed the place long before the Meribel-ites have even made it to the bottom of the Masse 1 gondola. Chances are, you'll have paid a lot less for your accommodation too. Many of Les Menuires' apartments are small and pretty basic. But a week in one of them can be had for the price of lunch in one of the high-falutin' restaurants elsewhere in the Three Valleys.
7. Canazei, Italy – dazzling scenery, flattering slopes
Why don't more Brits ski in the Italian Dolomites? It has oodles of what many of us are after:

 comfortable, mid-priced chalets, hotels and apartments; m
ountain restaurants where a proper lunch needn't cost more than 20 euros a head; w
ide and well-groomed pistes which flatter us rather than trying to make us feel inadequate; and stunning mountain views.

 Canazei has these qualities in spades. It's also a little cheaper than its neighbour, Selva, which is the better-known base for skiing the Sella Ronda (the famous circuit of pistes that girdles the slab-sided Sella massif): expect to pay considerably less in Canazei for a package holiday in a catered chalet than in Selva. Because of the rather dry Dolomite climate, snowboarders and powder hounds should give it a wide berth. But everyone else will have a ball.
In France, big inter-linked ski areas usually come at a premium. But that's not the case in Serre Chevalier. Squirreled away in the Alps, south of Grenoble, it has a softer, more Gallic atmosphere than its A-list cousins in the north, and noticeably lower prices. That doesn't just apply to the cost of a chocolat chaud in a mountain restaurant. Accommodation is better value, too. In high season, a three-star hotel is roughly half the price you'd pay for three-star in Meribel.
Recently, the resort has also been proactive in organising great value-for-money deals, too. This winter (2013-14) for example, it offered free lift passes (worth £192) to groups of four booking apartments in low-season weeks. Given that the cheapest apartments cost around £45pp for a week, self-catering – that added up to a seriously cheap holiday.
That said, Serre Chevalier isn't a sensible choice for night owls, because it lacks a single resort hub where everyone can gather after dark. But with 250km of pistes on offer, and free mountain tours to get you started, it's a canny choice for anyone who rates their skiing more highly than their Jaegerbombs.
9. Pas de la Casa, Andorra – heaven for party-loving 20-somethings
Pas de la Casa provokes strong emotions. Unpretentious, beer-loving Brits who want to party as hard as they ski or snowboard, love it. They'll like the prices on offer too: a pint here costs roughly £2 less than it does in the Alps.
By contrast, anyone looking for cute little chalets and old-fashioned resort charm, or who have young children in tow, may find themselves walking back down the road to France within hours of check-in. Make no mistake: this is not a compromise destination. Come here ready for a whole week of apres-ski. Or don't come at all.
The one thing everyone can agree on, however, is the quality of the skiing. Pas de la Casa links on snow with Soldeu-El Tarter, to create the Grandvalira ski area. It offers just under 200km of pistes, which is two-thirds the size of the area shared by A-listers Tignes and Val d'Isere in France. However, Grandvalira suits beginners and intermediates best and the ski and snowboard schools here are dab hands at teaching Brits. So maybe it's no wonder that everyone is in such a festive mood at the end of each day.
10. Monterosa, Italy – in a good winter it's home to superb off-piste skiing
Monterosa is the name given to the three-valley lift system, which links the resorts of Champoluc, Gressoney and Alagna above the Aosta Valley. It can't compete with the Three Valleys in France in terms of its size, but its relative obscurity has made it attractive in all sorts of other ways. Take the price of a week's accommodation in a three-star hotel, for example: less than half what you'd pay in the likes of Courchevel 1850 in France.
See also our feature on how to save money skiing.