Jane Bolton is MD at Erna Low Ski Holidays. She's been selling holidays in Europe and Canada for nearly 20 years and regularly drives her family to the Alps for their ski trips.

Loading the family into the car and driving to the Alps means you can travel at your own pace, stop along the way to break up the journey, and save a heap of money on flights. 
With lengthy queues at airport security, even to get back into your own country, thousands of skiers are shunning their winter weekends in Gatwick and Geneva in favour of driving. Indeed, some 9% of all skiers and boarders currently drive across mainland Europe in search of snow.
One way to go is with a ski-drive specialist operator who'll arrange your accommodation, breakdown insurance, Channel crossings, and even the stopovers you might want to make en route.
But for those who haven't done it before, it seems like it could be fraught with hazards, especially if you have kids on board. But driving to the Alps is actually much easier than you think it's going to be. Here are some reasons to try it, and my tips to help make the journey go as smoothly as possible:
Enjoy the Flexibility
Airport security queues apart, the advantages are many. Decide when you are going to leave – are you going to make it a post-school dash or go at a more leisurely pace, or are you going to leave after dinner and hoping the children will sleep in the car? If It's the latter then get them into their pyjamas before you leave, as young kids especially love the adventure.
One of the main advantages is that you are not restricted by price as to which day is the cheapest or the most expensive – as you are when flying.
Draw up a plan for arrival in the resort, especially if you are travelling on a peak season date. If you arrive early you can always have a good breakfast somewhere and pick up your equipment. Most of the accommodation we work with will take your mobile number and text you when your apartment is ready, which may well be before the recommended check-in time of 5pm. Alternatively arriving late can also work, as long as you are well prepared.
Driving out can also mean you get an extra day to ski, if you depart after skiing on the final Saturday.
Finding the Best Snow
If you are driving out then you won't be tied to a single destination. For example, if the snow is poor in Megeve, you could drive to Flaine or Chamonix. If it's patchy in Meribel you can drive to Val d'Isere or Val Thorens. Having a vehicle allows you to visit a nearby resort for the day, which is especially good if another resort is included on your lift pass – such as La Clusaz and Le Grand Bornand, or Val Cenis and other resorts of the Maurienne Valley like Valloire, La Norma and Orelle.
Lower Costs
Travelling by car is usually much cheaper than flying during peak holiday weeks. Half term flights with BA are currently £700+ per person, so booking your holiday including a Eurotunnel Flexiplus crossing with Erna Low really is exceptional value and offers significant savings. Public prices with Eurotunnel for FlexiPlus is £428 return for one car and all its passengers.
For those other expenses, check out ViaMichelin for up-to-date toll costs when driving to a French ski resort. European petrol prices vary, but you can check them on the RAC website, which is updated daily.
More Space
You won't have to pay extra for luggage and ski carriage, you'll have the flexibility to travel with as many pairs of skis or boards as you want, and – if you're going away for Christmas – there's room for presents for all the family.
Travelling by car gives you a lot more space – and you can even add a large roof box which will fit in skis, poles and boots for the whole family, or just a couple of pairs of skis and a lot of other luggage.
Basically, you can take as much stuff as you can fit in! I never pack jackets, as they can often be squidged down the side of bags and are therefore easy to get to if needed during the journey.
In-Car Entertainment
You can listen to music, talking books or podcasts. This is particularly good if you're travelling with younger children who are sure to be kept enthralled by hours of Harry Potter. 
Pack the car with some fun activities your children can enjoy along the way. Portable DVD players are invaluable, as are other devices. You may think there is a time and a place for them and this is very possibly it! Make sure they are fully charged before you leave and that the films are downloaded, as you might not be able to download more once you are in another country. Pack the chargers too so that you can use them in your apartment when you get to the resort.
The Upgrade Option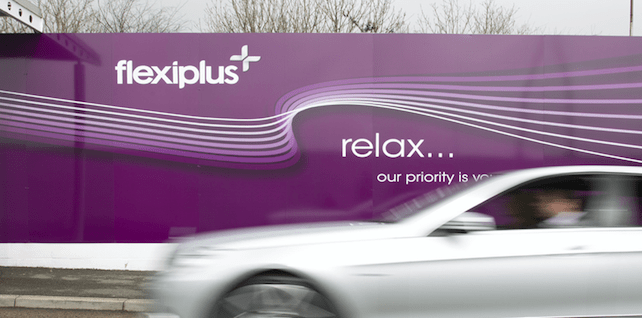 If you go through the tunnel, consider splashing out on a Flexiplus upgrade. It lets you just turn up and get straight onto the next train without queuing, and it means you won't be under pressure to adhere to a particular crossing time. Go in to the Flexiplus lounge (the new one in Calais is now open) to stretch your legs and pick up some refreshments, you really will feel like a VIP.
Flexiplus upgrades are particularly recommended for arrival and departure dates over Christmas and New Year, when traffic at the ports is at its heaviest – you get priority. If you are going by ferry, and there are not too many of you, think about paying the extra for access to a lounge. It is a great place to relax and, if you have babies or young children in tow then it's especially worthwhile.
Know the Route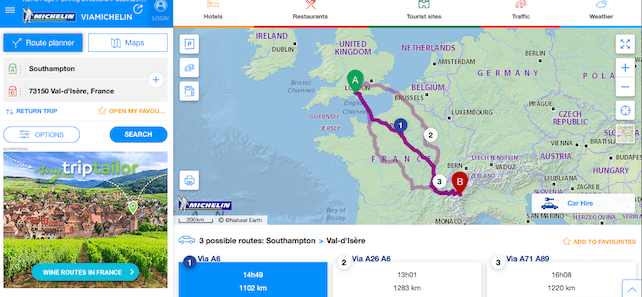 Plan ahead. Autoroute tolls to the French Alps cost approximately 82€ each way and it is quicker to pay by credit card rather than searching for small change. Better still, get an automatic tag so that you can fly through the payages without having to locate your credit card or cash. The good news is that these toll tags are now accepted in Spain and Portugal, too. So if you also plan to drive on your summer holiday it's really worth signing up.
Motorways in Germany, Luxembourg, and Belgium are free. Before joining a Swiss motorway you must purchase a 'vignette' windscreen sticker either at the frontier or online before you go. The Swiss one costs CHF36.50 and is valid for one year. Austria has a similar system, with 10 days for 8.90€.
These days most people have a sat nav or use the Waze app or similar, but if not both the AA and the RAC still supply detailed on-line routes to ski destinations across Europe and these are free of charge.
Break up the Journey…
If travelling with young children, make regular stops at service stations to avoid those little accidents in the car. There are motorway stops every 20km or so in France, which vary from toilet blocks in a field with a few picnic benches scattered around, to big buildings with restaurants, shops and petrol stations.
One tip is to stock up on the essentials in case the services become very busy (or you get stuck somewhere having to put on chains) – such as water, loo roll/tissues, and snacks.
…and Stop Off Somewhere Interesting
If you are self-catering, one of the big advantages of driving to the Alps is being able to stock up on essentials in one of the valley hypermarkets, which will be a lot cheaper than in the resort. Fill up the car on the way home too, if you want to, by stopping in Burgundy or Champagne, or in at one of the Calais hypermarkets.
Possibly add time pre- or post-holiday by stopping at Disneyland Paris or the new Villages Nature Paris. You could also make it educational, especially if you have teenagers in tow, such as visiting the WWI battlefields. The journey becomes an integral part of the holiday.
If possible pack a smaller bag for this so you don't have to unload everything, but don't beat yourself up when you realise you have packed something you absolutely need!
A Word of Warning
In France, the motorway speed limit is 130kph and 110kph when raining, and 110kph on duel carriageways and 90kph when raining. On a main road it is 80kph. UK drivers who get caught by speed cameras in countries including France and Belgium can now receive fines of up to £640. This is due to new rules that were passed in April 2017, allowing EU governments to view vehicle ownership records held by drivers from other countries, which means they are then able to prosecute drivers of foreign-registered cars even after they have left the country.
You can also be fined €80-135 for not having on board each of the following: headlamp converters, HV vests for all the family, a warning triangle, spare bulbs, and a GB sticker. Technically, you should also carry a breathalyser, but no one has yet been fined for failing to carry one. Note that the limit is much lower in France than in the UK (0.50g per litre of blood compared to 0.80g).
For other details, such as snow tyres and chains, insurance, see my Ten Excellent Winter Driving Tips.