Throughout the winter, the Tirol hosts a number of world class events. These range from occasions where holidaymakers can take part, to some big spectator events. This winter there are music and comedy festivals, some amazing spectacles, plus sporting events – all of which add something different and a bit special to your ski holiday.
So if you're planning a ski trip to the Tirol this winter, you might want to make sure your dates match one of these events.
Altitude Festival, Mayrhofen
December 11-17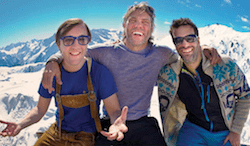 The 11th Altitude Festival has moved from its traditional spring slot to the start of winter in Mayrhofen. The comedy festival has been coined "the funniest show on snow" with a raucous mix of top UK stand-up acts, music and skiing over five days. Previous headliners include Eddie Izzard and John Bishop, and this season's stellar line-up…so far…showcases Zoe Lyons, Andy Askins, Daniel Sloss, Glenn Wool, Kai Humphries and The Improv Allstars. And as it's Christmas-time, Mayrhofen will be running its Austrian Christmas Market in the nearby enchanted forest. Further information: Altitude Festival.
Four Hills Tournament, Innsbruck
January 3-4


Watch the world's top ski jumpers as they gather at the Bergisel ski jump for the third round of the Jack Wolfskin Four Hills Tournament. At 50 metres high and 90 metres long, the jump is one of the most popular spectator events in the winter sports calendar. Further information: Bergiselspringen.
Sled Dog Camp and Races, PillerseeTal
January 14-29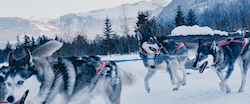 It's a dog's (and musher's) life at the sled dog camp and races in PillerseeTal. You'll have the opportunity to meet the mushers and their dogs, with activities such as dog sleigh rides, igloo building and chats round the campfire. Those who want to get more involved can take the three-day Adventure Husky course and learn to mush with the experts. The course costs from €298pp (based on two sharing) and includes four nights' accommodation, three-day mushing course for beginners and some meals. Further information: Kitzbuheler Alpen.
77th Hahnenkamm Men's Downhill, Kitzbuhel
January 15-22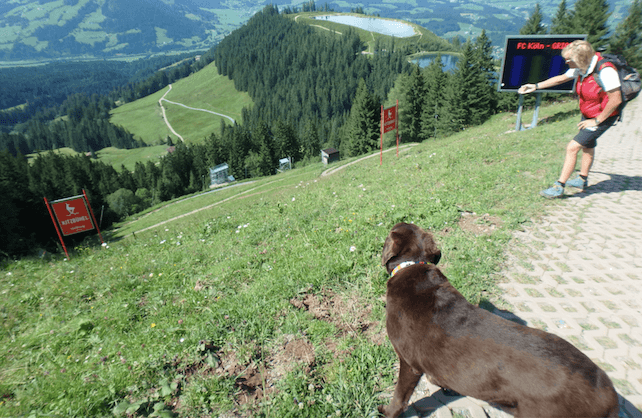 Regarded as the most demanding race course on the World Cup circuit, the famous Hahnenkamm – or Streif race course – in Kitzbuhel will attract the world's best skiers and thousands of spectators. It has an 863m vertical drop with dramatic sections like the Mausefalle and Steilhang – and just watching those racers go down is an incredible experience. Further information: TVB Kitzbuhel.
World Luge Championships, Innsbruck
January 26-29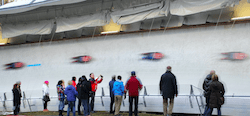 Once again the World Luge Championships will thunder into Innsbruck-Igls as the top athletes battle it out on the Olympic Bobsleigh Run. The run was built for the 1976 Olympic Winter Games at Innsbruck. You can can watch this major World Cup event and even give the sport a go with a qualified pilot when the track is not in use for competition. Further information: Tirol.com.
Billabong Air & Style, Innsbruck
February 6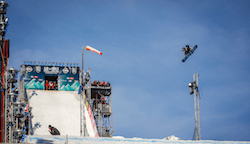 Join the crowds for a day of intense competition at the Billabong Air & Style show where the world's most skilled snowboarders battle at Innsbruck's outdoor Bergisel ski-jump. There will be music from Beginner, Biffy Clyro, Bilderbuch, The Naked And Famous, and Funf Sterne deluxe, Lucky Chops, Famous Deck Team, and Wax Wreckaz. Photo: Sven Thorgren/Air & Style. Further information: Air & Style.
World Championships Biathlon, Hochfilzen
February 8-19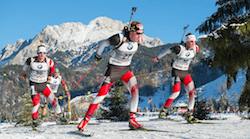 The organisers of the 2017 BMW IBU World Championships Biathlon have added this year's event to the Hochfilzen Biathlon Centre's legacy of successful sport competitions. It is situated at 1000m in the heart of Pillerseetal Valley, and spectators can watch the biathletes race around the course. Further information: Tirol Tourism.
Multimedia Dance Show on Snow, Neustift/Milders
February 17 and 24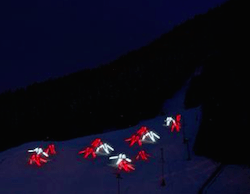 A new multimedia dance performance, Gaia Stubai – Mother Earth, will premier at the Neuland open-air arena in Neustift/Milders this February. Presented by Enrique Gasa Valga (director of ballet for the Tirolean State Theatre), the outdoor spectacle will combine dance, music, freestyle skiing, light, multimedia installations and 3D mapping. The music ranges from orchestral pieces to dance numbers and rock history classics. Tickets €45 for adults, €9 for under 15s, free for under 10s. Further information: Gaia Stubai.
Snowbombing, Mayrhofen
April 4-9

Famous for its adrenaline-fuelled snowboarding and crazy partying, the annual Snowbombing Festival will take over the resort of Mayrhofen in the Zillertal, with leading DJs, club nights and live acts performing. Photo: Andrew Whiten/Ride and Seek. Further information: Snowbombing.
Electric Mountain Festival, Solden
April 6-7

Solden hosts a fantastic mix of music, mountains, snow and skiing to mark the end of the season. Further information: Electric Mountain Festival.
HANNIBAL, Solden
April 21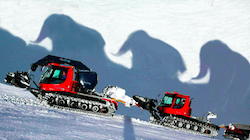 Based on the historical crossing of the Alps by the famous Carthaginian, Hannibal, the play will re-enact the daring, and often terrifying mission that was undertaken by 60,000 soldiers and 37 elephants in just 10 days. More than 500 actors take part in the production at the Open-Air Theatre on the Rettenbach Glacier up at 3000m above Solden, and it's expected to attract an audience of 8,000. Further information: Oetztal.com.
The White Thrill, St Anton
April 22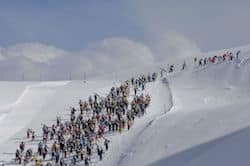 When the lifts close in the afternoon, the White Thrill heats up. More than 550 participants take part in this cult ski race in St Anton, which comprises a 9km run on natural pistes across 1300m. Look out for Pain Mountain, a 150-metre ascent which demands high levels of dexterity. The current record for this part of the race is 8 minutes 14 seconds. Further information: TVB St Anton.
Top of the Mountain Concert, Ischgl
April 30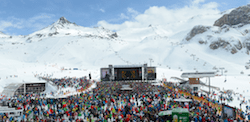 Following a tradition that started in 1995, Ischgl will host its famous Top of the Mountain Concert to celebrate the end of the season. Big names such as Kylie Minogue, Pink and Elton John have performed here in previous years. The 2017 headliner is yet to be revealed, so watch this space. Further information: TVB Ischgl.
Also see our feature on winter events in France.