Hiking is one of the best ways to exercise there is. When you take an energetic walk not only do you burn calories, but you also get a cardiovascular workout. It's a workout that increases the circulation, tones and tightens your muscles and – what's more – you're doing something that is both fun and adventurous.
In fact, you're likely forget about the exercise component – instead you'll be getting caught up in the moment. This is especially true the more you go hiking in the mountains. And, of course, when you've made it to the top, an additional advantage is the wonderful view.
Ski Advantages
If you hike throughout the year, you are definitely going to stay in shape. When the summer ends and the ski season begins again, you'll have more fun on the slopes if your body is in shape. Interestingly, winter sports work many of the same muscle groups as summer mountain sports like hiking. Your quads are going to get quite a workout in both activities. In fact, if you stop and think about it, you may find your soreness from a long day of hiking matches your soreness from a long day of skiing or snowboarding.
Furthermore, if you hit the slopes for long enough during the ski season, you'll have a better time hiking when the snow melts too. It's a win-win situation, and there's one final consideration: the mountain air.
Physical Considerations
The higher you are, the thinner the air — its density decreases as pressure decreases. This means that in order to breathe, your body has to adapt to the conditions. There are a few things which will change. For example, because alcohol deprives the brain of oxygen, at higher altitudes you become inebriated more quickly — your brain is already partially deprived. So make sure you drink plenty of water.
But if you really want to have the most fun skiing, snowboarding, hiking, and in all the other mountain activities, you'll need to walk further and higher.
What to Wear for Mountain Hiking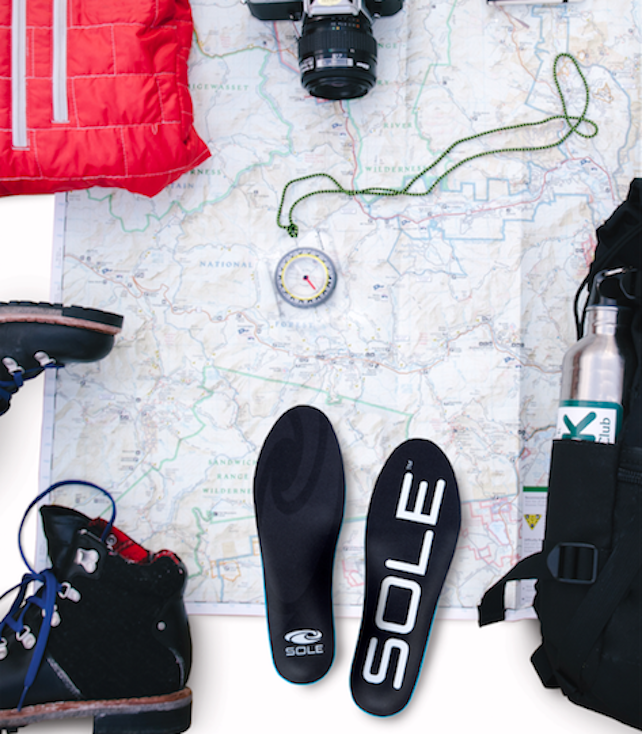 You will need to source the right equipment. Start with hiking boots, although trainers are ok for shorter walks on mountain paths. Specialist hiking socks are a bonus, too. Trousers (or shorts) should be flexible enough to allow you free movement but durable enough to keep from being ripped if you encounter rocks and other obstacles. Then you'll need a sturdy and waterproof pack that can be comfortably adjusted to fit. We particularly like Osprey's Hikelite daypack, but you can find a huge range online and also at shops like Ellis Brigham and Snow+Rock.
You'll also want a jacket that can withstand the elements, but can be easily tied around your waist or stowed in the pack should things become warm as you travel up the trail. Don't forget to bring sunglasses, a hat, and plenty of water.
For footwear, see our post on the best hiking boots. One of Welove2ski's editors tested SOLE orthopaedic inserts and recommends them. The aim is to help eradicate foot pain, fatigue and prevent injury while improving alignment issues, posture, and foot and ankle mechanics. The supportive high arch, metatarsal pad, and deep heel cup promote the foot's natural alignment and drastically reduces discomfort caused by plantar fasciitis and other common orthopaedic conditions. They're made from recycled cork and cost from £35 per pair and can be bought online. To get the shape, you warm them in your oven at home. Once inside the boot they will mould to the shape of your foot – it's a bit like a ski boot liner.

Preparation and Where to Go
Firstly choose a peak, or a hill, that you know you can handle. You don't want to tackle a 5km crag if you've never hiked before! It would be better to aim for a 1km hike than a really long one if you're not used to it.
It makes sense to do a little research into the local peaks, and find out about local walking guides who can help you make a safe ascent. No two mountains are alike, which is part of the allure of hiking. With assistance from a reputable guide, you will be prepared for any situation you could encounter on the mountain.
Try to estimate how long you think the hike will take, as you need to give yourself plenty of time to get back down before dark. Bear in mind the current weather and the day's forecast, although this can be unpredictable in the mountains. Click here for a handy calculator to help work out your walk time.
The best-known hikes in the Alps include the Tour du Mont Blanc in France. And if you're after an adrenaline boost, there are the via ferrata in the Dolomites with fixed cables, ladders and gorge-spanning bridges. These vary from relatively easy climbs to seriously challenging ones requiring a high fitness level.
Almost anywhere in the Alps, Rockies and Pyrenees are good for hiking. Particularly beautiful is the Austrian Tirol where Kitzbuhel alone has 1,000km of marked walking trails. Italy's Alta Badia (400km of trails), and resorts such as Verbier (400km of trails), Chamonix (350km of trails) and Zermatt (400km of trails). The Savoie Mont Blanc region alone has over 8000km of hiking trails.
Nordic Walking
Nordic walking is to hiking what cross-country skiing is to skiing, with similar motions. We know from cross-country skiing that the combination of movements has extremely favourable effects on the cardiovascular system. Nordic walking is same set of motions transferred to summer hiking. Long, rhythmical strides and arm-swinging with poles also have positive effects on the cardiovascular system – and it is suitable for everyone, no matter their age or physical condition. A combination of gorgeous scenery, well-maintained paths and a high altitude will certainly enhance your health. 
Affordable Mountain Living
If you're looking for cheap winter holiday packages, ski holidays are tough when you're on a budget, but summer is a lot more reasonable and chalets come without a gigantic price tag. You'll just need time to do your homework.
There are also some unusual places to stay in the summer, too. Imagine staying in a bubble? Les Bulles d'Aulps has opened its third bubble dome in the Portes du Soleil, where you stay up in the trees with beautiful views. Or try staying in a refuge that's beautifully designed and kitted out, like Terminal Neige Refuge de Montenvers above Chamonix. It has a higher price tag, though.
Whatever you decide, remember to embrace the adventure, have fun, and get out of your comfort zone every now and again. Summer is about more than sedentary existence. And if you prepare before you make the jump, you'll enjoy your hikes even more.
Also see our features on Alpbach, St Anton, Innsbruck, the Zillertal Wildschonau, Kitzbuhel and Morzine in summer, Summer places to stay in the Alps, and Hiking with a Dog in the Alps.