Summer in the Alps. Yes, the weather can be flukey. No, you're not guaranteed a tan. But when the sun does come out…Holy Cow, it's beautiful. Spend even half a day amidst the lush meadows and fragrant pine forests and you'll quickly understand why so many ski bums move to the mountains for winter, and stay because of the summers.
Here are three resorts in the Tirol which will give you a great taste of what the season has to offer.
1. Mayrhofen. Let's hear it for Mayrhofen!
Because you can try yodelling in the valley next door…
As well as skiing on the Hintertux glacier…
Plus lots of biking, of course…
Climbing…
Hiking…
Overnighting in mountain huts…
Paragliding…
Rafting…is this too much?
All right, we'll stop at this eagle…
That view…
This meadow…
…And these, er, Funballz
You'll have to bring your ski boots. Because 13 miles south-west of Mayrhofen, lies the Hintertux glacier. It's one of only two ski areas in the Alps open all year, and home to the steepest glacier runs we know.
Sign up for some morning lessons with Ski Schule Tuxertal, or Tux 3000, to spruce up your technique – and then be ready for that extraordinary feeling that comes when you drop down from the snow into the lush, verdant meadows below at lunchtime. It's like jumping forward two seasons in 20 minutes.
Once you're down – well, it's hard to know where to start. Mayrhofen is one of the great all-rounders of the summer holiday scene, largely because it draws on activities, facilities and landscapes right along the valley in which it's set – the Zillertal. What's more, the ease of access from both Innsbruck and Munich ensures a steady flow of summer visitors, and that's kept the level of innovation and investment up.
One great example of this is the Playarena, a children's centre which offers both outdoor activities, and brilliant wet-weather distractions, including a soft play area, a bouncy castle, trampolines, an indoor high ropes course, and an adventure climbing wall.
Meanwhile, to the south lies the Hochgebirgs Nature Park, which encompasses 379km² of the Zillertal Alps, and is the home to two multi-day footpaths, the Berliner Höhenweg and the Peter Habeler circuit. It's not just the walking that's memorable. The paths are dotted with magnificently-sited mountain huts too.
Pretty much every possible mountain activity you can think of is on offer here – plus a few you might not know existed, such as walking on water inside a giant plastic ball. You can even try yodelling. At Königsleiten, nearby, there's an eight-stage Yodelling Trail, with guided hikes on Wednesdays, on which you'll be taught the basics. Go with an open mind, have a sip of schnapps if it's offered, and be ready to sing your heart out.
In the Zillertal Arena you'll also discover a castle made from spruce. Children and adults can explore the towers, slides and vast water-and-sand-play areas within the grounds – spanning more than 5000m². There are great views from the many bridges, and you can wriggle through the netted climbing frames and explore the surrounding forest.
Further information: mayrhofner-bergbahnen.com and zillertal.at.
2. Solden: 900km of mountain-bike trails…
Some of them easy…
Some not…
A 6km singletrack descent…
A 238km road race…
As well as bike parks…
(They've even got a mini-park in town)
And if you've had enough of biking, and fancy a swim…
Well, they've got that covered, too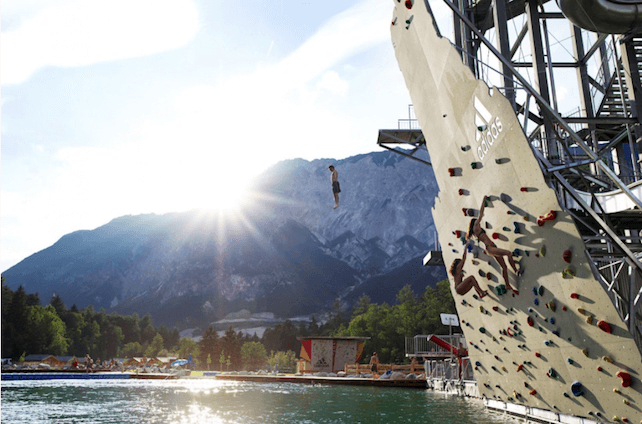 Love biking? Then point your pedals in the direction of Solden. Like Mayrhofen, it sits in the midst of long valley brimming with adventures; and in this case many of them are aimed at two-wheelers. Whatever kind of biking you like, you'll find it here: gentle climbs up broad, grassy bridle paths, road racing, bike parks, singletrack, power-assisted e-bikes. No wonder they call it the Bike Republic.
There's a hell-for-leather singletrack, known as the Teäre line, which winds from the Gaislachkogelbahn mid-station, back into town, through 130 banked and flowing turns. Check out the rather nifty video of the trail for a sense of how relentless it is.
Of course, there's a lot more to do than biking here – and water babies in particular will be blown away by the swimming facilities. Not only is the valley home to the Aqua Dome, at Langenfeld – a big complex of indoor and outdoor pools, with a separate water world for kids and three raised spa pools which look a bit like giant bowls of soup.
At the entrance to the valley, at Imst, you'll also find the amazing Area 47 adventure park. Among the features here are the world's tallest high-ropes course (slung underneath a viaduct), a swimming lake, a waterslide park and a climbing wall above a pool. So when you get bored of looking for the next hand-hold, you can let go, and jump in…
Further information: soelden.com and oetztal.com.
3. Kitzbuhel: they've got golf…
Lots of golf…
In fact, the town has four courses of its own…
With with 30 more nearby…
As well as 1,000km of footpaths…
Through gorgeous, rolling landscapes…
And when you've had enough of this…
How about some of this?
Off-duty ski resorts and golf: it's not exactly an obvious combination. But thanks to the broad green valley in which it's set, Kitzbuhel bucks the trend. In fact, there's room enough here for four separate courses – two nine-holers (the Kitzbuhel and the Rasmushof), and two 18-hole championship courses (the Schwarzee and the Eichenheim). There are also three golf academies in town, and 30 more golf courses in the valleys nearby.
There's a lot more on offer here than golf, too. Hiking is one of the Kitz's strongest suits, with 1000km of waymarked footpaths around the resort, and free guided walks from Monday to Friday. But nothing is more fascinating – and challenging – that walking the Streif. The resort's notorious downhill run becomes a 3.8km hiking path in the summer, where you can walk rather than ski the races's famous sections such as the Mausefalle and Hausberg. Click here to read about Welove2ski's Streif walk last summer.
The resort is also home to 800km of mountain bike and cycle-touring trails, and a large fleet of e-bikes.
Make sure you make full use of this extensive sporting infrastructure: because Kitzbuhel's other big attraction is its restaurant scene. Amongst the highlights are the Romantikhotel Tennerhof, where Stefan Lenz has two chef's toques and 16 points from the Gault Millau guide, as well as Lois Stern's restaurant, which has one chef's toque and 14 Gault Millau points. You might want to work up a bit of an appetite before digging into dishes such as smoked filet of beef with pistachio, bone marrow dumpling and mushrooms…
Further information: kitzbuehel.com
Summer fun in other resorts, including…a mountain-bike tournament in Innsbruck
On June 21-25 this year Crankworx World Tour arrives in Austria for the first time. The competition attracts professional riders from all over the world, and they'll meet at the Mutteralm Park to compete in multiple events – from Downhill, Enduro, Slopestyle and Dual Slalom to Pump Track challenges. 10,000 locals are expected to turn out to watch.
Sky Flying in Ischgl
Now open for the summer,
 Ischgl's Skyfly whizzes pairs of people down two kilometres of parallel zip-wires from the mountain to the valley. Beginning at the Silvretta gondola mid-station up at 1683m, the Skyfly finishes on the roof terrace of the Pardatschgrat gondola's valley station at 1376m. The cables are 50 metres above the ground and 'flyers' are expected to reach speeds of up to 84kph (52mph). The adrenaline-fueled attraction opened in late August 2016 – two of our editors tried it with their family in December and loved it.
Bouldering in the Pitztal
Bouldering is rock-climbing without the risk. The routes on boulders tend to be more physical demanding than on your average crag, but because you're only a metre or two off the ground you can always jump off if your muscles turn to jelly. The only problem is is the scarcity of boulders big enough to climb on.
That's not the case at Mandlers Boden – a quiet area of forest above the hamlet of Ritzenried in the Pitztal. The site is home to 55 climbable lumps of rock, offering 176 different routes.
Families with young children (minimum age is five years) can start in the boulder garden, where the rocks are all between one and three metres high. More experienced climbers can take on one of the more challenging courses, which reach up to four metres. Local climbing experts offer taster sessions for those wanting a bit of help. 

…and Alpbach's wild swimming
The mountains around Alpbach are home to 900km of hiking trails. The scenery is lush and green, the views magnificent, and on sunny days you'll work up quite a sweat. So it's good to know many of its lakes and rivers are perfect for wild swimming.
One of the best routes is a multi-day hike through the Brandenburg Alps, which begins and ends in Kramsach. It's both lovely and demanding and one of the highlights is the night at the Bayreuther Hut which has views over the River Inn, Alpbach and Ziller valleys, as well as the Zieinsee mountain lake. Don't forget your swimming trunks.