In a Nutshell
La Plagne is a big but bitty resort – made up of ten mainly purpose-built villages linked by an improving lift system. The skiing ranges from the bland to the bloody terrifying, and suits families, cautious intermediates and extreme-skiing experts best.
The Stats
Altitude: 1250-2050m
Lifts: 131
Top Lift: 3250m
Ski area: 435km of piste in Paradiski
Adult lift pass: 305€ for six days Paradiski area


Official Site |

Ski Map |

Webcam
Essential Advice for the Perfect Trip
There are two things to bear in mind about La Plagne when planning a holiday.
The first is the shape of the place. The ski area is spread across a high, flattish plateau with steepish sides, which is joined to a socking great mountain – the 3417m Bellecote. This unusual shape suits some skiers really well: and others not at all.
The second thing is that accommodation isn't concentrated in one resort centre. There are ten – count 'em, TEN – "villages" scattered across the plateau and around its flanks. Some are high, purpose-built and convenient. Some are lower, more genuinely villagey in flavour – and less convenient. None is big enough to generate much in the way of nightlife.
In other words, La Plagne is a very particular kind of place. Here's who will like it and who won't.
The skiing suits families, cautious intermediates and experts best
Check out our guide to the mountain for more on La Plagne's schizophrenic ski area. What it does best are gentle blues; and some of the toughest off-piste skiing in the Alps. Between these two extremes, however, the terrain is less impressive.
The high-altitude villages are excellent for families
Several of La Plagne's villages are great for families. In part that's because so much of the purpose-built accommodation is ski-in, ski-out. In part, it's because of the flattish terrain – perfect for improving children under 10 and their parents (whose legs aren't quite as strong and sure as they used to be). But it's also because a couple of British tour operators run excellent child-friendly properties in the resort. Read our Where to Stay section for more.
This isn't the place for night owls, or the long-lunch brigade
La Plagne's nightlife is underpowered, and its mountain restaurants are no match for the likes of Zermatt, the Italian Dolomites or even the Three Valleys.
We'd also warn off groups of mileage-hungry intermediates and advanced (but not expert) skiers who are skiing without children. Les Arcs, on the other side of Paradiski, will suit them better. As will Courchevel, Val Thorens, Les Menuires or Tignes.
---
---
Guide to the Mountain
Think of La Plagne this way: a flattish plateau, mostly above the treeline, which has steeper, forested flanks to the south and north. An extra dimension is provided by the 3417m peak of the Bellecote, which is joined to the rest of the ski area by a narrow saddle of rock, and is home to some of the toughest off-piste skiing in the Alps. There's also a cable-car link to Les Arcs.
In other words, it's a schizophrenic place to ski – by turns bland and bloody terrifying. It has many strengths, quite a few weaknesses, and an idiosyncratic lift system, which can still be maddening, despite recent improvements.
Beginners and early intermediates will love it
If they stay up on the high plateau – in the villages of Belle Plagne, Plagne Bellecote, or Plagne Centre – beginners and in particular early intermediates will be very happy here.
This is almost the perfect place for second and third-week skiers, who need time and plenty of wide and gentle pistes on which to build their confidence. What's more – there's skiing both above and below the treeline, so on a cloudy/snowy day you can migrate to the edge of the ski area and find decent visibility between the trees above Plagne Montalbert or Montchavin/Les Coches.
Experts will be astounded by the off-piste
La Plagne has a reputation for being an easy-skiing resort. So it's a revelation to experts to discover how much challenging off-piste terrain there is on the mountain. Most of it is on the northern and southern flanks of the Bellecote and must, must, MUST be skied with a guide.
The southern face is generally regarded as the easier terrain but it's also very prone to avalanches. Guides often test their clients with a run down here first – because the north face is, in places, hard-core: some of the couloirs are followed by cliffs – above which you must make a sure-footed traverse. If you fall, well…good luck.
There's more of the same off the Aiguille Rouge in Les Arcs. For more information, get a copy of Didier Givois' Les Cles de Paradiski written in both English and French. But take note – it's only intended as a coffee-table introduction to the subject, not a substitute for guide.
There's enough here for advanced skiers, but…
…only if the snow's in good nick. A lot of the steeper pistes are on the lower slopes, and when the snow's thin, icy or slushy you'll find yourself migrating up towards the north-facing slopes at the top of lift slopes. The choice up there is quite limited: the best terrain is in the north-facing gully below the Inverses chair, and it holds its snow well. But it's not enough to sustain an entire holiday, unless you've only got a couple of hours each day before you pick up the kids from ski school. If not, you'll wish you'd booked Val d'Isere, Verbier, St Anton, Jackson Hole or Snowbird instead.
If you do luck into really good snow and cold weather you'll have a rather different experience: not just on the lower pistes but on the freeriding faces of the Grande Rochette, Verdons and Biolley peaks above Plagne Centre. But you'll need a guide to keep you safe there.
Mileage-hungry intermediates better off elsewhere
La Plagne is one half of the Paradiski ski area. The other half is Les Arcs, and between them they offer a meaty 425km of pistes. But don't come here expecting a properly interconnected network of lifts and runs like the Three Valleys (home to Courchevel, Meribel, Val Thorens & Co) or the Espace Killy – the area shared by Val d'Isere and Tignes. There is in fact only one lift linking the two ski areas, and it connects two of their most far-flung corners.
In other words, it's a long commute to get between them, and in peak season the lift queues can be hideous: you could spend, literally, hours waiting in line. It's no wonder many people only go over to Les Arcs once.
That leaves La Plagne's own area of 225km of pistes – which is still a good offering. But it lacks a really scintillating array of slopes to rival those in Les Arcs, the Three Valleys or Val d'Isere. What's more there are some dreadful queues in high-season, and a number of slow lifts. So we'd suggest high-mileage skiers go elsewhere – unless they're skiing with their families.
Not bad for freestylers
The snowpark at Belle Plagne has two separate zones for different levels: Le Petit Park for novices and Le Grand Park with around 20 rails and tables as well as an air-bag and a boardercross course. Neighbouring Les Arcs has a more vigorous day-to-day scene, though these days both Meribel and Val d'Isere are better still (and if you really want to stomp your s***, head to Breckenridge, Whistler or Laax).
---
---
Where to Learn
SKiBro, either online or as an app, is an intuitive, user-friendly platform that helps you find the most suitable instructor for your needs – for everyone from families with small children and teenagers to improving intermediates and off-piste aficionados.
If you're taking young children to La Plagne, your first thought should be the British family-ski specialists who offer exclusive classes for their guests, in partnership with local ski schools. These can only be booked as a part of a holiday package – so it's not a low-cost option.
For adults, we suggest trying the smaller, independent outfits first – despite the fact that their prices are usually higher. They tend to be younger, more dynamic, and have slightly smaller classes. If you're not booking with a family-skiing tour operator, this is your best bet for kids too, because ski school classes are usually smaller than with the ESF.
Here's a short promotional video called Why Families Love Skiing in La Plagne, which may help whet your appetite for skiing in the resort:
For kids, this is the gold standard
At Hotel Des Deux Domaines, its base in Belle Plagne, Esprit offers exclusive ski school classes for its guests (in collaboration with the ESF). For children aged five and up, the maximum class size is eight, even in peak weeks. (For three to four year olds the maximum class size is six and there's an Esprit staff member present at all times – although this is sometimes not enough to guarantee your child enjoys the experience. See our feature How Soon Can My Children Start to Ski".)
In La Plagne Centre, VIP SKI also offers exclusive ski school classes for its guests at the Summit View chalet-apartments. For three to five year olds the maximum class size is eight and for six and up it's ten.
In Plagne 1800, Ski Famille offers its own classes for children from 3-12 years, and adult lessons too, and there is in-chalet childcare.
Adults should try the independent ski schools
Independent ski schools are privately run and tend to be more innovative and energetic. They're a good option for families who aren't holidaying with Esprit or VIP Ski, as their kids' classes tend to be smaller than the ESF's.
A recent arrival in La Plagne is English-speaking New Generation. It's based in Plagne 1800, but offers private lessons right across the resort. The maximum class size for children's group lessons is eight. Reflex is another independent school in Plagne 1800, which also teaches at Plagne Centre.
In Plagne Centre, Oxygene has a good reputation for everything from beginner classes to expert off-piste guiding. Evolution 2 (in Montchavin (+33 479 07 81 85) and Les Coches (+33 479 04 20 83) is also recommended. Maximum class size for children is eight.
Belle-Plagne's independent school is El Pro, with a maximum class size for children is 10. Limes is a British ski school here. Antenne Handicap in Aime-la-Plagne, teaches disabled skiers.
The ESF here is better than it was
La Plagne is stronghold of the Ecole du Ski Francais – the ESF – and there are branches in every village Montachavin-Les Coches, Belle Plagne, Plagne Bellecote, Plagne Villages, Plagne Soleil, Plagne Centre, Aime La Plagne, Plagne 1800, and Plagne Montalbert.
Just remember that the French way is to teach by showing as much as explaining. That's why you see so many instructors leading long snakes of pupils down the mountain: they're demonstrating their method and inviting you to do the same – by watching what they're doing and following their skiing line. Of course, not everyone likes to learn this way – especially if they're at the back of the group – and many people think they're being ignored, and prefer to talk things through: but if you learn by looking rather than listening you may enjoy the ESF more than other schools.
---
---
Where to Stay
La Plagne is not your average ski resort. Rather than being concentrated in a single centre, the accommodation is scattered across the mountain in TEN different villages.
Several are high, purpose-built and not exactly bursting with authentic Alpine atmosphere. Others are lower and based around older settlements. Crucially, not every village is going to suit the same kinds of skiers – and none is right for party animals – so here's our pick of the best accommodation centres, and the kind of people they will suit.
Belle Plagne for quick access to the skiing
At 2050m, Belle Plagne is the highest village in the resort, and all things considered it's the best place to stay for quick access to the full range of La Plagne's skiing. Almost all the accommodation is ski-in, ski-out, and you can drop down to the lift hub at Plagne Bellecote to get over to Les Arcs, or to Plagne Centre. Belle Plagne is also the closest village to the hard-core off-piste terrain at the top of the ski area (accessed by the cranky old Roche de Mio gondola).
Keen skiers should make staying here a priority. Non-skiers should avoid it: there's not much to do during the day and the location – on a steepish hillside – makes getting about tricky.
Nearly all the accommodation is in medium-sized blocks of self-catering apartments called residences. Which one you chose is a matter of deciding what facilities you want, how much you're willing to pay, and whether or not it's important to be close to the Roche de Mio gondola mid-station (a priority for experts).
There are also lots of privately-marketed apartments in village – Ski Amis apartment-hunting service will help you find these. Tour operators like Erna Low, Ski Collection and PowderBeds also have properties in La Plagne.
Les Balcons de Belle Plagne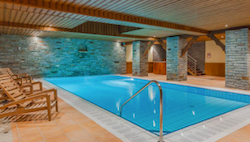 Les Balcons de Belle Plagne residence has the best facilities: a pool, Jacuzzi, sauna and gym and, in the largest apartments (which sleep 10-15 people) wood-burning stoves. They're on the edge of the village by the Arpette piste. Access down to the chair-lifts at Plagne Bellecote is quick – but you're not very close to the Roche de Mio gondola lift station.
Le Chalet du Vallon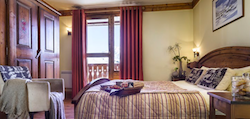 Le Chalet du Vallon is the place to be in terms of atmosphere. It's at the top of the village, and each each apartment has its own fireplace which makes post-skiing relaxation extra cosy. The apartments are gorgeously Savoyard style and extremely comfortable, with all you'd expect from an Alpine retreat.
Residence les Nereides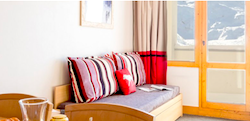 Those looking to keep costs to a minimum should try Residence Les Nereides, just above the centre of town. Le K2 and Chalets de Maître Kanter restaurants are close by, ski storage is provided and there is a kids club on-site. There is a food shopping and bread delivery service available at additional cost.
Hotel Carlina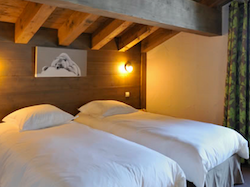 The four-star Hotel Carlina is the poshest place to stay in Belle Plagne, with cosy wood-panelled rooms and a great piste-side sun deck and restaurant (as well as a pool). It also has a separate self-catering residence. It's four-star and hugely comfortable, with lovely artwork and attractive wooden beams. There's an indoor pool with a stunning view of the mountains, as well as a sauna, Jacuzzi and steam room.
Hotel Mercure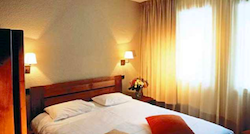 Higher up in the village, the Mercure is more basic – although the (small) rooms have been refurbished and the food is good. It's a little on the plain side, but there's a wellness centre and the location is perfect as it's right on the slopes, which saves on the early morning rush to ski school!
Aime la Plagne – for high altitude living
Apart from being right on the piste, the height gives the accommodation great views over the valley and also towards Mont Blanc. There are no trees up here, so it's rather bleak and many people consider the village to be an eyesore, but it does benefit from longer hours of sunshine. The accommodation is mainly in apartments in the large main building. The nearby Les Haut Bois building has its own restaurant, spa, sauna and swimming-pool, and is more attractive. There is also a Club Med here.
Belle Plagne and Plagne Centre have the best digs for families
English-speaking families with a bit of money to spend will like the accommodation offered by two British operators in La Plagne, VIP Ski and Esprit. By the way, Belle Plagne suits families with children who can already ski a bit. The ski kindergarten is ok, but there isn't really anywhere for first-timers to practice after ski school (you'll find yourself riding the gondola down to the nursery slopes at Plagne Bellecote instead).
Summit View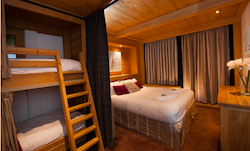 At Plagne Centre, VIP SKI runs its smart and popular Summit View suites, which overlook the nursery slopes in the village. Rather than kids' clubs and nurseries, there's a private nanny service. The suites themselves are inside a complex and vary in size from three bedrooms to six. Each one is run like a chalet at a level of comfort that is completely unexpected in La Plagne, with huge living spaces, comfortable and stylish decor.
Chalet Campanula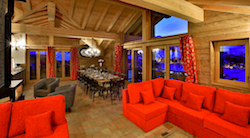 Sitting in the heart of peaceful Plagne Soleil is Skiworld's catered Chalet Campanula (sleeps 12-14), perfectly located for access to the Paradiski ski area. This spacious chalet-apartment offers traditional alpine comforts with modern functionality and has breathtaking views.
ho36 La Plagne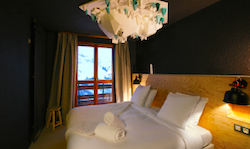 New for the 2018/19 season was ho36 La Plagne, which combines the convenience of a hotel with the cosiness of a guest house, providing a lower-budget accommodation option without sacrificing the comfort or convenience of a hotel. The property is stylishly decorated, with a central living area, a 'Chill Room', a chic bar, and a restaurant serving freshly prepared dishes.
Hotel des Deux Domaines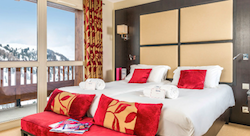 In Belle Plagne, Esprit runs the generally excellent Hotel des Deux Domaines. It is a recently-built chalet-hotel, which is aimed specifically at families. The rooms are big, modern and well-equipped, there's a pool on the ground floor and the nurseries are flooded with natural light.
Plagne Soleil is good for self-catering comfort and easy pistes
Plagne Soleil is not so much a village as a ribbon of convenient piste-side self-catering residences, and a hotel. Don't stay here if you're looking for nightlife or daytime atmosphere for non-skiers: but it's a good base for anyone who wants to be in the middle of the plateau, with instant access to its flat, easy-skiing pistes.
Granges du Soleil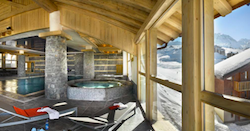 The Granges du Soleil apartments have nice wood-panelled interiors, as well as a large spa and indoor pool. The apartments have everything you could possibly need, there is plenty of space, and the spa is a particular highlight.
Sun Valley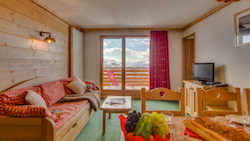 The Sun Valley apartments are linked to Hotel Vancouver – which means residents have access to its pool and (if they can't be bothered to cook) its restaurant. They're quaint and have a Heidi-esque feel to them, despite being French rather than Swiss.
Plagne 1800 is where you'll find many of the catered chalets
If you're looking for catered chalets, then Plagne 1800 is where to find them. The village is set below Plagne Centre, and despite the traditional styling most of the buildings are fairly new. It's a long haul from here over to Les Arcs or up to the Bellecote, but at least you get quick access to the pistes above Montalbert when visibility is poor. It's also worth bearing in mind that rooms in these chalets are often heavily discounted in January and March.
Chalet-Hotel Christina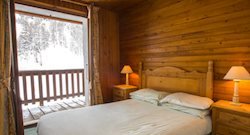 Chalet-Hotel Christina is a ski-in ski-out Mark Warner hotel that is a big hit with families. In fact it's so convenient because the lifts are right opposite the hotel and the ski schools are a short 150 metres' stroll away. The property has a large restaurant and lounge area, and everything is decorated in warm wood-panelling and brightly-coloured fabrics. There's in-house childcare for children from age four months to 12 years, which must be pre-booked.
Chalet le Flocon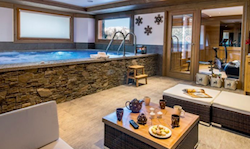 Chalet le Flocon is situated near the Olympic bobsleigh run at the foot of Plagne 1800, with access to the piste from below the chalet. The first floor is home to a well-being area consisting of a Jacuzzi so big you can swim in it, sauna, steam room, salt cabin with chromotherapy, and a gym. The self-catering chalet sleeps 18 people, has a spacious living area with two dining rooms, a bar, a modern kitchen with a range, and a terrace.
Hotel le Cocoon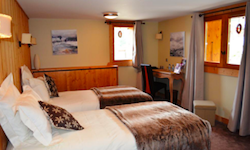 Four-star Hotel le Cocoon is a small four-star hotel with seven bedrooms, so it's more like a chalet. It's 40m from the chair-lift and has a terrace where you can relax in the Finnish sauna and Jacuzzi on the terrace, staying on a B&B basis or booking a table at the Savoyard for dinner. Whilst rooms aren't huge, they're sleek and stylish with lovely fur covers on the beds that create a sort of winter grotto feeling.
Chalet Mont Blanc
Tour operator Ski Beat has 17 chalets in La Plagne. This one – Mont Blanc – is located at the bottom of Plagne 1800, 100m from the Plagne 1800 chair-lift. It sleeps 11 people and has an open-plan, yet cosy and comfortable living and dining area, located on the top floor. The large picture windows offer amazing views all the way to Mont Blanc itself.
Montchavin offers quick access to Les Arcs
In a short time, the former farming community of Montchavin has grown into a modern ski resort bustling with shops, restaurants and its own wellness and aquatic complex, Paradisio, extending over 1000 square metres. From the village, a ski lift goes up to the Vanoise Express cable-car, which links into the skiing of Les Arcs.
Chalet Dolomites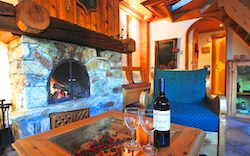 Chalet Dolomites in Montchavin is in a ski-in ski-out with easy access to the Vanoise Express cable-car which links to Les Arcs. The chalet has great views over the forest surrounding the village as well as over the slopes and the ski school. It is next door to the aquatic complex, Paradisio and the centre of Montchavin is an easy walk.
Montalbert for the best of both worlds
Montalbert is another of the 10 villages which makes up La Plagne. So it's part of the massive Paradiski domain, but still retains the traditional ambience of a mountain village.
Chalet Anniek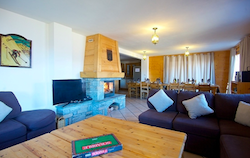 Chalet Anniek is one of three Ski Amis chalets in La Plagne. This one is in Montalbert, where there are plenty of trees – handy for those days when the light is poor. The chalet sleeps 14 people and it is close to village centre, pistes and lift. There's a spacious open-plan living and dining area complete with log fire, and lovely views across the valley towards Mont Blanc. In the afternoons, you can unwind on the sun terrace or relax in the hot-tub and sauna.
---
---
Where to Eat

La Plagne isn't famous for its restaurants – either on the mountain or in the villages – and proper gastronomes should target the likes of the Three Valleys and the Italian Dolomites. But for hearty, Savoyard specialities – such as child-friendly pizzas and pastas – it'll do the trick.
Most of the best mountain restaurants are lower down
At Montchavin – near the cable-car to Les Arcs – Le Sauget serves delicious local dishes, often with a twist (for example, spring rolls stuffed with Beaufort cheese). It has a terrace for sunny days and inside are wood beams. You can also eat here in the evening or stay overnight in one of the five attractive little bedrooms.
On the pistes down to Montalbert, the rustic Le Forperet does good salads, home-made soups, pancakes, steak and tartiflette.
Above Champagny, on the south side of the ski area, is the wooden Le Chalet des Verdons Sud (+33 621 54 39 24), which also does local specialities ('quality traditional cuisine') and has a cosy log fire. Just below Aime la Plagne, try Au Bon Vieux Temps (+33 479 09 20 57).
Generally, prices in mountain restaurants are lower than in the Three Valleys and Espace Killy. But if you're looking for value for money when you eat out on the mountain, head to Austria or Italy. A plate of chips in a self-service in La Plagne costs about the same as a big plate of Tiröler Gröstl served in front of a crackling log fire in Westendorf.
If you want to keep a lid on prices, the trick is actually to ski back down into one of the villages. Belle Plagne is a good place to do this, because it's more or less in the middle of the ski area, and you often have to ski past or through it. Restaurant Le Hors Piste (+33 479 55 16 33) next to the main piste through the village is a great place to stop, and does excellent soups and salads, as well as pizzas. Or, if the weather's good nip into a bakery on your way to the lifts and buy some sandwiches.
For dinner, every village has somewhere decent
Because the villages are mostly quite small, there's not much choice when it comes to restaurants for dinner. You can liven things up by riding the free shuttle bus, which runs between the different villages. But who wants to ride a shuttle bus in the dark after a day's skiing?
Still, the quality is good – but not Michelin-starred exceptional. In Belle Plagne, try La Godille, which is wood-panelled with a lovely central fireplace and fur rugs. Otherwise there's the gastronomic restaurant in Hotel Carlina, where chef Thibault Schach provides a varied menu using locally-sourced ingredients. You can eat here at lunchtime, too.
Le Montana (+33 479 09 05 28) in the shopping mall at Aime 2000 serves traditional French cuisine – as well as international food such as burgers and ribs. The surroundings are warm and woody, with bright tablecloths. The bar is open until 2am and there's a terrace for lunch. Au Bon Vieux Temps (+33 450 02 32 38) is open in the evenings, has bags of atmosphere, and serves home-made local dishes.
In Plagne Centre, try La Refuge (+33 479 09 00 13) or La Metairie (+33 479 09 11 08). Both mine a familiar vein of Savoyard specialities. Legend Cafe (+33 479 24 08 33) is for those on a tight budget and serves all the alpine favourites during the day, before becoming more of a tapas bar with music in the evenings.
In Plagne 1800, Le Loup Blanc is the place to go. Expect fondue, raclette, tartiflette and steaks in cosy Savoyard surroundings. In Plagne Soleil, Le Baryon (+33 479 09 29 56) is recommended, and in Montchavin La Ferme de Cesar.
---
---
Where to Party
Don't go to La Plagne if nightlife is your priority. None of its ten villages is big enough to create a really memorable buzz. You want to target somewhere like or Les Deux Alpes in France. Otherwise go for Verbier, St Anton, Ischgl or Mayrhofen in the rest of the Alps. (All of those resorts are based around one main accommodation centre where everyone congregates at night.)
Belle Plagne and Plagne Centre are busiest
When it comes to apres-ski, La Plagne isn't a complete wasteland – though you'll struggle to find more than one really good bar in each village.
The two villages with slightly more going for them each night are Belle Plagne and Plagne Centre. In the former, La Tete Inn and Le Cheyenne Cafe (+33 479 09 20 72) are the apres-ski bars, whilst Le Saloon BarPub & Nightclub is the closest the resort has to a club. It's Wild West themed and open until 5am. There's also a ten-pin bowling alley in the village – Bowling La Plagne (+33 479 09 00 78).
In Plagne Centre, Igloo Igloo is a funky little bar with DJs, live bands and white seating that is draped with fur rugs. Scotty's is run by Brits and is a popular hangout for resort staff, and Pub La Luna (+33 479 08 41 55) is the other apres-ski bar of choice.
In Plagne-Bellecote, there's the pubby Spitting Feathers, which is distinguished by the fact that a free bus will deliver you back to your accommodation at the end of the night if you're staying in the more central villages in the ski area.
In Plagne 1800, La Mine is like a traditional English pub – but with a mining theme complete with lamps and old mining tools. DJs and regular live music is played here, with most of the buzz provided by seasonnaires. In Plagne Soleil, Monica's Pub (+33 479 09 21 21) is said to be "good for apres-ski, with bands and DJs in the evening". In Les Coches, there's The Last One bar.
The bobsleigh will give you a different kind of buzz
For a different kind of buzz, remember that La Plagne hosted the bobsleigh (Bob Experience) during the 1992 Winter Olympics – and anyone can take a ride down the 1.5km serpentine track, set between the villages of Plagne 1800 and La Roche.
There are three different bobs to try – a bob raft, a mono box and four-man taxi bob which is the most terrifying – reaching speeds of 110kph.