Jean-François Mercier is Commercial Director of CGH Residences & Spas, which are high quality self-catering apartments in the French Alps. He took up skiing quite late – when he became a father – but has taken his family to the mountains ever since.

It's 54 years since Jean Vuarnet, remembered more for his sunglasses than his gold medal at the 1960 Squaw Valley Olympics, put his name to the first basic studios in what was then brand new and futuristic Avoriaz.
But those cramped apartments, both there and in other French resorts, long ago stopped fulfilling the needs of the current generation of far more sophisticated and demanding skiers who want at least the same level of creature comforts as they have at home.
In Avoriaz and elsewhere, two or even three of the original shoebox apartments have been knocked into one and entirely refurbished in contemporary styles with a level of fixtures and fittings previously only found in their North American counterparts.
Standards Go Up and Up
In recent years there's been another hike in standards with a construction boom across the Alps of new buildings offering an even higher level of accommodation than in the past, designed to blend seamlessly into the mountain environment.
Many of these new-wave residences have their own swimming-pools, saunas, hot tubs, and even spas. Most are ski-in, ski-out with lovely views, or located in a secluded setting offering complete privacy.
So apartments can now compete on an equal footing with the top five and four-star hotels and chalets. Indeed, in some resorts they are becoming the most sought-after ski accommodation of all. For a start, they're cheaper than the hotel equivalent, yet offer a comparable level of comfort.
Flexibility is the Key
The pros of staying in an apartment are that you can be totally flexible, choosing to self-cater or eat out at a different restaurant every night rather than having to stick to a hotel's half board menu with add-ons like drinks coming in as costly extras. B&Bs are not necessarily the answer either, as you won't have the ability to rustle up a meal or relax in your own sitting room if you want to.
Apartments come in all shapes and sizes, so you can book a good sized home-from-home for your family – or an even larger one for a group, certain in the knowledge that you will remain completely separate to all other people in the building.
Staying in an apartment also gives you a lot more independence than staying in a chalet as you can eat at whatever time you like, catering for any special diets. It's particularly suited to people who want to take the train to the Alps, or drive out bringing food basics with them.
I've chosen my top ten apartments and here's what I consider sets them apart:
Family Favourite: Kalinda Village, Tignes 1800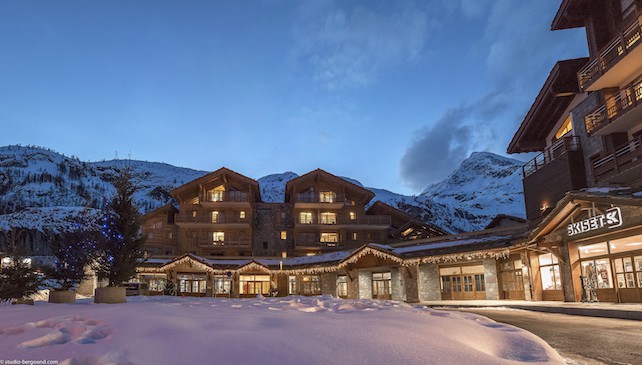 This one is ideal for families. It is situated in the new pedestrianised area of Tignes 1800 (otherwise known as Les Boisses), so it's a quieter alternative to staying in Le Lac or Val Claret. The village has its own large beginner slope and a state-of-the-art eight-seater gondola that whisks you directly up to the Marais area at 2180m in four minutes. The ski school meeting place, a supermarket, ski hire shops, a bakery and two restaurants are all situated around the village's central square. There's also access to an indoor heated swimming-pool, with a separate children's pool and slide.
The Skiing: 79 lifts and 300km of piste in the linked Tignes-Val d'Isere area. A ski resort with world-class terrain like this deserves – and now has – some accommodation to match.
Wallow in the Pool: Les Chalets de Flambeau, Val Cenis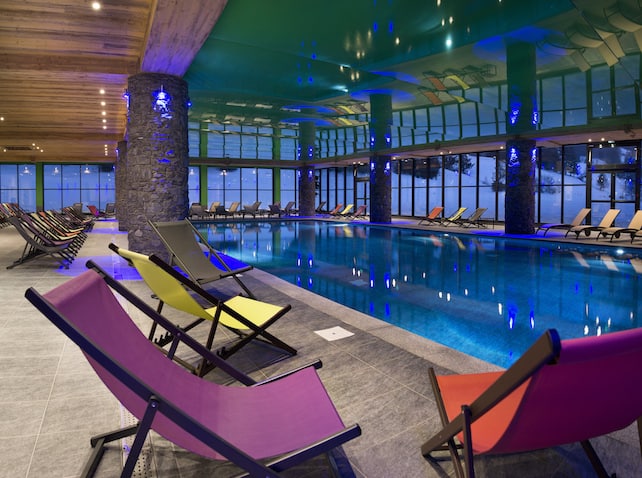 The residence benefits from a gorgeous pool area overlooking the snow outside. This is supplemented by a 7m2 paddling pool, so it's a good way to keep little ones entertained in the evenings. The resort of Val Cenis offers far more than just skiing and its wide range of activities makes it one of the best family destinations in the Maurienne Valley. For example, there's the chance to try snowshoeing, ice-climbing on frozen waterfalls, Via Ferrata, parapente, and heli-skiing.
The Skiing: 28 lifts and 125km of piste. Much of the ski area is protected by the sort of thick forest of the kind normally seen in North American resorts. This is a great place in which to enjoy a friendly, low-pressure ski experience.
Lovely Mountain Views: Le Centaure, Flaine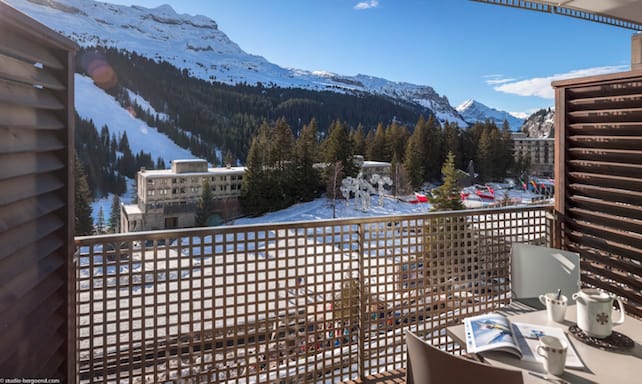 Le Centaure is in Flaine Forum, right by the Grandes Platieres cable-car and the original resort centre with its shops, restaurants and bars – it's also ski-in ski-out. Flaine's Bauhaus architecture is not to everyone's taste, but the village is set in a snowy bowl surrounded by particularly beautiful mountain scenery. The residence's open-air roof terrace has good views over the ski area and surrounding mountains.
The Skiing: 70 lifts and 265km of piste in the Grand Massif area. The skiing is in a big snowy bowl, with 80% of the Grand Massif slopes north-facing. It's a excellent choice for beginners, families with young children, and lower intermediates.
On the Piste: Les Granges du Soleil, Plagne Soleil

Les Granges du Soleil in Plagne Soleil benefits from a superb location right on the ski slopes. The setting is tranquil – hopefully with plenty of snow and plenty of sunshine! Overlooking Mont Blanc and the Beaufortain massif, the views are sensational. Don't stay here if you're looking for a buzzing nightlife and it's not the best choice if you're a non-skier, but it's a good base for anyone who wants instant access to piste.
The Skiing: 132 lifts and 383km of piste in the Paradiski area. The skiing ranges from intermediate to expert, and suits families, cautious intermediates and extreme-skiing experts.
Rocky Splendour: Le Village de Lessy, Le Grand Bornand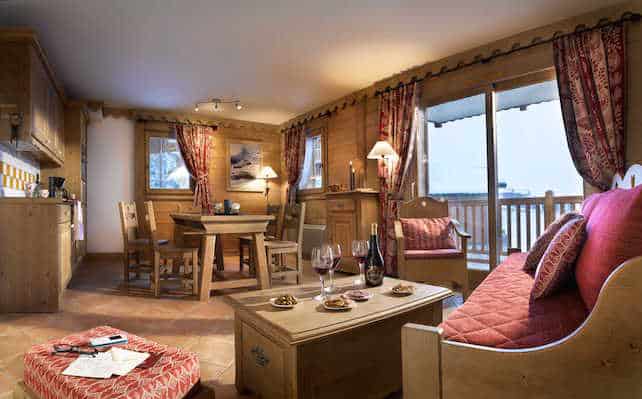 This one enjoys one of the most special locations I can think of, as it's built into the rock face of Chinaillon village. The residence has wonderful views of the ski area and the surrounding Aravis mountain range. The slopes and the pretty village centre of Le Grand Bornand are both conveniently close, yet less than an hour's drive from Geneva airport. You can also take the bus to neighbouring La Clusaz for a day's skiing.
The Skiing: 29 lifts and 90km of piste. The skiing is mainly flatteringly intermediate, with the pistes set against a lovely backdrop.
Good For Groups: Orée des Cimes, Peisey-Vallandry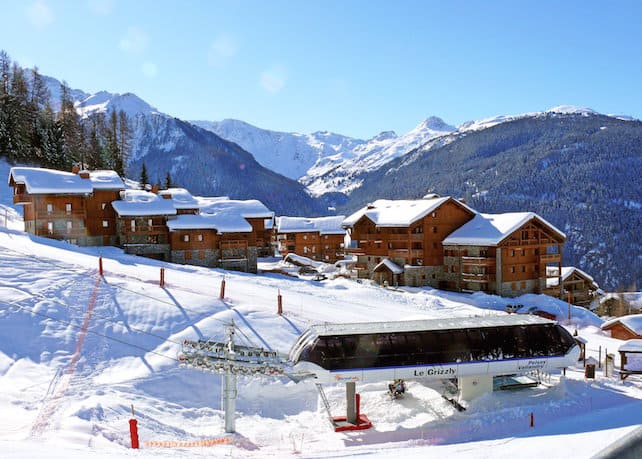 These apartments, adjacent to the Grizzly chair-lift, are in Peisey-Vallandry which also make them conviently close to the Vanoise Express double-decker cable-car that spans the valley between Les Arcs and La Plagne. The accommodation is particularly well-suited to groups or large families, with the biggest apartments featuring five bedrooms sleeping up to 12 people. Many of them are arranged as duplexes so you can really spread yourselves out. It's a great base for a mixed ability group, but don't expect to find much apres-ski here!
The Skiing: 132 lifts and 383km of piste in the linked Paradiski area. Whenever there's fresh snow, there is easily-accessed freeride terrain above Peisey-Vallandry.
Woodland Seclusion: Le Hameau du Beaufortain, Les Saisies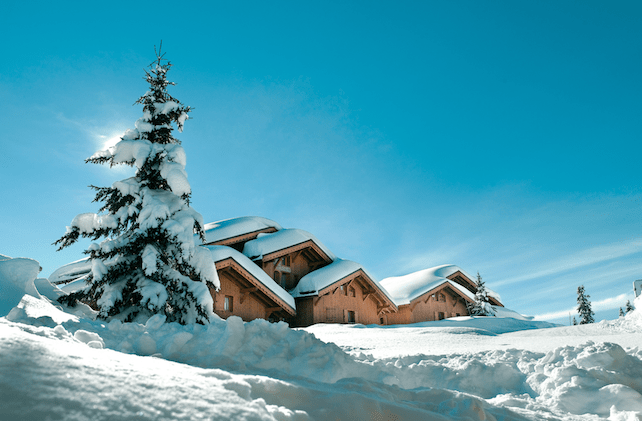 This apartment building is set in a private location right in the middle of a pine forest in the resort of Les Saisies, making it ideal for those looking for peace and quiet – with skiing right to the door. For convenience there is a deli on site that provides most of the essentials and specialises in local mountain produce, as well as offering freshly-made pizzas and home-made lasagne. There's also a swimming-pool and a spa.
The Skiing: 79 lifts and 192km of piste in the Espace Diamond ski area (Les Saisies/Notre-Dame-de-Bellecombe/Praz sur Arly/Flumet/Crest-Voland). The area is known for having its own micro-climate, and is best suited to intermediate skiers. Apart from this there's 120km of Nordic trails, which are amongst some of the highest in Europe. In fact the cross-country and biathlon events of the 1992 Albertville Olympics took place here.
Mixed Parties: Les Cimes Blanches, La Rosiere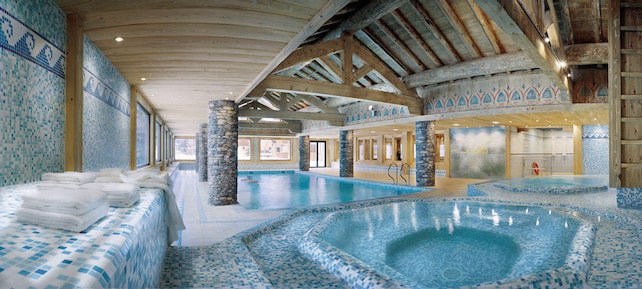 This is a good one for mixed ability groups. The residence is located in the Quartier des Eucherts area of family-friendly La Rosiere, which has a handful of shops, bars, restaurants, and a mini-market. The ski school is close by, as is the main Eucherts chair-lift, and you can ski back to the front door. It's also easy to ski over to La Thuile for a delicious pasta lunch.
The Skiing: 34 lifts and 160km of piste in the Espace San Bernardo ski area. The skiing is on wide, open slopes beneath the ridge that marks the frontier with La Thuile in Italy and is best suited to intermediates
Affordable Base: Les Clarines, Les Menuires

Here's an excellent place from which to explore the 3 Valleys. Of all the resorts sharing the ski area, but Les Menuires is arguably the more affordable and it's also very family friendly. Les Clarines itself has an in-house swimming-pool, whilst the spacious and well-equipped apartments have cots and high chairs you can book in advance.
The Skiing: 180 lifts and 600km of piste in the 3 Valleys area. The area has some magnificent skiing, with much of the best on-piste skiing found around Les Menuires.
Away From the Masses: La Reine des Prés, Samoens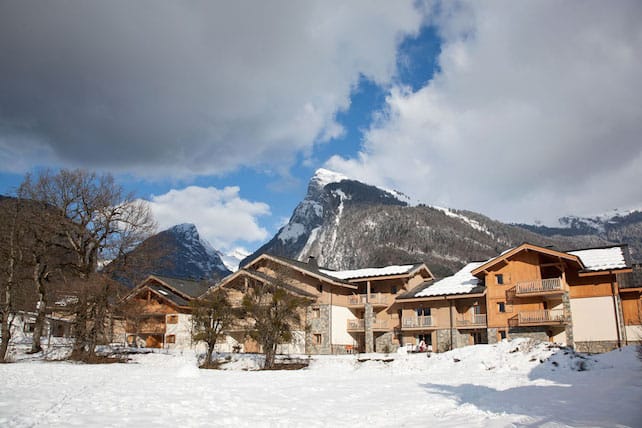 You really do get the best of both worlds here – staying in a largely undiscovered alpine village and at the same time skiing in a world class area. La Reine des Prés offers direct access to the Grand Massif ski area (Flaine, Les Carroz, Samoens and Morillon), since it's situated at the foot of the Grand Massif Express cable-car. The residence is a five-minute walk from the traditional village centre.
The Skiing: 70 lifts and 265km of piste in the Grand Massif area. Samoens has the biggest nursery slope area in the Haute Savoie region, a few cruising pistes, and one steep bump run. Experts can head further into the Grand Massif area, but beginners and early intermediates are best off staying in the immediate vicinity.
Have Your Say
Which type of accommodation do you prefer? Apartments, chalets or hotels? Let us know in the comments box below.
Also see our features on Luxury Ski Hotels and Luxury Ski Chalets.