In a Nutshell
Looking for a cheap ski holiday in the magnificent Three Valleys? Or one that's stylish and comfortable, and moderately-priced? The spa town of Brides-les-Bains, connected to Meribel by a 20-minute gondola ride, can offer both.
The Stats
Altitude: 600m
Lifts: 200 in Les 3 Vallées
Top lift: 3230m
Ski area: 600km of piste
Adult lift pass: €283 for six days


Official Site |

Ski Map |

Webcam
Resort Overview
Meribel, Courchevel, Val Thorens: these days, almost every skier knows the names of at least one or two Three Valleys resorts. If they haven't yet skied in one of them, they certainly know someone who has.
But Brides-les-Bains? Even if they knew it was there, they wouldn't think it was part of the same lift system.
And yet, there it is: a pocket-sized spa town, hunkered down in the Doron valley, 850m beneath Meribel – set in a world far removed from the free-spending, globalised bubble of its A-list neighbours. No, the pistes don't extend down this far; but yes, you can catch a lift from the centre of town that takes you up to the Chaudanne in Meribel; at which point the Three Valleys are your oyster.
The gondola ride takes 20 minutes, which is a long time to make small talk at the beginning and end of the skiing day. But for canny holidaymakers on a tight budget, looking for a combination of superb skiing and valley-bottom prices, that's a sacrifice worth making.
Two kinds of canny skiers will love it
In fact, Brides-les-Bains works for not one, but two kinds of budget-minded skiers. The first group are those who just want the smallest overall cost for their trip. They're well-catered for by British tour operator Ski Weekends, which offers both three-day and six-day holidays in Brides, based in its own club-hotel, with coach travel from the UK. Half-board, including travel, these holidays cost from £365pp a week in 2017-18. If you include flights and transfers rather than coach travel, prices start from £521pp a week. And if you want to go it alone, the resort offers a large selection of budget self-catering apartments.
The second group are those who like their creature comforts, but don't want to pay a bomb for a three- or four-star hotel up the mountain. In Meribel, double rooms in hotels of this standard routinely cost €200-300 a night B&B. Down in Brides-les-Bains, there is a good choice of three- and four-star hotels, such as the boutiquey Altis Val-Vert and Hotel Les Bains, through to the four-star Golf Hotel and Mercure's Grand Hotel des Thermes. There are also two luxury self-catering options, Apartment Le 1818 and La Niche Ski.
Neither group should include party animals. Ski Weekends' club hotel has a lively bar, with live music. However, most venues in Brides are closed by midnight – except for the Casino which, being the only one in the Three Valleys, is open until the early hours. Roulette, Black Jack, Texas Hold'em Poker and a large number of slot machines are on offer.
La Fabrik is a bar and restaurant with live music on some nights and a tempting menu. Les Voutes Du Parc (meaning: the park's vaults) is a funky wine and cocktail bar, located in a beautiful park, that is open until 11pm. L'Hermitage Hotel has recently opened a small separate wine bar serving a good selection of wine and tapas-style plates.
Once a week on Tuesday nights there's a free bus up the valley to Meribel for those who want to get stuck into the likes of the Rond Point, aka The Ronnie. You can of course take a (pricey) taxi back down to Brides if you stay after the lifts close.
But overall, this is a subdued place in the evenings. Some guests make use of the two spas the town has to offer; The Mercure Grand Hotel Des Thermes' Cing Mondes spa was refurbished a couple of years ago. For a fee you can access the relaxation area with steam room, sauna, Jacuzzi and heated (indoor) swimming-pool. The award-winning Le Grand Spa Thermal (currently undergoing a refurbishment until March 2018 which will see an aqua-fun area, a 25m swimming lane and a 30m2 pool for aqua-fitness where you can enjoy Biologique Recherche and Sothys beauty rituals as well as relaxing in the thermal waters.
Most people, however, seem happy just to kick back and relax over beer, dinner and some good conversation. After all, with 600km of pistes waiting up the mountain, why waste energy dancing on a table until 3am?
---
---
A short guide to the skiing above Brides-les-Bains
Why are people happy to sit in a gondola for 20 minutes to reach the skiing above Brides-les-Bains?
Here's why…
The Three Valleys!
Christophe Schrahe may have cast doubt over its claimed total of 600km of piste, but even if you accept his revised figure of 495km, that's still a hell of a lot of skiing: with oodles of off-piste in between.
If you stay in Brides-les-Bains, this is your playground. What's more, the gondola linking the village to the Chaudannes hub of lifts and pistes in Meribel runs from 8.30am-5pm daily (and to 5.30pm after the first week of February), so you've got plenty of time to ski it too.
Here are the area's main characteristics.
1. It's properly interconnected
There are actually four valleys not three, in the Three Valleys, and the lift system that binds them together is an engineering marvel. By rights, human beings have no right to be mucking about in a mountain wilderness like this in the middle of winter. And yet there we all are, moving effortlessly from one valley to the next across a vast stretch of territory, and having the time of our lives.
There are no buses to catch, or intermittent funicular railways, and in only one place (at the top of Meribel, heading back from Val Thorens) is the skiing between the valleys tedious. Many ski areas across the Alps have tried to copy this achievement. Few have come close. None can match it for size.
2. There are some cracking intermediate pistes to ski
It's in its almost endless array of red and blue-rated intermediate pistes that the 3Vs really excels, and you can find more detailed summaries in our reviews of Meribel, Val Thorens, Courchevel, Les Menuires, St Martin de Belleville, and La Tania. Suffice to say, if the weather's clear and cold, and there's fresh snow groomed into the pistes, adventurous intermediates will never get bored. And if they manage to catch the Combe Saulire piste at the top of Courchevel first thing in the morning, they may think they've just skied the best upper-intermediate run on the planet.
3. More advanced skiers should hire a guide
The Three Valleys are home to two of the toughest unpisted black runs in the Alps: the Grand Couloir above Courchevel and the Couloir Tournier above Meribel (see video above). But beyond that the number of waymarked challenges for advanced skiers is limited given the size of the place. For a really exciting week, you've got to hire a guide, and start exploring off-piste (check out Alf Alderson's guide to the best off-piste routes in Meribel for a taster).
4. Some of the skiing is very snowsure, but…
Val Thorens, at the top of Belleville valley, is one of the most snowsure ski areas in France. When you add in the higher slopes above Meribel and Les Menuires, it creates a good-sized playground of reliable snow for a late March/Easter ski trip.
That said, however, Brides-les-Bains is not the place to base yourself for a late-season trip. It's a long way up to Val Thorens, and involves several changes of lift. If you're looking for a cheap Three Valleys base at the end of the season, target a self-catering apartment in Les Menuires or Val Thorens instead.
5. It gets busy in the peak weeks
Over New Year and during the French school holidays in mid-February, queues do form at the base of the Brides-les-Bains gondola.
That's not really an issue if you turn up a few minutes before the 8.30am opening. What's more of an issue is the number of skiers you'll encounter higher up the mountain. This is a madly popular ski area, and in peak weeks there's a lot of traffic traversing Meribel as skiers explore its full extent. From Brides les Bains, you quickest way to avoid the crowds is to head towards St Martin de Belleville or Les Menuires. Check out our guide to avoiding the Three Valleys crowds, too).
6. Brides-les-Bains is not a good base for complete beginners
It's a long schlep up to the nursery slopes above the Altiport in Meribel, and before they've been bitten by the ski bug, beginners based in Brides might wonder what all the fuss is about, given you have to spend so much time riding lifts. Target somewhere like Alpe d'Huez instead.
---
---
Where to Learn
There's a tendency in big ski areas like the Three Valleys to settle back into your comfort zone and stick to the kind of slopes you already know. But for Brits especially, that's a wasted opportunity, because of the standard of English-speaking instruction on offer up in Meribel.
As I've mentioned above, Brides isn't a great base for beginners. But intermediates and more advanced skiers should use some of the money they've saved by staying there, and book a skills clinic, or a couple of lessons, and start to tackle more challenging terrain.
British ski schools tend to be more expensive than the local Ecole de Ski Francais (ESF), but class sizes are smaller, and the tuition comes in a more conversational style, rather than the follow-my-leader approach preferred by the French. The feedback is overwhelmingly positive.
British ski schools offer a wide range of classes and clinics too, including New Generation: Freeski Camps and SkillSessions for intermediate and above skiers or boarders; Parallel Lines: Performance Clinics for Bumps and for Steeps; Magic in Motion: Freakstyle in the terrain park and a Race Academy; Snow Systems: Ski Doctor Clinics and Teens Meribel/Mottaret; and finally Marmalade: Marmalade's Youth and the originally-named Marma'Lady Camps. All of these schools guarantee no more than eight pupils per class. The snowboard specialist is Cab9 Snowboarding.
There's no local ski school in Brides-les-Bains. However, the Meribel branch of the ESF will meet children booked into lessons down at the gondola station over Christmas, New Year and the mid-winter French school holidays (second week of February to the end of the first week in March).
---
---
Where to Stay
Few of the hotels are really close to the gondola: most are a five- or ten-minute walk.
During the peak hours, morning and afternoon, there is a free shuttle bus. But you should also hire one of the lockers by the lift station and use them to stash your skis and (during the day) a change of shoes. That way you can walk to and from your accommodation in your sneakers, with your ski boots over your shoulder, if you can't be bothered to wait for the bus.
Hotel Altis Val-Vert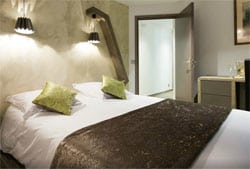 The refurbished rooms have been teleported in from Planet Posh
Renovated in 2014, Altis Val-Vert is a gem of a three-star hotel run by a family with skiing in their blood. There is a selection of room sizes including two smart suites. Skiers who long for interesting design and a decent restaurant without having to pay a fortune, love it, and it's only a five-minute walk from the gondola, too.
What kind of value are we talking about? Well, let's not forget that hotels up in Meribel are really expensive. But even the suites in the Val Vert are cheaper than a small standard room in some three-stars up the mountain, plus the hotel has a small spa with a steam room, sauna, Jacuzzi and a vaulted wine bar in the cellar with wines selected by Philippe Gauthier who won the title of Best Sommelier in France two years running.
Meanwhile, regular doubles are 25-33% cheaper then in Meribel, and they're even better value if you can get a lift-pass-inclusive deal during a quiet week of the season.
Golf Hotel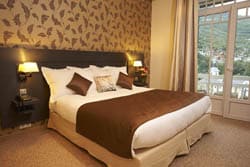 Great value from this refurbished four star
Here's another refurbished treat. The grand, four-star Golf Hotel overlooks the village and enjoys unspoilt views of Le Grand Bec. Built in the 1920s, it's a stunning vestige of the Art Nouveau period. It isn't as boutiquey as the Altis Val-Vert, but the rooms are larger, and the food gets rave reviews.
After skiing, recharge your batteries in the steam room or Jacuzzi, before meeting up for a drink around the fireplace in the wine cellar. This winter Chef Sébastien Roux will be offering a gluten-free menu alongside his regular menus.
Hotel Les Chalets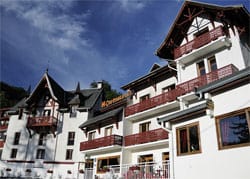 Friendly base close to the lift
Hotel Les Chalets">Hotel les Chalets' location close to the gondola is what first catches your eye. But what singles the Hotel Les Chalets out is the charm of the owner, Aude. The interiors are more basic than in the l'Altis and the Golf Hotel, but the friendly atmosphere and crackling fire at the reception area give it a sense of warmth.
Mercure Grand Hôtel Des Thermes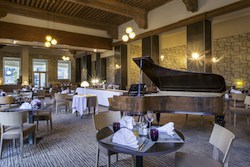 The biggest hotel in town with all you need
With 100 bedrooms, Grand Hotel des Thermes is Bride's largest hotel. Exuding Scandinavian style, its spacious, refurbished rooms with warm tones invite you to switch off. Relax in the indoor heated swimming-pool and 5 Mondes Spa or enjoy a drink in the hotel's luxurious bar with a good selection of wines, beer and cocktails. Situated in the middle of town, the hotel is walking distance to the gondola, so there's no need to hire a locker or get the bus.
Hotel Les Bains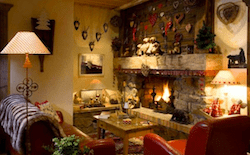 Cosy mountain chalet ambience
The 33 refurbished rooms in Hotel Les Bains combine stone, light-coloured wood and soft fabrics. With a cosy lounge, stone fireplace and gingham tablecloths, you'll feel as though you're cocooned in a mountain chalet but at a fraction of the price. The hotel's well-being area has a steam room and saunas, including one anti-fatigue infrared sauna – perfect after a hard-day on the slopes.
It's a 10-minute walk to the gondola, or you can grab the free bus from right outside. In the evenings dump your skis in a locker, call in for a glass of vin chaud at Bar Du Parc, before enjoying a short stroll through the park back to the hotel.
Club Hotel Verseau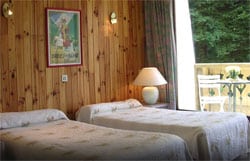 Cheap and cheerful chalet hotel with good food and a friendly bar
"The Ritz it is not, but perfect for a cheap ski break with all amenities available," was a recent Tripadvisor comment. The Club Hotel Verseau is an inexpensive chalet hotel, run by British tour operator Ski Weekends.
It could never be described as luxurious, but it's comfortable, friendly and warm, and the food is consistently singled out for praise ("How do you do find your chefs?" I asked. "With difficulty!" was the answer.)
Its bar – which has an open fire – is the natural gathering point for British guests and few wander much further in the evenings. It's a 10-minute walk to the lift station, but Ski Weekends runs its own free shuttle bus. Bring a spare plug by the way: they seem to go missing every winter.

Bear in mind that apartments here are cheap: sometimes less than £100 per person for a week. UK tour operators Powder Beds, Erna Low and Peak Retreats all offer apartment-based holidays in the Brides-les-Bains. There is also an abundance of apartments on Booking.com and Airbnb, whilst the local tourist office has a complete listing of accommodation options. These two stand out:
Le 1818
A contemporary apartment with lovely views
Set just 200m away from the gondola in the centre of town, Le 1818 is a luxury three-bedroomed apartment with its own terrace and gorgeous views of the Grand Bec. The contemporary property has been renovated using the finest materials and features a large kitchen open-plan to the living/dining room, cosy bedrooms and an open fire. One review on TripAdvisor described it as "just perfect".
La Niche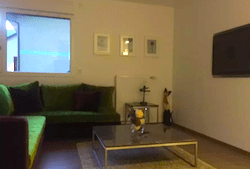 British-owned luxury offering
Located in the centre of town just a short walk away from the gondola, La Niche is a brand-new luxury three-bedroomed apartment owned and operated by British couple Paul and Laura Sullivan. The modern apartment has custom-designed furniture, designer wall-coverings, a SONOS sound system and White Company toiletries. If the apartment was further up the mountain you'd be paying top whack, but in Brides it's a snip at the price.
---
---
Where to Eat
There's a VAST range of restaurants to choose from up on the mountain, although budget-minded skiers won't like the prices in many of them. €29 for a plat du jour? Before you've had anything to drink?? You might want to pick up a sandwich and stick it in your rucksack in Brides-les-Bains, or else check out the Mountain Burger kiosk in the shopping mall at Meribel-Mottaret, which serves meal-sized burgers for €7.50. They're part of the staple diet of every seasonnaire working in the resort.
If you want to sit down for cheap eats, then head into the middle of Meribel town, to La Galette which serves savoury pancakes from €8 a pop, as well as omelettes, salads and pricier Savoyard specialities. Pizzas at L'Igloo, its sister restaurant nearby, start from €12.
Meanwhile, foodies looking for value for money need to ski over into Courchevel and drop down to Le Praz for lunch at Michelin-starred l'Azimut, where a two-course menu costs €28 and three courses €30.
Check out our reviews of Meribel, Courchevel, Les Menuires, St Martin de Belleville and Val Thorens for more on the mountain restaurants.
Down in Brides-les-Bains itself, many guests are booked in on half-board packages so don't venture out in the evening looking for restaurants. However, if you are in the market for dinner – hot-foot it to La Grillade, in the middle of town. It changed ownership in the summer of 2015 and recent reviews stress how warm and welcoming it's become. The food is inexpensive, and portions generous – think big salads, pizzas, slow-cooked lamb, steaks, and Savoyard burgers (with a slice of Beaufort cheese). The restaurant at the Hotel Altis Val-Vert is the spot for a more gastronomic dinner.
---
---
Apres-ski in Brides-les-Bains
Brides-les-Bains is a spa town, and its summer season is at least as important as the winter. That means there's a mind-boggling range of treatments available at Le Grand Spa Thermal: 11 different kinds of massage, seaweed wraps, hammam scrubs, facials, the creation of personalised fitness programmes, and a whole range of slimming treatments (which is the spa's speciality). But it also means that its infrastructure is aimed at people who've come for a cure rather than a wild night dancing on tables in the their ski boots (many of its restaurants specialise in low-calories menus during the summer, too).
In other words, this is not a town for party animals. You can of course soak up some of the apres-ski vibe in Meribel in the afternoon, before you catch the gondola back down the mountain – and La Folie Douce is usually at its best between 3pm and 4pm. The Le Rond Point gets busy a little later, but is still worth checking out on your way back home. But if you want to sample the Three Valleys nightlife in all its glory, you should book accommodation in either Meribel or Val Thorens.
That said, there are few complaints about the quiet, relaxed atmosphere in Brides-les-Bains after dark. These days, everyone comes with their eyes open and knows what to expect. Brits in the Club Hotel Verseau are well-served by its friendly bar – which has live music on some nights and a crackling open fire. Meanwhile, the bar at the Savoy is good for a quiet drink, and there's a casino too (remember this is a spa town – and in the European tradition that means losing money stupidly, and at high speed, as well as restoring your health).
Twice on Tuesday nights, the town also runs free buses up to Meribel. Times vary but there's usually one early evening, and another around midnight: so if you fancy one big night out (or just the chance to go bowling or ice-skating at the Olympic centre), this is your chance. Taxis can be eye-wateringly expensive…
Meanwhile, at the spa, access to the saunas and hamams costs €35. If you fancy a massage, a 50-minute Swedish rub at the spa in 2015 is €95, which is a little pricey given the budget-minded clientele in Brides in the ski season. There are rumours the prices may drop in the winter to take account of that. Wouldn't that be brilliant?

---
---