For those of us with busy work schedules, ski weekends – or mid-week short breaks – are a great way of squeezing extra slope time out of the ski season. In the office it's easy to spot the weekenders. Just look for panda-eyed suntans and fixed grins. Dan Fox, MD of specialist operator Skiweekends, enjoyed them so much that he created a company that organises them.
Minimum time out of the office and maximum time on snow is the name of the game. If you get it right, three or four days' skiing can mean only one or two days off work. But with time so tight you can't leave anything to chance. The secret to success lies at the planning stage.
Fly on Thursday afternoon or evening and come back on Monday night. Of course, if work demands it you can return on Sunday night or even Monday morning – but be warned that even when European air traffic control is behaving itself, fog and snow at Alpine airports can play havoc with flight schedules.
The beauty of short breaks is that you can choose to go to a resort you already love or one that you have never tried before. Here, to get you started, are my tips for saving time and maximising your fun on a ski weekend.
1. Save Time and Money by Travelling Light
Take advantage of cheaper 'no luggage' airfares. Can you squeeze everything into one carry-on wheelie-bag – perhaps by wearing your ski jacket and a mid-layer? It'll save you time, too.
Check in online, without hold luggage, and you'll be able to go straight to security and onto the gate. At your arrival airport, you won't have to wait at the baggage reclaim belt, either. Go with top-tier travel company you'll find that all flights include a hold bag – a rarity these days when so many airlines are cracking down on luggage allowances.
Make sure your whole package is covered by either ATOL or ABTA too – both of which protects your money in the event that the company you're travelling with goes out of business.
2. Book Airport Parking in Advance
If you're driving to the airport, planning you car journey ahead is crucial. Choose airport parking near the terminal or try an efficient meet-and-greet service to save you valuable time. This will be of greatest value on the return journey, when you'll just want to get home or – if it's Monday morning – to work as swiftly as possible.
Going to Gatwick? Welove2ski readers can make use of an excellent 20% off deal with Cophall Parking. Equally ilovemeetandgreet are offering a similar deal on their efficient meet-and-greet service.
3. Organise Essential Extras
It makes life so much easier if your lift pass has already been collected by your tour operator and is waiting for you in your chalet or hotel. Queuing at a window on a perfect blue-sky morning while the people in front of you can't make up their minds about the type of pass they want is a definite no-no.
Likewise, arrange the rendezvous with your guide or ski instructor well in advance, so that you don't arrive in the resort to find your favourite is already booked up for the weekend.
4. Book Your Skis or Snowboard Hire Before You Go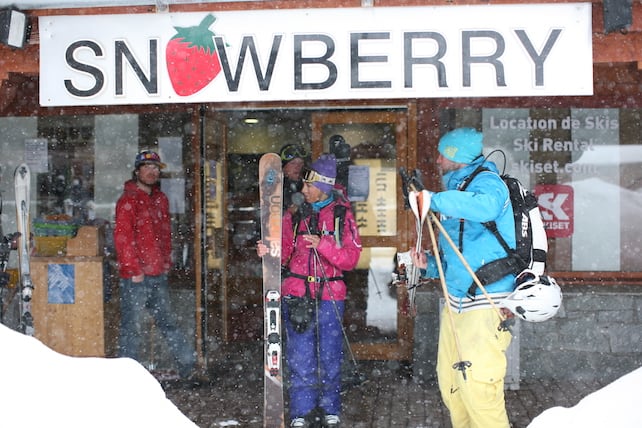 Choose the type of skis, length, and preferred release setting (if you know it). A few ski specialists in the Alps like Snowberry in Val d'Isere or Freeride in the 3 Valleys will come to your chalet by arrangement and fit bindings on arrival.
This is so much better than the alternative, which involves dragging yourself to the nearest ski shop before the lifts open on your first morning and queuing with everyone else who didn't sort their gear out in advance. Think screaming children, and their anxious parents who don't want to miss the start of ski school.
Doesn't sound like fun, am I right? That's why I've always made sure our guests reserve their ski hire direct as part of their holiday booking. So let yourself savour your breakfast a little longer by finding a specialist that will let you book your rental before you fly, and save yourself the hassle.
5. Stay Near the Lifts to Avoid Long Walks
Try to arrange ski-in ski-out accommodation – or at least base yourself within a five-minute walk of a main mountain access lift. Successful short breaks are all about shaving minutes of unnecessary 'down' time that can be better spent going downhill.
You don't want to waste time in the morning waiting for a ski bus. It's going to double your pain if you'd didn't heed the advice of tip #4 and have to visit a rental shop before hitting the first lift. If you're staying in a resort for a weekend or short break, it pays to be central.
6. Choose Your Airport and Flight Times with Care
With 17 regional airports offering flights to the mountains is there any real need to spend hours travelling to London or Manchester? Possibly not: but it's worth remembering that the greater number of flights at one of the hubs means more flexibility when it comes to timing.
Be warned that even when European air traffic control is behaving itself, fog and snow at Alpine airports can play havoc with flight schedules. If you're worried about work, it's safer to catch a Sunday evening flight.
7. Keep the Transfer Time Short, But Don't Sweat It Too Much
Most skiers would be well-advised to target resorts close to an airport – such as Chamonix, La Clusaz, Courmayeur, Les Gets, Morzine, Megeve, Flaine, Innsbruck, or Zell am See.
But don't dismiss the two-and-a-half hour destinations like the 3 Valleys, Paradiski, Espace Killy, or St Anton, if that's what you really want. I don't think people should necessarily get too hung up about transfer times.
If you travel out in the afternoon or evening after work, you're not going to gain any extra skiing time. Similarly on the way back, you won't have to leave the majority of Alpine resorts during mid-winter until after the lifts close.
8. Make Sure Your Hire Car Is Properly Equipped
If you're travelling with a tour operator, a taxi or minibus driver will be waiting outside Customs to whisk you to your resort with minimum fuss.
If you're renting a car, book well in advance. Order snow chains as a matter of course, but ideally choose a 4×4 fitted with winter tyres for complete peace of mind (in Austria all cars must be fitted with winter tyres between November 1 and April 15).
Most rental companies have a premium service like Herz No.1 Club where the paperwork is completed in advance and you just pick up your keys and go.
9. Coach Travel Is Kind On Wallets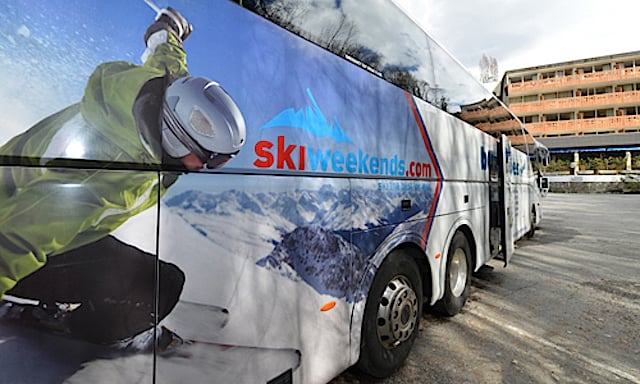 Are you on a tight budget or just time poor? Travelling by coach is another option. I know for a fact that half-board packages by coach with Skiweekends – my company – start from only £200 for three days on the slopes, and there are dozens of other good deals out there too.
Don't go assuming that coach travel means you'll be bothered throughout by drunk 20-somethings singing and shouting, either. It's worth noting that most coach weekenders are businessmen or women – and many work on the coach. We have very few students: for our clients, it's all about getting three days on the slopes, with just one day off work.
10. Train Travel Can Increase Ski Time
To maximise time on the slopes, you can take an afternoon Eurostar to Paris and then a sleeper train to the Alps. When you arrive in the Alps in the early morning, drop your bags at your accommodation, get changed (check with your accommodation provider what changing and storage facilities they have) and then hit the pistes.
Check out Ten Tips for a Successful Train Journey to The Alps for more on taking the train to the Alps.
Have Your Say
Hopefully this gives you a starting point if you plan on grabbing a quick getaway to the mountains this season. Also see our post on The Best Resorts for Ski Weekends.
I'd love to hear your thoughts though – have you tried a ski weekend before instead of the traditional week-long trip? And if you haven't, what are the main concerns or obstacles holding you back? Let me know in the comments below.