Is there enough snow for a final fling in the Alps? You bet there is.
Holidays throughout April are often great value and then there's the milder weather too. You're likely to be able to spend lunchtime relaxing on a sunny terrace – or you could even bring along a picnic in a backpack and eat it outside in the fresh mountain air.
Ski resorts will be winding down, with longer days, less crowded slopes, bargains to be found in some of the ski shops…and yet even in the second half of April the snow should still be good, certainly until the early afternoon. It's also the best time of year to take young children skiing and for beginners to learn.
Here are ten late-season resorts in France.


Les Deux Alpes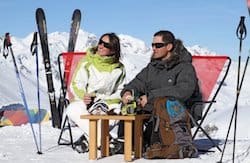 With its top lift at 3600m, Les Deux Alpes is one of Europe's most snow-safe ski resorts and a popular setting for out-of-season ski and snowboard camps. Stunning scenery, full-throttle nightlife, and low-ish prices (for France) combine with 223km of high-altitude pistes to make this a premier destination for late season skiing.
The resort is best suited to intermediates and stronger skiers. Beginners should note that although the easy slopes are higher up, there is now a magnificent and benign blue run down to the resort.
Experts can explore the glacial terrain of La Meije and ski all the way down to the village of La Grave. It's important to note that this is serious high alpine terrain and you'll need to employ a qualified local mountain guide. Photo: © Bruno Longo/OT Les 2 Alpes.
Les Arcs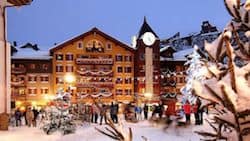 Arc 1950 is not quite the highest, but certainly it's by far the most attractive of the ski villages at varying altitudes that make up Les Arcs. What's more, the skiing starts right outside your door.
If you want to stay higher still, opt for Arc 2000, which has some extremely good new properties this season. By anyone's standards, Les Arcs has great skiing that is best suited to strong intermediates who want a huge variety of terrain and like to put a big mileage beneath their skis each day. Die-hard experts will find plenty of demanding bowls and steep couloirs, too.
Don't expect too much of the Paradiski link to La Plagne. There should be enough snow to keep the two-tier cable-car running through the final weeks, despite the fact that the link is at low altitude, but the reality is that there is so much terrain in Les Arcs you probably won't bother with more than one trip across.
La Plagne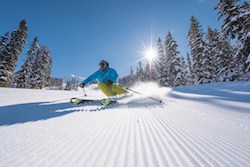 The other half of the Paradiski area has ten quite separate villages that are all linked into a network of 383km of piste. You can commute up the mountain from the farming hamlets of Les Coches, Montalbert, and Champagny, although at this time of year it's best to grab altitude.
At 2050m, Belle Plagne is the highest village in the resort, and all things considered it's the best place to stay for quick access to the full range of La Plagne's skiing. Justly it has built its reputation over the years as a centre that's great for families, though the core of the ski area is the 3417m Bellecote with a snowsure glacier and some outstanding steeper runs and off-piste opportunities.
Tignes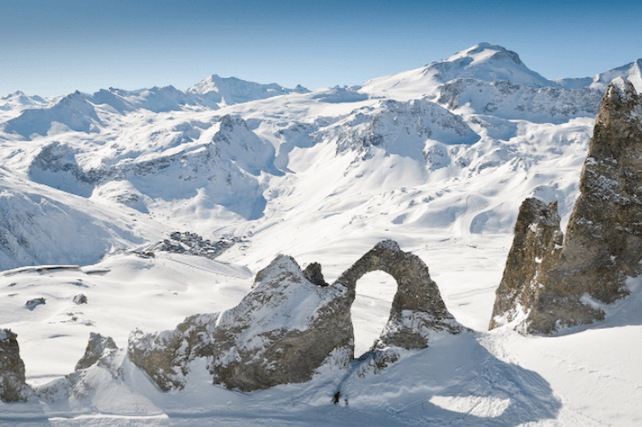 'Ski here 365 days a year' used to be its motto, with skiing on the Grande Motte going up to 3450m. A declining market for summer skiing and a glacier in retreat means that sadly this is no longer true. But you get the picture – this is the most snowsure resort in France with the best and widest developed glacier in the whole of Europe.
The spring skiing here is not just confined to the Grande Motte, with the combined 236km area of Tignes-Val d'Isere closing in May. Photo: © Andy Parant/OT Tignes.
Val Thorens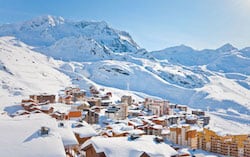 Val Thorens is Europe's highest ski village set way above the tree-line with superb skiing of its own, as well as links to Les Menuires, Meribel, and the rest of the 3 Valleys. When the sun is shining there are few better places to be, but when the weather closes in it can be inhospitable…well, it used to be. Val Thorens has changed for the better with the development of luxury hotels along with restaurants that have turned it into one of the gourmet capitals of the Alps. From late November to early May, snow cover is rarely called into question.
Alpe d'Huez and Vaujany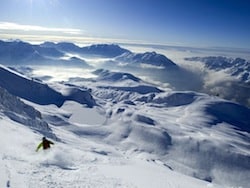 At the turn of the century when global warming seemed to be a considerably bigger threat to European skiing than it is today, Alpe d'Huez built lifts on its glacier – not for summer skiing, but to ensure good cover at the start and end of each season. As a result Alpe d'Huez, and the linked village of Vaujany, offer excellent spring skiing.
The 3330m Pic Blanc is the starting point for some epic runs – both on and off-piste – and it's not unusual even at this time of year to catch a full 2000m of vertical, including the Champagne run. Photo: © Laurent Salino/OT Alpe d'Huez.
Val d'Isere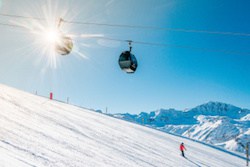 This is always a good spot for early an late season skiing. Val d'Isere has its own Pissaillas glacier above the outlying hamlet of Le Fornet, which is the starting point for some spectacular off-piste opportunities at this time of year, including the run down to Bonneval in the adjoining Maurienne Valley. It involves a short hike from the top of the lift system and a wonderful powder descent all the way to the valley. It's a long taxi ride or a short helicopter hop back to Val.
The whole resort stays open into May and the link to Tignes provides a lot more high-altitude skiing on the Grande Motte and elsewhere. Photo: © OT Val d'Isere.
Isola 2000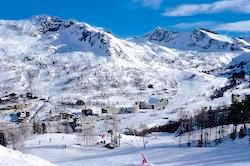 The purpose-built resort of Isola 2000 was created by a British property company in the 1960s. It is the most southerly ski area in France (you fly into Nice airport) but it is a good place to find late-season snow. Created with families in mind, there's a decent collection of shops, bars, apartments and hotels, and a large, sunny nursery area. The ski area is limited, but varied enough for beginners to undemanding intermediates.
Chamonix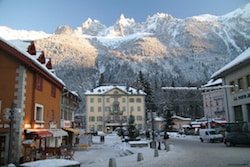 Don't expect Chamonix to be like other ski areas you've visited. It looks and feels like a real town, rather than a ski resort, and its satellite villages stretch for miles up and down a vast valley. So does its lift system – which means you'll have to decide whether to stay in the town centre, in the outlying village of Argentiere, or close to one of the other ski areas. A free bus service connects them all.
The skiing is for strong intermediates and upwards – so if you're coming here for the first time, there's one rule to remember: hire a guide.


Also see our posts on The Best Austrian Resorts for Easter Skiing, The Best Swiss Resorts for Easter Skiing and The Best Italian Resorts for Easter Skiing. For skiing even later in the year, also see our feature on the best resorts for summer skiing.