In a Nutshell
On a sunny day, the high valley of Tignes is an eye-wateringly beautiful place to ski: it's only when the clouds come down that you'll notice the hard-edged concrete buildings. Thank heavens its architecture is softening – a ski resort with world-class terrain like this deserves accommodation to match.
The Stats
Altitude: 2100m
Lifts: 75 in Tignes-Val d'Isere
Top lift: 3456m
Ski area: 300km of piste
Adult lift pass: 304€ for six days


Official Site |

Ski Map |

Webcam
Resort Overview
High, snowsure, and functional: it's a formula repeated by ski resorts all over the French Alps and Pyrenees. And in some ways Tignes is the perfect embodiment of it.
Except that its no-nonsense aesthetics don't upset people in the way that Flaine, or Les Menuires, or La Plagne do – and the reason why is simple. On a sunny day the high valley in which it's based is eye-wateringly beautiful. And not just because of its sky-scraping grandeur. It's the allure of its skiable terrain that will really have you blinking in disbelief. Wherever you look there are gorgeous places to ski: broad, confidence-boosting pistes, wide-open freeride terrain, and – higher up – plunging chutes and couloirs.
Tignes' altitude means its snow is almost always in good condition too: especially up on the Grande Motte glacier, where the cover will stay soft and wintry in all but the steamiest spring thaw. As a result, it's one of the best resorts in the Alps for an Easter skiing holiday (with or without children), or a pre-season autumn trip. In fact, the cover on the glacier is reliable enough for summer skiing from mid-June to mid-July as well (although the season has shortened in recent years).
Of course, it's not perfect. Tignes' slopes are almost all above the treeline, which means visibility is non-existent when it's snowing or the clouds come down. The fractured nature of the "villages" – there are five in all – means there's no one resort centre, and no natural hub for apres-ski. So the nightlife is surprisingly underpowered, given there are 33,000 guest beds. What's more, when it's full – at New Year and in mid-February – anyone who doesn't migrate to the outer edges of the ski area will find the pistes uncomfortably crowded.
But don't let that put you off. If the quality of the skiing is more important to you than nightlife or old-school Alpine architecture, then it deserves a place high on your short list. On its day, under clear skies, it's a world-beater.
---
---
A Short Guide to the Skiing in Tignes
Check out the picture, above, for a taste of what the Tignes has to offer, in partnership with its neighbour Val d'Isere. This is only a taste, mind. There are 300km of pistes and 10,000 hectares of off-piste contained in Tignes-Val d'Isere, the ski area shared by the two resorts. Most of it isn't even contained in this shot. But you get the general idea: this is a VAST playground.
Aside from size, these are its qualities:
1. Most of the skiing is above the treeline
On a sunny day, that's not a problem – but when low cloud or a snowstorm blows in the whole world turns a milky white. You can't see a thing. There are ways to compensate – for example, by hiring a guide, and skiing right behind him/her for the day. But even if you follow every low-visibility rule in the book there'll come a point when you just can't be bothered anymore, and retreat indoors.
In other words, if you book a holiday in Tignes you've got to factor in a day or two when you won't be skiing much because of the weather. It may not happen – but you need to be mentally prepared.
2. But by way of compensation you get ultra-reliable snow
The three main villages are set at 2100m, and most of the skiing is above that, on slopes which rise to about 3400m on the Grande Motte's glacier. Several key runs are north-facing too, which keeps the snow colder for longer in spring. So it's no wonder Tignes is regarded as one of the most snowsure resorts in the Alps.
Tignes' glacier is also open from the third week in June until late July or early August, making it a key summer-skiing destination. It opens again in October for autumn skiing. By the third week of November you can usually ski not just the glacier, but all the way back down to Val Claret on the Double M piste. In exceptional years, you can even ski most of the way off-piste by mid-November, as this rather amazing video from Big Mountain Adventures shows.
3. Off-piste skiers will love it
The lack of trees means there's an ocean of terrain to be explored: and you'll find everything from bits of powder between the pistes, to hair-raising couloirs and cliff drops. The two knuckles of rock called the Grande and Petite Balmes, which dominate the southern end of the valley, are big draws, and there are big itineraries which will take you as far as Champagny-en-Vanoise, beneath La Plagne, too.
4. It's much more intermediate-friendly than Val d'Isere
Provided they get good weather, intermediates will have a ball in Tignes. There are wide, cruisey pistes all over the place – and most are served by fast lifts, too. In fact, despite its sporty image, Tignes actually suits intermediates much better than upmarket Val d'Isere next door, because the pistes back into the resort are generally much gentler.
In Val, the evening home run can be intimidating – as less confident skiers wobble their way down the steep and often icy home runs. That's not the case here.
In peak weeks overcrowding can be a problem – but that's largely because everyone gravitates towards the same key pistes. To avoid the bottlenecks, stay west of Tignes, and ski the terrain off the Palafour, Chardonnet and Tichot chairs. or ski over towards Val d'Isere first thing, and just keep going until you reach Le Fornet at the far end of the lift system.
5. It's not the best place for beginners
Nursery slopes are not Tignes' strong point. Several are rather steep for their grade. Others are thoroughfares for other skiers. What's more, there's a lack of really gentle and uncrowded pistes to progress to. Check out Welove2ski's guide to the best ski resorts for beginners for alternatives.
6. The best terrain park is in Val d'Isere
Tignes has a long-standing reputation as a freestyle venue – cemented in recent years by its hosting of the European Winter X-Games (now defunct). But actually the best terrain park in the Espace Killy is above Val d'Isere. You can still get to it quickly enough from the Col de Fresse, or from Toviere if you know where to traverse.
---
---
The Best Ski Schools in Tignes
Several British ski schools operate in the resort – feedback is overwhelmingly positive, and almost all their clients think it's worth paying extra for their lessons. Book ahead to be sure of getting their services, especially over New Year and February half term.
SKiBro, either online or as an app, is an intuitive, user-friendly platform that helps you find the most suitable instructor for your needs – for everyone from families with small children and teenagers to improving intermediates and off-piste aficionados.
The Development Centre (TDC), which started life in neighbouring Val d'Isere, now has several instructors based in Tignes. Progression Ski, BASS, and Ultimate Snowsports also work here. Meanwhile, the small Tignes branch of English-speaking New Generation offers small group lessons (for both adults and children), private clinics and technical workshops.
The travelling ski school, Snoworks, also runs a vigorous series of skills clinics in Tignes, especially in the summer, autumn and spring. One of Welove2ski's editors joined it recently for a race-training clinic – and was amazed by how much the Snoworks approach sharpened his piste-skiing technique.
Budget too tight for these? The French schools are cheaper. These days, you'll find most of the younger French instructors speak good English, and are fizzing with energy and enthusiasm, especially in the independent outfits such as Evolution 2. Evolution 2 also limits its class sizes to a maximum of eight, even in school holidays, which is a promise not matched by the biggest school in the valley, the ESF. Obviously, smaller classes are better. If you are planning to holiday in a peak week, it really is worth paying extra to get a smaller class size for yourself and/or your kids.
---
---
Where to Stay
Once upon a time, Tignes was famous for cheap, rabbit-hutch ski apartments. There are still plenty of them about – and thank goodness for that, because they're a godsend for anyone on a tight budget. But in recent years, the choice of accommodation has broadened significantly.
That doesn't mean Tignes now rivals its neighbour Val d'Isere as a destination for the super-rich. But there is a good choice of mid-priced catered ski chalets, as well spacious and well-appointed apartments, and even one or two upmarket hotels. To book a self-catered apartment, take a look at Erna Low, and Ski Collection. Self-caterers on a tight budget should also check out Ski Amis' listing of individual apartments in Tignes Le Lac's original (and utterly central) apartment blocks.
The resort is split into five separate bed bases. Take care when you book accommodation in them, because they're not identical, and a couple are a long way from the central hub of lifts and pistes. Here's our guide to the best accommodation in each (check out the resort map, too).
For most people, Tignes-le-Lac is the best base
In the main valley of Tignes there are three villages, and Tignes-le-Lac is the one in the middle. It's the most villagey of the three, with a row of shops and restaurants, and even a church. Tignes-le-Lac also has the longest nursery slope in the resorts. All things considered, this is the best place to stay for most skiers.
It's also home to the resort's Lagon indoor pool, which is boon for families (although it can be packed on bad-weather days during the school holidays – especially in the afternoons).
There are quick lifts from here – towards neighbouring Val d'Isere and the quiet intermediate-friendly pistes on the other side of the valley (where you'll also find some cracking off-piste).
Hotel Le Levana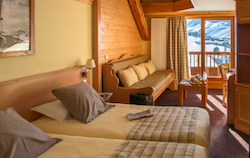 The hotel with the best location in Tignes is the three-star Le Levanna which sits piste-side in the middle of the Le Lac, a two minute walk from both ski-school meeting points and the resort's main strip of bars and restaurants. There's also a good ski-hire centre in the same building. Try to get a room looking south, up the valley. The views will blow your ski boots off.
Chalet-Hotel Corniche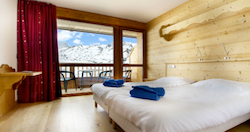 Almost as well-located as the Levanna is the spacious and rather sleek Chalet-hotel Corniche. It's run by the British family-skiing specialists Esprit, and guests have access to its English-speaking childcare – so it's perfect for families with pre-ski kids, and those looking for kids' clubs in the afternoon, once ski school has finished. (Most of the clubs are set in other Espirt property nearby – reached by a quick mini-bus transfer). The dining area and sitting room spaces have an open fireplace.
Residence Telemark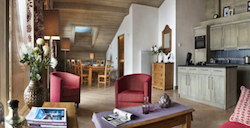 Residence Le Telemark offers well-planned self-catering apartments in a cul de sac off the road down to Tignes 1800. The Chaudanne chairlift is just below it, and a blue piste passes immediately above, offering most skiers a quick start to the skiing day. Beginners, however, will need to take the free shuttle bus, or walk 10 minutes up to the ski school meeting point. The in-house spa has an indoor heated pool, sauna, Jacuzzi, and fitness room, with massage treatments also available.
Chalet-Hotel Aiguille Percee

Families should put the refurbished Chalet-Hotel Aiguille Percee high on their short list. The location (three minutes' walk from the hub of lifts and pistes) is excellent and there are well-equipped and well-run nurseries and kids' clubs on-site. Welove2ski rates it amongst the best ski chalets for families in the Alps.
Chalet Arktik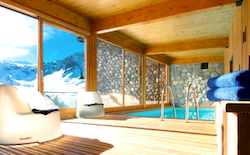 Tignes is one of the strongholds of British chalet-holiday specialist Ski Total – and over the years they nabbed many of the best properties. Chalet Arktik is one of the most popular. Just 150m from the Chardonnet lift and piste, it's not far off being the kind of chic, pop-star property the A-listers bag – and comes complete with a big, open-plan living/dining area, hot tub, home-cinema, sauna and a small indoor pool. But it doesn't have an outrageous price tag, and is usually booked solid a year in advance. If you're interested, start making enquiries as far ahead as you can.
Village Montana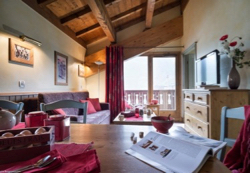 Village Montana is home to Welove2ski's favourite self-catering apartments in Tignes-le-Lac. It's not the individual flats that are exceptional: although they are practical, comfortable and actually quite pretty. It's the overall package: this a ski-in, ski-out hub with its own pool, spa, restaurants and pizzeria that's a short(isn) walk from the middle of the resort. On several occasions we've carried a small child down to his ski school lesson from here without having a heart attack. We also found the in-house pizzas a godsend on the nights we were too tired to cook.
Chalet Aigle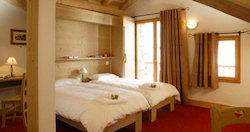 For a bit of luxury you could stay at Chalet Aigle, which is ski-in ski-out and 300m from the Chaudanne and Paquis lifts. It makes a great place for both groups and individuals, with its 21 bedrooms. There is undercover parking for five cars, a bar, dining room, swimming-pool and sauna, as well as a lift to take you between floors.
Stay in Val Claret if you're an expert
Val Claret is at the head of the valley, and it's the best base if you want quick access to the high-altitude slopes on the Grande Motte glacier. So it's the obvious choice for very early or late season skiers who are looking for guaranteed snow. It's also the best base for tackling the serious off-piste descents around the magnificent crags immediately above the village – the Grande and Petite Balmes. Oh yes, and it has the best nightlife, too…
Hameau du Borsat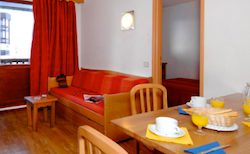 Most of the accommodation here is in self-catering apartments – including Hameau du Borsat. These are ski-in-ski-out which is handy. The accommodation ranges from studios for four people to two-room apartments with a 'cabine' sleeping up to six people in all. They're typically French, and you get what you pay for.
La Ferme du Val Claret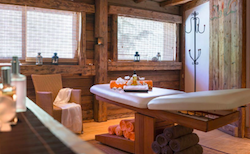 Then there's the more upmarket La Ferme du Val Claret, which is 100m from the funicular and next door to the Hotel Ecrin de Val Claret where there's free use of the indoor swimming-pool, spa and fitness centre. It's luxurious, and nicely decorated with lots of wood.
Le Nevada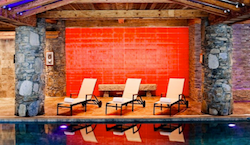 Val Claret is also home to a surprisingly posh hotel, the all-suite and very lush Nevada. It has a lovely indoor swimming-pool and spa with sauna, Jacuzzi, steam room and fitness room. The in-house La Table En Montagne gourmet restaurant is well worth a visit. The property is 400m from the main shopping areas and the lift to the Grand Motte glacier.
Residence La Jhna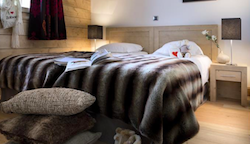 Also from CGH is Residence La Jhana, a wood-and-stone building containing 19 apartments and located close to the shopping centre from where the lifts depart towards Val d'Isere and also to the Grande Motte glacier. Built in 2011, the property has been designed in typical Savoyard style using local wood and stone. There's free access to the spas at nearby Le Nevada and Le Telemark.
Club Med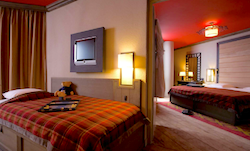 There are two all-inclusive options in Val Claret – the first is the piste-side Club Med, which is great for families and those wanting to rush for the first lift of the day. It's has everything you'd possibly need, just as you'd expect from Club Med. Although it doesn't have that Alpine charm or personalised touch that some places offer, it's family-oriented and upmarket – it's also very French in flavour.
UCPA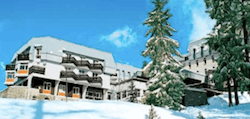 The other is and UCPA, which is a fairly unique ski holiday experience – somewhere between a hotel and a hostel. Affordable ski holidays are at the centre of UCPA's ethos, and it attracts mainly 18-40s and a range of nationalities. The food is a surprisingly good with a varied buffet. Expect shared rooms and sociable evenings in the various bars. Full-time tuition and ski hire can be booked here, too.
Chalet Hotel L'Ecrin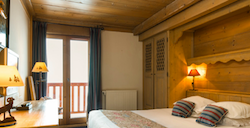 Chalet Hotel L'Ecrin is Mark Warner's 51-room chalet-hotel with a spa, swimming-pool and fitness centre. The property is built in traditional Savoie style and has a cosy and comfortable interior. It is situated on the outskirts of the village a short walk to the five main lifts of Tignes Val Claret.
Look for bargains in Le Lavachet
Le Lavachet is at the bottom end Tignes' high, hanging valley – just before it drops away down towards the reservoir and Tignes-les-Boisses/1800, below. It's at the left-hand edge of the picture, above.
It's not integrated into the lift system in the same way that Val Claret and Le Lac are – and you'll have to ride the free shuttle bus each day to get started. Don't stay here unless your accommodation is cheaper than in Tignes-le-Lac or Val Claret.
Apartments Le Lavachet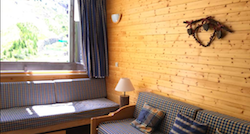 Le Lavachet apartments contain studios and larger flats, which are said to be: "Very affordable, great location, small cosy apartment but had everything we needed for our ski holiday. Easy access to the shops, bars, buses, and ski lifts".
Tignes 1800/Tignes Les Boisses is low-key and comfortable
Tignes 1800 is set below the main valley, just above the famous dam that dominates the approach to the resort.
Kalinda Village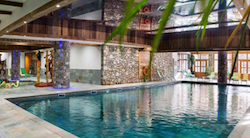 It's the site of the four-star apartments called Kalinda Village. It's a good-looking development: the apartments are bigger than average and there are two indoor pools and a spa.
But bear in mind that even though Tignes 1800 is linked into the Tignes ski area by both lifts and pistes, it's not one of the resort's hubs, like Tignes-le-Lac or Val Claret is.
If you're looking for nightlife, or quick access to the Grande Motte glacier or Val d'Isere, it's not for you. But with two pools and a well-stocked mini-market on the doorstep, as well as as its own beginners' area, its a convenient, low-stress option for families with young children.
Les Brevieres is not bad for short breaks
Tignes-les-Brevieres is at 1550m at the very bottom of the resort – in the shadow of the dam. There are some good slopes immediately above it: but it's a long haul from here up into the main valley, and thence over into Val d'Isere's half of the ski area. Don't stay here unless your accommodation is cheaper than equivalent properties Tignes-le-Lac or Val Claret.
One advantage Tignes-les-Brevieres does have over other parts of both Tignes and Val d'Isere is that it's quicker to get to from the airports. So it makes more sense as a base for ski weekends.
Chalet de la Cloche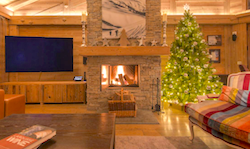 Unusually for Tignes, there are some luxury chalets here. Chalet de la Cloche is a wood and stone building with eight bedrooms, a log-cabin-style sitting room, in-house spa and small indoor swimming-pool. It oozes comfort and elegance, with a gorgeous Christmassy, mountainy feel that will leave you reluctant to leave its cosy womb-like energy each evening. You can soak in the warm indoor pool or relax by the roaring fire, sipping a glass of champagne.
Chalet Babylon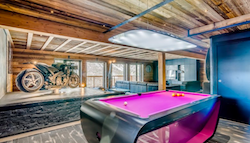 Chalet Babylon is located above Les Brevieres. The nearby mini funicular is about 100 metres from the chalet and accesses the resort centre and nearby lifts and pistes. The chalet has five bedrooms on four floors, all of which are connected by private stairs and a lift. The highlight is the fabulous entertaining space, with a 'lounge corner' and flat screen TV, a bright pink pool table, a bar, and a motorbike as a feature.
Chalet Rock n Love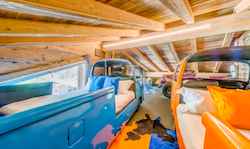 Most unusual of all is Chalet Rock n Love. It breaks all design rules and the minute you walk inside you'll be whisked back to the 1970s. There's Route 66 memorabilia, a Wurlitzer jukebox complete with 100 albums, vintage autographed guitars on display, an acoustic guitar for guests to play, and an original Marshall amp. The pool table is built from the body of a vintage Mini Cooper and one of the five bedrooms (the kids' room) contains three actual vehicles with fixed double beds inside them.
---
---
Where to Eat
Tignes mountain restaurants tend to be either much better, or much worse, than you'd think. But let's be clear about one thing. You shouldn't come to Tignes for a gastronomic holiday. This is a young, sporty, purpose-built resort, and most of its visitors' budgets don't run to big blowout meals on the mountain. A quick crepe back in the resort or a sandwich plucked from a rucksack is more like it.
And no wonder – given how bad some of the mountain restaurants are here. Over the years, we've been to some shockers: soulless self-services and battered little cabins where even the chips are cold and the taste of a bitter spag bol stays with you until the following morning. Prices are high too.
But – and this is a big, welcome but – there are a few notable exceptions. Make a list of them now, and plan your days around them. This is not the resort to take pot luck.
The best places on the mountain
Lo Soli is easy to find – in the big mountain restaurant complex just to the left as you get off the top of the Chaudannes chair from Tignes-le-Lac. They do lovely stews here, and you can sit by the fire if it's cold, or soak up the views from the terrace if it's sunny. Book ahead to be sure of a table.
Meanwhile, Le Panoramic up by the Grande Motte glacier, has improved dramatically in recent years. The interior features sheepskin rugs draped over every chair, and fashioned into the thickest curtains you'll ever see. You can drop in for a mid-morning hot chocolate which comes with giant jars of meringues in different colours and flavours.
For lunch try the tin of sardines with olive oil and toasted bread as a starter, the skewer of scallops with creamy polenta for a main course, and the Grande Motte snowman for pudding. Even the self-service restaurant here is now of a very high standard. Prices aren't cheap, but we rate it as the best 'self' on the mountain.
Lots of skiers have lunch in Tignes-le-Lac
Because the villages are so high – and criss-crossed by so many pistes – it's quite normal to stop off in them for lunch. So in Tignes there's much less of a distinction between 'mountain restaurants' and 'resort restaurants'. That's especially true in Tignes-le-Lac, which is buzzing at lunchtime, especially when the sun's out. Try Restaurant La Montagne, opposite the Levanna hotel, for giant, and delicious, Savoyard salads. Bagus Cafe has a woody interior and food with an Asian and North African flavour – all at a reasonable price.
Le Lavachet for Cote de Boeuf
La Ferme des 3 Capucines is part of a farm – you can watch the animals while you're having a drink – as long as it doesn't put you off your Cote de Boeuf! Booking is essential. More central is Le Bouchon Montagnard. So Bar is for tapas and waffles, as well as apres-ski snacks.
The stars of Tignes Les Brevieres
L'Etoile des Neiges is a cosy little mountain hut at Tignes Les Brevieres, containing a brasserie/pizzeria. It's also a good place to stop off mid-morning for a huge bowl of hot chocolate topped with whipped cream. The home-made tartes are good too.
Meanwhile, Restaurant L'Armailly is known for its wine cellar and good menu. Try the pickled raw beef with parmesan for a starter, doe fillet with bilberry sauce as a main course, and crème brulée flambée with Genepy for pudding. There's also a good range of pizzas.
Local favourite in Val Claret
Set about 50m back from the pistes is the Aspen Coffee Shop, which is always heaving and serves mountains of food at an affordable price. Last time we were in town we had a big farmer's omelette there, which came with chips and a salad. Go early or late if you don't want to queue for a table.
More expensive is the Michelin-starred Ursus at the five-star Les Suites de Nevada. There are just 12 tables here, in a forest-like setting of over 300 tree trunks.
---
---
Where to Party
Overall, Tignes is a big resort – there are 33,000 guest beds here, which makes it bigger than Val d'Isere. By rights, it should rock once the lifts close. But overall, its nightlife is underpowered – and the reason why is pretty straightforward. This is a fragmented resort, split into several purpose-built villages – and there's no one central hub of bars and clubs where you can build an after-hours atmosphere.
That doesn't mean you can't have a brilliant night out here: but it'll help a lot if you bring a team of accomplices – and once you've found a good venue, stay put. You can't just set off into the night and expect to find yourself in the middle of a crowd of like-minded people.
The bars to reckon with on the slopes
No serious apres-ski session starts without a visit to La Folie Douce – on the slopes, above La Daille, in the Val d'Isere sector of the resort. Whenever the sun's out, the DJs there build a big atmosphere, and the crowd spilling out across the slopes can be counted in the thousands. Just remember you have to catch the Tommeuses chair to get home, so don't stay late.
Another early stop is Bar du Village Montana. Inside is a choice of two venues: La Flambée where you can unwind in comfortable sofas and armchairs in the ambiance of a mountain chalet. There's a big double-sided fireplace surrounded by objets d'art, and also a bar. Then there's Les Almes where you can sip hot chocolate and eat cakes and home-made pastries beside the Austrian stove.
Nightlife in the villages
Tignes-le-Lac: Loop bar is at the foot of the Rosset and Trolles slopes and not always heaving, but whenever the sun comes out its south-facing terrace is the place to be. Happy Hour is 4-6pm, often with live acoustic guitar, and there are DJ sets and stand-up comedy through the season too. The Moose is the other key Tignes-le-Lac venue.
Le Lavachet: JP and Fairy, owners of So Bar, make sure that only the best quality drinks are on offer – from wine and beer to spirits. That's because JP is a trained Sommelier. British-owned Brasero is another stalwart of the Lavachet scene, and serves great hummus and pizzas along with plenty of drinks offers.
Val Claret: Piste-side Grizzly's is a bear-themed bar/restaurant with a laid-back vibe, and an outdoor firepit surrounded by carved wooden benches. It's the best place anywhere in Tignes for a drink as the lifts start to close: but it's certainly not cheap so you must try to resist the siren call of its cocktail menu…and the in-house boutique.
For live music later in the evening, The Couloir is the place to go, and has a great rolling menu of bands and DJs. Upstairs is for cocktails and tapas, the middle floor is a restaurant, while downstairs are comfy sofas to relax in. Le Studio is a friendly venue for cocktails or a glass of wine – it's particularly popular with a French clientele. Drop Zone is inspired by sky diving, freestyle skiing and snowboarding – it has DJs and is where to watch local bands play.
The late-night venues include the pricey La Blue Girl Club for Euro-pop and a weekly 'sexy show', and Le Melting Pot which is less cheesy and plays hip hop and electro. 247 twenty-four-seven has live DJs, a monthly 'streep show', tapas, 21 different rum cocktails, and rum from 30 different countries ranging from Guatamala and Haiti to the Philippines and Peru. The most expensive bottle comes in at 280€.
Les Brevieries and Les Boisses (1800): The Vault Bar (+33 479 06 53 39) in Brevieres is in a rustic location that attracts seasonnaires, with live music, karaoke, and fancy dress nights. There's a good-value diner-style menu, too.
New just above Tignes 1800 is the Wilderness Camp – an outdoor yurt village where you can go for drinks, dinner but (unfortunately) can't stay the night. You reach the camp in its forest clearing by 20-minutes guided snowshoe walk and on arrival are greeted by a romantic atmosphere of camp fires and music. Each yurt can seat around dozen people at low wooden tables with a central fireplace and fondue (or similar mountain fare) and unlimited wine for dinner.
---
---
How Tignes Compares With Other Ski Resorts
Tignes vs Val d'Isere
They share the same superb ski area – but that's where the similarity ends. Val d'Isere has many more luxury hotels and chalets. It's also home to better restaurants and bars. Tignes, by contrast, has always been more about sport than social cachet, and suits modest budgets better. That's not to say it's cheap: unless you book a self-catering apartment and stay out of the mountain bars and restaurants.
Both resorts are superb bases for more advanced skiers. Tignes is better for intermediates, as well as early-season and Easter skiing holidays. Neither is ideal for beginners.
Tignes vs Val Thorens
Both are leviathans of the high-altitude skiing scene, but in recent years Val Thorens has made a giant leap upmarket. It's now the better base of anyone in search of luxury, as well as beginners and party animals.
Both offer superb terrain for intermediates. Val Thorens has more of it, once you factor in the rest of the 3 Valleys, but the quality of the pistes is higher in Tignes. Tignes is the better base for advanced and expert skiers, and has more international ski schools, too.
Tignes vs Cervinia
Both are purpose-built, high-altitude resorts with big ski areas attached. For beginners, Cervinia is better: not only are the nursery slopes good, but there are so many easy intermediate runs to progress to. Less confident intermediates will enjoy the skiing more, too, for much the same reason. And sybarites looking for an Easter-skiing base will love staying in the St Hubertus Resort or Hermitage, and eating out every day in Cervinia and Zermatt's top-notch mountain restaurants (although in mid-winter they'll probably be happier in Zermatt, Courchevel or maybe San Cassiano).
Anyone wanting to ski harder and faster will, however, be much happier in Tignes.
Tignes vs La Plagne
La Plagne also likes push its high-altitude credentials, but in truth almost all of the good piste skiing is below 2500m – making Tignes the better base for early and late-season trips. However, the flattish slopes on the main plateau make La Plagne a better base for beginners and wobbly intermediates. Lots of families like it too. La Plagne is also home to some extreme off-piste skiing, although you need to be a proper expert to tackle it.
Confident intermediates and advanced skiers will prefer Tignes. Beginners and wobbly intermediates will be happier in La Plagne. True experts will have a blast in both resorts.
---
---