In a Nutshell
Purpose-built Val Thorens is part of the vast 3 Valleys lift system, and is the highest of all its resorts. In fact, it's the highest resort in western Europe, and guarantees its snow cover from November to May. It won't win any prizes for its looks – but there's no doubting its youthful and dynamic atmosphere.
The Stats
Altitude: 2300m
Lifts: 180
Top Lift: 3230m
Ski area: 600km of piste
Adult lift pass: 300€ for six days


Official Site |

Ski Map |

Webcam
Essential Advice for the Perfect Trip
When plans were announced in the 1970s for a new ski resort at the top of the Belleville valley in France, most of the locals shook their heads in disbelief. "You can't build a village up there," they said. "It's too high, too cold and too avalanche-prone. No-one will come." During those first winters French Olympic ski champion Christine Goitschel – one of the founders – described it as: 'like living in the Wild West'.
To the astonishment of all, nearly 50 years on, Val Thorens has become the buzziest and most well-rounded high-altitude ski resort in the Alps. Thanks to continued investment, it's still evolving. Bars like La Folie Douce and 360 have brought a powerful apres-ski buzz, while a new generation of upmarket hotels such as Altapura, the Koh-i-Nor, and Hotel Pashmina – as well as smart self-catering residences – are broadening the appeal beyond its traditional, budget-conscious core.
There are some good places to eat here, too. Over the years, Val Thorens has actively supported talented restauranteurs, and the policy's greatest success was to launch the career of Jean Sulpice, whose Restaurant Jean Sulpice held two Michelin stars. Sulpice closed his restaurant and moved on: but chef Josselin Jeanblanc provided some compensation for the loss, when he won a Michelin star in 2017 for his cooking at Les Explorateurs in Hotel Pashmina.
Some things haven't changed
The advantages – and disadvantages – of Val Thorens' lofty position remain constant. Chief amongst the benefits are the ever-reliable quality of the snow. Not only is the village built at 2300m (higher than any other Alpine resort), but seven separate lifts top out at 3000m or higher – and at that altitude the white stuff stays in pretty good nick from early December to the beginning of May. It's one of the best places in the Alps to ski in the late or early season – and its altitude means it's much less affected by mid-season thaws, too. After the recent run of snowless Decembers at lower altitudes, it's no wonder Val Thorens has been the object of so much recent investment.
Sometimes, however, the altitude can be a pain. Whenever a blizzard blows in, or the clouds come down, visibility drops to the end of your nose. There are no trees anywhere in the immediate ski area either, to help add definition. The only way to enjoy yourself when the weather's like this is to hire yourself a private instructor, and to ski on his or her tail for the entire day.
The village isn't exactly the prettiest in the Alps either. That's because of the avalanche risk. To avoid being swept away by snow, Val Thorens huddles in the middle of its mountain bowl in a dense conurbation. Most buildings stand six to eight storeys tall, although efforts have been made to give the modern ones a semblance of Savoyard style. On a sunny day, of course, none of this matters: but when it's cloudy you'll think you're in a fogbound suburb of Paris.
Keen skiers (and party animals) will like it best
Val Thorens has a loyal following. Students and twenty-somethings love the place – because despite its recent step upmarket, there's still plenty of budget self-catering accommodation here, and the apres-ski scene is one of the best in France.
Anyone who wants to ski hard all week – at whatever level – will be happy too. Not only is the extent and variety of terrain on offer a mouthwatering prospect, the quality of snow is almost always good, too. Meanwhile, fashionistas will like the sharp interior design of the new wave of five-star hotels. (They'll love the ski-in, ski-out convenience too.)
But if you're in the market for a just a little skiing, and lot of traditional Alpine atmosphere; or if your party contains non-skiers; or if crowded pistes upset you; then give Val Thorens a wide berth. To get the most from this place you need to love your skiing.
…but there's an antidote to the partying
Val Thorens has set itself up as a centre for anti-stress techniques under the My Serenity label. Created by the resort in collaboration with Dr Philippe Rodet, a specialist in stress management and supervision, the label singles out those activities and experiences that contribute to lowering stress levels – as much for clients as for resort workers and locals. There is free pre-ski yoga in the village square every morning, Qi-Gong classes with a Chinese medicine practitioner who also offers workshops themed around meditation and walking, and mindful ski-touring sessions. The latest addition is a 'trapper experience' with energy and breathing work themed around husky dogs.
---
---
Guide to the Mountain
At first, it's the sheer volume of skiing on offer here that'll blow your mind. Val Thorens' own ski area offers 140km of pistes on its own, but that doesn't even take into account the skiing above Les Menuires and St Martin de Belleville, the two resorts which lie lower down in the same valley. They offer another 160km of pistes.
Then there's Meribel and Courchevel – which brings the total to a mind-boggling 600km of groomed runs. Admittedly, this figure was recently questioned by German travel writer and consultant Christopher Schrahe. But even if you accept his figure of 495km, that's still a lot of skiing: and there's a vast amount of off-piste in between.
There's something for almost everyone
It's not just the quantity of skiing on offer here that makes Val Thorens such an attractive possibility – it's the quality too.
Okay, so real balls-to-the-wall experts should probably head somewhere like Chamonix, La Grave or the north face of the Bellecote, above La Plagne, for really steep and sustained off-piste descents. Advanced skiers who love a steep, sustained black piste will prefer Val d'Isere and St Anton. But everyone else will have a blast – provided the sun shines.
Beginners will appreciate the fact that the nursery slopes are next to the village, and can be used without a lift pass. (There are also lots of easy pistes to progress to once they've mastered their basic turns.)
Intermediates will love the grippy, confidence-boosting snow on many of the runs above Val Thorens itself. A lot of the pistes in the Val Thorens bowl are gentle and undulating: if you prefer a more sustained pitch when you ski, you'll find it above the neighbouring resort of Les Menuires, and over in Courchevel on the far side of the Three Valleys. So it's well worth exploring the entire area.
And anyone with an appetite for off-piste will be in clover whenever it snows, because there's so much easily-accessed freeriding on offer in the Val Thorens bowl, and above its neighbouring resorts – Orelle, Les Menuires and Meribel. This ranges from the gorgeous, easy bowl under the Côte Brune chair above Meribel, to the north face of the Cime Caron. For more recommendations, check out our feature on the best skiing in the Three Valleys. And be sure to hire a guide to keep you safe.
Oh yes, and there's a world class terrain park and skicross course here too (but no half-pipe), as well as a couple more parks next door in Meribel.
But there are two significant drawbacks:
Before you drop everything and book your next holiday in Val Thorens, bear two things in mind:
1. Almost all the local skiing is above the treeline. On a sunny day, that adds to the appeal – a vast empty playground opens up in front of you and it feels at though you've got half of France to ski in. But when it's snowing or cloudy, you'll be skiing by sense of smell. Okay – so there is one easy way round the problem: grab a private ski instructor for the day and get him or her to show you round.
By sticking right on his or her tail you'll significantly increase your enjoyment of the day. (Fortunately, in Val Thorens, hiring a private instructor is significantly cheaper than in the neighbouring 3 Valleys resorts of Meribel and Courchevel.) But if you can't afford it, you'll probably manage a couple of hours of stop-start "where the feck are we?" skiing, and then head indoors. If that sounds like a drag, book Courchevel or Meribel instead and ski over to Val Thorens when the sun's out.
2. As a whole, the Three Valleys suffer from overcrowding and Val Thorens is no exception – especially during the school holidays, and at the beginning and end of the season (when everyone from Les Menuires and Meribel skis over looking for better snow). Sometimes it can be a hectic, frenetic experience.
The Cime de Caron is a black spot ("I am regularly annoyed with the constant queues at the cable-car to Cime de Caron," said one reporter), and the pistes immediately above the resort can be heaving. In other words, you need to get up early, ski the popular runs when everyone else is still at breakfast, and then migrate to the quieter areas, like the Pointe de la Masse above Les Menuires, the 'Fourth Valley' above Orelle and the pistes under the Boismint/Plan d'Eau lifts. Leave the people-slalom to those who can't read a piste map.
---
---
Where to Learn
Val Thorens is one of the most cosmopolitan ski resorts in France – both in terms of its guests and its workforce – and the ski schools have the same international flavour. SKiBro, either online or as an app, is an intuitive, user-friendly platform that helps you find the most suitable instructor for your needs – for everyone from families with small children and teenagers to improving intermediates and off-piste aficionados.
The local branch of the ESF is the most diverse in the country and was – briefly – run by a dynamic Flemish instructor, Lode Nolf. Sadly, Lode's gone, but you'll still find Japanese, Vietnamese, Belgian, Danish, Chilean and Italian instructors in its ranks, as well as one Brit. Prices are on a par with those you'll find elsewhere in France: but they're significantly cheaper than with the ESF in Meribel and Courchevel 1850. The ESF also does a great private-instructor deal for up to four people: well worth considering if the cloud's come down and you want to follow someone who knows their way around the mountain.
It's also worth noting that Val Thorens has also become home to a growing branch of highly-rated British-run school, New Generation. You pay a premium for New Gen instructors, but in our experience they're excellent: both upbeat and painstaking in their approach, and you can be sure English will be spoken in the lessons.
Four independent ski schools provide extra choice
The resort also supports several other independent ski schools: Prosneige, Ski Cool, and the FSA. Ski Cool and the FSA are particularly strong in snowboarding, which still has a big following in Val Thorens. Prices tend to be a little higher than with the ESF. All the ski schools offer children's classes. One of my sons recently had an excellent experience with Ski Cool, which included the innovative use of a cape called a Wingjump to improve stability, confidence and posture.
L'Office de la Montagne is a small school of top-notch skiers and mountain guides who specialise in off-piste.

---
---
Childcare
Some British family-skiing specialists advise that babies and toddlers under the age of 18 months can find altitudes above 2000m stressful. So we'd advise talking to your GP before bringing little ones to Val Thorens. However, older children who are ready to ski will have a good time here: though it's a long schlep for first-timers to the ski school meeting points from the higher parts of the resort.
None of the British family-skiing specialists runs an operation in Val Thorens. If you're looking for that kind of seamless service in a snowsure resort, head to Tignes or Val d'Isere instead. Nearby, the enclave of family-friendly, British-run chalets at Reberty, a suburb of Les Menuires is a good option too – especially for families with children who are beginners.
That said, some of the posher hotels do have in-house nurseries, notably the Koh-i-Nor, and Altapura, which runs an afternoon kids' club for the over-threes. The ESF also has a well-organised creche for children aged three months and up. Bear in mind that it's not central, but on the Rue du Soleil, next to the nursery slopes. It's a loooooong schlep to reach it each morning, via lifts, escalators and stairs if you're staying at the top of the resort. If you're going to be using it, try to book accommodation nearby.
The MMV residence has now opened its nursery doors to all children staying in Val Thorens. For a few hours, a whole day or more, four to ten year olds can now join the Kids Club for games and entertainment.
---
---
Where to Stay
Don't come to Val Thorens if you're looking for cute or luxurious free-standing chalets like those in Meribel, Verbier, Courchevel or Val d'Isere. And give it a miss if you crave a laid-back villagey atmosphere to rival Champoluc's in the Aosta Valley. This is a modern purpose-built ski resort – and to keep it safe from avalanches, all the accommodation is grouped tightly together into a conurbation of six to eight-storey buildings.
Yes, many of the blocks have been prettified in recent years – but there's no denying that, when it comes to Alpine aesthetics, Val Thorens is one of the uglies.
Still, if you're the kind of person who's going to enjoy Val Thorens, you won't worry too much about the look of the place. What you'll want is accommodation with quick access to great skiing – and in that respect this resort scores highly. Just be sure to get accommodation which is properly ski-in, ski-out: after all, what's the point of coming to somewhere like Val T if you have to walk to the pistes?
One final thing to bear in mind: if you're a beginner, or are still a bit wobbly on skis, we suggest you stay on or near the Rue du Soleil: because that's where the nursery slopes are, as well as ski school meeting points. The pistes leading down to this area from other parts of the resort are a bit steep for beginners, so you can't ski down, and it's a long walk with all your clobber.
Here are our recommendations (and a link to the town map so you can find 'em).
The pick of upmarket hotels
Altapura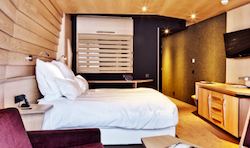 Altapura is not as sumptuous as the luxury hotels in Courchevel, but it has five stars, and is run by the super-experienced Sibuet group, of Fermes de Marie fame. It's a great choice for a group of well-heeled and sporty skiers, and comes complete with a chic bar, three restaurants, a good spa, and high-tech rooms. Okay, so the pared-down decor does look a bit Apple Store in places, but is brightened by a sense of humour and some great design flourishes, like the river of old wooden skis that flows around the lobby walls. Service is good, the piste-side location is to die for. The only real drawbacks are that it's a bit of a hike from the bars and clubs – and the piste outside isn't quite gentle enough for complete beginners.
Hotel Koh-i-Nor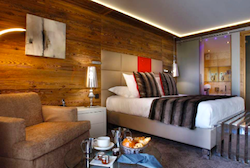 Meanwhile the Koh-i-Nor is the highest five-star in the Alps – and one of the most child-friendly. It has its own kids' club, and both the restaurant and bar offer special menus for children. The spa even does a range of junior treatments – such as Discovery Relaxation for the Little Skier, and Snow Princess Nails. It's home to both hotel rooms and apartments and the decor is modern alpine with soft grey walls, wood, leather and fur much in evidence. The atmosphere is soft, warming and laid back, but totally luxurious.
Hotel Pashmina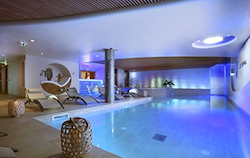 Hotel Pashmina is family-run. It has two restaurants (one of them is Michelin-starred), a swimming-pool and in-house ski shop. Expect gorgeously cosy rooms and a spa area that exceeds expectations. There's a wellbeing coach as well as a wellbeing buffet. The hotel perches at the top of the resort, next to pistes that any intermediate-level skier (but not beginners) can handle. But it's a bit of a walk from here to the middle of the village; the free shuttle bus is a good idea.
Le Fitz Roy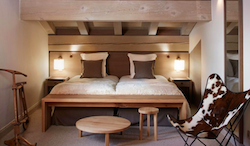 If you want to be right in the middle of the resort, the four-star Le Fitz Roy is the place if you want to be near the centre of the resort. It's both piste-side, and on the Grande Rue, near the tourist office. It lacks the space of the Altapura in its public rooms, but has been completely updated in recent years, with a spa and swimming-pool. There's a chic, Nordic feel to the place with its white fur and blond wood.
Fahrenheit Seven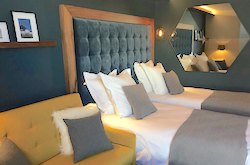 The groovy Fahrenheit Seven opened a couple of years ago. It's ski-in ski-out (if you're an intermediate or above), lays on a fantastic breakfast and is a rallying point for the locals at lunchtime. Kids like the games room, but there's no pool, which is shame (the public pool in the resort is rather small). Expect a combination of contemporary and retro décor – crisp and modern but with a twist of vintage with old photos of Val T dotted around.
Hotel Sherpa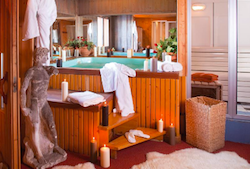 If you're looking for somewhere a little less upmarket, the three-star Sherpa is at the top of the resort, ski-in, and (almost) ski-out hotel with excellent food, great service and smallish rooms. Bedrooms are simple yet drenched in adorable Alpine charm that make the perfect cosy post-skiing hang out. The Jacuzzi and sauna are particularly pleasant for such a humble place.
Hotel Tango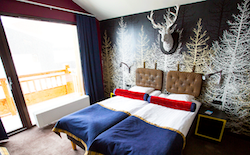 Meanwhile, the refurbished Langley Hotel Tango has been getting some good reviews: "…Very friendly helpful staff. Buzzy bar in evenings, great pizzas. Comfortable rooms. Good breakfast." It was built in the 1960s and has historically been a hotspot amongst skiers to the resort. Almost 60 years later it is both hip and upscale, without being too posh.
Smart apartments
These are some of the most stylish apartments, with bigger than average rooms. Some have facilities like spas with swimming-pools and saunas, too. Also, take a look at what Ski Collection and Erna Low have on their books.
Le Hameau du Kashmir Residence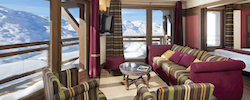 Le Hameau du Kashmir Hotel & Residence is where the Alps meet the Himalayas. The buildings hug a small central square and have colourful pink and saffron interiors. Facilities include a bar, two restaurants, a swimming-pool and saunas. A Prosneige ski school desk is located here, so this a good spot for families.
Montana Plein Sud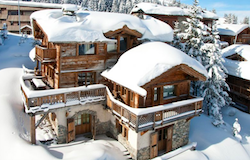 The Montana Plein Sud apartments are some of the nicest in the resort – boasting five stars. The decor is a bit more unusual than most modern apartments too, and there's a popular pool in the basement. The colours are bright but tasteful, with all the facilities you'd possibly need.
l'Oxalys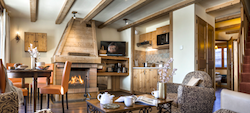 The Oxalys apartments are rated four star, and are a little roomier. Both developments are set well away from the noisier bars and clubs, and don't get student groups. They're woody and warm, usually complete with a fireplace and sheepskins, and located away from the noisy parts of town.
Chalet Cocoon
If you'd prefer something that falls midway between a chalet and apartment, try Chalet Cocoon, run by Val Thorens natives Maud and Jean-Paul Delettre. Situated in Les Balcons area, the residence comprises 10 large apartments for five to 12 people, all with a wellbeing area, sauna and Jacuzzi. Hotel services are also on offer, such as catering, massages, cleaning and indoor parking. There's a communal living area and a swimming-pool, too.
Catered chalets
Val Thorens' high-density construction means there aren't many free-standing chalets. Several tour operators do however run catered "chalet" accommodation in apartment buildings in the resort.
Chalet Caribou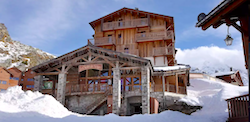 Chalet Caribou is located inside the Chalet des Neiges residence in a quiet part of Val Thorens. The chalet-style apartment accommodates up to eight people in four cosy bedrooms. You can ski back to within 200m of the building, which shares a swimming pool and sauna.
Chalets Catherine and Olivier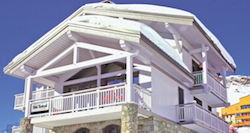 Ski Total's twin chalets, Catherine and Olivier are actually converted apartments inside a chalet-style building, conveniently set right on the piste. The two chalet-apartments, run and catered separately, share a sauna on the ground floor. Olivier sleeps 12 and Catherine is for 18.
La Datcha
La Datcha has been designed to reduce its environmental impact through effective insulation and water saving. It sleeps 15 people over five floors, and there's also a golf simulator, F1 simulator, two cinema rooms, swimming-pool, gym and spa. There's a brilliantly decorated playroom for little ones too, with giant soft toys and painted walls. It's both enormous and luxurious.
Chalet Phoenix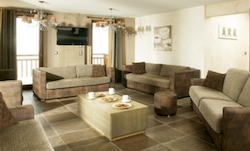 Chalet Phoenix is less exuberant and unique, but still elegantly enormous with a gorgeous spa. It's for 24 people and is set in the newly-built area of the Balcons Residence in the resort centre. The huge 270º panoramic balcony has incredible views, and all of the bedrooms have Jacuzzi baths. The chalet has a spa with private sauna, and the complex also has an infinity pool and gym.
But you don't need to spend a lot of money to stay here
Despite the attraction of hotels like the Altapura and Koh-i-Nor, there are still lots and lots of cheap places to stay in Val Thorens. But bear in mind the resort's reputation as a hotspot for nightlife: lots of guests complain about the noise of drunken revellers at 3am. So try your damnedest to get rooms at the top of whichever building you book, rather than beside any roads.
Residence la Tikal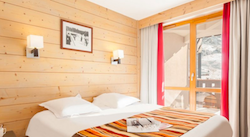 For self-catering apartments, try the ski-in ski-out Residence le Tikal. Each apartment has a balcony, kitchenette with a dishwasher and a dining area. There is a shopping delivery service available at an additional cost, and there's access to a fitness area, sauna and hot tub nearby, as well as a mini-market and a ski rental shop.
UCPA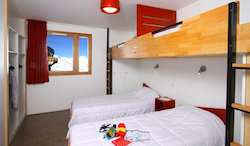 If you want to be kind to your wallet, the revamped UCPA offers all-inclusive hostel accommodation with good food, though it's a 15-minute walk from town centre, which isn't ideal on the ice. There's a huge bar, relaxation and chill-out areas, and a games room – all of which make it perfect for large groups of young people.
---
---
Where to Eat
Val Thorens' gastronomic reputation took a hit recently, when Jean Sulpice closed his celebrated restaurant (which had two Michelin stars) and relocated to Lake Annecy. But they still take their food seriously in the resort, and Josselin Jeanblanc won his first Michelin star at at Les Explorateurs in the Hotel Pashmina in 2017.
Of course, there's good eating here beyond the Michelin guide. At the a href="https://www.booking.com/hotel/fr/altapura.en.html?aid=1522172&no_rooms=1&group_adults=2&room1=A%2CA" target="_blank">Altapura hotel, for example, restaurant Les Enfants Terribles is named after the 1929 novel by Jean Cocteau, and is an appealing and darkly sophisticated venue. The burgundy colour scheme is contrasted with blond wood delicately carved into stars and snowflakes. Seafood is the speciality.
Elsewhere, Eric Samson's cooking at Le Diamant Noir at the Koh-I-Nor is highly-rated.
At a less exalted level, La Maison Blanche (+33 479 00 00 48) is a small but popular brasserie offering simple, good food in a friendly and unpretentious atmosphere. The decoration is cosy with fur rugs, a central fireplace, and natural materials. Another locals' favourite is La Pause, in the Hotel Portillo in the middle of town – recommended in our guide to the best restaurants in the Three Valleys
La Ferme de Rosalie (+33 479 08 07 29) is in the Quartier des Balcons sector of town. It offers traditional Savoyarde dishes as well as pizzas, as well as crepes or charcuterie to accompany an apres-ski drink. Le Vieux Chalet is a traditional place owned by brother and sister Magalie and Vincent who use recipes passed down their family for generations. These are created by Chef Alexandre Gautreau who has previously worked in Morzine, Montchavin and Quebec.
If you fancy eating Italian, Le Rendezvous is the place. It mixes pizzas, pasta, and risotto in with Savoyard standards such as raclette and pierrade. Meanwhile, John's American Restaurant is a Danish-owned Tex-Mex offering home-made burgers and Mexican fajitas. Le Club 72 (+33 479 01 31 19) has live music every evening and a kitchen open from 4pm to 11.30pm. A great venue for relaxing with a delicious steak or a gourmet dessert. Panda is a bar and coffee shop which also does food – in fact it was the first restaurant ever to open in the resort.
On the mountain there's a lot of choice
There are pistes both above and below the Val Thorens, and they run through the middle of it too – so you can stop in town for lunch as well as calling in on its mountain restaurants. That said, there are some good'uns dotted around the slopes. Amongst those to target is Les Aiguilles de Peclet, which reworks Savoyard staples with a light, modern touch. Meanwhile, light, bright and funky La Fruitiere is a scion of the popular lunch spot in Val d'Isere. Also worth trying are Chalet Les 2 Ours (+33 479 01 14 09), accessed by the Boimint chair-lift, and Chalet Le Caribou (+33 611 18 06 71) accessed by the Moraine chair-lift.
One of the big favourites in the area is now Chez Pépé Nicolas on the Chasse piste between Val Thorens and Les Menuires. The original shepherd's hut has been here since the 19th century when it housed cows and goats. It was bought in 1957 by Nicolas Jay and today is run by his grandson Eric.
The interior is all rough-hewn wood, animal skin rugs and local artifacts, where Happy, the resident St Bernard, plays host – greeting you on arrival and snuggling down at your feet. Outside, there are more tables on the terrace, with rugs provided. If you want to escape the hustle and bustle of modern ski resorts, this is the place.
The lovely wooden Le Chalet de la Marine, located on the Dalles slope at 2500m, is everything you've always hoped a mountain chalet should be, with roaring log fireplace, sheepskin rugs, and extremely tasty local cuisine. There's live music and DJs on the terrace in the afternoon, and a separate self-service downstairs.
Oh yes, and while you're at it, put another piggy bank aside for La Bouitte, lower down the valley at St Marcel de Belleville, near St Martin de Belleville. Home of the father-and-son team of Rene and Maxime Meilleur, it now has three Michelin stars, and is a place of pilgrimage in The 3 Valleys. Make sure you try their fondue – made with local Beaufort cheese and Savoyard wine, and blitzed with carbon-dioxide to make it foamy and fluffy.
---
---
Where to Party
Val Thorens is a fairly compact resort, and that helps create a big after-hours buzz. These days the scene here is as lively as it is in St Anton and Val d'Isere – and it completely outshines the other purpose-built high-altitiude ski stations in France. This is especially so when one of the big university groups rolls into town. In the quiet weeks before Christmas you might find you're sharing the pistes with more than 3,000 students.
Val Thorens' growing apres-ski reputation was cemented by the opening, in 2009, of its own branch of La Folie Douce. The concept first took root in Val d'Isere: a bar with a great big balcony outside which played host every afternoon to DJs and regularly drew an audience of hundreds. Songs aren't really the thing here.
What matters more is creating a club-style vibe in the sunshine, which builds and builds as more people gather and add their goodwill. And, needless to say, it put down roots very quickly in Val Thorens. Sometimes, it seems like the crowd can be numbered in thousands.
If those kind of numbers seem a bit daunting then try Bar 360 at the bottom of La Moraine chair-lift – it's smaller, a bit more intimate, and often has just as much of a buzz. There's also a DJ playing from 3pm at Le Chalet de la Marine.
Later on, you won't be short of a bar or two
Once the lifts close the action moves down rue de Gébroulaz, also known as rue de la soif or thirsty street. This is bar central, with different pubs and bars catering to different nationalities – mainly British, Scandinavian and Dutch. The strip of bars includes Frog and Roastbeef for live music and dancing on tables, O'Connells (+33 479 01 05 05) which is a French-owned Irish pub with mainly Scandinavian staff, and the Rhum Box Cafe which serves 38 different flavours of rum.
The Saloon is one of the most popular apres-ski venues in town for cocktails, live music and a Scandi-Brit clientele, In the Balcons area The Red Fox (+33 479 00 85 37) has a pub atmosphere.
Much later on, Malayasia is one of the resort's three nightclubs, with a 700 sq m dance-floor (biggest in the Alps) that keeps going until 5am, attracting between 2,000 and 2,500 people at a time. The drinks don't come cheap here. Le Baramixis a disco-bar with DJ that's open until 4am.  Finally there's Klub Summit, which claims to be the highest nightclub in Europe. It houses two bars, and plays a mix of rock classics and cheesy disco hits. Entrance to all three is free.
For something chic and more discrete, try a hotel
Don't fancy dancing on a table in your ski boots – or downing flaming sambucas? Then the Ski Bar at the a href="https://www.booking.com/hotel/fr/altapura.en.html?aid=1522172&no_rooms=1&group_adults=2&room1=A%2CA" target="_blank">Altapura is the place to go. It's been constructed using more than 60 pairs of ski boots and 20 skis, and complements the hotel's contemporary design. Dramatic chandeliers are made from 100 ski poles, and six old chair-lifts have been refitted for the lounge area.
Other non-ski activities in Val Thorens include the new zip-wire, The Tyrolienne. Deemed to be the world's highest zipline, it connects the Maurienne and Tarentaise valleys, is 1300m long and stands at over 3000m in altitude. Flying along it you can reach speeds of up to 105km per hour. Or, if you want to discover how to control a winter skid when you are behind the wheel on a mountain road – or in London, come to that – take a spin at the the Ice-driving Academy
https://www.youtube.com/watch?v=Tp5UYaOga3o