Snow has at last fallen across the central Chilean Andes, with 170cm over the past week and more than half of that falling over the past 48 hours. Both Portillo and Valle Nevado – fingers crossed – should be able to open this coming weekend. The pass to Mendoza in Argentina has closed and both resorts are beginning to look positively wintry after the long delayed start to the season.
Further south, conditions are much more normal for the time of year. It's been snowing in Catedral Alta Patagonia and the lifts are now open. On the Argentinian side of the mountain range several resorts are partly open. These include Las Lenas and Chapelco, which have both received more snow in recent days.
New Zealand's great start to the winter continues and resorts on the South Island are skiing well at the moment. There's a solid base of 95-140cm in The Remarkables and 80-185cm at Coronet Peak, while Mount Hutt has 70cm and the bottom lift stations and 135m at the top.
The weather has been sunny and chilly, but the weather is changing this week with temperatures warming up to zero or even higher and a thin band of precipitation that could fall as rain at lower altitudes. But the good news is that it should chill down again towards the end of the week. In both it look like being pretty cold for the rest of the week with the temperature down to -15C and a mixture of sunshine and clouds.
The Snowy Mountains of Australia have had a rather ho-hum season so far with a reliance on manmade snow, but all that is about to change. A big storm is forecast this week. Perisher and Thredbo have already received 25cm and is hoping for at least twice that in the days to come.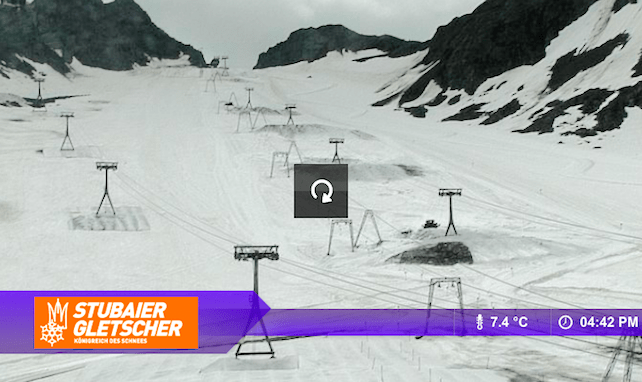 Meanwhile in the French Alps, the heatwave continues – so don't forget to take plenty of sun cream if you're going there. It was warm last week – and getting warmer this week, with valley temperatures rising to 38C or higher by Friday and the freezing level being right up at 4700m.
In Val d'Isere where I am going cycling this week we're talking about the temperature being up in double figures on the Pisaillas glacier – the short summer season there came to an end yesterday, which is probably just as well.
But elsewhere the summer skiing season is now in full swing – even if it's warm enough to ski in a T-shirt.
For more on the summer scene in the mountains, beyond the glaciers, check out our features on golf, mountain biking, cycling, adventure parks, the Tirol in summer, and nine of the best mountain resorts for a summer holiday.
| | |
| --- | --- |
| | France: Two other French glaciers are open: Tignes has 20km open (until August 9) and Les Deux Alpes (until Aug 29). |
| | Switzerland: currently Zermatt reports 140cm of snow at 2900m. Here, 13 lifts are currently open, serving 16 pistes. |
| | Austria: three glaciers are currently open in Austria for skiing – Hintertux, the Dachstein and the Molltal. On the Hintertux glacier, the snow is up to 220cm deep on the pistes, and 21km of pistes are open. |
| | Italy: there's now lift access from Cervinia to the high-altitude pistes between Italy and Switzerland. |
| | Andorra: Andorra's ski resorts have now closed for skiing. |
| | Western USA: In Colorado Arapahoe Basin has now closed at the end of another very long season. It'll be open again in October. |
| | Western Canada: in Whistler the short glacier season on Blackcomb mountain began on June 20 and will run until July 26. |