November 2013 has become a month Snowfiends won't easily forget. Heavy snow right across the Alps has set us up for a spectacular start to the ski season – and in Austria's there's more of the white stuff to come.
So far, most of the action has been on the glacier ski areas and in a handful of high-altitude resorts, such as Obergurgl and Tignes. A few quick-witted areas such as Alpe d'Huez and La Clusaz have also taken advantage of the heavy snow to open at weekends for a winter preview.
Now – at last – the industry is shifting up a gear, and we can start to talk about the Alpine ski season being underway in earnest. Val d'Isere and Verbier are the two most high-profile openings coming up, on November 30 (although Verbier has already been having limited weekend openings). Among the others are Les Deux Alpes, the party town of Ischgl, snowsure Kuhtai, parts of the Dolomiti Superski area, and Madonna di Campiglio. Many more resorts will be opening on December 6.
Magnificent skiing for those lucky enough to have it
We've already had big dumps on November 10, November 15, November 19 and November 21 – with plenty of lesser snowstorms and flurries in between. Snow depths are exceptional for the time of year. At 2900m in Zermatt, for example, there's already 170cm of snow on the pistes. In Val Thorens, which opened on November 23, there's 75cm at village level and 110cm at 3200m. Obergurgl reports 75-160cm, depending on altitude.
One of our editors, Peter Hardy, is heading out to the Espace Killy tomorrow to run his early-season clinics. Needless to say, I'm sick with envy.
Here's a wee sample of the video that's come out of the Alps recently.
The video below was shot by the Warren Smith Ski Academy in Cervinia, in the midst of Thursday's storm.
Here's the splendidly French opening-day video from Val Thorens (although our fellow ski writer James Cove adds an English note near the start).
And here's a lovely video from Obergurl, filmed over its opening weekend just over a week ago.
For now, there'll be snow in Austria and sunshine everywhere else
The skies cleared in the western Alps at the weekend – but there's been more snow in Austria since then. Up until now, most Austrian resorts (with the exception of those near the Italian border) hadn't seen quite as much snow as the west, so this was a good chance for them to catch up.
Pictured below is Ellmau in the Skiwelt, yesterday morning, courtesy of the Kaiserhof hotel.
Here's how it's looking today above Ischgl, where the ski area opens on Thursday. More snow is expected here later today.
And, pictured, below, is the scene on the lower slopes of the Hintertux area – which is open all year, and has had a superb autumn thanks to the early-season snow. Check out the temperature: -14C…
This is scene at Val Thorens today.
Finally, pictured below is the Plan Maison mid-station at Cervinia, where the snow report already claims 145cm of cover, mid-mountain.
What's next?
Ay, there's the rub…Everybody's aching to know how the crucial pre-Christmas period will pan out.
The first thing to be said is that with so much snow having already fallen at altitude the higher resorts are in great shape for the holiday period. A week of low temperatures has meant they can run their snow cannons to add to Mother Nature's bounty, too. But all the same, it would be great if this wintry run of weather continues: after all, most of us haven't actually skied yet. We want soft, cold mid-winter snow under our skis as well as on our computer screens.
In the short term, it looks as though it will stay fairly cold: in the French Alps, local forecaster Meteo Chamonix predicts a gentle rise in temperatures from their current frigid levels. But by Thursday the freezing point will have only reached 1200m. It's likely to be sunny in most places, too.
Thereafter, there are two rather different outcomes being predicted. Some forecasts predict the weather breaking down again at the weekend, with more snow on the way – especially in the east. Others show high pressure persisting and settling in for at least a week. Needless to say, we hope the former is correct…
The Pyrenees have had snow too
The Pyrenees have also been walloped by snow – and Baqueira-Beret has opened early as a result. There's a cracking video on Facebook of conditions there at the weekend. And here's a shot from today's webcam. Baqueira's snow report is currently claiming 120-170cm of snow, on-piste. Amazing!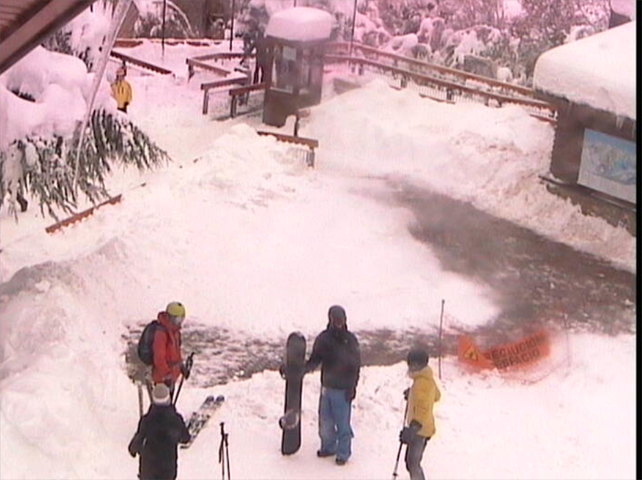 In Andorra, Grandvalira opened at the weekend too – but has closed again for now and will be back in business full time on November 30. There, the snow is 80-170cm deep.
Across the pond, southern Colorado is the place to be right now
In the western resorts of America and Canada, winter has got off to a solid start – though in less spectacular fashion than the Alps and the Pyrenees. Pick of the resorts right now is little Wolf Creek in southern Colorado, which has just been hit by a big three-day storm. 84cm of snow has fallen there since Thursday night, bringing the season total so far to around 2.5m…
Check out the cracking video posted by Powderchasers.com of conditions at Wolf Creek at the weekend…
Wolf Creek Hits 100 Inches from Powderchasers on Vimeo.
There was snow further north in Colorado too: not a huge amount – but enough to bring the week's total at Breckenridge to 20cm over the last week. The snow's already deep enough for the resort to have opened Horseshoe Bowl at the top of Peak 8. Here's a video posted by Spencer Whitehouse of conditions there on Thursday.
Breckenridge 13/14 Horseshoe Bowl Opening from Spencer Whitehouse on Vimeo.
| | |
| --- | --- |
| | France: See our main report. More and more terrain is opening up in Tignes thanks to the snow, and neighbouring Val d'Isere gets going on November. Val Thorens opened on November 23. Les Deux Alpes is opening next Saturday, too, and Alpe d'Huez is continuing its programme of weekend openings before its official December 6 start date. |
| | Switzerland: Verbier is opening on November 30. Among the resorts already offering skiing are Zermatt, Saas Fee, Engelberg, Davos, and St Moritz. |
| | Austria: the mainstream ski season in Austria is underway – thanks to the opening of Obergurgl today, November 14. Ischgl opens on Wednesday. There's also superb skiing on offer on the Hintertux, Stubai, Rettenbach, Kaunertal, Pitztal, Molltal and Kitzsteinhorn glaciers. |
| | Italy: Cervinia is off to a superb start this winter, with 145cm of settled cover even at the mid-mountain level. Parts of the Dolomites are now open for skiers – and there will be more skiing on offer at the weekend. |
| | Andorra: There's been heavy snow in the Pyrenees, as well as the Alps. Both the Grandvalira and Vallnord ski areas open full-time on November 30. |
| | Western USA: See our main report. In Colorado, Wolf Creek is the place to be right now, thanks to its 80cm storm at the weekend. Vail opened on Friday, joining a long list of Colorado resorts offering skiing, including Copper Mountain, Keystone and Breckenridge. In California, Heavenly opened its first trails on Saturday, and in Utah Snowbird got going on November 20 – joining an already buzzing local scene. |
| | Western Canada: There's good skiing on offer right now in the Canadian Rockies. Norquay, Lake Louise and Sunshine Village in Banff National Park are all open, and have been enjoying a run of wintry weather with low temperatures and 38cm of fresh snow in the last week. Meanwhile, mighty Whistler currently has 1000+ acres of terrain available. Conditions are good on-piste thanks to the cold weather, but the resort could do with a decent dump to really light up the early season. |